---
January 28, 2015 11:56 AM
1080p
,
HDMI
,
IOS
,
Logitech
,
Microsoft
,
Microsoft Lync
,
Skype
,
WebEx
Logitech this week launched its new conference camera, the ConferenceCam Connect, aimed at small conference rooms catering up to around five people.
According to Logitech representatives, 21 million "


RSS Feed

Email a friend
---
December 23, 2013 8:18 PM
Bluetooth
,
FaceTime
,
iPhone
,
Logitech
,
Microsoft Lync
,
NFC
,
Speakerphone
Often if you work from home or spend a lot of time working abroad, you want a hands-free device for conference calls, interviews or even video calling.
This portable Logitech speakerphone allows you to make and take phone calls on your smartphone, which can...
---
October 21, 2013 4:42 PM
Bluetooth
,
Logitech
,
Microsoft Lync
,
near field communication
,
Speakerphone
,
USB
Today Logitech has introduced the Logitech Mobile Speakerphone P710e, a portable speakerphone that allows hands-free access to calls.
The device is suitable for individual use, or for a small group of people, inside or outside of the office, and...
---
August 2, 2013 9:45 AM
Logitech
Congratulations to Mark Parry!
---
---
June 17, 2013 2:54 AM
Logitech
For the last few years I've used a Logitech Harmony 1100 universal infrared remote to control various devices around the house.
Logitech is moving away from such remotes due to the popularity of tablet computers and smartphones as universal devices. But tablets and smartphones generally...
---
---
December 28, 2012 11:52 AM
Apple
,
Casio
,
ipad
,
iPhone
,
Logitech
,
Mac
Does your over-worked Mac deserve a Christmas present or perhaps a New Year's sprucing up?
Well this is an environmentally friendly solar keyboard from Logitech works on Mac, iPhone or iPad. It uses solar panel technology to power the device and also allows you to...
---
December 11, 2012 10:44 AM
Apple
,
Bluetooth
,
ipad
,
keyboard
,
Logitech
,
typing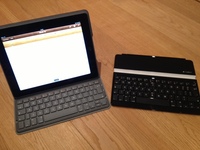 ---