---
May 10, 2011 5:51 PM
Google
It was inevitable. Not only have we seen millions of rumours over the past year but it was truly inevitable that Google would launch a music service.

You can listen to your music and access your library through your Android device (tablet, phone or whatever) as well as through your...
January 6, 2011 3:18 PM
Google
,
MOTOROLA
---
January 6, 2011 2:34 PM
Android
,
Google
,
google android
One of the stars of CES 2011 was, surprisingly, not any of the tablets or mobile phones on show but Google's Android 3.0 Honeycomb OS, which debuted on the Motorola Xoom.

Honeycomb is the latest version of Android, designed for...
---
December 7, 2010 8:09 PM
Android
,
Google
,
Sony
We've seen pictures, we've heard about it and we've dreamt about it but finally here's a video of the Sony Ericsson ZEUS Z1 PlayStation Phone.

The phone runs on Gingerbread aka Android 2.3 which Google confirmed has new game playing capabilities. Now we know why.

It has the...
---
October 22, 2010 8:17 AM
Android
,
Google
Google Android

Google is trying to take over the world. It seemed strange that a...
---
October 20, 2010 1:54 PM
Android
,
Apple
,
Google
,
HP
,
Microsoft
,
Palm
,
Video
A few years ago, mobile phones differed massively. You chose a phone for it's size, functionality, camera and user interface. Then, on the 7th of January 2007, the iPhone was released and as Apple have told us repeatedly, it changed everything. Touchscreen devices became the norm and...
---
September 28, 2010 9:31 AM
Android
,
Apple
,
Google
,
google android
,
ios4
,
iPhone
,
Palm
,
webos
,
Windows 7
,
Windows Mobile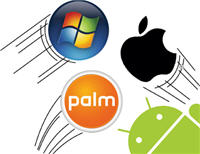 Android, iPhone, Palm & Windows Mobile 7 Compared - Which...
---
July 20, 2010 11:32 AM
Google
,
Microsoft
,
Mobile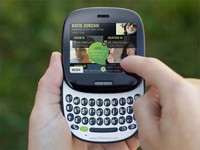 ---
March 9, 2010 4:57 PM
Google
Google is slowly taking over your life, so much so that now I refer to everything as 'Google'. I Google in the morning, get a quick Google done before lunch and always make sure I have at least one Google before bed. Sounds terrible, I know.


---
March 5, 2010 9:46 AM
Android
,
Google
So now you can search by typing... speaking... and now writing! Oh yes because there aren't enough ways to google your name.

Devices running Android 2.0 can now use Google Gesture Search to find contacts, music, and web search. You have to use your finger like a pen and draw letters on...
---