---
January 6, 2011 2:34 PM
Android
,
Google
,
google android
One of the stars of CES 2011 was, surprisingly, not any of the tablets or mobile phones on show but Google's Android 3.0 Honeycomb OS, which debuted on the Motorola Xoom.

Honeycomb is the latest version of Android, designed for...
September 28, 2010 9:31 AM
Android
,
Apple
,
Google
,
google android
,
ios4
,
iPhone
,
Palm
,
webos
,
Windows 7
,
Windows Mobile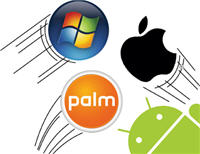 Android, iPhone, Palm & Windows Mobile 7 Compared - Which...
---
September 4, 2009 11:00 AM
Google
,
google android
Google have revealed the changes that the Android Market update 1.6 will include with better user interface (UI) and new app sub-categories and support for Italian.

The UI is ok. Not that special but it's an improvement, I mean they've finally added screenshots and the descriptions are...
---
April 6, 2009 9:52 AM
Google
,
google android
According to The New York Times, T-Mobile are to release a home phone and tablet in 2010 that will run on Google Android.

The New York Times says that the information is 'according to confidential documents obtained from one of the company's partners'.

The home phone 'will...
---
---
March 17, 2009 2:12 PM
cupcake
,
google android
,
Update
A Google Android develper has put the latest build of the Cupcake update on his phone and is posting a weekly run-through every Sunday. Below is the first video.

From the video you can see live folders and the latest version of the software keyboard, .



---