---
March 5, 2014 3:28 PM
Dell
,
ipad
,
Microsoft
,
Microsoft Office
,
Microsoft Windows
,
tablet computer
,
Windows
The tablet market is stronger than ever, with a 68% increase in tablet and hybrid device sales over the 2013 period.
Although Apple still remains in the top spot, there are plenty of alternatives to the ever popular iPad, including the
---
---
January 11, 2012 6:08 AM
Dell
,
DellXps
,
Hewlett-Packard
,
Intel
,
ultrabook
Dell has followed HP and Sony by unveiling their higher end ultrabook, the Dell XPS 13, at the Intel press conference in CES. The ultrabook's starting price is $999 (£646) and will be available in late February.

The XPS 13 has a 13.3 inch Gorilla glass display, runs on an Intel...
---
January 8, 2010 4:09 PM
Dell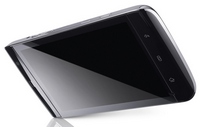 Dell's 5 inch slate looks set to continue the company's foray into the mobile...
---
November 26, 2009 3:06 PM
Dell
,
Mobile
So, I'm sure you've heard that Dell will release a mobile phone. I was surprised at Palm entering so I guess anything's possible.

It runs on the Ophone OS which was created by China Mobile. Here's a video...
---