---
April 25, 2019 9:28 AM
The BakkerElkhuizen UltraBoard 950 Wireless Compact Keyboard is difficult to pronounce and requires a full lung-full of air to say in one go... but it's a piece of kit that stands out for a number of reasons and this is the story of why.


RSS Feed

Email a friend
April 19, 2019 8:47 AM
Where's my desktop gone? That's the obvious immediate first reaction for any Google Chromebook user. We road tested a
---
April 12, 2019 9:15 AM
It's 4am and I'm a nice 'conference-style' hotel in Nashville, Tennessee. The hotel has provided WiFi included with the room - of course it has, you wouldn't expect anything else - but its 4am and I'm awake with jet lag and i can't find the keycard with the password on it. Come...
---
March 12, 2019 8:23 AM
Software application developers will always be looking to create the next big thing (Twitter etc.) and come up with a killer app to forge their name in history. So what's trending next?

0 Comments

RSS Feed

Email a friend
---
January 22, 2019 4:35 PM
In the age of the selfie (and the accursed self-stick), what more could the average smartphone-toting photo addict really need? Longer arms perhaps? How  about an international language app to translate the word "cheese" into 200 langauges? No, it's none of these. What we really want is...
---
January 3, 2019 10:12 AM
I have a usability issue. My Huawei Mate 20 Pro smartphone is great, but I can't write things on it… and, believe it or not, I am a writer. Last year I attended a conference in Washington DC and saw a Chinese journalist filing copy on her smartphone using a small Bluetooth keyboard. I...
---
December 4, 2018 5:26 PM
The TSA once dropped my laptop and it made me nervous about the fact that a machine on the road is a delicate thing. To be clear, the fine people at the US Transportation Security Administration (TSA) do a fabulous and invaluable job of keeping us safe and I appreciate them right down to their...
---
October 17, 2018 11:25 AM
Whether you can pronounce the company's name or not, it's for sure that Huawei (say: wah-way) has become a significant presence in the smartphone market today. Now with corporate ambitions to become known for its cloud business and wider development of Artificial Intelligence (AI) at the...
---
July 27, 2018 5:50 PM
Picture the scene... London, summer 2018, it's hot, so hot that British people have been able to take showers straight off the cold tap in their homes. Day after day of 30+ degree Celsius heat has taken its toll on a public who quite frankly have had enough of barbeques and would like a nice hot...
---
January 12, 2018 11:54 AM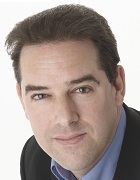 Profile: Bryan Glick
This is a guest blogpost by Gamil Jassin, a journalism Masters degree student at City, University of London. We all moan and groan about how bad the battery life on our phones is. Then, we keep moaning when
---