---
February 18, 2009 3:00 PM
galvatron
,
megatron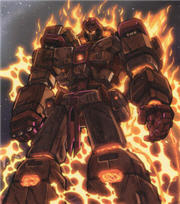 This week saw the release of the new Transformers 2 trailer where we got a glimpse of what The Fallen will look like and some where the film is going (the trailer is below).
So, who is The Fallen?
Well, basically Primus created 13 original Transformers to help him battle against his evil twin Unicron (features in the original animated Transformers movie, awesome). However, one of the 13 turned against his siblings and his creator, and betrayed them all. His original name is lost, but he was known as The Fallen. After the first battle between Unicron and Primus, the Fallen was sealed into an extradimensional limbo along with Unicron.
I for one cannot wait. I thought they did a good job with the first film (even though they didn't stick to the comics or the cartoons). Some questions still need answering though, like will Megatron reappear? More than likely. Will Megatron become Galvatron? Quite possibly alongside the introduction of Unicron. And will Jazz make a comeback? Who cares.
Wikipedia gives some insight as to what the new film might be about:
The Fallen made his only appearance in the second volume of Transformers: The War Within – the Dark Ages.
Around 6.5 million years ago, a test of the experimental "space bridge" matter-transport system on Cybertron liberated the Fallen from his prison, and he materialized on Cybertron, where he quickly recruited the Chaos Trinity, three mystically-inclined Decepticons – Bludgeon, Mindwipe and Bugly – into his employ. Abducting Transformers that he identified as possessing "genetic potential" within their sparks – Grimlock, Blitzwing, Jetfire and Hot Spot – the Fallen planned to use their energies to awaken Primus from his self-imposed slumber, thereby alerting Unicron to his location, allowing the world-eater to renew hostilities with his old enemy.
An attack from combined Autobot and Decepticon forces led by Shockwave and Prowl disrupted his plans, and Primus himself reached out and promptly destroyed the Fallen.
That said, I say watch this space!
February 18, 2009 11:16 AM
WinMo
Microsoft is keen to show off its new version of Windows Mobile. So keen, that it even hauled CEO Steve Ballmer up on stage to give the phone OS a big push at MWC in Barcelona. The new release will version-jump from 6.1 to 6.5 and it shows that the company is listening to its critics – sorry, users.
The Home screen of Windows Mobile (WinMo) 6.5 now shows the Today screen with new emails, texts, calendar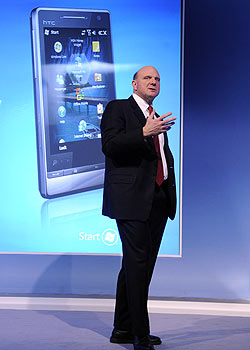 appointments and missed calls on display. Gone are the
Start and Programs menus because Microsoft has flattened the menu and placed all apps and folders in a long scrollable honeycomb of hexagonal icons to make access faster and easier. This interface is customisable to ensure regularly-used features are at your fingertips in seconds.
Talking of fingertips, fingers are the new the stylus. All of the icons are now bigger and this points the way to where WinMo is going. Let's face it, Microsoft followed Apple into the windowed computer interface arena and now WinMo is heading into iPhone territory. Yes, folks, Microsoft "innovates" again by leading from the back. With iPhone, Palm and Android blazing a trail, it's no wonder that Microsoft is pushing its product so hard – especially since we won't be using version 6.5 until "later this year", according to Ballmer.
The OS development also sees a move into online services. My Phone offers free storage space on the Web that will allow personal data to be uploaded and restored. In limited beta at the moment, the site gives password-protected space so that data can be stored retrieved or moved to a new phone when required.
The second service is Windows Marketplace for Mobile where apps for the new OS can be found. Hosted on Windows Live ID, developers will be able to tout their wares for online payments. An online app store, what a good idea.
It seems that Microsoft is still shaping up Windows Mobile to be competitive in the fast-changing OS market. The new features are primarily cosmetic and the bulk of the code remains the same. Whether this is a kludge or an edge will only be revealed when users get the hands-on experience.


---
February 18, 2009 6:43 AM
charger
,
GSMA
,
mini-USB
,
Mobile
,
MWC
,
phone
,
standards
,
USB
At last, a bit of sanity in the power charger world. At Mobile World Congress in Barcelona, the GSM Association announced that 17 mobile phone makers will follow RIM's Blackberry Storm by adopting mini-USB as a standard charger for their devices.
Hooray! I can bin all of those proprietary chargers. Well, I actually binned them all a long time ago when I bought a universal USB charger for £9. I don't want to pour water on this hot new development but some of the details have to be filled in. mini-USB will be one end of the connection but what will the device connector be like? Does this mean the end of proprietary connectors to the phones or does it just mean that the expensive, inefficient mains chargers will be eliminated? Instead of a drawer full of spaghetti with large lumps at the end, will I end up with the same spaghetti mess with smaller lumps?
At best, the manufacturers will adopt a common standard for the power leads using a separate socket but what will happen with the data connection. Bluetooth has it's charms (honestly) but a cable connector will always be supplied, I fear. It's nice that Motorola, Nokia, Samsung and company are in agreement but I fear that proprietary interests will still rule. Now you're talking with each other, guys, why not get the whole interface standardised and do us all a favour, not just the bottom line of your annual accounts and greenwashing? While you're at it, get the MP3 player and other gadget vendors on-board.
The new connectors will start to appear this year and be fully adopted by 2012. I'll be watching what happens with interest.
---
February 16, 2009 1:53 PM
eco-friendly
,
samsung
,
smartphone
Samsung is greening up its act with a new phone made from recycled plastic bottles and powered by the sun. Almost all of the back of the The Blue Earth smartphone is used as a solar cell to charge the batteries. The phone is also free from bromin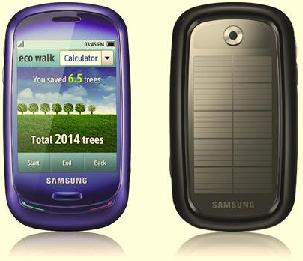 ated flame retardants and other hazardous substances like beryllium, used to produce non-magnetic metal alloys, and phthalates which make PVC pliable and is found in some glues.
As if this wasn't enough, the phone also sports an Eco Mode which controls backlight brightness and on-time plus Bluetooth controls to reduce power consumption. On the eco-friendly apps front, Eco Walk displays how many trees you've saved by walking instead of driving – a strange eco-unit to choose, unless your steering leaves a lot to be desired.
Prices have yet to be announced because the phone will not be available till the second half of this year – just when the daylight hours start drawing in.
---
February 13, 2009 6:15 PM
fridge
,
Newo
,
USB
Every wee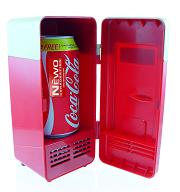 k I will try to find a must-have gadget you never knew you could live without. This week it's the USB fridge. You know how it is. Hot day. You take a can out the fridge or from the vending machine and then get called away from your desk. When you get back the drink is lukewarm. Well, no more crying in your beer 9or other nominated drink) with the Dream Cheeky USB Fridgerator from Newo Corporation.
Big enough to take a 300ml (12fl oz) drinks can, the fridge is powered entirely from a USB slot and can be found on the Internet for around £20 but is currently on sale at Amazon for only £11.49.
---
February 13, 2009 1:28 PM
e-rewards
,
m-spam
,
MyScreen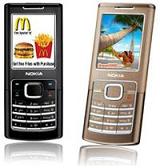 Is it just me or are most people horrified by the idea of being targeted with advertising. MyScreen is offering a permission-based service that m-spams you with offers – but at least rewards you for the intrusion. By downloading an app, you get the ads popping up at the end of each phone call. Visit the site and a small payment will be added to your e-wallet.
Currently, your bonuses can only be used for a selection of fixed offers but the promise for the future is that you'll be able to transfer earned rewards to third-party loyalty cards and credit cards, gift cards or as a donation to your favourite charity. How much you receive is being kept under wraps until the official launch next Tuesday at Mobile World Congress in Barcelona
The idea ticks me off but if it ticks your box visit http://www.myscreen.com/
---
February 3, 2009 1:29 PM
bill
,
cameras
,
cell
,
click
,
Congress
,
Mobile
,
paedophile
,
pedophile
,
phone
A panic button for the public is a doorbell for opportunistic legislators. The Camera Phone Predator Alert Act is one such issue being considered by the US Congress. The idea is that digital cameras in phones will make an audible click when they are used, like traditional film cameras, making it obvious when a phone camera is used in public.
Children will therefore be safe from a paedophile's lens in changing rooms or on other occasions when they disrobe in public. Businesses will also be safe when they show guests round research labs and other privileged access areas.
Though the aim is laudable, the concept is ludicrous. Phones exist that don't click and these will be hung onto by paedophiles for such occasions. Standard digital cameras, which are getting smaller, will be used and an underground business of phone-click disablers will be born. What about the movie-mode in phones? How will this be prevented from being used surreptitiously? Japan and Korea have already introduced similar laws but there is no proof that it has made a big difference.
Let's hope that the UK Government doesn't follow this US precedent which can be found at http://www.opencongress.org/bill/111-h414/text
---
January 29, 2009 4:12 PM
Acer
,
Mobile
,
smartphone
Acer looks set to join the mobile bandwagon after we recieved a press release stating: Are you ready to join Acer's launch into the world of mobile communications?
Rumours had been circulating for a while but had died down over the last few months (especially after the Palm Pre announcement).
Acer's smartphone will be unveiled at the Mobile World Congress (16th of Feb) with Gianfranco Lanci, Acer's president and CEO, due to speak.
---
January 27, 2009 2:42 PM
arsenal
,
emirates
,
psp
,
Sony
Being a Gooner and a gamer, I welcomed the news this week that Sony and Arsenal will trial a highlights service for people that own a PSP.
The idea is you go to the game at the Emirates Stadium with your PSP in hand. Through a WiFi connection, you will be able to watch live streaming of the match, access some data and statistics and get replays from different angles. They hope to roll it out in 18 months.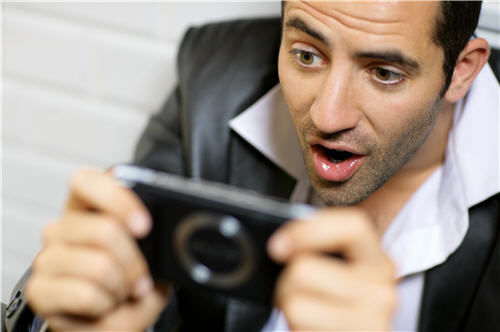 This system is sure to raise some arguments:
1) You may find fans watching their PSP as oppose to watching the pitch.
2) It will make the referee's job a lot tougher, especially if he's unable to watch replays etc.
3) You will start to bring in the whole 'couch potato fan' culture into the stadium. That would mean, less chanting, less banter and of course less atmosphere.
There are many points that will be raised and die-hard fans will argue that it will kill the game.
I remember the same arguments raised a number of years ago when the giant plasma screens were introduced. Personally I think it's a good idea if they control the footage in the same way the giant screens footage is controlled.
I'm not sure live video streaming is a good idea. I mean, why would you pay fifty odd quid to go to a game only to watch it on your PSP? But, I like the idea of watching replays and getting statistics.
Post your comments below to let me know what you think.
---
January 23, 2009 11:39 AM
Apple
,
Netbook
,
Sony Vaio
I'm getting ready to buy a netbook. The question is: What do I want? The answer: A seven or nine inch iPhone-type Apple netbook.
I asked some friends what they thought about which netbook I should buy from the currently limited market. One friend said 'get an Asus, cheap and does what you need it to' another said 'you can't go wrong with Sony, stylish and reliable'.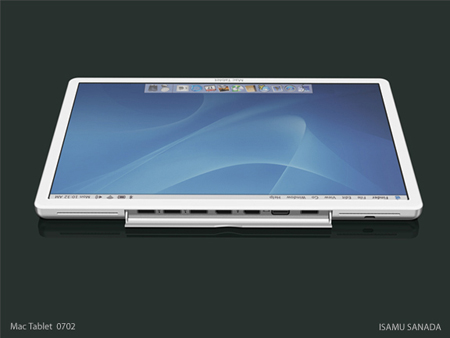 Those are fair comments (although the Sony P-Series is a bit dear) but there's also the potential that Apple will release a netbook. Now, if you've read my previous posts then you'll know that I don't really like Apple.
I find Macs aren't logical like PCs and iPods are too fragile. They sound like rubbish reasons but like the advert states 'I'm a PC'. So why am I tempted to buy an apple netbook?
Buying an Asus or something similar would be cheap but not great for work and going upmarket buying a Sony is great but very expensive, especially as I already have two laptops and a desktop.
If Apple releases a netbook for around £400-£500, which is looking likely, with the functionality of a normal netbook that includes the added features an iPhone has, open source apps, touch-screen etc. then how can I or anyone not feel tempted?
Netbooks are going to be the must-have gadget for 2009, if Apple can release a 7″ and/or 9″ netbook, a Macbook and iPhone hybrid, then they will be able to increase market-share and once again be the pinnacle of innovation.
I'm a PC. But I do occasionally enjoy a Big Mac.
---