---
March 20, 2009 1:54 AM
pollution
,
robofish
,
robot
,
Robotics
River and sea polluters better watch out because robofish is out to get you. An EC-funded experiment will be taking place at the end of next year in the port of Gijon, Spain, using 1.5 metre robofish to detect and track down the sources of pollution.
Each robot resembles a carp and undulates like a real fish as it swims around at one metre per second to find leaks from ships and underwater pipelines. Pollution is detected by chemical detectors and the results are radioed back to the research team via a Wi-Fi link allowing the research team to map out the source and effect of the leaks. The fish swim autonomously around the port rather than being steered remotely and they can also find their way back home for recharging at the end of an eight-hour shift.
Each fish costs around £20,000 and five are being engineered by a robotics team headed by Professor Huosheng Hu at Essex University's School of Computer Science and Electronic Engineering.
UK company BMT Group is co-ordinating the project and its senior research scientist Rory Doyle said, "While using shoals of robotic fish for pollution detection in harbours might appear like something straight out of science fiction, there are very practical reasons for choosing this form. In using robotic fish we are building on a design created by hundreds of millions of years' worth of evolution which is incredibly energy efficient. This efficiency is something we need to ensure that our pollution detection sensors can navigate in the underwater environment for hours on end."
March 20, 2009 12:48 AM
Acquisition
,
Cisco
,
Flip
Does anyone else think Cisco is pouring money down the drain by buying Pure Digital Technologies, makers of the Flip MinoHD and Flip Video cameras?
OK, so two million sales in the States is quite a nice figure but how long before Taiwan starts churning out me-toos or before phones butt into the market? $590m is a lot of money in these crunching times so it'll be interesting to see what the Cisco kids have in mind.
---
March 19, 2009 11:59 PM
Mp3 player
,
pillow
You're tucked up in bed. It's been a hard day at work and your brain is buzzing. The wintry wind is howling but you're warm and cosy and in need of some soothing sounds so you put on your earphones and switch your music player on. In the morning, you wake up with earache and Led Zeppelin blasting in your head because you rolled over on your player in the night.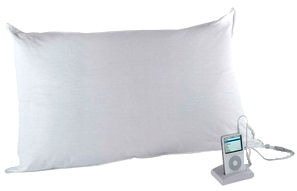 Sound Asleep has the solution. It's a pillow with a built-in speaker and a mini jack that fits most players. The company claims that only you can hear the sounds so, if you sleep with a partner, they can sleep in peace. Apart from relaxation, the sound asleep pillow can be used to dim the effects of tinnitus or lure insomniacs to dreamland. It's educational, too, if you select a good talking book or a language course. You can even plug a radio in if that's your preference.
Because of the speaker, the pillow is not machine washable but can be wiped clean and air dried – which worries me a little bit on health grounds. Also the Health and Safety gods request that you ensure that the connecting cable is tucked out of the way so you don't strangle yourself in the night.
The Sound Asleep pillow is available from several outlets including Asda and Tesco for around £20. Buy four from Sound Asleep and you get a free MP3 player which you can pillow fight the rest of your family for.
---
March 19, 2009 11:38 PM
birthday
,
Linux
,
litigation
,
Microsoft
,
Patents
,
TomTom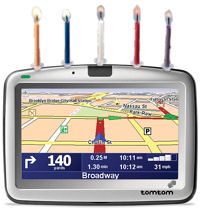 Navigation specialist TomTom is celebrating its fifth birthday but uninvited guest Microsoft is claiming a slice of the birthday cake.
It's funny how some gadgets feel as if they've been around forever. How on earth did people navigate before? Well, it wasn't so much Tom Tom as Mimi, JoJo or whatever the female partner was called (back in 2004 men always drove the car, except at the end of a night out – since then women have achieved equality, bless 'em). Today the nagging that was at your left hand side is now moveable, can be shut up instantly without an argument or changed to a male voice if you lean that way.
Anyway, Microsoft is claiming that some of the Linux bits in all TomTom products infringe its patents. Three bits in total and all to do with the file system. There are also five other car navigation issues that M$ lays claim to inventing. American patents can be so loose nobody can guess which way this case will go.
More worrying is that, outside the court case, M$ also claims that the Linux kernel infringes a further 232 patents. The fear is that if the company succeeds against TomTom it will go after other Linux-based vendors – and let's face it, with TomTom under its belt, M$ knows where they all live.
---
---
March 19, 2009 3:54 PM
e-books
,
e-reader
,
Kindle
,
Sony
As the e-reader battle between Sony and Amazon starts hotting up, I find myself excited having heard that Google Book (currently a PC app) is to back Sony's e-reader.
That means they will now be able to offer over half a million public domain titles FOR FREE. Sony's library can now boast that it is the largest available (that includes the Kindle library).
Google's contribution here is more than just scanning the books, but they have also converted the text to the ePub/eBook format, which allows formatting. Something that PDFs haven't mastered yet.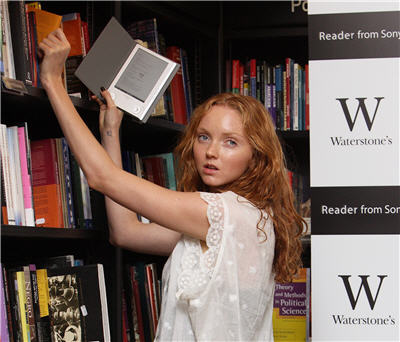 source [gizmodo]
picture [rex features]
---
March 19, 2009 2:56 PM
Uncategorized
Cisco has announced its intention to buy the makers of the Flip Video camcorder, Pure Digital.
According to Ned Hooper, senior vice president of Cisco's Corporate Development and Consumer Groups, the "acquisition of Pure Digital is key to Cisco's strategy to expand our momentum in the media-enabled home and to capture the consumer market transition to visual networking."
A quick history of Cisco acquisitions:
Linksys, 2005 for $500 million
Scientific Atlanta, 2005 for $6.9 billion
PostPath, 2008 for $215 million
Jabber, 2008 for unknown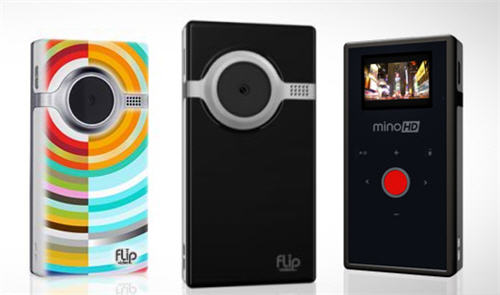 ---
March 19, 2009 11:31 AM
Google
,
Google Maps
Google maps now has street view for pretty much the whole of the UK.
Is this the coolest thing ever? Yes, yes and hell yes!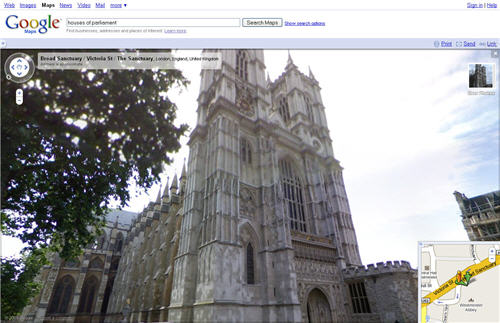 I haven't been this excited about seeing my house since I got my first pair of glasses.
So what are the benefits/uses of this?
Meeting people: Now when you say I'll meet you here, you can actually say "I'll meet you by the Tesco. Yeah I'll meet you where the blonde girl is on Street View".
GPS: They'll probably incorporate this into a GPS system which would be, as the French say: Tres Cool.
Getting places: You can get a visual of where you should be as oppose to a map that tells you where you're not.
Moving house or business planning: Checking an area before you move there.
Holidays and office boredom: You can spend hours looking at places, sort of a 'wish I was there' for holidays.
Stalkers and thieves: Yes, sadly this will come up at some point (probably tomorrow) where some people will use it for evil.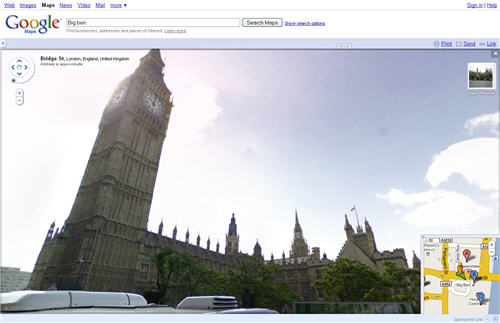 The navigation makes me feel like Superman.
---
March 18, 2009 11:04 AM
Chrome
,
Google
So the new version of Google Chrome, 2.0 beta, is faster (25% to 35%) and has some new features like form autofill, full page zoom and autoscroll.
Great, fantastic, brilliant – well done.
The only thing that's got me scratching my head is that they have gone back to calling it a 'beta'. It must have been difficult to remove the beta tag in the first place but to put it back on makes the polished giant look a bit edgy.
Don't get me wrong, the beta tag is justified and there are some decent improvements but I always find beta is used to say 'this might be a bit crap'.
I'm sure that's not the case for Chrome because Google rarely get it wrong… right?
Source: [http://chrome.blogspot.com/]
---
March 18, 2009 10:57 AM
iPhone
,
iPod
,
Namco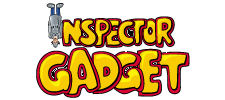 Our namesake Inspector Gadget is now available on iPhone and iPod Touch. Namco has developed the game in conjunction with Cookie Jar Entertainment, the producer of the cartoon series which started 25 years ago.
Players can adopt the roles of the mechanically-enhanced detective, his niece Penny or Gadget's dog Brain. By switching from one character to another the evil Dr Claw can be pursued across six levels and eventually foiled in his evil plot to rule the world.

The game features both Story mode and Quick Play mode. If Dr Claw's MAD agents and devilish creatures defeat you every time on a particular level, you can use Quick Play to access any level to practice until you get it right and then return to Story play to battle through the six levels sequentially.
You navigate through the game using on-screen touch controls and away you go go. Gadget's favourite 'copter, umbrella and trenchcoat tools are also available to overcome the challenges.
The 7.9MB game is available via the iTunes App Store for £2.99.
---