---
January 18, 2016 7:25 PM
Customer service
As part of the NRF Big Show 2016 in New York, e-commerce platform provider Demandware took me on a tour of some of the retailers in the Big Apple using its technology.
The level of technology usage varied from store to store, with one shop planning to introduce a customisation form to its website and another store implementing roaming point of sale (POS) systems to ensure store assistants can take credit for their sales.
Anya Hindmarch
As a luxury retailer, Anya Hindmarch focuses on delivering quality goods at a high price point, with good customer service as key.
The store on New York's Madison Avenue includes an 'Embossers Workshop' where handwritten customised messages can be embossed into the brand's leather products to create something personal.
One of the smaller customised products, such as a makeup bag, will cost around £280, whereas a bespoke weekend bag will set you back by around £795.
Currently, this process is done completely through paper forms in the shop, and although the service appears on the website, it's only in an advertising capacity.
The bespoke capabilities will soon be on the firm's Demandware website to allow customers the ability to research and order possible bespoke products without having to visit a store.
New Balance
Sports brand New Balance has the slogan "Always in Beta" printed across the window in the front of its store on 5th Avenue – an indicator of the constant innovation that goes on within the company.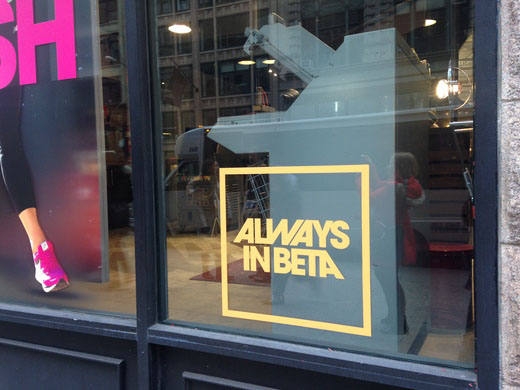 There were two pieces of technology showcased in this store – an interactive screen allowing users to play around with and customise virtual shoes, and a foot measuring technology which assesses customer's feet and suggests the right type of insole for their foot shape.
The shoe customisation demo features a touch screen interface allowing customers to choose different panels on a virtual model of a shoe and choose different colours based on personal taste, similar to the service on the brand's website.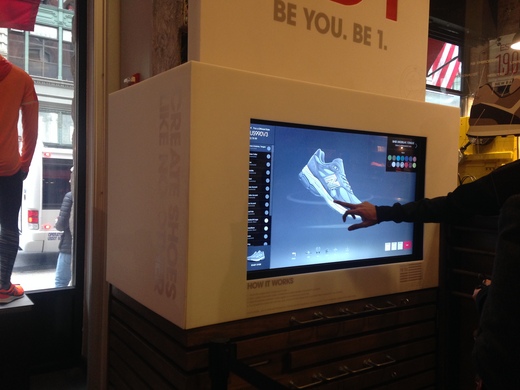 Currently, there is no direct connection between this service in the store and this service as offered on the brand's website – so for example if a customer started designing a shoe in the shop they could not then complete the design and order the shoe online at home.
New Balance's Atrex foot measuring solution is designed to measure your foot size and weight distribution to recommend the most comfortable insole for the inside of your trainer.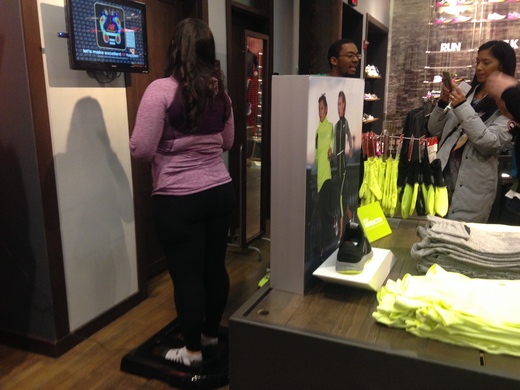 Both of these technologies aim to make the New Balance stores more relevant in an age of showrooming whereby customers use stores as a place to test products before buying online.
The stores offer these additional services to ensure the customer's brick and mortar visit was worthwhile and the correct product or set of products can be offered to a customer.
True Religion
True Religion is a luxury fashion outlet which has combined its Demandware endless aisle system with its Aptos mobile point of sale system to allow shop assistants to search through the brand's catalogue with customers before using a barcode to complete the transaction on a tablet.
Store assistants are equipped with "Band" technology, powered by Aptos – to me it looked like an Apple Watch – which can be used to search through potential products before displaying them on in-store LED screens to help interact with customers.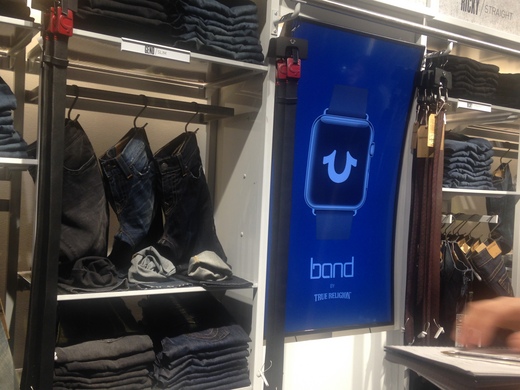 Touch screens around the store are also equipped with and endless aisle solution, which the True Religion head of e-commerce described as its Demandware e-ecommerce platform with payments stripped out, allowing customers or store assistants to search through products before completing the transaction by transferring the product to a mobile POS system using a unique barcode displayed alongside the product on the LED screen.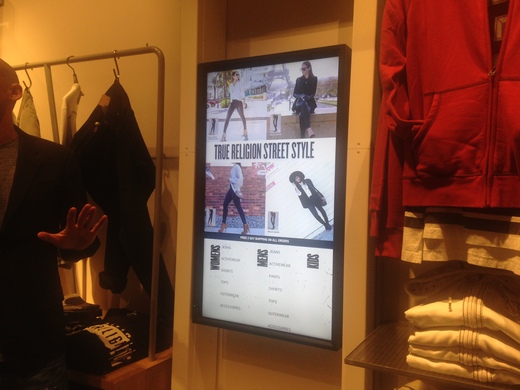 True Religion uses this combination of technology to ensure sales associates are receiving the credit for making a sale to ensure they embrace and assist customers with omni-channel interactions.
January 11, 2016 10:40 AM
Business
,
Collaboration
,
Github
,
Gitter
,
JavaScript
Founder of development community platform Gitter explains why developer forums could help out other industries in the future.
Open source software communities such as GitHub are designed to allow developers to collaborate on a large variety of projects at once, both in and outside of organisations.
I recently met with the co-founder of an online messaging community tool called Gitter, which allows people working on projects to communicate with each other and raise various topics of discussion.
But since starting the service, co-founder Mike Bartlett has found it does not necessarily get used in the way he expected, with many developers using it to collaborate and discuss subjects of personal interest rather than projects involving the companies they are working for.
The platform is developer-focussed, making it easier to share blocks of code from projects they are working on in GitHub, and is a completely open platform where users have access to everyone else signed up.
Document sharing, teamwork, code and picture sharing are encouraged to help the collaboration aspect the hub was designed for.
Currently used by over 200,000 users across 30,000 communities for open chat, Gitter has now introduced a "Sidecar" feature allowing real-time chunks of Gitter chats to be embedded on websites using JavaScript to encourage an open discussion surrounding development.
"One of the things that I've found fun is the cross-company board collaboration that happens amongst the development communities." Bartlett told me.
This personal-interest based discussion has caused "cross pollination" of projects and companies as developers come together to share ideas, leading Bartlett to wonder whether the platform would lend itself well to communities outside of the development world.
It turns out there was a lot of interest from other industries, specifically scientific and medical based communities.
"We continually get a lot of other people wanting to use our platform." Bartlett said.
The platform is already being used for "open science" to allow people working on research-based projects to "make sure that any scientific research they're doing and the way they're communicating is open" and help compare notes and results.
An industry Bartlett touched upon was the medical community, specifically nurses, who are interested in using the platform for similar work-based discussions with people in similar professions.
"We're working on the ability to sign in without GitHub." Bartlett assured me, but he pointed out this will involve covering a large amount of people who don't necessarily have a technology background.
Even now within the development industry there can be a stigma around information sharing in case you reveal details of core business projects to competitors, despite Bartlett's estimates that 30-40% of a developer's build will not be of core business value.
But the Gitter team keeps working on updates and new functionality, including Sidecar, to ensure Gitter stays a place where communities can collaborate on projects which are of mutual interest, and to try and branch into other groups besides the software engineering community.
Gitter is also working on allowing private forums where developers can chat about projects which may be too sensitive for the public discussions. 
"We're incredibly pleased with how the existing community has embraced Gitter. Sidecar is a way of extending the functionality and benefits of Gitter to a wider community." Bartlett said.
---
January 8, 2016 10:18 AM
Applications
,
hackathon
,
Insurance
,
London
,
United Kingdom
In early November 2015, insurance giant Aviva held its internal hackathon designed to allow the firm's employees to test out ideas for solutions that could potentially benefit Aviva's customers.
The hackathon is advertised internally and people across all parts of the business are invited to submit proposals for projects which fill a gap in customer experience.
Across the firm 188 ideas were submitted, which were then subject to an internal vote to decide which ideas would be pursued.
In total 6,370 votes decided which ideas should go forward, and 16 teams were formed of members of the business with mixed disciplines.
Team members who formed the ideas were encouraged to seek out and pair with other people across the business who would best help to develop their project, for example employees with particular IT specialisms.
The teams had 24 hours to develop a wireframe, prototype and pitch for the final ceremony before the winners of the hackathon are decided.
Taking place over three locations, 160 people took part to develop 16 projects and most importantly, eat 80 pizzas between them.
I was lucky enough to be invited to visit the London-based teams at Aviva's digital garage a stone's throw away from London's silicon roundabout.
"It's a good way of promoting a joined up business and breaks down walls," Aviva's innovation manager Richard Wilkinson told me.
"It fits with our strategy of digital first."
Wilkinson explains each of the ideas are submitted under different categories, and this year seemed heavily focussed on life, health and general pricing.
The projects worked on in the London office included an EU driving guide, a personal insurance vault and ways to provide better customer service when dealing with phone calls:
Driving in the EU – One team developed an app to help drivers when abroad to make laws in other countries clearer and make the travelling experience less stressful.
Policy tracker – The team working on this project told me that a lot of people trying to contact their insurance company will not find the right number they need depending on what department they want to reach.
When I spoke to them they were struggling to pick a name for their proposition, but they wanted to make sure customers get through to the right department no matter which number they call – as people often complain about being passed around.
Aviva Safe (vault) – This proposition is designed for people who lose receipts or have very valuable items such as antiques which are hard to prove ownership of.
Sometimes when items are lost, damaged or stolen it can be difficult to dig up records of purchase and proof of ownership, so users of the Aviva Safe app can take pictures of items and receipts for items to store in their vault so that if anything happens to those items, they can submit these images as evidence to their insurance company.
The team spent their time in the hackathon taking a user-centric UX focussed approach to the application, making it easy to use and giving it a vault like appearance – as the customer is at the heart of the idea.
MyAviva Safe appeared amongst this year's winners, who were as follows:
• MyAviva Safe (Idea lead: Hannah Davidson)
• MyHealth Claim App (Idea lead: Nina Brown)
• I, Policy (Idea lead: Rod Humby)
• Automatic System Log-In – 1 password for all (Idea lead: Louise McIver)
The winning propositions may not necessarily go on to be developed as part of Aviva's product offering, but the process helped the teams try something different, meet new people within their organisation and ultimately ensure they are thinking in a customer-centric way.
---
January 6, 2016 12:15 PM
coders
,
digital
,
Education
,
Skills
,
United Kingdom
A common sited problem in teaching kids about technology is the difficulty in helping them make the connection between the tech they use and the code they're learning – something story character Detective Dot might tackle.
In 2014, the government ushered in a change in the curriculum which made it mandatory to teach computing in schools to pupils between the ages of five and 16.
One of the reasons this change was so important was the growing skills gap in the UK IT industry – the number of jobs that need filling is only going up, but the number of people with skills to fill them is not.
Whenever I speak to someone from the education sector about the new curriculum and teaching children to code, there's one question I always ask:
How are you making sure children understand that the concepts you are teaching them are affecting their daily lives and could be a potential future career for them?
It might be just as simple as saying something along the lines of: "If you like video games, you could get a job making them one day – and you'll be using your coding skills."
But Sophie Deen from children's education company Bright Little Labs has taken the concept one step further, creating a detective book series where the main character uses code and technical skills to be the best detective possible. Detective Dot understands the systems around her, is a white-hat hacker, and she uses code to program her drone sidekick to help her investigations.
The series not only tackles the issue of making sure children are aware that code is what drives the digital objects they use every day, but also stars a young female software engineer as the protagonist throughout the stories.
As previously reported by Computer Weekly, the Detective Dot interactive books will aim to encourage children to take more interest in IT and the world around them.
Deen has worked with children in the past, both teaching kids to code and as a play therapist, and states that there are not enough positive tech role models in the media for children to aspire to, particularly for young girls from minority backgrounds – an opinion that's industry-wide.
"In kid's cartoons, 0% of princesses are engineers, 2.9% of characters are black, and Batman doesn't recycle," says Deen in her Kickstarter pitch for the book series.
"Children, particularly girls and minorities, need positive role models in engineering, science, technology, arts and maths."
Deen hopes that the development of Detective Dot will help children to begin to understand where the objects and technology they use come from and how coding is used to control them, as well as the importance of computational thinking in day-to-day problem solving.
The digital versions of the books, which are aimed at seven-to-nine-year-olds, also include built in games and personalisation to get children excited about science, technology, engineering, art and mathematics (Steam) based subjects.
When the new computing curriculum was introduced, many teachers were concerned about the new subjects they would be asked to teach, and last year one third of schools admitted they had invested nothing in coding training for teachers.
As well as the stories, Bright Little Labs is working on resource materials for teachers to help them use Dot to teach children some of the concepts in the new computing curriculum such as computational thinking and debugging for KS1 and KS2.
The Kickstarter for Detective Dot – Adventure stories for a fairer world closes on January 7 2016.
---
December 30, 2015 9:46 AM
retail
,
touchscreen
Manufacturers of touch-screen technology explain why the luxury market is buying into interactive in-store equipment.
Elo Touch solutions is a touch-screen manufacturer that often finds itself bought into the retail space to give customers that interactive omni-channel experience they expect.
But the firm has seen a recent surge in interest from luxury retailers as they jump on board the technology bandwagon.
This left me raising the question – why not go down the route of a smartphone assisted experience that many other retailers have chosen?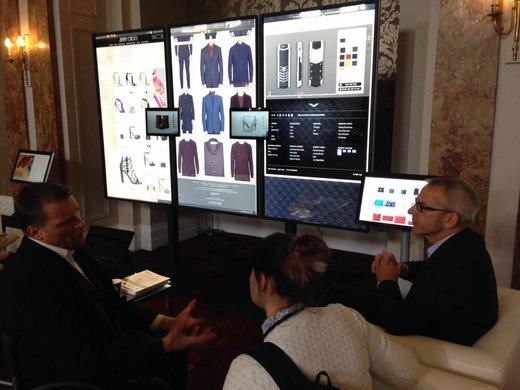 According to Chris White, regional sales manager at Elo Touch solutions, luxury retailers are using larger in-store touch screens to get customers interacting rather than looking at their phones.
The larger format also makes it easier for shop assistants to provide a well-informed service that customers expect from a luxury brand without the restrictions of a smaller format such as a hand-held tablet.
This allows shop assistants a better way to visually present information customers want, and gives the opportunity to sell other matching products.
"I think the luxury market lends itself more to the upselling and cross selling of items more than the mass market." White says.
Servaas Kamerling, Elo's president of EMEA, highlights this need for cross-selling or upselling for luxury brands is often leading to technologies such as this being introduced as a marketing decision rather than an IT decision.
But Kamerling points out that often when stores encourage customers to download loyalty applications they can't be used outside of the store experience but still clog up a user's phone.
This isn't the kind of experience people expect from a luxury brand, and high end retailers often struggle to drive app downloads as they are only visited by customers in a one-off or occasional instance, so retailers often look for other ways to "create the endless aisle" experience.
"If you go shopping, you don't want 50 apps on your phone because you're not interested in their products when you're at home – but you are interested when you're in the store," Kamerling explains.
"We think it's more effective to actually show the potential in the store in addition to having it on your phone or if you're browsing to create that true omni-channel experience."
But touchscreens are not just part of the luxury retail world, and Kamerling points out interactive technology can "combine the best of both worlds" in an omni-channel retail space where customers want so many different things.
"Interactivity and touch screens are in every market," Kamerling jokes.
"It's so diverse a market which makes it sometimes very difficult to focus because we're everywhere."
---
October 13, 2015 10:05 AM
digital
,
hackathon
,
retail
,
Sainsburys
,
shopping
How the digital team at Sainsbury's uses creative thinking and agile methodologies to build software that solves consumer problems.
In September 2015 the Sainsbury's digital lab ran a hackathon, and invited me to come along to pitch an idea to a team of technology specialists for a solution they could build to make my customer experience better.
The brief I was given was to focus on just one thing about my shopping experience I feel could be improved through technology.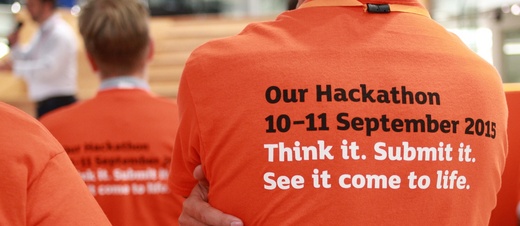 I thought about it for a very long time, and after a couple of days of debating what I needed as a customer, I went into the brainstorming session with just a small inkling of what I wanted and not a lot else.
In the brainstorm were Sainsbury's employees from a mixture of disciplines, including a product manager, a DX delivery manager, a senior architect, a user experience lead and a creative lead.
Alongside them were Isaac Scott, mobile team lead, and product manager Thomas Knorpp who chaired the discussion.
They asked me about my idea, and I said it would be cool if when searching for products on the Sainsbury's online supermarket, you could filter search results based on pre-determined preferences such as vegetarian products, vegan products or gluten free items.
At this point I thought the discussion would be pretty short because I wasn't too sure if my idea would work or need further investigation, but it sparked a lot of interest around the room.
We went through the implications of the functionality, whether it would be based upon customers logging in, how many of the customer's preferences should be saved to refer to later, and whether there should be rules around when the filter should be applied.
There were questions about social media, about what data should be collected and about if these customer preferences should be remembered and also used when interacting with Sainsbury's through other touch points such as its blog website or social media.
After the discussion a team were allocated my idea, dubbed "Project Pink" because of their hackathon t-shirts, to create a workable prototype of my concept as part of the remaining 23 hours of the hackathon.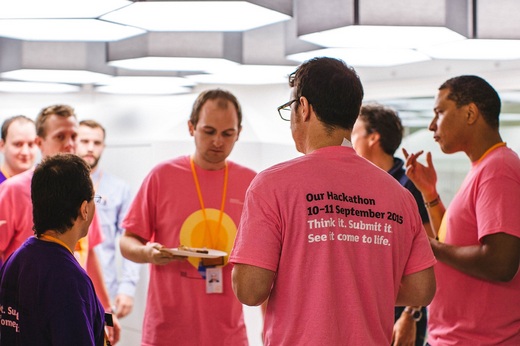 I was brought back to the lab after the hackathon to hear what Project Pink had produced following the brief I gave them.
Isaac Scott was joined by Chris Bernans, senior product owner at Sainsbury's, to explain the process to me and present the prototype.
The teams at the Sainsbury's digital lab usually listen to a problem statement or proposal, which in this case was my brainstorming session.
Then, Bernans tells me, they go through a "process of ideation" to come up with ideas about how to address the proposed solutions.
Stakeholders in projects will decide alongside developers which focus areas of these projects to implement, which are usually the pieces of functionality that "add the most value" to the customer experience.
Bernans and Scott explained that this was the same process that was undertaken at the hackathon but in a condensed amount of time – a mixture of developers and teams members of other disciplines "ran an ideation phase" on my proposal, drawing up a wall of ideas for solutions ranging from "wacky and wonderful" to "practical" to discuss what was possible in the time frame and how they would address it.
The team came up with two main problem statements to tackle: "we want to offer our customers a personalised experience" and "we want our customers to discover food inspiration seamlessly."
To solve these problem statements, the team created a workable concept using a Chrome extension to manipulate the existing Sainsbury's supermarket website to offer a more personalised experience when shopping.
Scott and Bernans demonstrated the different experience to me using two browser windows – one with the extension and one without.
Using the Chrome extension, customers can explain more about the experience they want through a "preference centre" which in the demo included test options for Vegetarian, Vegan and Fairtrade items.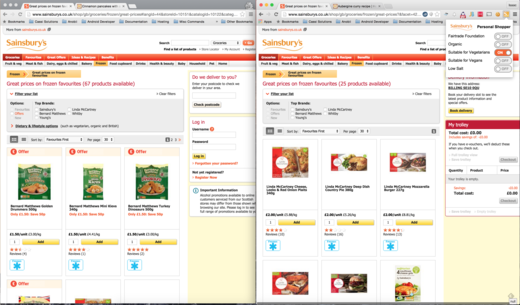 The test example used the preference of only wanting to see Fairtrade products when shopping, and when the keyword phrase "organic Fairtrade coffee" was used, the original browser returned 209 products, whereas the filtered version only returned 47 – ones that matched the preferences.
Then, to tackle the problem statement of seamlessly discovering food inspiration, the team made it easier to find recipes through its own ecosystem and then follow this through to actually buying products.
By creating a "buy button" in the Sainsbury's 'Homemade' website, the team enabled users to add ingredients from a Homemade recipe straight into their shopping cart on the Sainsbury's website, whilst still applying the preferences it has registered from the "preference centre."
The page is scanned, and then a separate pop-up window used to browse ingredients found in a blog post and matched to products that can then be added to the customer's basket on the Sainsbury's supermarket website.
Each product has an individual buy button, or there is an option to add all of the items to the basket.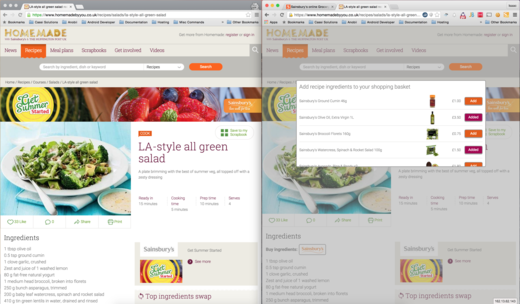 The buttons were made with rounded edges to make them aesthetically pleasing and ensure they fit with the consistent Sainsbury's look and feel.
Currently, both pages need to be open and logged in to allow the functionality to work, but I was told this was due to the hackathon time constraints during development.
The solution was not without its flaws – and at one point the shopping list suggested had items not on the recipe – but the solution it was built in less than 24 hours, so it would take more time to make it fully functional and without error.
This functionality is similar to other websites with integrated shopping lists that use third party products, but Scott and Bernans explain for the purpose of the demonstration it is easier to keep customers within the Sainsbury's ecosystem to allow a consistent customer journey using the preferences collected through the preference centre.
Scott and Bernans highlight that this is core to the Sainsbury's strategy of putting the customer at the heart of its decisions.
"We are wherever and however they want us to be." Bernans said.
I was told in no uncertain terms that what I had been shown was just a concept design produced for the hackathon, so there are no guarantees this will be appearing as a feature on the Sainsbury's website any time soon – but I know that it would certainly make my shopping experience much easier.
---
September 24, 2015 6:23 PM
Cisco Systems
,
Ecommerce
,
retail
,
shops
,
Wi-Fi
Retailers are struggling with the online and physical divide, but retailer The Dandy Lab has implemented a store to combine retail and technology in the physical space.
Spitalfields used to be a meat and veg market. If you went there now I honestly don't think you would have any idea.
Now it is a beacon for small and quirky retailers, with Brushfield Street hosting a number of shops that look both fancy and unusual.
Amongst them is the Dandy Lab, and from outside it seems like any other vintage brand, until you notice the sign on the window that announces the use of "interactive mannequins" which allow customers to interact with the products even when the store is closed.
The Dandy Lab has partnered with Cisco to allow customers to discover and interact with the products being sold.
The store plays host to a number of different British luxury men's lifestyle brands, and incorporates technology into the shopping experience using interactive screens, a social media cafe and NFC.
Co-founder Peter Juen Ho Tsanga tells me: "It was very much about merging the digital and the physical worlds together."
The whole format of the shop is designed to encourage interaction with the products and social media, and create a different type of shopping experience where customers discover, learn, shop and share.
A lot of the millennial generation and younger are already doing this when they shop, with Dandy Lab giving them a platform to extend their current behaviour "through displays and interactivity of the store that allows our story to be told" Tsanga explains.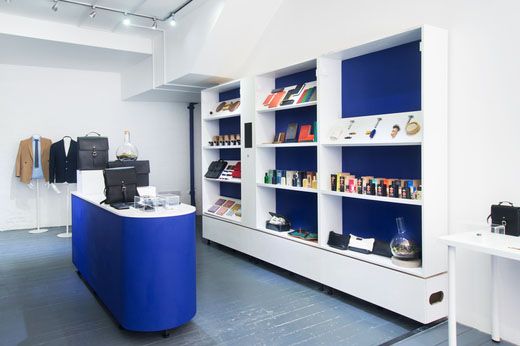 The first display unit in the shop features an NFC enabled platform. When items from the shop are placed upon this mysterious block, an overhead display gives customers information about the chosen product, called a "product story," to help engage customers using details such as the product brand and what else in the store is by the same designer.
This is similar to the ecommerce experience shoppers will have online, bringing the physical and the digital together.
How customers are interacting with products, and taking note of those interactions, can be a huge win for the store because, I was told, "they can monetise that data."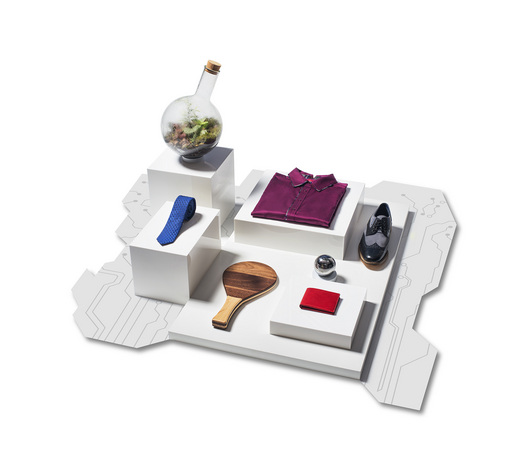 On the opposite wall, there stands a virtual show room to help customers "explore without the need of a sales assistant."
A camera above a touchscreen display scans products held up by customers and allows consumers to search through other products in the store that match, allowing the visitor to build an outfit.
Eventually the store hopes to "map customer emotions" during this process to gather information about how the customer is feeling when interacting with particular products and brands.
Footfall of individual customers can be tracked, including their route around the store and where they paused.
And downstairs? The shop aims to encourage customers to use the space, featuring a café with wireless charging and Wi-Fi in an attempt to create a social area where customers feel more open to share and interact with the store, browse products and use social media.
The objective of all the technology Dandy Lab has to offer is to gain valuable insights into the customer journey from entering the store, to buying something, and beyond.
Tsanga explains it's all used in the simplest way possible to ensure customers can play with the technology without any assistance.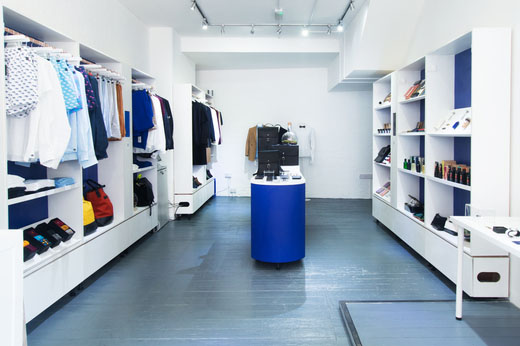 Where shops are usually in the mind-set of being wholesale to retail, Dandy Lab aims to be an interactive space that can interface with customers at all points of the supply chain.
I decided to pop back after the opening and Tsanga told me it's going well – there has been a lot of interest in the space, especially from the younger generation.
The shop looks at "bringing back special treatment" with a personalised experience that customers used to get when visiting branches.
Cisco's investment is part of its on-going research on the internet of things, or as Cisco calls it the internet of everything, which highlights £37 billion could be saved by startups embracing the connected world, from supply chain efficiency down to the improved customer experience.
"It's about them now getting hard data about who their customer actually is" a representative from Cisco told me.
Aircharge for wireless charging units, members group Capital Enterprise, consultancy DH Ready, Fagerhult for lighting, Hoxton Analytics, Iconeme for beacons, Panduit, Universal Display, Snap Fashion, Von Bismark and Ordo: Epos for point of sale, and network We are pop up are also involved in Dandy Lab's development.
The store also partners with brands Coeur, David Bennett and Fox Hunt Menswear to provide products and clothing.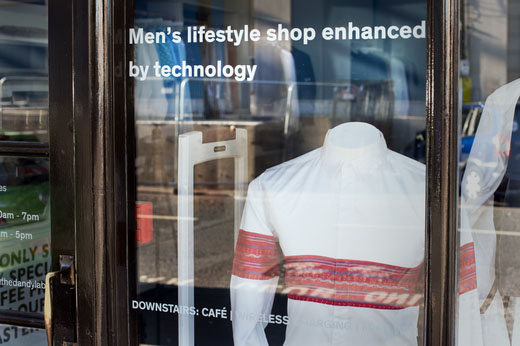 Although the products in the store only cater to men, the experience as a whole is interesting, and the shop and social media café are open to anyone to experiment and interact with what the Lab has to offer.
---
September 7, 2015 5:47 PM
digital
,
health
,
Hypertension
,
iHealth
,
Monitors
There are healthcare monitors designed to track everything about your body and habits – but what about those who aren't digitally savvy?
Look at all of the health trackers on the market at the moment and they're bound to have one thing in common – you'll need to be able to connect them to your smartphone.
At IFA 2015, iHealth decided it wanted to throw a spanner in the works and created the iHealth Track, a device the firm's CEO Uwe Diegel claims is aimed at those who are not digitally enabled.
"Most people who are buying healthcare products don't need them," Diegel says.
"Little old ladies who want to manage their blood pressure or diabetes aren't using the Apple Store, they'll always go back to the pharmacy."
The monitor has an on-board screen which will display blood pressure information, and if the user does not want to do any more then they don't have to.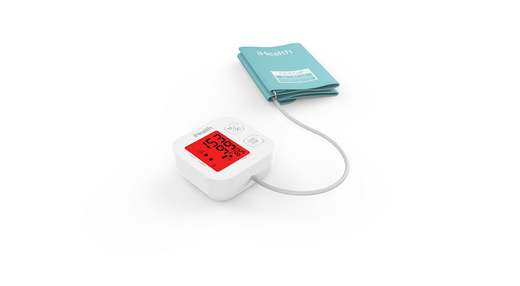 According to Diegel adding connectivity was additional, and if the patient feels able they can sync the information stored on their device with their phone or tablet via the free iHeath MyVitals application so they can share their results with their healthcare professional.
iHeath MyVitals is available on Apple Store and Google Play.
Diegel says he wanted to "make a device for the people who need it most" – who are usually the ones who do not know how to connect it to supplementary digital devices.
The device will be available by the end of 2015, and the current price is estimated at around £29.20.
When I asked whether or not it will be available through NHS prescription, Diegel had an interesting answer for me.
He claimed that reimbursement of products it bad for the technology industry as when devices are available to purchase at a discount price it discourages innovation.
His theory stands that if companies know they will only receive a certain amount for products, they will not innovate to produce devices worth more as the margins made on those products will be smaller.
iHealth also released the iHealth Wave, a waterproof activity tracker designed to monitor performance while swimming.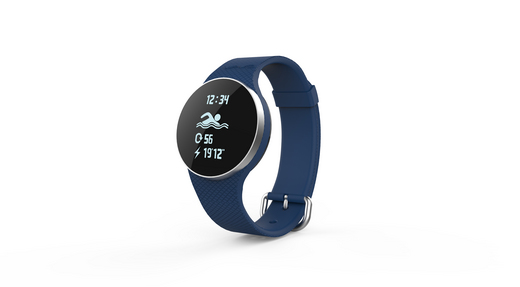 It's waterproof to 50m, can detect and analyse different swimming strokes, lengths and burnt calories, as well as track daily activity and sleep.
Also useable with the iHealth MyVitals app, the iHealth Wave will be available by the end of 2015 for a price of approximately £58.40.
---
August 28, 2015 11:57 AM
3D Printing
,
Accenture
,
advertising
,
Coop
,
Mobile app
,
payments
,
retail
,
social media
,
supermarket
At this year's Expo Milano, a six month universal exhibition of world-changing concepts, Accenture and Coop partnered to show exhibit-goers the future of supermarket technology.
Every few years a country is chosen to host the Universal Exhibition where more than 140 participating countries showcase their take on a different theme.
The theme of Expo Milano 2015 is "feeding the planet, energy for life" and each country has a hub around the expo floor designed to suggest how the world can provide healthy, safe and sufficient food for everyone without detriment to the environment.
One of the main attractions was the supermarket of the future, an interactive shopping experience designed by Coop and Accenture to show consumers what a visit to the store will be like in years to come.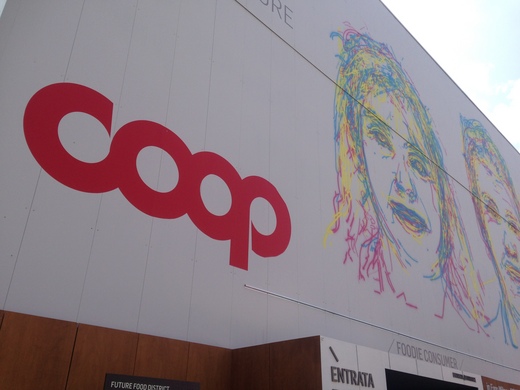 Really it should have been called the supermarket of right now, because most of the technology currently exists, the whole supermarket was fully functional. It seemed like the sort of shop Tony Stark might design if given the chance.
Above each section of fresh produce was an interactive screen listing details about the products housed in that particular area.
Inside each of the screens was an Xbox Kinect, which allowed a customer to use hand gestures to highlight a particular food to find out more about it, including its nutritional content, where it came from, its carbon footprint and allergens.
The thermo sensor in the Kinect tracks the arm's movements to determine which product you're pointing at and relays the appropriate information.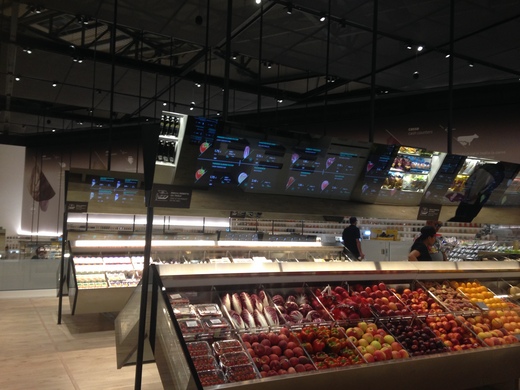 We did try and see if it would cope with two people pointing at separate items, but it wasn't quite ready for that yet.
Alongside some of the produce, there was a demo of robotic arms packing and sorting products as people ordered them, and I was told this was in demonstration of sustainability – instead of all produce being on display, some could be kept fresh and delivered to customers when they want and need it.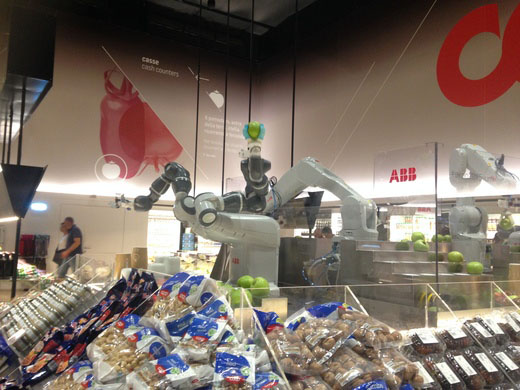 Delving further into the mission of maintaining product freshness were the fridges, where details of refrigerated products were displayed on a screen next to the fridge.
This meant when you are interested in finding out more about a product in the fridge you don't have to open it just to analyse the label, you can preserve the products in the fridge and only open it when you're certain you want to buy a product. This wastes less energy.
Each of the systems in the supermarket is powered by a server and a central content management system where information about each product is stored.
But unfortunately this is where one of the main problems lies, as the product digitisation process can be quite difficult due to differing product standards and worldwide providers.
Cooperation is needed from the producers to input product information into the content management system, and although the technology is ready some of the producers are not.
Every interaction with the technology in store is tracked and monitored, creating big data for analytics.
The explanation of how this data would be used blew my mind a little, but it seemed as though the suggested use for collecting footfall and interaction data was to create pattern analysis to predict what customers will come in on what days and buy what things to make sure the right stock is in the shop.
Alongside the technology in the supermarket itself a mobile app exists to supplement the shopping experience and provide the customer with a more personalised edge.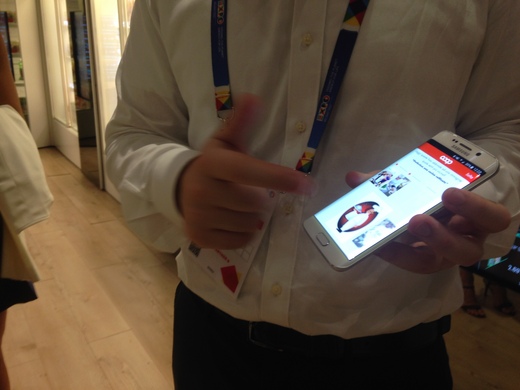 Beacons around the store guide you around the super market through the app to products you want and suggested products based upon what you have already chosen or looked at.
The app can be used to save shopping lists, guide you on the best route around the shop based on what you want to buy and give you a more detailed breakdown of product information.
Social media was embedded at the supermarket's core, with the ability to share on social media through the app and large screens across the warehouse space depicting interactions around the store and on social media sites.
The idea is to create a community feel by showing a shopper what is happening around them – what other people are buying.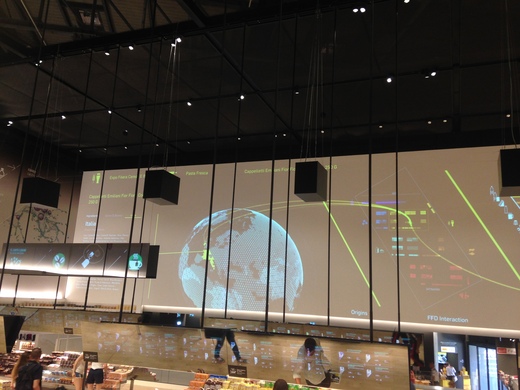 Then things started to get super futuristic.
Around the supermarket there were displays with holographic images of what looked like microwave meals.
On closer inspection I noticed the advert was making suggestions for "personalised" food – apparently in 2050 you'll be able to order ready-made 3D printed meals to match your tastes and speed up your cooking and shopping processes.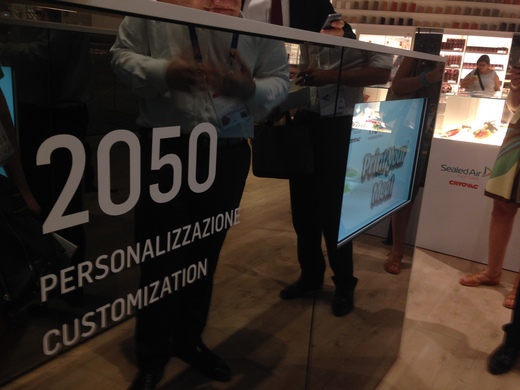 Unable to print my own ready-meal for another 35 years, I settled for buying some chocolate just so I could say I'd fully experienced the supermarket of the future.
Unfortunately language barriers got in the way of my paying experience, and unlike in the UK contactless payment is not always represented by the usual three curved line symbol.
But I eventually managed to walk away with a bar of chocolate and a vision of the future of shopping.
---
August 14, 2015 12:03 PM
Microsoft
,
Microsoft Windows
,
solid-state drive
This is a guest post by Sean McGrath senior reporter at Microscope.
Striking a balance between mobility and security is something of a Holy Grail in the enterprise world. How do you enable employees to work from anywhere, while at the same time, ensuring that your mobile estate remains secure?
Secure mobile storage provider IronKey was founded with a grant from the Department of Homeland security in 2005. IronKey has always had a straightforward mandate – to create the most secure storage solutions possible.
As part of its mission, it pioneered the first cloud based management platform for USB devices, the first USB drives with remote self-destruct and – the topic of today's review – the first fully secure PC-on-stick.
The purpose of the IronKey Workspace range is simple, unoriginal and not particularly sexy. The idea is that you plug the USB device into any PC, select it from the boot menu, and – there you have it – a persistent and fully functioning Windows 8.1 environment. When you are done with your work, you power down, unplug your USB and move on. It is, quite literally a PC… on a stick.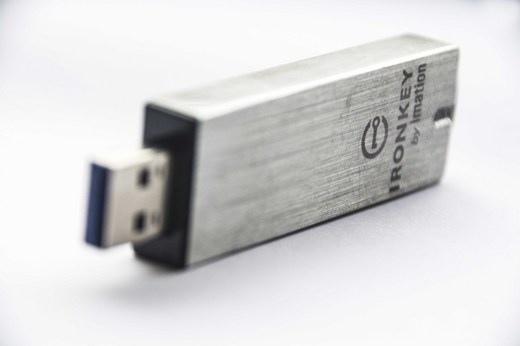 What sets the Workspace devices apart from the competition is the vendor's unwavering attention to security. IronKey, now under the ownership of Imitation, has spared no expense in creating the most secure PC-on-a-stick devices in existence. Before we move onto a hands on review, let's quickly reflect on just how secure these devices are.
In the UK, the Communications-Electronics Security Group recommends that portable devices used by government agencies comply with the Federal Information Processing Standard (FIPS) 140-2 Level 2. The same applies for US federal agencies.
The theoretical weakness with many portable drives lies in the location of the cryptographic key. Often, it is stored in the flash memory of the device itself. It's akin to leaving the key to your mansion under a plant pot. The Workspace's key is stored on a separate cryptochip. Only after the user logs in with an authorized password will the drive unlock the workspace, data and applications.
The primary difference between the W500 and the W700 is that the W700 is the first device of its kind to meet FIPS 140-2 Level 3 specifications. Level 3 requires physical security mechanisms that are capable of detecting and responding to attempts to access the cryptographic module. The W700's cryptochip is surrounded by a layer of epoxy and a metal meshing. Try to access the module and the epoxy warps the chip, destroying any chance of ever decrypting the data.
Of course, nothing is completely unhackable; with unlimited resources or some social engineering, the W500/W700 could still fall foul to wrongdoers. But as far as USB devices go, the Workspace range is as secure as they come.
We were given a W500 for testing purposes, but all specifications between the W700 and the W500 are virtually identical.
It's difficult to call a USB stick 'sexy'; but the Workspace is the Audrey Hepburn of portable storage. The brushed aluminium casing and the rubberised lid let you know straight away that this thing was built to last. The Workspace devices meet the MIL-STD-810 standard, also referred to as 'US Department of Defence Test Method Standard for Environmental Engineering Considerations and Laboratory Tests'.
Basically, this is a long way of saying the IronKey devices are both waterproof and dustproof. While we didn't subject the W500 to a bath, it has been on a motorcycle keychain for the best part of a month and has successfully stood up to the wind and rain. It was even chewed by an enthusiastic puppy for a good few minutes and it still looks like it just came out of the box.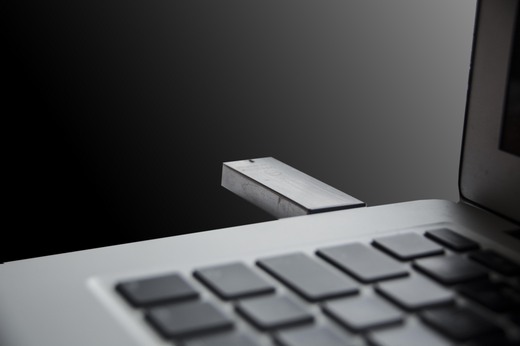 The W500 comes with Windows 8.1 as standard but will work with Windows 10 when it is launched later this month.
We tested the W500 on three different machines: a relatively new custom built workstation (Intel Core i7-4930K, 16GB RAM); a relatively old laptop (Dell Inspiron 11z with Intel Celron 723 and 2GB RAM); and a late 2014 MacBook Air.
The PC was the only machine that could take advantage of the W500's USB 3 speeds, so that seemed like a good place to begin. We started by plugging the device in while the machine was already booted in Windows 7.
It is worth noting that, while the drive shows up in the host system's environment, only 500mb of it can be utilised; the rest is locked away, as if it didn't exist. Upon selecting the drive you are presented with two utilities – one to make changes to the password and one to automatically reconfigure the BIOS settings to boot from the W500.
It's also worth pointing out at this juncture that if the BIOS is locked behind admin privileges, the machine will not play ball with your shiny new stick.
We restarted the machine and selected the drive from the boot options. The W500 takes a little bit longer to boot than some other devices because it goes through two boot cycles (one to unlock the partition and one to actually boot the OS). After a while, this became a tad annoying, but the minor inconvenience was easily offset by the knowledge that we were booting into a completely secure environment.
Moments later, and we were running Windows 8.1. One might assume that there would be degradation in performance, but the speeds felt almost identical to those of the SSD in the machine. The W500 boasts read/write speeds of 400/316 MB/s on USB 3.0; five times faster than Microsoft's minimum requirements for Windows To Go certification.
Apps launched quickly and both CPU and RAM intensive programmes worked without a hitch. We were running Adobe After Effects and Photoshop side by side and even when writing video files to the drive, it was hard to spot any considerable difference between the W500 and the native drive.
The real surprise came in when we plugged the W500 into the Dell 11z. This little netbook/laptop hybrid has seen better days. Booting Windows 8.1 from its internal HDD It takes roughly four minutes from power on to Ctrl-Alt-Del, and then a further five minutes before the OS becomes fully operational.
The W500 gave this almost useless chunk of plastic an entirely new lease of life. The machine was booted and operational in under a minute and the OS was once again fully responsive and useable. You could, in theory, give every employee a ten year old laptop and a W500 and send them on their way.
On the MacBook Air, the W500 did not fare so well. We made it to preboot, but then kept hitting walls as the OS kicked into life. We're not entirely sure what we did, but after a couple of restarts we were up and running. Modern Macs all run on Intel technology and so there is no logical reason why the IronKey shouldn't work equally well using Apple's hardware, especially if you download and install Apple Boot Camp on the OS.
It is really difficult to fault the IronKey Workspace W500. It's well made, does what it says on the tin and most importantly is as secure as they come. The only slight hiccup occurs when one starts considering tangible use cases for a PC-on-a-stick.
Users still need a host machine, which will likely be at home or in the office; and as cloud technologies bring ubiquitous data synchronisation ever closer, it is difficult visualise exactly why an enterprise would really need a fleet of Windows To Go devices.
Perhaps it could make a nice little sandbox environment; or just a useful backup device for when things go wrong. Day-to-day though, people are still going to use the underlying system as their go to devices.
If you disagree and do see the benefit of arming your users with PCs-on-sticks, you won't go far wrong by choosing IronKey's Workspace devices.
---