---
April 27, 2017 3:25 PM
Android
,
Android security
,
BlackBerry
,
smartphone
,
TCL
Is this the phone loyal BlackBerry fans have been longing for? Inspect-a-Gadget goes hands-on with the BlackBerry KEYone, a super-secure Android smartphone with a trademark physical keyboard. 
Although BlackBerry called time on its plummeting hardware business in September 2016, a licensing deal with China's TCL Communications means the BlackBerry hardware brand lives on.
Today's global launch of the BlackBerry KEYone marks the first handset release since the TCL deal, and the last handset to be designed by BlackBerry's in-house team. The press materials for the flagship's London launch allude to this passing of the baton:
"Distinctly Different. Distinctly BlackBerry."
In a market of me-too handsets, BlackBerry has tried hard to deliver on the promise of a distinctly different smartphone: Inspect-a-Gadget thinks it succeeds.
Keys to Success
BlackBerry Mobile clearly believes that keys are the key to regaining its loyal customer base. Known as the BlackBerry Mercury when it first trailed at CES in January, the TCL partnership focused its marketing and by the time the handset was fully unveiled at Mobile World Congress in February it had become the BlackBerry KEYone.
The four-row physical keyboard is tightly stacked beneath a modest 4.5-inch IPS LCD display, ensuring both content creation and consumption are – depending on your viewpoint – equally compromised or catered for. However, BlackBerry is quick to point out that a physical off-screen keyboard can mean more on-screen real-estate than on larger-screened devices where a touch keyboard can fill half the display.
BlackBerry has once again imbued its hardware keyboard with some software smarts: app-launching short-cuts, swipe navigation and flick typing are joined for the first time by an unobtrusive fingerprint sensor on the spacebar.
Of course, keyboard preferences are highly personal, and changes as fundamental as how you input text and navigate around a device can take a while to bed in; those upgrading from a previous qwerty-equipped BlackBerry will take little time to adjust, but those who have grown used to – or always have always used – a touchscreen keyboard may take longer.
Secure
Alongside its keyboard, the standout features of the KEYone are its security and design.
BlackBerry Mobile claims the KEYone is the most secure Android handset in the world, and while the firm has long tolled the smartphone security bell, perhaps never more than now has that note rung as clear.
Android 7.1 Nougat comes as standard, along with access to over a million apps from the Google Play store. As with its previous Android handsets, BlackBerry's DTEK software is in place, adding a convenient layer of permissions visibility and control across all applications.
An eye-catching feature is the BlackBerry Privacy Shade app, a screen overlay which keeps prying eyes at bay by darkening the entire screen except for a small movable cursor. The BlackBerry Hub universal inbox, familiar to BlackBerry users of old, is welcome here too.
BlackBerry Mobile's Global Head of Device Portfolio, Gareth Hurn said that "Secure software is integrated into the chipset and locked long before it gets near to the assembly line," no doubt alluding to reports of smartphones and PCs being infected with malware during assembly. BlackBerry has also committed to monthly Android security updates for at least two years.
Design
At the London launch event, BlackBerry Mobile bosses were at pains to impress how the KEYone has been styled for the professional consumer, and the feel is very much that of a premium device.
Alongside the intricate keyboard detailing, the strong aluminium chassis is fronted by a scratch-resistant 4.5-inch Gorilla Glass screen protecting a 1620 x 1080 IPS LCD display. To the rear is a grippy textured soft-touch shell, a pleasant change from the oh-so-slippy metal or glass back found on many other devices.
The KEYone is a phone that feels like it doesn't want or need a case for extra protection.
The KEYone camps in an appealing middle ground between a standard and a plus-sized body. At 149.3 mm tall and 73.5 mm wide its dimension are almost exactly midway between an iPhone 7 and iPhone 7 Plus, though the extra few millimetres of depth are noticeable. The handset feels well proportioned and weighted though sadly, there's no water-resistance here.
Hardware
Beneath its shell, the KEYone is powered by an octa-core Qualcomm SnapDragon 625 processor clocked at 2.0 GHz, together with 3 GB of RAM and 32 GB of flash storage. Storage can be expanded by up to 2 TB with supported microSD media. On paper, some of these specs do sit towards the middle of the road but in practice, the software feels perfectly responsive when swiping between screens and opening apps.
A USB Type-C port sees to power and wired connectivity, and the non-removable 3,505 mAh battery claims 26 hours of mixed use. What's more, QuickCharge 3.0 technology means a 50% charge can be achieved in as little as 36 minutes. Unfortunately, there's no space here for wireless charging. The Inspector hasn't put the KEYone's power claims to the test yet, but longevity along these lines is most welcome in any wannabe workhorse device.
Content creation isn't limited to the keyboard: the BlackBerry KEYone camera specifications are a pleasant surprise and may help broaden its appeal: the rear-facing sensor is the same top-drawer 12-megapixel Sony IMX378 unit we saw in the Google Pixel XL, complete with its 6-element f/2.0 lens, dual tone LED flash and fast phase-detect autofocus. Video recording clocks in at up to 4K at 30 fps. If you feel the urge to snap a selfie, the front-facing is an 8-megapixel sensor with an 84-inch wide-angle lens and light-up LCD flash.
Availability and Price
The BlackBerry KEYone launches today in the UK and is available in-store exclusively from Selfridges on Oxford Street in London priced at £499. The KEYone goes on sale in Carphone Warehouse stores from 5th May and other with mobile networks shortly afterwards, although many online stores are offering preorders right now. Details of launches in other territories will follow.
Summary
So far, the Inspector is impressed. One could pick out the lack of water resistance or wireless charging as minor faults, but the truth is that the KEYone is a solid professional smartphone with the potential to be the productivity workhorse many may feel they've been missing.
April 22, 2017 11:15 AM
bskyb
,
Facebook
,
Sky
,
Virtual Reality
Sir David Attenborough is to be digitised as part of an interactive virtual reality experience promising hands-on access to some of the rarest items from London's Natural History Museum. But after a difficult launch year, is virtual reality itself destined to become little more than a fossil?
The only person to have won BAFTAs for black and white, colour, High Definition and 3D programming, Sir David is no stranger to embracing new technologies.
In 'Hold the World', a holographic Sir David will curate a one-on-one interactive experience that will allow users to 'hold up, peer inside, tilt and look more closely' at fossils, bones and skulls.
Virtual Reality Relics
Bringing together video game technology with traditional TV documentary, Sky claims 'Hold The World' will be a world's first, although production isn't pencilled to begin until later this year.
The project announced this week is part of Sky's ongoing foray into the nascent virtual reality market. Seeking to capitalise on recent high-profile VR hardware launches, the broadcaster has been busily commissioning VR content, even releasing its own Sky VR app platform.
This isn't the first time that the Attenborough has dipped his toes into VR: last year the venerable broadcaster designed a virtual tour of the Great Barrier Reef for the Google Cardboard Expeditions educational programme.
Difficult Reality
An estimated 6.3 million virtual reality headsets shipped in 2016, although this doesn't take into account the many 'free' Google Cardboard headsets given away offering basic VR experiences. Nonetheless, it's a disappointing return given the fever pitch leading up to the so-called 'year of VR'.
While gaming has been a major motivator for those who have bought into virtual reality, there has been precious little else to compel consumers to invest. Despite major studios committing to VR content, little beyond novelty has stood out so far.
Interactive social content may shortly get some traction though, with details of the new Facebook Spaces VR beta revealed at the firm's annual F8 developer conference this week.
Aside from the lack of content, the current generation of VR hardware is still primitive at best: uncomfortable, often tethered headsets feature limited motion control and frequent motion sickness.
Selling the VR vision to enterprise and professional markets has proven trickier than anticipated too. Envelop VR is one high-profile example of the difficulties faced: the heavily VC and angel-backed firm which offered virtual Windows desktop environments shed half its staff before folding earlier this year, its CEO telling GeekWire how challenging it was to figure out the best use cases for "immersive computing".
Meanwhile, back at the Natural History Museum, Sir David remains excited about the project, describing it as "extraordinary new step in how people can explore and experience nature, all from the comfort of their own homes".
The veteran broadcaster has covered the story of evolution throughout his career — many will hope that Sir David's continuing rubs with virtual reality will help speed its evolution too, lest it goes the way of 3D and the dodo.
---
April 13, 2017 12:09 PM
Bluetooth
,
Internet of Things
,
iot
,
Wireless
Bluetooth has come a long way since the days of flashing blue lights and embarrassing ear-wear.
Okay, perhaps the flashing blue lights are still here, but in almost every other way Bluetooth has grown-up, evolving from the frustrating hands-frees of the early '00s to a flexible IoT platform for a connected future.
Bluetooth 5 is the latest iteration of the ubiquitous wireless standard. Bluetooth SIG – the body that drives its specification – gave Bluetooth 5 the blue green light back in December 2016 and hinted that the first compatible devices could land 'within two to six months'. A little over three months later and Samsung duly obliged with the announcement of the Samsung Galaxy S8, the first smartphone to support it.
So what does Bluetooth 5 do for our connected devices? How does it help developers expand the Internet of Things? And why isn't mesh networking in the spec? Inspect-a-Gadget spoke with one of the Bluetooth team to get the lowdown on the latest version of the flashing blue tech.
3 x Specifications
The headlines for Bluetooth 5 are summarised as a comparison with the previous generation, Bluetooth 4.2 LE:
2 x speed
4 x range
8 x throughput
Now, Inspect-a-Gadget tends to err on the side of suspicion when faced with conveniently round numbers in marketing materials, particularly when no absolute figures are given. Enter Steve Hegenderfer, director of developer programs at Bluetooth SIG, to explain: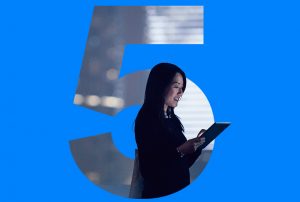 "Bluetooth 5 is evolutionary; it includes the stuff that our members have been asking for for a long time – higher bandwidth, longer range and increased packet size", says Steve. Pushed for specifics he responds, "Speed is straightforward: 1 Mb/s up to 2 Mb/s". He explains that it's actually one megasymbol per second rather than one megabit, but for our purposes it's essentially the same. "However, you don't get your cake and eat it – you won't get 2 Mb/s at 4 x range", he continues.
So, about that 4 x range, Steve…
"This is one of my religious points", he begins. "There is no absolute range. Back with Bluetooth audio, it was 7 to 10 meters. With Bluetooth 4 LE there was an effective range of about 100 m, even further with a clear line of sight. But the range could be huge, it depended more on the radio – 350 meters was possible". So what about Bluetooth 5? "We've seen experiments with a drone where range has been well over 700 meters".
Long Range
The tests Steve refers to are courtesy of chipset manufacturer Nordic Semiconductor; in this film, the team flies a drone controlled via a Bluetooth 5 radio from the side of a hill in Trondheim to measure how far the signal reaches:
Spoiler alert: the drone operator loses his nerve way before the Bluetooth signal packs in (fast forward to the one-minute mark for the good stuff).
This is an area where Bluetooth 5 may begin to change the game: applications and devices that previously relied on Wi-Fi or proprietary protocols now have Bluetooth 5 as an option too, benefitting from its low power consumption and ease of integration. Steve is quick to stress that the real goal with the range boost is 'whole home' coverage irrespective of walls or (within reason) size of house or garden. In a smart home, there should be no technical reason not to employ Bluetooth 5.
Back to the final specs claim: 8 x bandwidth. Steve dispatches this with ease: 31-bytes 'broadcasting message capacity' before, 255 bytes now. Technically that's 8.2258 x but as it's still early in Seattle when Inspect-a-Gadget calls we're willing to cut Steve – and the marketing team – some slack.
There's some other stuff in Bluetooth 5 too, around interoperability and coexistence: channel hopping and slot availability masking means Bluetooth plays nicely alongside Wi-Fi and LTE, important in an increasingly busy wireless playground. All of this while consuming the same amount of power as the previous generation of Bluetooth.
For those rich in time and curiosity, the full 2822-page core specification for Bluetooth 5 can be found here.
Making a Mesh
One thing not included in the Bluetooth 5 specification is mesh networking. It is frequently flagged as a key topology for a robust and decentralised Internet of Things, extending the range and number of devices that can be connected, and its omission has puzzled some.
"It's important to understand that mesh and Bluetooth 5 are two different things; mesh wasn't in the specification to begin with. The developers architecting mesh wanted it to work with Bluetooth 4 radios, with the stuff that's already out there today, so that a lot of devices could be mesh compatible."
Steve points out that mesh is built on LE – Low Energy – devices, that not all Bluetooth 4 devices will be mesh-compatible. What's more, those that are compatible will likely require firmware updates. Yet the desire to open mesh networking to as broad an install base as possible is clearly welcome.
When? "I can't tell you", teases Steve, "but I want to. I can say very confidently that it will be soon this year".
Security
Security is a concern for everybody with a device that connects to a network, and IoT devices present specific challenges. Encryption and all of the other heavy lifting that comes with maintaining device and communication security means processor, speed, RAM and battery – resources at a premium in low-power, low-cost devices – all take a hit. "There is a very tangible cost", Steve says, "but as we move forward security is going to become more and more important".
From a specification perspective, the Bluetooth SIG prefers to take a hands-off approach, letting device manufacturers choose the level of security that they're happy with. "Manufacturers should know their product, know their audience, and build security in from the ground up", says Steve. "We have an out-of-band security model that manufacturers can plug into, but we leave it up to OEMs to choose the right level for them".
Surely mesh networking mandates a different approach, though? "Security has been at the bedrock of designing Bluetooth mesh; security will be enforced."
Internet of Bluetooth Things
For Steve, there are a couple of elements that makes Bluetooth well positioned to underpin an Internet of Things projected to grow to 48 billion devices by 2021.
"The Low Energy stuff is extremely important, but also that Bluetooth is everywhere. From a developer's perspective, it's cheap to implement stuff – no dongle, gateway or peripheral for a consumer to add on. That's a big piece of it as well".
The three major performance bumps with Bluetooth 5 come with a fourth for free inasmuch as the power requirement remains the same. Bolt on better harmony with complementary wireless protocols and the promise of mesh networking that is compatible previous generations of Bluetooth devices, and there are plenty of reasons for developers and consumers to be excited about what Bluetooth 5 brings to the Internet of Things.
---
February 27, 2017 2:48 PM
BlackBerry
,
Mobile
,
MWC
,
nokia
,
samsung
If coverage of Mobile World Congress 2017 reveals anything it's that the heady days of smartphone excitement and innovation are long gone.
Europe's annual mobile tech-fest is seen by many as a shop window into the future of consumer smartphone handsets, as evidenced by the throng of mainstream news outlets pacing the Fira event venue for a story.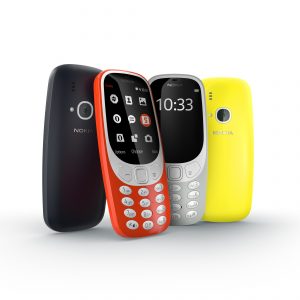 However, there's an inescapable irony that the headlines so far have amounted to the re-hash of the seventeen-year-old Nokia 3310 feature phone, the continuing black comedy of the Blackberry brand's demise, and Samsung's painful tease of an upcoming handset due to be announced at an entirely different event in another city next month.
It's the picture of a consumer tech industry attempting to fight an innovation plateau while desperately trying to maintain consumer interest with something 'new' – even if that means resorting to cheap Nokia ringtone nostalgia.
There will be those who point out that MWC is about the bigger picture: networks and infrastructure, 5G, IoT, policy, connected cars and cities. And they're right, of course.
It's just as well then that these handset announcements, along with iterative updates from LG, Lenovo, Motorola et al, took place over the weekend before the real business of the event officially begins today.
The longstanding joke among technology journalists that #MWC is pretty much over before it begins just got more fuel.
Perhaps we've been spoilt until now.
The rise of mobile over the past two decades has kept consumers and industry tech-watchers engaged with an incessant stream of news, innovation and new devices. Mobile has pushed many boundaries and had a revolutionary impact on society and business. Mobile World Congress, first in Cannes and then Barcelona, epitomised the mobile heydey.
But all good things come to an end.
For those looking for innovation in smartphone technology Mobile World Congress 2017 begins today in Barcelona, but appears to have ended some time ago. RIP #MWC.
---
February 22, 2017 12:22 PM
Android
,
android apps
,
Android security
,
App store
,
Application security
,
Data-security
,
Google Play
,
Mobile VPN
In a coup d'ironie par excellence, it turns out that VPN apps available on the Google Play store may be putting Android smartphone and tablet users at an increased risk of data leakage instead of actually protecting them.
These are the findings of a recent report analysing 1.5 million apps on Google's official mobile app store.
Researchers at CSIRO and the universities of Berkeley and New South Wales found that among the 283 Android apps it identified as using the native Android VPN permissions:
18% didn't actually encrypt traffic
84% leaked user data
38% had links to malware and malvertising
80% requested permission to sensitive device data including text messages and user accounts
Tales of malware-infected apps running riot over unofficial Android app stores are nothing new. However, potentially flawed privacy and security apps appearing in the official store will be a concern for Google as well as Android users who presumed their browsing was safe.
Virtual private network apps have become increasingly popular for consumers and corporate device users alike as awareness of Man-in-the-Middle attacks on public Wi-Fi networks in hotels, airports and coffee shops has risen. But also popular is their ability to work around geographical restrictions to access regionalised online content, arguably forming a larger slice of the pie here.
Dodgy Apps
"I would love to see Google vet its app store more thoroughly", security blogger Graham Cluley told Inspect-a-Gadget. "Most of the Android malware that is seen appears in third-party stores, but there have been too many occasions where dodgy apps have made it into Google Play. Although Google has got better in recent years, it's lagging behind Apple in that regard."
A reminder that all that glisters in an app store isn't gold?
"It would be a big mistake to think that just because you've installed a VPN app on your Android that it's doing the job it claims to", continues Cluley. "My advice would be to stop making price your primary consideration and start looking for a product which has a decent reputation from a trusted provider instead".
While the CSIRO report doesn't disclose its raw data or a list of the VPN apps it tested, it does highlight those it found particularly offensive (which you can see the source report here). The researchers do also note that some of the apps have subsequently been removed from the app store, either as a result of their contacting the apps' developers or via Google's own in-store vetting.
However, Cluley warns that custodians of other platforms shouldn't be complacent either: "Any user of VPNs would be wise to be cautious about which one they choose. It's not just an Android issue; it's the same story for iOS, Mac, PC etc."
"Poor quality copycats"
Inspect-a-Gadget did reach out to the developers of some VPN apps implicated in the report; CyberGhost was the first to respond:
"CyberGhost's image suffers because of some poor-quality copycats. There are apps out there that copy our brand, logo, company name and even UI look and feel. This is true, especially on the Google Play Store", replied a spokesperson. "We've reached out to Google in an effort to solve these problems, and we will continue to do so in the future, even if so far we have to say that our efforts weren't always successful."
More bad news for those putting their faith in Google Play's app vetting process.
"Regarding VirusTotal, it is important to understand that after we release a new version of our app, it is indeed possible that in the first couple of days some antivirus products report CyberGhost as potentially malicious", continued the CyberGhostie. "If anyone were to perform a VirusTotal check today, they would see that CyberGhost is 100% clean."
A robust defence of its product, but the overall takeaway remains clear: relying on consumer app-store reviews and feature lists alone is a dangerous game when it comes to safeguarding your data.
---
January 16, 2017 12:09 PM
personalisation
,
retail
,
transactions
Luxury Italian shoe retailer M.Gemi has designed its store to act as a showroom where customers can experience their product before making a purchase.
There has been lots of talk over the last few years that the omni-channel movement has meant bricks-and-mortar stores are forced to become showrooms, only good for trying on outfits before buying products online.
Millennials are allegedly using their phones to purchase products they have seen right in front of them, hoping to get a better deal or to avoid having to interact with another human being.
M.Gemi in New York is the first retail store I've been to which literally acts as a space for testing products.
The flagship store is focused solely on delivering an amazing experience for customers, and even when you try shoes on, select the product you adore and purchase it, you don't leave with any shoes.
Whilst staring at a tempting-looking bar at the back of the shop Fatima Cardoso-Monahan, M-Gemi store director, tells us its shoes are hand-crafted in heritage Italian workshops before being delivered to customers within two-to-three business days.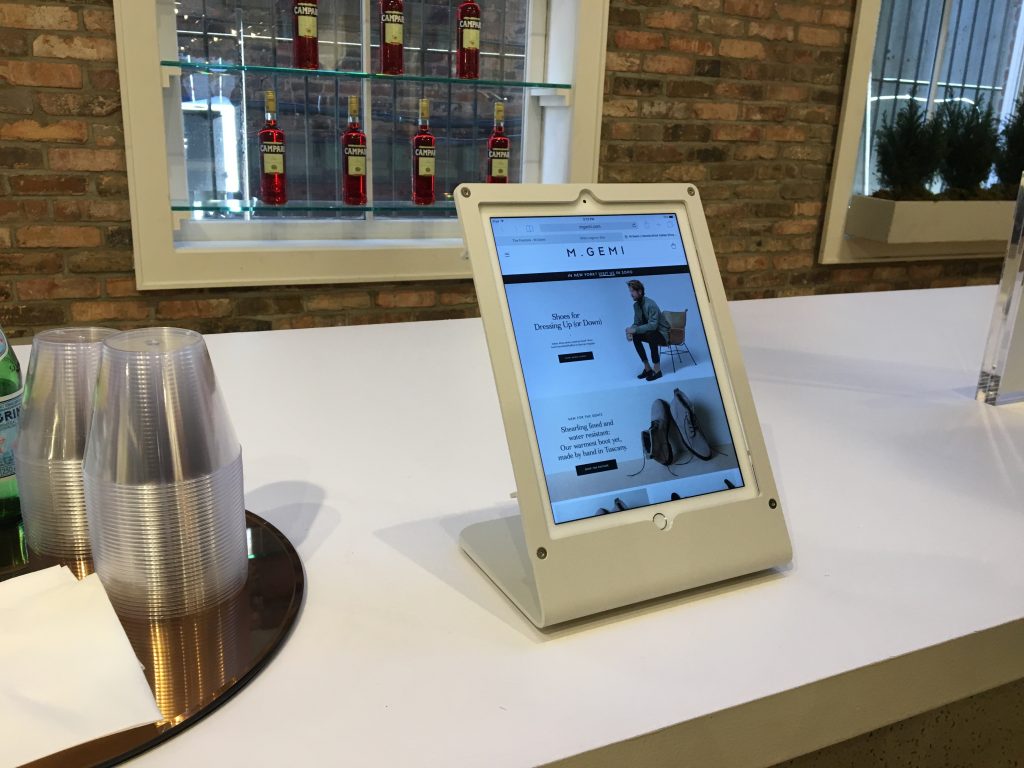 These customers will have wandered into the store from the street, or pre-booked and appointment with a stylist, and tried on several pairs and styles of shoes before ordering their selection with the cashier on a roaming iPad.
Cardoso-Monahan explains: "The associates are able to make the transition without breaking eye contact. The only time the associate walks away from the client is to get the shoe."
Shoes are just one of those items that really need to be tried and tested before purchase, as the rep explains, they're a "high-touch" item, and so really lend themselves to the M.Gemi model.
The store's staff make the whole process look so relaxing and simple, but behind the scenes there's some hardcore technology in use to create the seamless experience customers are getting.
M.Gemi uses the Salesforce Commerce Cloud, a product the vendor acquired after scooping up e-commerce software platform Demandware in 2016.
Using the Commerce Cloud means the brand can collect details about customers and use that data to over the same one-on-one experience online as is offered in store, as well as allow store associates access to a customer's preferences when they visit the shop.
Cardoso-Monahan says: "We have a great marriage between our online business and our brick and mortar, customers get a wonderful experience."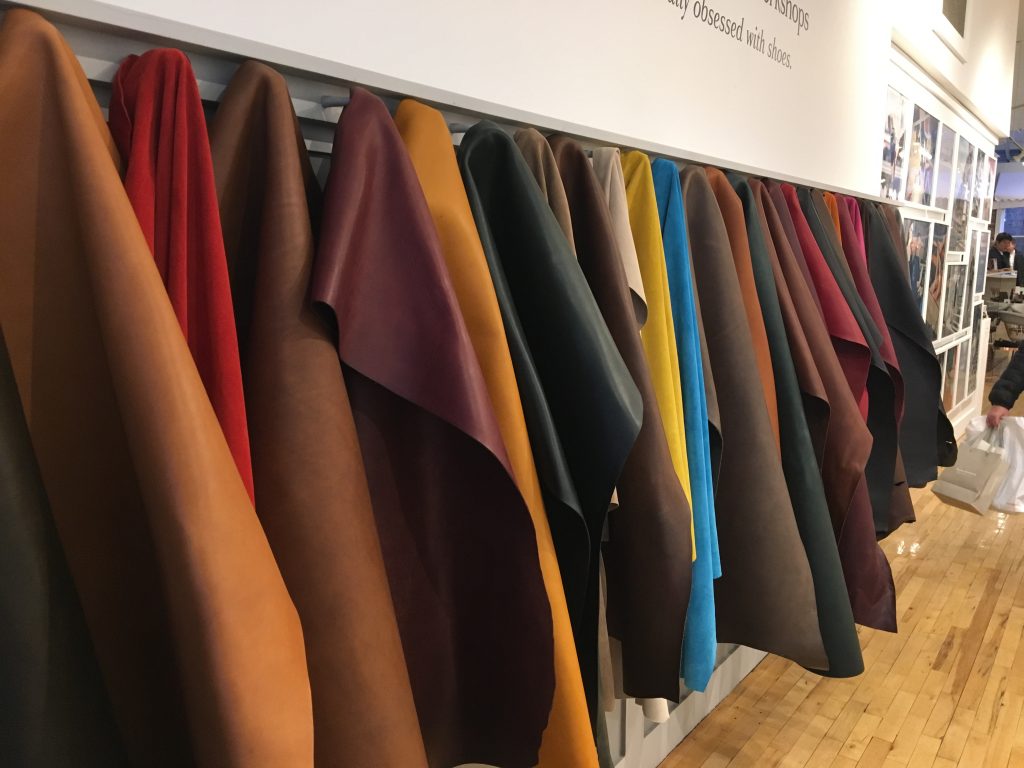 M.Gemi is completely cashless, and the representative says all transactions are processed digitally through Salesforce software on iPads given to store associates.
If they don't already have one, customers have a profile created for them upon checking out to they can look into their orders and start building their profiles when they're away from the store.
Sometimes customers just can't make up their minds, and so if the consumer tries on a pair of shoes and isn't sure if they want to buy them they can be added to the kart and the customer can check out later at home if they change their mind.
Since the customer details are stored and the customers are "educated" about the shoes, their shape and how they are made, the customer can make further orders online knowing the shoe will fit.
It apparently doesn't happen often, but if for some reason the customer is not Cinderella and the shoes do not fit, the product is already pre-packaged for an easy and free return – just another way the brand tries to make the retail experience painless.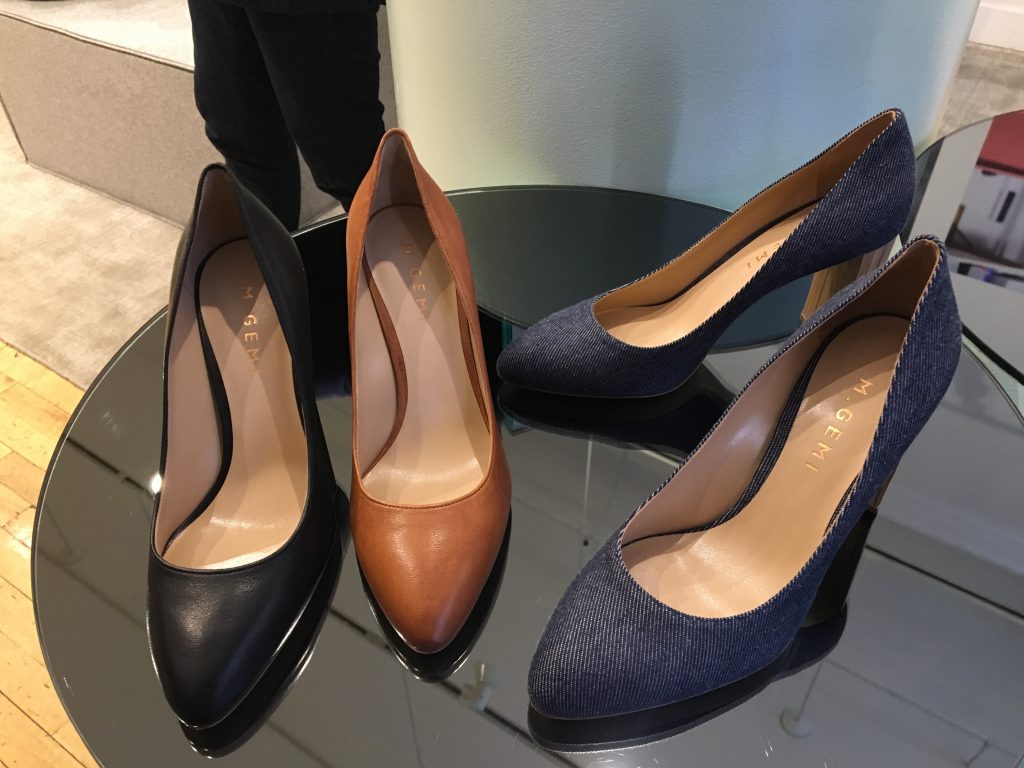 But many consumers visit the store for the experience, and I have to admit the comfortable chairs strewn about, the bar, free sweets, an enticing scent from strategically placed potpourri – it was an experience indeed.
Cardoso-Monahan claims customers will make an appointment to try and shoes and then stay, charge their phones, have some champagne and enjoy the atmosphere.
She says: "A lot of clients after they've shopped like to linger around, it's New York, we like to people watch."
Further enhancing the experience, a new shoe is announced every week which the retailer calls the "Sunday shoe drop" which many customers will visit the store for.
Since the store opened its conversion rate has been around 30% and the brand is already seeing a number of repeat clients.
Cardoso-Monahan concludes: "Our shoppers are very intelligent, they go beyond shopping just because someone's name is on it."
---
January 4, 2017 2:15 PM
ai
,
CES
,
Mobile devices
,
Smartphones
,
UI
,
Voice recognition
Each year the Consumer Technology Association (CTA) runs its consumer technology trade show in Las Vegas known as CES.
CES 2017 will mark 50 years of CTA running the show, and not only has the huge exhibition changed but technology itself if almost unrecognisable – we know this from Computer Weekly's 50th anniversary coverage.
The show will have more than 165,000 attendees from over 150 countries, and more than 3800 exhibitors showcasing their technology.
Gary Shapiro, CEO of CTA, has already been reported to have said the UK government has been unhelpful in supporting startups to attend the prestigious technology event.
Alongside this comes a host of product releases from smarthome tech, virtual reality and artificial intelligence spaces, marking the next steps in tech trends.
In 2016 CTA ran its pre-show event, CES Unveiled, in Paris where more than 60 innovative technology companies showcased their latest tech and gadgets.
As CES 2017 kicks off in Vegas, here are some of the trends we can expect to hear about from the show and over the year ahead…
A shifting user interface
Chief economist and director of research at CTA, Shawn DuBravac, claims human computer interaction is one of the biggest differences between the birth of computing and tech as it is now.
"The General User Interface (GUI) is starting to slip. We've already seen the UI drop from products." DuBravac says, using fitness trackers as an example of how little user interface some products now have.
Labelling voice the new user interface, DuBravac explains Microsoft's 1995 adventures in voice recognition, with an almost 100% word error rate.
Now most voice recognition technology has human parity, with Siri, Alexa and many other devices all understanding and replying to the spoken word.
DuBravac says: "In the last 36 months we have progressed further than in the first 30 years."
Connected and intelligent tech
More of us are carrying connected devices that collect data we can then use for analysis, and many of these devices then feed into other systems to be used as data insight.
DuBravac says these systems are "driving us into the next frontier of tech" and giving us a better idea of what life could look like with intelligent data insight, connected homes and automation.
He says: "Increasingly these intelligent systems are connecting some very diverse objects. Sometimes it seems like technology is moving very slowly, and tech moves very slowly until it doesn't."
Transport, artificial intelligence, and digital experiences
This increase in connected technology and data is causing an impact on many other aspects of technology and daily life.
DuBravac called this the "physical manifestation of data" such as self-driving cars using data analytics in order to safely travel unaided.
He also predicted an increase in artificial intelligence both at work and in our homes, and further digitisation of the consumer experience as retailers increasingly invest in bridging the gap between online and offline.
Where devices have become more and more digital over the last 50 years – from CD Players, to iPods, to smartphones, DuBravac now expects experiences to become increasingly more digital.
DuBravac says: "There are tremendous things happening at CES, some companies will announce things that are set to change the way we perceive the world and change the way we perceive ourselves in the world."
Increased innovation driven by consumers
Almost a quarter of the companies at CES this year exist three years ago.
The increase of connected devices mean people are more in control of their lifestyles and their choices as a result of the data they are collecting about their lives.
Smartphones and easily accessible software also means people are becoming avid creators of content to share on social channels – in the new day and age everyone is a content creator.
This also means consumers are more demanding – they are more aware of what they want and its easier for them to make it known.
Dan Pidgeon, chairman of the board at Starpower says: "The cycle of technology and getting it into the hands of the consumers is getting shorter and shorter every year."
---
December 30, 2016 12:15 PM
ai
,
AR
,
Chatbot
,
E-commerce
,
food
,
Robotics
Online food delivery service Just Eat has a number of ideas for how food tech will influence the future of online food delivery, including technologies such as augmented reality (AR) artificial intelligence (AI) and robotic delivery carriers.
There have been a lot of strides made in the food delivery market – barely anyone picks up the phone to order a takeaway anymore and thanks to particular services you can now get food brought to your home from places that don't even deliver.
Just Eat wants to be at the forefront of the delivery market. Not just content with offering a fast online service for choosing and ordering takeaway, it recently showcased what it thinks the future of food delivery will look like.
The future of ordering food
The first step in the takeaway process is ordering food, and Just Eat has several new ideas about how these orders can be placed.
It seems as though Just Eat plans to thoroughly embed itself in the Internet of Things, with many connected devices around the house displayed in its demo space through which to order meals.
The first was through Amazon Alexa, the voice-driven artificial intelligence which allows users to talk to products such as the Amazon Echo and gain a response/action.
Users will be able to speak to the Echo and place and order through Just Eat. Alexa will repeat the order back to you and allow you to pay, presumably using stored payment details, then tell you how long until your delivery arrives.
The Apple TV was next with an application connecting to smartphones on the same network, allowing a group of people to make their food choices separately, which then contribute to a single group order which is sent to a vendor.
The Apple TV app prompts people contributing to the order to open the Just Eat on their iPhone or iPad and make their food selection – once they have finished their order appears on the screen along with how much they owe.
It was unclear  from the demo whether you can then pay separately, but this would be the ideal in a group situation in the future – everyone orders what they want, pays what they owe, and the restaurants receives one huge list to send to a single address. Simple.
Just Eat claims this application should be available in 2017.
A new Xbox One application was also revealed, which the Just Eat team hopes will be available to use by Christmas 2016.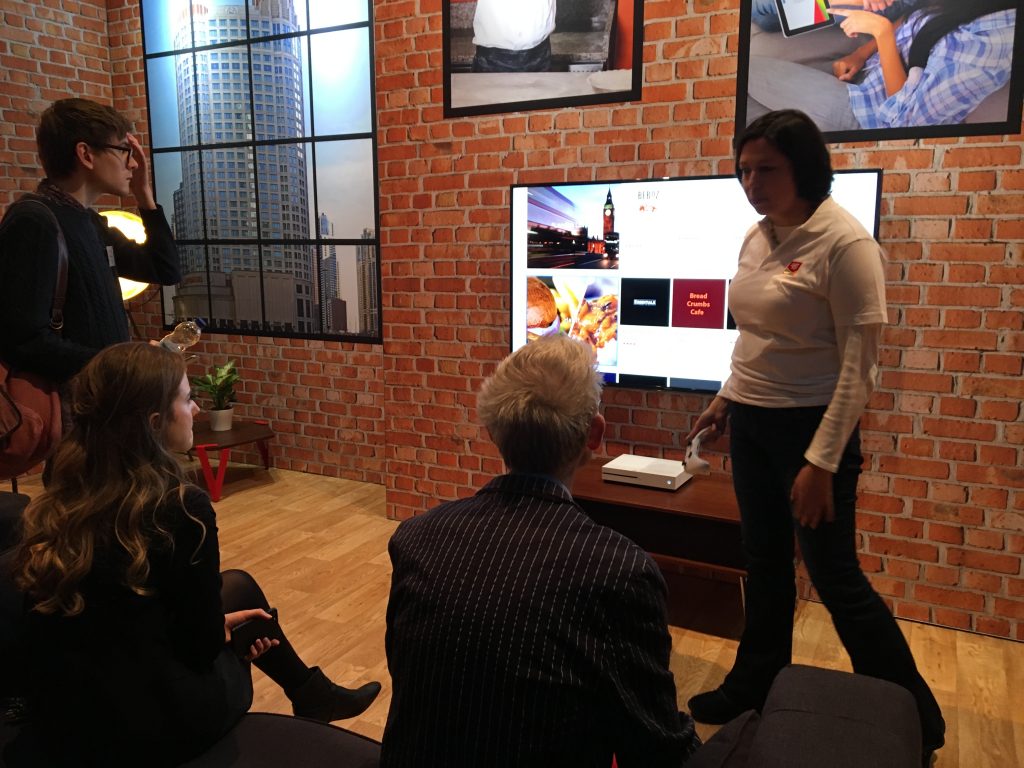 Similarly to the Apple TV app, the Xbox One application will allow users to browse their previous orders, search for restaurants or explore popular dishes before ordering and paying.
Some of the technology was behaving badly on demo day – for example pair of Augmented Reality glasses meant to display physical representations of food items on a flat surface in front of the user had a whole selection of sushi floating eerily in mid-air.
But hitches are to be expected in the early stages of technology adoption, and there is a clear use case for an AR menu allowing a customer to actually explore what a dish will look like before they order it.
It was particularly useful to see portion sizes – too often when food turns up some dishes can either be too much or not enough.
As with many AR technologies though, you can look a bit silly using it – the hope in the future is that you can use your hands to select and order menu items displayed in front of you through your AR device, which in this case is a HoloLens.
Just in case you have a problem with these services, Just Eat has also been working on a customer care chatbot using the Microsoft Bot Framework to help deal with queries,  as well as a Facebook Messenger chatbot you can use to order food or get suggestions on what to eat.
The possible future of food delivery (and the transport industry)
Roaming the floors of the trendy Shoreditch warehouse Just Eat has its showcase in were self-driving delivery robots.
These have already been on trial for pizza firm Dominos in New Zealand, and it also experimented with delivering pizza by unmanned aerial drone in late 2016.
The thing to worry about most for these would be vandals – why mug a pizza boy on his bike who has the potential to defend himself when you can intercept and destroy a lone robot?
Again, there are kinks to work out, but the Just Eat robot was happily wandering around amongst customers during the demo.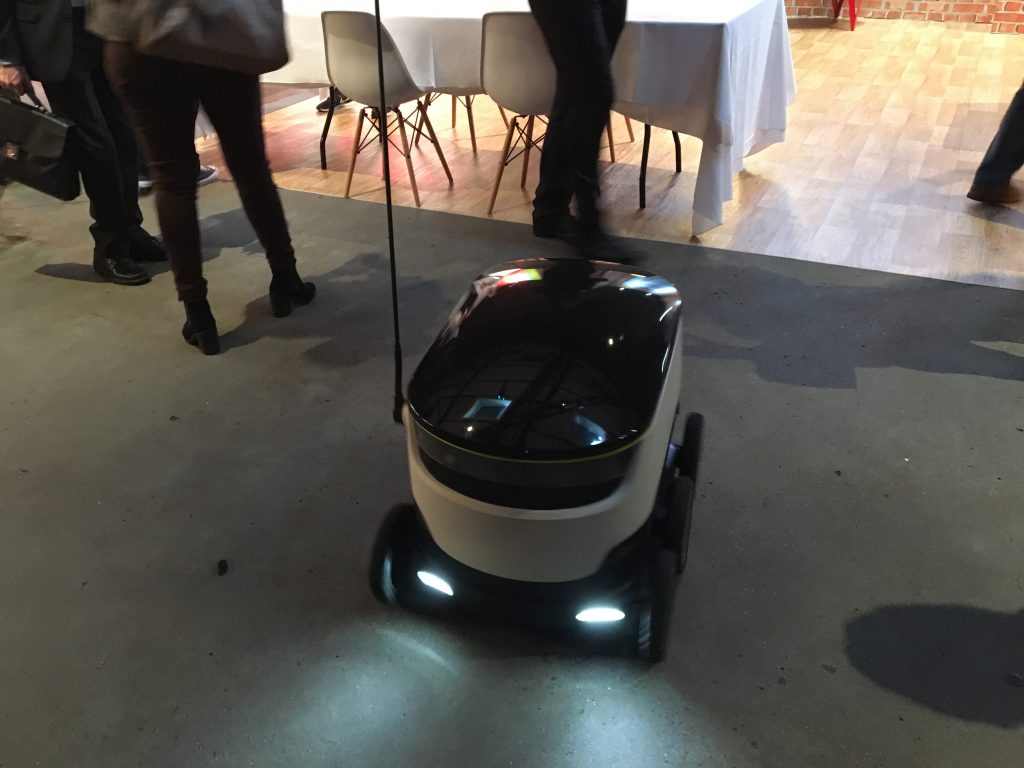 These self-driving robots would detect if someone was walking in front of them and take a different path to their destination.
It's also possible that they'd be more capable of keeping food hot during its journey from restaurant to your door than the traditional thermal bag or tin container food is delivered in now.
Also, you won't have to tip a robot – at least not until we enter the dystopian future in which robots become self-aware and gain equal rights.
Something for the restaurant owner
Once orders have been placed, food has been delivered and payments have been made, any restaurant owner worth their salt should be using the data collected during this process to work out how to improve.
One of the pieces of kit Just Eat was showcasing included an AR system that food retailers can use to gain data insights – both from their own data and data collected by Just Eat.
Restaurants can use the system to determine how much their revenue would increase if they began delivering to a new area, how many orders they can expect to have from that new area in a certain time period and whether such an expansion would be worthwhile.
The demo system didn't do much more than this, but it's the type of technology which, in the future, could seriously enhance a retailer's capability to make accurate and profitable business decisions – and ensure we all have access to more tasty food.
---
October 31, 2016 12:02 PM
Android
,
Applications
,
Google
,
phone
,
smartphone
In this contribued blog post David McClelland reviews the new Google Pixel XL smartphone
In brief
The Google Pixel XL is a solid 5.5-inch smartphone with high-end specs and a top-end price. Aesthetically the Pixel does little to set itself apart from any other plus-sized smartphone, instead letting its clean UI, strong camera and intelligent personal assistant do the talking.
Google has set the bar high with its first full smartphone: with exceptional performance, good battery life and great software, it is only a handful of refinements shy of being the best in its class.
Body and Design
Industrial, conventional, muted – it's fair to say that Google has taken few risks with the Pixel's design.
Sit the Pixel XL alongside an iPhone 7 Plus and there's precious little to differentiate them in either size or styling. Both feature 5.5-inch displays topped by Corning Gorilla Glass housed in an aluminium unibody chassis (although notable is the Pixel XL's higher-density 2,560 x 1,400 QHD display). From the front the only deviation from the well-trodden template is the Pixel's chin where the home button has moved to an index finger-friendly position on the back.
This rear button – in reality a 'Pixel Imprint' fingerprint scanner with some gesture capability – feels very fast and natural when holding the phone but does pose a minor usability challenge when resting on the desk. A feature like tap-to-wake here, as included by other manufacturers who've also switched to a rear home button, would make checking for notifications or unlocking the phone far quicker.
It's on the rear, however, where we find the Pixel XL's most striking design feature: a glass panel across the top that contrasts with the more familiar brushed aluminium body below. While fingerprints can smear its piano-black sheen, the gloss actually adds context and subtle but welcome grip. Also discrete is the only branding evident anywhere on the body, a laser-etched G towards the bottom.
The Pixel XL's body thickens barely noticeably from 7.3 mm at the base to 8.5 mm at the top. This may make it marginally thicker than others in its class but by no means does this feel to its detriment.
The single speaker output is a generation behind its competition, and the lack of water resistance – widely featured elsewhere in this bracket – may be a put-off for some. Swings and roundabouts: there is no protrusion for camera optics on the Pixel.
Along the edge of the aluminium chassis are power and volume buttons a SIM tray, 3.5mm headphone jack, speaker and mic grilles and a USB Type-C sync and charge socket.
Performance and User Experience
Once unlocked the Pixel XL provides the smooth Android experience that should be demanded from any brand new flagship phone unburdened by six months of apps and snaps. The Qualcomm Snapdragon 821 processor and 4 GB of RAM ensure that Nougat 7.1 – the latest iteration of Google's mobile operating system – zips through screens and apps without hesitation. The over-heating that dogged the previous generation of Qualcomm's mobile processors isn't in evidence here, the Pixel XL keeping its cool while charging and under heavy load.
As expected Google has kept the Android UI deliberately pure, free from the skinning and bloatware that have in the past marked its competitors' handsets. The live wallpapers are subtle but pleasant, Google Search is never more than a swipe or two away, and the Force and 3D Touch-aping long-press brings context sensitive menus but needs support from further apps to be truly useful.
Google's voice-activated concierge Assistant debuts in the Pixel range, picking up where Google Now left off. Current users of Cortana, Alexa or Siri will feel at home as the dynamic is similar – at least to begin: say your trigger word ("Ok Google") and then fire away with your question or request. Assistant's speech recognition is excellent once trained on your voice and will invariably return with results within two or three seconds. What sets Assistant apart for now is the depth of data about you that it has at its disposal (your Google mail, calendar, location and search history, for example) and how it guides conversation through on-screen prompts.
Despite the power under the hood the Pixel XL's stamina is good. A 3,450 mAh battery drives what Google claims to be an 'all day charge' and after a few days' use this seems a reasonable statement. Intensive apps like Waze failed to make a heavy dent in the charge, even infamously battery-draining games like Pokémon Go did little damage. While not capable of wireless charging the Pixel's fast charge yields a claimed 7 hours of life after 15 minutes on the grid. USB Type-C is clearly the correct direction of travel, but until the standard reaches the ubiquity of Lightning and Micro-USB you may still be well served carrying a charging cable with you.
Camera
The Pixel's 12.3-megapixel main camera is among the best of any current smartphone, a claim backed by image benchmarking specialists DxO with a DXOMark ranking of 89 (for reference the iPhone 7 scored an also-respectable 86).
However, what hardware-focused Pixel-peepers don't tend to comment on is everyday usability, and that's where the XL's camera excels. The stock camera app is fast to open from the launcher or when locked, quick on the trigger with laser-assisted autofocus, and packs enough editing options to keep most casual snappers content.
Video is well catered for too with well-saturated colours – even in low light – thanks to a f/2.0-aperture lens and large 1.5 μm pixels on the sensor. There's no optical image stabilisation here as with some competitors, instead the Pixel XL relies on software to keep unwanted wobble in check – and it largely succeeds.
4K video at 30 fps is standard these days, with slow motion modes ramping up to 1080p/120fps and 720p/240fps. The 1080p/60fps video mode creates the smooth ultra-real effect that has become increasingly popular on video sharing sites.
With the base Pixel offering 32 GB of internal storage but with no option for expandable storage, video creatives may choose to upgrade to the 128 GB model or take advantage of the free unlimited storage for photos and videos offered by Google – uniquely for Pixel customers 4K uploads remain free at full resolution.
Summary
Google's handsets arrive at a fascinating crossroads in the Android smartphone crusade.
The Pixel and Pixel XL phones are the search, ads, apps and now AI giant's first attempt at owning the end-to-end smartphone hardware and software stack. But by aping Apple, is Google hoping to entice disenfranchised iPhone owners? Or, more likely, will it hope to pick up the baton dropped by its Android partners?
With long-time leader Samsung faltering dramatically with its Galaxy Note 7, former front-runner HTC falling by the wayside (although still silent a partner in manufacturing the Pixel) and Sony looking to alternative routes to help its handsets stand out from the pack, perhaps there could not have been a better time for Google's big push.
With the Pixel and Pixel XL Google has landed a high-performing handset that shows off the best of what Android is capable of, as was the aim with Nexus range it replaces. A powerful proposition for work or entertainment, Apple and Samsung finally have a serious new challenger in the smartphone race.
Google Pixel XL: Specs at a glance
4 GB RAM
Qualcomm Snapdragon 821 processor
32 or 128 GB storage
3,450 mAh battery
5-inch 2,560 x 1,440 QHD AMOLED display
5 mm headphone jack
USB Type-C sync and change
3 MP f/2.0 main camera
8 MP f/2.4 front-facing camera
Android Nougat 7.1
Available in Quite Black or Very Silver
The Google Pixel XL is available from £719 SIM free with 32 GB storage or £819 with 128 GB of storage. Also available on contract.
Image credit: Google
---
July 26, 2016 3:49 PM
3d printer
,
3D Printing
,
Healthcare
,
Manufacturing
3D printing specialist XYZ is experimenting with uses for its printing technology, starting with the potential to print food
Computer We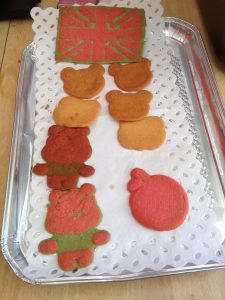 ekly has dabbled in the realms of 3D printing before, when the Inspect-a-gadget team attempted to use a do-it-yourself 3D printer with no previous training.
It led to a debate about the uses for 3D printing, which in particular industries has proven to increase efficiency.
For example in manufacturing 3D printing is often used for rapid prototyping, and in healthcare has been successfully used for personalised orthotics.
But in the home, we could think of very little use for these nifty machine beside making flower-pots, desk tidies and bodged plastic messes.
XYZ, a company specialising in plug-and-play entry level 3D printing devices has been trying to make the space more creative and accessible for people in their homes.
Upon arrival at the food printer demo, I was greeted by a tray of what looked like Union Flags made from icing.
I realised these were biscuits pre-oven – the batter piped by a 3D printer into the shape of a flag using different coloured batters.
The food that is fed into the printer is pre-mixed and inserted into tubes, before being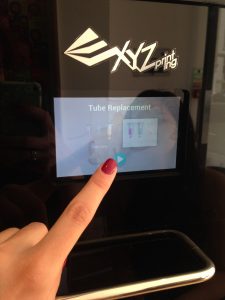 lo
aded into the printer – a food-based printer cartridge if you will.
Similarly to a 3D printer the food, be it a batter, paste or pate, is drawn on to a palate using lines which build up to make a pattern, governed by an STL file.
These files can be selected from a USB stick the printer's touch screen, and many of the ones used on the day were downloaded from the internet and sliced using software that comes with the printer, designed specifically to prep 3D printing files.
Once the food is printed it can be removed and cooked in the shape of whatever it came out of the printer looking like.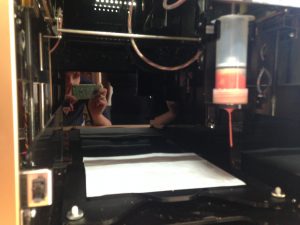 So why is XYZ looking into printing food?
I spoke to one of their experts at the demo who said there could be a lot of potential for these appliances in the future, at home or in the culinary industry.
Once the technology is more advanced it could be used to help elderly people who find it hard to cook to develop meals, or to print ready meals that are more personalised to individuals.
As technology begins to disrupt many of the industries around us, time becomes a defining business factor, and devices such as this could save time in mass food production for foods such as biscuits or canapés.
Usually XYZ's home 3D prin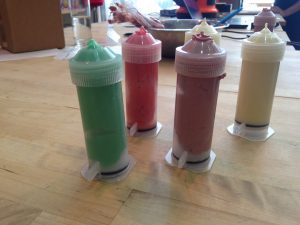 ters retail at around £199, making them affordable for the domestic market, so who would want a device in their kitchen which could print the perfect cookie?
I tried one of the biscuits, and it wasn't too bad. It wasn't the greatest biscuit in the world, but that could well have been down to the batter rather than the printer.
Could these printers become part of our foodie futures? It's definitely a concept that is being talked about at tech shows worldwide, so who knows. Soon all biscuits, chocolates, pizza and snacks could be printed rather than baked.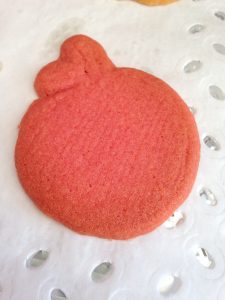 ---