---
June 13, 2012 11:50 AM
Facebook
,
Handset
,
MIRO
,
Sony
,
Xperia
Sony recently gave (what it called) "power to the people".
Actually, what it really did was allow people to click a button bringing the launch date for a mystery handset forward a few seconds at a time.
Granted I'm a miserable sceptic but I'm sure it will have done all the necessary calculations and worked out a new time launch date, and that time is now, I've received a press release about it and everything.
Here we have the Sony Xperia Miro.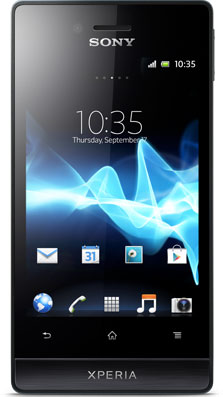 I have no idea what Miro stands for and a
Google search
left me even more confused, apparently it is a tree native to New Zealand that is used for lumber and often features in interior carpentry.
Think Sony may be on to a winner with that name, I mean, that's what everyone wants from their phone, an interesting wooden interior feature.
Anyway, the real facts:
Screen: 3.5″ 320 x 480 pixels
Under the hood: 800 MHz Qualcomm processor, 4GB RAM (just over 2GB usable)
OS: Android 4.0 (Ice Cream Sandwich)
Camera: 5MP, auto focus, digital zoom and flash. Front facing VGA cam.
Battery: Talk time up to 5hrs, standby time up to 470 hours.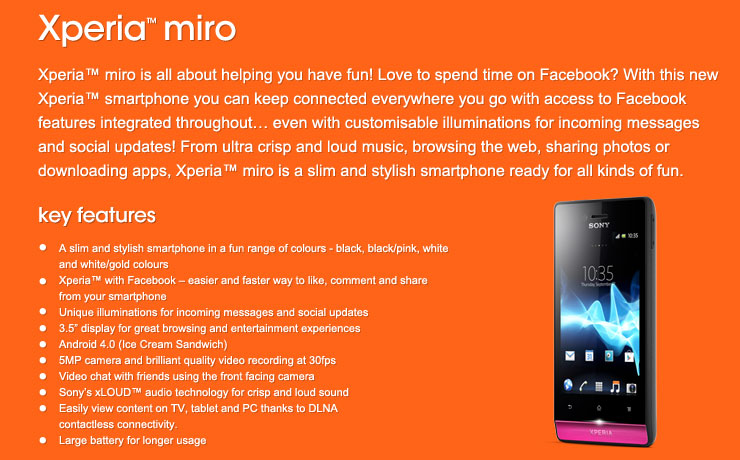 So, what's new?
Well Sony is boasting about increased Facebook integration on this handset, making it easier to like, comment and share. They have also developed a variety of illuminations for the different notifications you will receive.
Other than that, it seems to be business as usual for the latest addition to the Xperia family, with it's xLOUD technology and DLNA connectivity for effortlessly streaming media.
They also announced the Tipo, essentially a budget version with lower specs and limited features.
Both handsets will be available in a range of colours, showcasing Sony's commitment to increasing its focus on styling.
Black, black and pink, white, white and gold are the colours of choice for the Miro.
As for the Tipo, classic black, classic white, deep red and navy blue.
I have no idea what the difference between black and classic black is, maybe its old paint so they've cleverly called it "classic". Good marketing that.
Looks to me like Sony is just ironing out all the creases in its Xperia range, offering little tweaks and developments with each new handset whilst also trying to span as much of the market as possible.
That worked for Nokia………. back in the late 90s and early 00s. I can't see these handsets being snapped up by everyone but they at least have enough appeal to warrant a space in the market.
June 7, 2012 5:15 PM
Android
,
Dropbox
,
HTC
,
HtcSense
,
iPhone 4S
,
TouchWiz
,
YouTube
HTC have unveiled the One X as their flagship phone and this one is a beauty.
The white polycarbonate shell feels comfortable in the hand yet sturdy. I really wanted to throw this phone on the floor to test it but decided not to, instead watching Youtube videos of others abusing it. The results showed that the One X not only held together but that when the shell was scratched it stayed white which is nice.
This phone is incredibly light and while it hosts a beautifully clear and fantastically curved 4.7 inch screen, it doesn't feel too big and just about fits nicely in the pocket.
It is almost exactly the same size as the Samsung Galaxy S3 in every way.
Speed/processor and spec-wise, the Galaxy S3 and One X are very similar both boasting great screens and amazing cameras.
The main differences are which one you like the look of and whether you prefer Sammy's Touchwiz or HTC's Sense. Personally I like Sense, especially in Android 4.0 as HTC has pulled back on all the flash and streamlined it so it's less obtrusive and more useful.
Again, it comes down to personal preference because Touchwiz is also very good.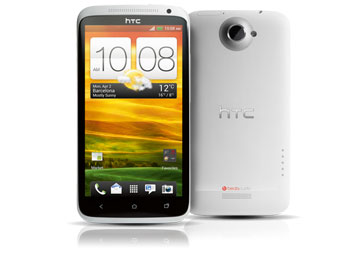 The One X comes equipped with the Tegra 3 quad-core 1.5GHz processor backed up by 1GB of RAM, this is quite a statement by HTC as this phone is 'best in class' in almost every department.
The specifications for the One X read:
Running on Android 4.0 Ice Cream Sandwich with HTC Sense
Quad-core 1.5GHz Tegra 3 processor
1GB of RAM
4.7″ 720p Super LCD2
8MP f2.0 camera with its own image processor
1.3MP front-facing camera (capable of HD video chat)
32GB internal storage
25GB of free Dropbox storage
NFC capabilities
1800mAh battery
4G compatible
The phone is one of the slimmest the world has seen measuring at 7.9mm, compared to the iPhone 4s's 9.3mm, mainly due to its polycarbonate shell.
As well as Dropbox, the One X will also come with Beats by Dr Dre audio built in. Unlike previous HTC handsets, Beats is built into any audio that your phone puts out including video, Spotify or YouTube.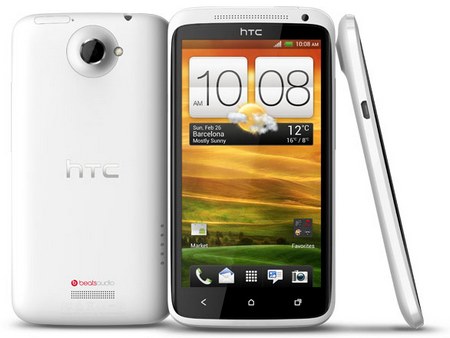 To sum up, this phone is brilliant. It will be my next phone. It looks and feels great with power and a truly amazing camera.
Stylish, quick and clever I genuinely enjoy using it and it truly gives you the best that Android has to offer. This phone has pulled HTC from the brink and thrown the company to the forefront. It may not come with as much fanfare as the Samsung Galaxy S3 or whatever Apple unveils but blow for blow the One X matches and exceeds.
The only question you have to ask is whether the Galaxy S3 has more to offer, for me it doesn't.
---
May 28, 2012 9:30 AM
augmented reality
,
Aurasma
,
Kinect
,
SAP
Question: What do you get if you cross a Microsoft Kinect controller, some 3D glasses and an augmented reality platform with an SAP HANA in-memory real-time big data-ready database?
A couple of weeks ago I wrote a post in which I questioned whether
Augmented Reality
is really ready for the masses, concluding that while the technology and platforms themselves are getting close, a lack of real purpose and compelling content may be AR's Achilles' Heel.
Augmented reality – heads up display concept (Photo credit: Wikipedia)
But then last week, at the annual SAP Forum event in London, I saw perhaps the most innovative application of AR for the business yet.
As part of
my original story
I interviewed Matt Mills, Head of Innovation at
Aurasma
, part of Cambridge-based/HP-owned firm Autonomy and one of the main software houses developing commercial augmented reality platforms and applications.
While the offerings from the likes of Aurasma and
Blippar
are primarily consumer-focused (typically around marketing campaigns), Matt was also able to share with me some tantalising and genuinely useful applications of augmented reality in education and business.
And then at an event I had naively considered an unlikely candidate for showcasing gadgety innovation, I stumbled across what can only be described as Augmented Reality for the Enterprise.
"Spatial Operating Environment"
Keytree
is a UK-based company who, in partnership with SAP, has developed a unique product called
CEO Vision
which it showcased at the SAP Forum event last Tuesday.
CEO Vision combines an Augmented Reality platform with Microsoft's
Xbox Kinect
controller to deliver a distinctly futuristic-looking data visualisation tool.
Aimed at non-technical executives, CEO Vision sources its data from an
SAP HANA in-memory database
and using an assortment of 3D eyewear, motion control and display technologies presents what Keytree calls its "Spatial Operating Environment".
Viewers wearing the headset can peruse and interact with rich, animated datasets retrieved in real-time from the back-end database.
Parallels will inevitably be drawn with Google Glass which last week also released sneak peek of some
footage filmed using its AR goggles
, although CEO Vision perhaps scoops top marks inasmuch as anybody can try it for themselves right now.
Big Data means Big Glasses?
Personally I believe that technologies such as these from Keytree and Google will be essential tools as we attempt to visualise, digest and capitalise on ever-growing volumes of both business and personal big data.
But wearing my actual reality glasses for just a moment I don't see that the technology is mature enough quite yet. The CEO Vision user interface boldly aims for Minority Report but currently lands somewhat closer to Lawnmower Man.
Nevertheless it's still impressive to see it in action at all and, as with Google's intentions when announcing Glass, I suspect it acts as more of a signpost to the near future than a genuine stake in the ground for now.
---
May 24, 2012 10:31 AM
Android
,
Apple
,
BlackBerry
,
FaceTime
,
iPhone
,
SMS
,
whatsapp
,
Wi-Fi
,
WIndows Phone
The digital marketplace is becoming increasingly flooded with apps in general, making it harder for users and businesses alike to filter and determine the best choice for their needs.
iPhone apps Photo credit: dougbelshaw)
Here, I'm going to do a quick rundown of some of the biggest real-time, "free" – in that they don't consume the SMS allowance, only using data through either 3G or Wi-Fi – messaging apps.
BlackBerry Messenger (BBM) is probably the most well known real-time messaging application but it appears to have been labelled the preferred communication method for youths and "hoodies", with the app even being singled out for criticism during the London riots. The other downside to BBM is that it is only for BlackBerrys, so unless all your workforce or friends own BlackBerrys, this one is out of the picture.
The same can be said for Apple's equivalent, iMessage. The majority of iPhone owners I know aren't as attentive as they could be when it comes to the latest updates so they haven't even experienced iMessage and, even worse news for Tim Cook and co, those that have, have disabled it.
FaceTime, however, has been a lot more successful. Free video calls across Wi-Fi and possibly 3G in the near future were always going to be an attractive proposition for businesses.
Skype Technologies S.A. logo (Photo credit: Wikipedia)
Microsoft-owned Skype has dominated the VoIP landscape for a number of years but despite being one of the first real-time messaging apps to be released for iPhone and Android handsets, it hasn't experience the same level of adoption in terms of smartphone uptake.
WhatsApp, one of the top selling apps in the iTunes store, must be experiencing increased adoption as it has consistently remained one of the top 10 paid apps for over 6 months. I would describe WhatsApp as a blend of all three of the above.
Another reasons for WhatsApp's success is that it is available on Symbian, iOS, Android, Windows Phone and BlackBerry handsets, allowing for communication across all devices regardless of their operating system.
It offers real-time messaging, photo, video, audio, contact and location sharing.
Once a message is sent the sender is given a tick to let them know everything is okay. Then, they receive a second tick when the recipient reads the message. This and the fact you can see when your recipient is typing mean you don't need to bombard them with emails on deadline day. The ability to remove the ol' "Oh, I didn't see that message" excuse is surely an attractive one.
WhatsApp (Photo credit: Wikipedia)
This page
details how all sorts of businesses from e-commerce to editorial and customer service are rolling out and utilising WhatsApp as either an email replacement or alternative.
Given that WhatsApp is so established, even TU Me's timeline and history won't help it.
Although, should TU Me switch its focus to the business sector, offering document attachments, multiple messaging and a built in appointment builder it could well take off as it seems businesses are increasingly open the possibility of using out-of-house/third party apps to manage communications while lowering costs.
---
May 3, 2012 12:04 PM
AR
,
augmented reality
,
Aurasma
,
Autonomy
Augmented Reality is a technology that has promised much but delivered little. Mixing the physical and virtual worlds by overlaying text, images and video content on top of real life in real time, AR has long been touted as the next big thing, both in the consumer and professional technology arenas.
But despite such augmented expectation, the actual reality is that AR has failed to capture public imagination, suffering from poor platforms, uninspiring apps and lacklustre content.
However, there are some signs that Augmented Reality is finally coming of age. Mobile AR platforms such as
Aurasma
and
Blippar
have recently announced significant commercial partnerships,
Amazon Flow
is narrowing the gap between shopping in the physical and online worlds, and the
Google Glass
project unveiled last month reveals that AR may be a difficult to ignore strategy for the search giant.
Facing Reality
The smartphone revolution should have been the golden bullet for the AR industry, mobilising the masses with devices that integrate the cameras, colour screens and network access that are key to the technology's execution.
But while the AR platforms have themselves become technically capable, in practice few applications of any substance have gone beyond the gimmick to fully engage with the public, with most use cases being pushed by advertisers and marketers rather than genuinely pulled by the consumer.
AR versus QR
Both the limited content and public awareness have been major barriers to wider AR adoption. The popular but lo-fi
QR Code
has parallels with AR implementations inasmuch as it relies upon image recognition to identify a 'trigger' (the QR matrix barcode) and then present relevant extended content. The benefit here is that the QR barcode itself is immediately visually distinctive, inviting curiosity and engagement.
The intelligent visual recognition at the heart of AR technologies from the likes of Aurasma means that any object, be it a business card, shopfront or landmark, can potentially become a trigger. Clever technology, but herein may lie its Achilles' Heel as there is often little advertising additional AR content other than an optional small graphic. For example, some red-top daily newspapers in the UK conceal AR content on their front page but with little or no indication to the reader that they do so.
Nevertheless, outside of entertainment and commerce there are professional many applications for AR technology. The Head-Up Display, or HUD, has been successfully deployed by the military in aircraft for decades and similar technology now seeps into consumer vehicles; there are examples of AR being used by field engineers to assist with the installation of hardware; and providers of educational materials in schools are also beginning to flex their creative muscles with the technology.
HP does AR?
Aurasma (Photo credit: Wikipedia)
One of the main players in the consumer AR market is UK-based Aurasma. Developed and owned by Autonomy, famously bought by HP in a $12 billion deal last year, the Cambridge company has been feverishly building commercial partnerships to promote its platform.
Key to raising awareness of a consumer product are the brand tie-ins, and Aurasma has plenty. Its logo appears on Tottenham Hotspur Football Club's players' shirts, Aurasma 'auras' feature throughout the BBC's Top Gear Magazine and it has been partnering with Universal Pictures in its 100th birthday celebrations this year.
As Aurasma's Head of Partnerships and Innovation, Matt Mills is a man with his finger on the pulse of both the present and future for Augmented Reality. At an event showcasing Aurasma's technology on Sunday I asked Matt about AR and its applications outside of entertainment, how Aurasma fits with Autonomy's strategy, and what innovations we can expect in the coming months:
While gaming would seem to be an integral part of Aurasma's strategy for growing its AR footprint, it may be that user-generated content and experiences could trigger the fastest growth for AR.
AR Mashups
Mashups combine multiple sources of (often publicly available) data to create new understandings and visualisations; a classic mashup example is chicagocrime.org in which maps provided by Google Maps are overlayed with neighbourhood crime statistical data from Chicago's police departement to create a visual heatmap of crime hotspots across the City.
If one of the key challenges for Augmented Reality platforms is to build a comprehensive catalogue of AR triggers and genuinely useful content then developing and opening the platform to enable real-time augmented reality mashups could be an ingenious and compelling move. Of course, the risk for companies such as Aurasma would be a disruption of its partner pay-per-click revenue model.
Future Prospects
With further high-profile partnerships, immersive gaming and (hopefully) genuine value-added experiences on the slate, AR's visibility is building. As Google's Glass/Goggles combination further whets appetites and inspires the imaginations of both content creators and consumers, it finally seems that the momentum behind Augmented Reality has, well, augmented.
---
May 3, 2012 9:56 AM
galaxy note
,
Patent
,
samsung
,
Sony
,
TouchWiz
Honestly, I know the last two posts I've done have been about patents and this will be a third in a row, but I'm not obsessed. They're just very newsworthy.
Defensive statement out of the way, on with the news.
I came across this patent from Samsung while browsing the web yesterday.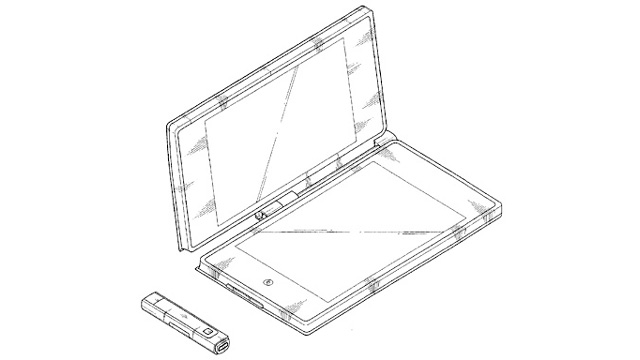 It is a concept sketch that was included in a patent filed over a year ago, in March 2011. The application was made for an "ornamental design for a mobile phone". Intriguing I hear you say.
As well as echoing the
Sony P tablet
design, with its dual screens, it also bears a striking resemblance to the Galaxy Note. Although, is the Note an ornamental mobile phone? I've always just though of it as either a miniature tablet or a gigantic phone. Never a tabphone though, no one should ever use that word. Ever.
Like the Note, this concept design comes with (what looks like) a stylus. All of this makes me scratch my head, stare at the ceiling, ponder and then deliberate as to whether this could be a route that the next or third generation incarnation of the Note could go down.
The clamshelled Sony P tablet hasn't really been much of a hit with consumers or businessmen, whereas I have seen the odd Note coming out of a businessman's bag or pocket on the tube. As a side note, I'm sure most suits would have to have their pockets altered by their tailor to allow the gigantic Galaxy hybrid to fit. Am I right?
However, with Ice Cream Sandwich and TouchWiz at their disposal, Samsung have carved out a much sturdier fanbase in the Android marketplace than Sony so consumers and businesses alike could be more inclined to warm to a dual-screened Samsung phone/tablet offering.
---
April 23, 2012 4:51 PM
Apple
,
iPhone
,
Microsoft
,
Patent
,
WIndows Phone
Just my luck, a matter of days after I write 5 of the weirdest phone patents, one of the coolest and weirdest mobile patents hits the internet.
I didn't fancy changing the afore mentioned post into "6 of the weirdest phone patents" for two reasons. One, this new patent I'm about to discuss deserves its own post and two, "6" doesn't have the same ring to it as "5". If it was "7" however, that would be a whole different kettle of fish.
So, this is the second Microsoft smartphone patent to catch my eye in recent times,
after this
of course.
This new patent outlines a dual-screened smartphone, with the rear screen being labelled a chuckle inducing "backside display".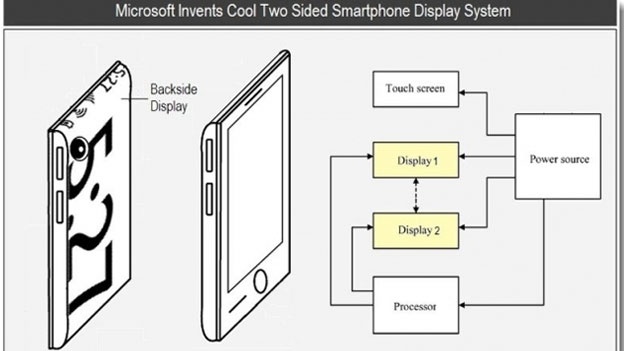 It is unclear as to whether Microsoft plans to go it alone with this hardware or if they plan to offer it out to other manufacturers who utilise Windows phone OS on their handsets.
The paperwork reveals plans for the rear display to act as lower powered, watered down, interactive panel. Sort of like a Kindle display, but most likely with colour.
It would be powered by a secondary, smaller, processor and, as you can see from the patent, would display information such as time, signal, alerts and battery life. Not only that, Microsoft detailed that the display could also be used to display customisable logos.
This raises the question, could it spell the end for those market stalls up and down the country that have been selling substandard and unlicensed tacky phone covers for years?
Jokes aside, the real question it raises, for me at least, is what material will the phone or, more specifically, the rear screen be made out of? Gorilla glass?
It's a shame that on the off chance this patent does actually make it to production, it probably won't be anytime soon.
---
April 20, 2012 3:23 PM
Apple
,
BlackBerry
,
Microsoft
,
nokia
,
Patent
,
research in motion
,
RIM
,
Senseg
Following the publication of a patent filed by BlackBerry makers RIM back in 2010, I thought it would be fitting to compile a list of 5 of the weirdest phone-related patents filed in recent times.
It's strange to think that right now companies could be working on and filing numerous patents for innovations and advancements that may not enter the market or even production until a couple of years from now. I don't know about you but it certainly leaves me feeling like we're missing out.
I'll kick things off with the RIM patent I used to introduce this post, it concerns a rotating keypad.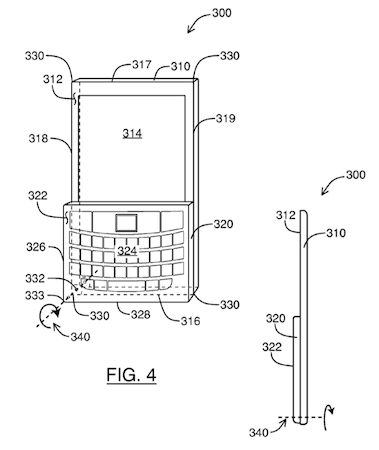 Here, the keypad is fixed in one corner meaning it could be used whilst partially covering the screen, completely below the screen in portrait and landscape or, alternatively, entirely behind the screen. Everyone knows RIM killed off its consumer business recently following huge losses and there is 0% chance that this is the innovation that could save it, seems more of a novelty.
Potential usefulness: 4/10
Chance of being rolled out: 5/10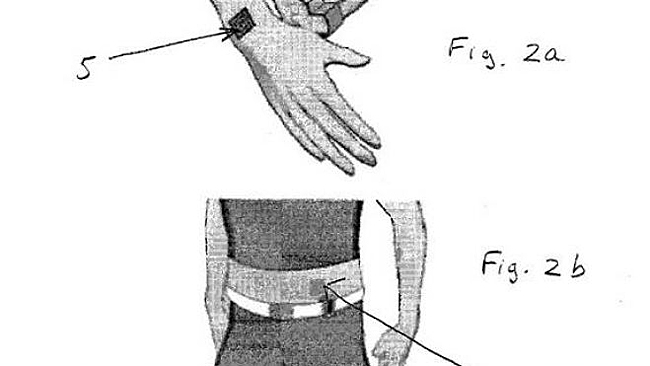 The patent for this potential futuristic haptic innovation explained that the "tattoo" would transfer a stimulus to the skin to notify the user of an incoming call or message. The whole proces would work through the use of magnetic field detection. The marketing potential for this product could be huge but I, sadly, just can't see it taking off any time soon.
Potential usefulness: 7/10
Chance of being rolled out: 5/10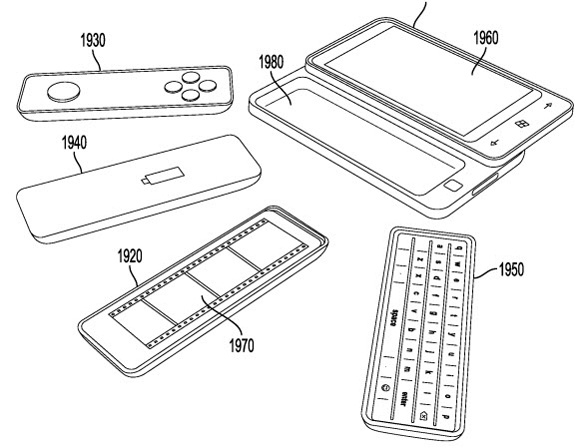 Now that Nokia seem to be the flagship manufacturer for Windows phones I can't see Microsoft utilising this patent. Anyway, it is basically a magnetised storage tray housed in the back of a handset.
The patent listed examples such as an extra battery, gaming controller or keypad. Despite being pretty rudimentary in principal, this patent actually appeals to me. It's a shame that I just can't see Nokia putting this patent to use nor can I see Microsoft going it alone.
Potential usefulness: 8/10
Chance of being rolled out: 4/10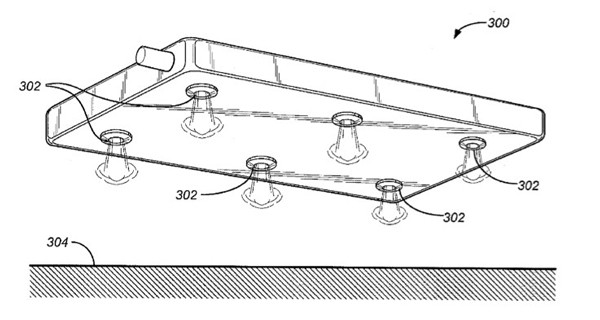 This patent, which was personally signed off by Bezos, is entitled "damage avoidance system". The theory behind the patent is that the case is able to detect when it is rapidly falling, using any smartphone accelerometer, and release jets of air before impact, thus reducing any damage.
I hate to admit it, because it looks so stupid, but if it were to work properly this could be the best protective case on the market. That said, the silence that followed the publication of this patent is probably a sign of its chances of hitting the high street.
Potential usefulness: 9/10
Chance of being rolled out: 5/10
Finally, this is only weird depending on what you use it for. Confused? Good. Let me explain, it's a patent for a textured touchscreen by Senseg. Understand how it could be a tad strange now?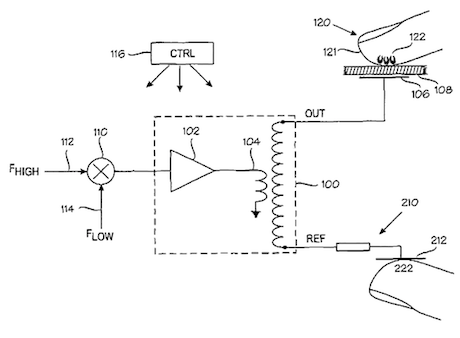 In the run up to the release of the, frankly disappointing, new iPad many blogs reported that the latest Apple tablet could feature Senseg's E-touch textured touchscreen technology. Obviously we all know it now doesn't.
Trying to explain this as simply as possible, E-touch works using the Coulomb force, effectively it is the same principle as rubbing a balloon against your hair and getting it to stick to a wall. Two reasonably non-conductive objects can have a charge difference created between them and this then allows for the feeling of differing sensations.
Not only could it allow tablets and smartphones to offer braille for the blind, it would also just make the experience much more fun. As long as it's done properly, I can see widespread adoption of this technology by mid 2013.
Potential usefulness: 8/10
Chance of being rolled out: 8/10
---
March 30, 2012 10:41 AM
Android
,
Apple
,
BlackBerry
,
ipad
,
iPhone
,
PlayBook
,
research in motion
,
RIM
I think RIM have hit the panic button. While I agree that they cannot compete with the likes of Apple, I still think that strategically they have made the wrong decision to pull out of the consumer market and have therefore signed their death warrant / put themselves up for sale.
Here are ten reasons why it was the wrong decision:
There is no business market for smartphones

Oh yeah! RIM, didn't you hear? The whole reason you're struggling is because of something called 'consumerisation'. This is when users want to take their personal phone and use it for work. Sadly their personal phone is usually an iPhone, so to say you're not competing with Apple in the consumer space is worthless because it's just space now not business or consumer.

A large amount of their handset sales come from kids

I don't know how it happened but kids love BlackBerrys. They BBM each other and they do not buy their handsets for anything to do with the enterprise.

The Playbook is finally a good product

Don't get me wrong, when it was first released it was a bit of a joke but since the 2.0 update I think it's the best tablet after the iPad. Not only is the user interface great, it's easy to use, it's the perfect size, has great apps including Android apps now, cheap, rugged and great battery life. RIM should've redesigned it slightly and relaunched while Android stutters.

Times have changed

Whether RIM target the enterprise or consumer, they need to change their ways and respond quicker to trends. the reason they fell behind is because they don't understand what people want anymore.

They should've focused on budget handsets

BlackBerry can't compete with high-end devices, so why try? They could own the low-end of the market with solid BB handsets.

They will be bought on the cheap

Make no mistake, this announcement will send alarm bells throughout the industry and thee will be a few big-hitters that will look to take advantage of RIM's demise. Namely SAP.

Innovation is important

Yes we know that, but while innovation is crucial in the consumer market, it's important in the enterprise too! Apple are encroaching on this market and while BlackBerry lead it they will have to take big strides in order to keep it that way.

The enterprise is slipping away from them

To bank everything on the enterprise is a very risky strategy especially when you look at points 1, 4 and 7. Yes they have a foothold but things change so quickly in this industry that to completely, openly rule out the consumer market could be a shot in the foot.

This announcement works against them

Announcing anything negative is a PR nightmare. It signals your demise which then adds to your demise. Stock prices will go down and suddenly you're unpopular and on a slippery slope to oblivion.

OS 10 might've worked

It has been delayed time and time again but from what we've seen of it, OS 10 actually looks kind of good. It might not have saved them but had they released it earlier, who knows! After spending so much money and time on it they should've at least waited to see.
---
March 29, 2012 12:48 PM
lg
,
nokia
,
Plastic
,
samsung
I wrote late last year about Nokia and Samsung developing flexible displays and it now appears that flexible screens are becoming widely accepted as the next step in the evolution of mobile devices/computing.
Question is, do the flexible plastic e-paper displays, like the one LG unveiled today, have a place in the market?
Short answer: I think it will all boil down to the pricing of devices that include these new displays.
Long answer: Kindles and other e-books are successful because they are useful bits of kit that excel in one area (replacing books) and, because it's only one area, the pricing is reasonable and affordable.
Tablets can do a number of jobs, including the one e-paper displays can, but with the added bonus of colour and in a better resolution.
However, if these displays can be utilised in devices that can offer a similar battery life to that of the current Kindle then I think they will have a fan base.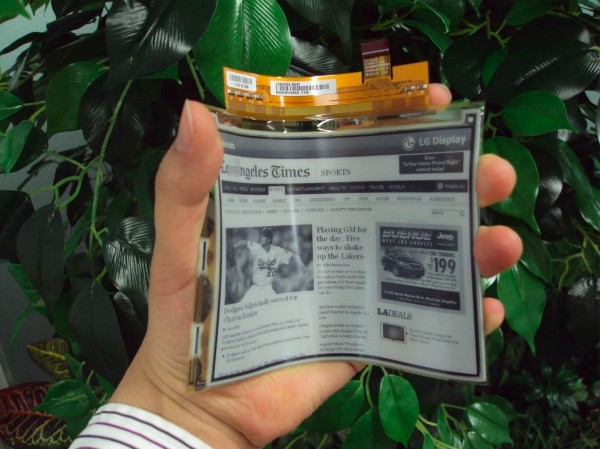 Image from engadget
Formalities over, I am a fan of these fexible displays, they seem to go back to the past to offer a new future….. That made more sense in my head.
What I mean is that they could well be the future of the faltering newspaper industry, being that they are flexible like the pages of a newspaper. Paper boys should be scared, they could be in for a cold winter.
I think people of the older generations that have reluctantly started getting to grips with smartphones, tablets and e-books will feel more comfortable with this but if they are to be widely successful the younger generation will have to get on board too.
Touch sensitive, HD, colour flexible screens will undoubtedly take off in the next generation of hand-held devices but I am eager to see how these plastic e-paper displays are received. Once they have been approved by original design manufacturer, they could hit the European market as early as the start of May.
---