---
January 24, 2018 7:49 AM
ai
,
Amazon
,
Apple
,
Artificial intelligence
,
Cisco
,
HP
Amazon, originator of the smart speaker category in the home, is taking Alexa into the office too. However, as David McClelland explores in the first of a two-part feature, Amazon isn't the only outfit attempting to add some AI smarts to our workplaces.
AI voice assistants were the big present under our trees this Christmas.
Affordable smart speakers from the likes of Amazon and Google — along with the less-affordable such as the Apple HomePod which finally launches on February 9 — promise to voice-activate our living spaces, bringing the dream of the futuristic smart-home within reach of the masses.
Amazon is tight-lipped about how many Alexa-powered devices it shifted last month, but stats show that the Alexa app – necessary to set up new Amazon Echo devices – claimed the app stores' coveted Christmas number one spots.
In Las Vegas, CES continued the trend revealing an appetite — or desperation — to stuff an artificially intelligent voice into any appliance imaginable.
So, it's no surprise that those in charge of our workplaces should begin experimenting with how conversational AI assistants might smarten-up our office lives too.
Assistant Appeal
Ease-of-use and convenience are a big part of the voice assistant appeal, concentrating an ever-expanding catalogue of popular services into a single, natural interface:
Alexa: tell me the weather, turn on my central heating, check my diary, call my mum, play my favourite songs, add some batteries to my shopping list, switch off the house lights. Please?
An impressive array of skills, no more than a trigger word away. What's more, the majority of the time it just works — speech recognition finally got useful, and we barely even noticed.
Projecting these skills into the workplace doesn't take a great deal of imagination:
Alexa: book me a conference room, replace printer toner, turn on the projector, start my meeting, message my boss to tell her I'm running late. Now.
In its announcement of Alexa for Business in November, Amazon spoke about how some Alexa devices would be shared for "anyone to use in common areas around your workplace," while others would remain "personal Alexa devices for your employees to use."
The ability to integrate with workplace workflows, software platforms and business processes — 'skills' for the workplace — will no doubt be important for a professional user-base.
Business Apps
At London Tech Week 2017, Inspect-a-Gadget spoke with a UK startup hoping to bring its office-friendly smart assistant, UMA, to a workplace near you.
Alongside room bookings, maintenance requests and more, UMA plays big on its hooks into business applications such as Salesforce, Slack, Cisco Spark and Box.
Building a portfolio of skills and integrations is one thing, but other vendors are taking a narrower approach to their office AI.
Spark will fly
At its recent partner summit, Cisco powered up its collaborative Spark platform with its own voice assistant. Billed as the 'world's first AI-powered voice assistant for meetings', Cisco Spark Assistant is the first fruit of last year's $125 million MindMeld acquisition.
Spark Assistant won't tell you the weather or apply its AI to work out which playlist will suit your mood: instead, it is razor-focused on meetings and collaboration. "Hey Spark, I want to start the meeting/end the meeting/call Robert's meeting room."
Desktop
PCs have dabbled with voice assistants in the past, although Cortana has struggled to gather as much traction as Microsoft might have liked. Last year's hook-up between Cortana and Alexa hook has yet to show any signs of bearing fruit either.
Then, as Inspect-a-Gadget reported here, the likes of ASUS, Acer and HP were lining up at CES to offer an integrated Alexa experience in their new desktops and laptops. Acer even showcased its Alexa Projector.
Commenting on the tie-up with ASUS to bring Amazon's assistant to its PC range, an Intel rep enthused: "we anticipate that the PC will serve an even more important role in maximising your productivity, getting the most from your entertainment, and managing the smart home or office."
Will privacy and security concerns — as well as office etiquette — hamper AI voice assistants' office party? Read on in part two – soon.
January 18, 2018 8:15 AM
Banking
,
Technology
Is the future of secure cryptocurrency storage and payment simply "cash in hand"? Inspect a Gadget looks at how one firm's human microchip implant could help.
We've all looked on with interest as the Bitcoin rollercoaster has soared, dived and soared again over recent weeks. Quite the ride for those who joined in early on.
However, also of interest is how entire ecosystems are now developing to support those whose virtual pockets are suddenly bulging with virtual coins. Among those hitching a ride are firms with novel ways to secure your cyber cash.
Step forward Danish outfit BiChip with its "human microchip implant". It promises to help you wave goodbye to concerns over secure crypto-currency storage and wave hello to easier payments.
Crypto Coaster
Bitcoin isn't the only crypto-coaster in town: thrill-seekers have long been jumping aboard the Litecoin log flume, riding the Ethereum waltzers and cruising Dogecoin dodgems. Perhaps less known among these is Ripple XRP.
Technically, Ripple is an open payment network used to facilitate fast and cheap international money transfers: think Western Union or SWIFT for the blockchain era. It is the platform upon which its token (currency), XRP, is transferred. And that's the currency that BiChip is promising to support first of all.
In 2017, a Bitcoin's value rose by a whopping 1,500 percent. However, XRP's value rose by a staggering 36,000 percent and is now vying for second place alongside Ethereum to be the biggest cryptocurrency by market-cap behind Bitcoin.
Crypto Wallets
Also looking to jump aboard the coat-tails of these cryptocurrencies' success are the criminals. Ever the opportunists, cyber-crooks certainly aren't new to this scene (as former MtGox customers will know to their cost) and have already been re-sharpening their tools to try to weasel their way into your wallets.
For that reason, keeping the private key codes for your cryptocurrency online or with a coin exchange is widely held to be unwise. Some opt for the old-school and write currency codes on pieces or paper. Others look to dedicated hardware devices like the TREZOR digital wallet to keep their crypto assets safe.
Similarly, the Jaxx digital asset wallet, created by Ethereum co-founder Anthony Diiorio, is a well-regarded smartphone app that helps keep your blockchain assets close to your chest.
Cash In Hand
However, Danish firm BiChip just announced that its human microchip implant will make sure your crypto-cash is always close at hand by storing it – literally – inside your hand.
These implantable rice-grain sized RFID / NFC chips are nothing new – they've been a popular party trick at tech conferences for a number of years now, letting wannabe body-modders exchange digital business cards, open hotel room doors, make payments and even use public transport.
The Danish firm says it is now working on a system that could allow cryptocurrency payments simply by waving your hand over a reader.
Wave and Pay
Sweden is one country where body-modding has gathered a strong momentum. Since 2017, travellers with state-owned rail operator SJ have been able to use RFID hand implants instead of paper tickets.
In collaboration with Swedish firm BioHax, US vending machine company Three Square Market began offering chip implants to its staff last year. The RFID implant enabled workers to open doors, login to their computers, use the photocopier and – naturally – pay at the company's vending machines. A popular move with staff, but one that garnered international condemnation from privacy activists and even religious groups.
Verdict
Here in the Inspect a Gadget office, we're not so sure yet. Aside from feeling faint at the mere mention of a needle, the semi-permanence of a chip implant – and the difficulty removing it – is a major hurdle. Given the rate at which early-stage technology inevitably evolves and is miniaturised, a new chip today may easily be obsolete tomorrow.
Strong practical use cases for these implants would need to develop that set it beyond wearable tech: after all, a smartwatch already offers secure storage and payment services to meet most people's needs.
---
January 12, 2018 11:54 AM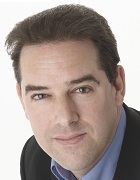 Profile: Bryan Glick
This is a guest blogpost by Gamil Jassin, a journalism Masters degree student at City, University of London.
We all moan and groan about how bad the battery life on our phones is. Then, we keep moaning when Apple slows it down slightly to make the battery last longer.
Pubs in the UK have stopped charging our phones, because they say "it is a security risk", and wireless chargers are hard to find and aren't themselves wireless which is, well, stupid.
So, here are five quirky solutions to these problems in 2018.
Attachable coat heater and power bank
The recent weather has certainly kept many of us coughing and sneezing, and it doesn't look like it's going away anytime time soon. Global warming…
Anyway, before diverting into a rant about Donald Trump and plastic bottles, here is one way you can stay warm and simultaneously charge up your phone.
It's called the Torch 2.0 portable coat heater. It is designed to fit in the jacket of your choosing, and can be switched easily between jackets with the use of Velcro.
It is powered using a 6000mAh power bank giving you up to four hours of warmth off a single charge. It also has two additional USB ports which are compatible with any smartphone.
It is currently only available from the company's US website, retailing at $99.99.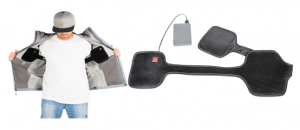 Telephone box workstations
Need to charge up your tech and reply to emails, but don't want to be stuck in a noisy café at lunch? There is now a solution.
A New York-based co-working company, Bar Works recently transformed a number of the UK's underused but iconic red public phone booths into micro-offices for workers on the go.
The project was launched in London, Leeds, Plymouth and Edinburgh as a more private alternative to co-working spaces and cafe offices.
The company retrofitted each phone box with Wi-Fi as well as a printer, scanner, wireless mouse, 25-inch screen, hot drinks machine and power outlets, all for £19.99 a month.
At launch, Bar Works CEO Jonathan Black said: "Our solution maximises the space, and we have a solution for security and membership-only access together with the other problem of people using the space for too long."
However, it seems to be the case that the CEO of Bar Works is fact one Renwick Haddow, who previously ran the Capital Alternatives network of companies, which the High Court ruled in 2014 to be "collective investment schemes which could not be lawfully operated by the defendants", according to the Financial Conduct Authority. There is also, reportedly, some doubt as to whether Jonathan Black is actually a person.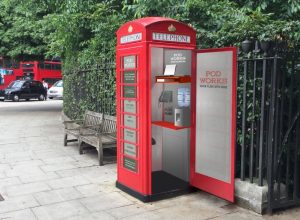 Disposable charger
We've all been there – desperately closing apps and lowering brightness in a futile effort to save battery power for the journey home after a night out.
The simple plug-in disposable charger, PowerHit, which works with both Apple and most Android devices (Type C USB not currently supported), is being retailed at £3. The company claims that it can produce up to two extra hours of charge.
Before you get your hopes up, it is important to note that your phone must be on for the charger to work and this isn't disclosed by the manufacturer on either its website or the packaging.
And more worryingly still, remember Donald Trump and plastic bottles? Add this one to the list of "ecological disasters".

Bedside lamp wireless charger
So, you finally got your hands on the new iPhone X, but have now realised there isn't enough space on your bedside table for a wireless charger. There's no need to worry.
Ikea and other manufacturers have worked hard in recent years to incorporate Qi charging technology into furniture and everyday items, such as a bedside lamp.
As well as allowing you to charge your device wirelessly, it offers an additional USB port so you can charge several devices simultaneously. Ikea's offering retails at £49.
If you don't have an iPhone X, but like the lamp, the retailer also sells Vitahult wireless charging covers which make your phone Qi charging compatible and should keep your phone from cracking in case you accidently knock it off your new bedside lamp.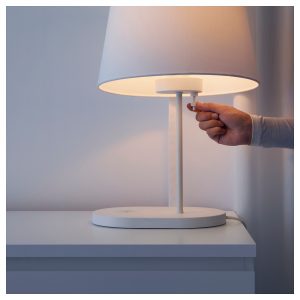 Smartphone with a huge battery
You didn't buy a case for your phone. You're running through the house one day, trip over the dog, fall and land right on your phone, smashing it to pieces. Fortunately, you wanted to get a new one anyway, one that doesn't run out of charge in a few hours.
This new offering from a Chinese phone manufacturer might be the one for you.
The Oukitel K10000 is powered by a 10000mAh battery capable of going up to 21, yes 21 days on a single charge with moderate usage. The phone also allows you to charge other devices, even supporting some smaller laptops.
It also sports a 5.5″ FHD Display, a fingerprint reader, dual-lens cameras (13MP+5MP), runs Android 7.0 and has other rather impressive specs and all from £165.99.
It is however a little on the chunky side (it's huge, actually) and Oukitel isn't a very well-known brand, so there will be some obvious scepticism, but stop being snobs.
And keep in mind that you can get five of these for the price of the iPhone X and still have money left over for an attachable coat heater, 10 disposable chargers, that beautiful wireless-charging lamp which you will not be able to use because your new phone/phones don't support wireless charging, but who cares, and maybe even a month's access to your own micro office, which you may have to wait a little while for.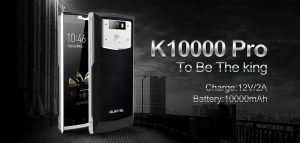 Verdict
Stop moaning! Use a regular charger and plug it into a socket several times throughout the day like most normal people do.
---
January 12, 2018 8:16 AM
Artificial intelligence
,
Gadget
As sociable as Amazon's smart assistant may at first appear, Alexa has never mixed well with Windows. Until now.
Historically, Alexa has played nicely with smart speakers, TV sticks, robots, refrigerators and even shower-heads. Yet, despite a recently announced partnership between Amazon and Microsoft announced, Alexa still hadn't fully opened her door to the PC.
At CES this week, the folks at Acer finally coerced Alexa from the comfort of her Echo and into its new notebooks, all-in-one PCs – and even a 4K projector.
"Acer is delighted to be among the first brands to bring Alexa to PCs," cooed Acer's chief matchmaker and IT products chief, Jerry Kao. "By introducing voice services like Alexa," continued Intel's Anand Srivatsa, "we anticipate that the PC will serve an even more important role in maximising your productivity, getting the most from your entertainment, and managing the smart home or office." Oh Anand, you old romantic, you.
Say again?
Of course, part of Alexa's charm on her native Echo is how well she listens, thanks in no small part to her half-dozen or more keenly tuned microphones.
The problem with a typical PC is that basic integrated mic gear won't always cut it, which is why Acer has brought in Intel's Smart Sound DSPs to handle the audio input and output.
Managing the interaction back to the Amazon cloud is the new Amazon Alexa app – common across all Alexa-espoused PCs, for now, and separate from the yet-to-materialise Cortana/Alexa collaboration.
Asus says Alexa will come to select Aspire, Spin, Switch and Swift models in the US first, with support in other territories arriving in mid-2018.
Productivity Projector
The firm's new V6820M and V6820i 4K projectors are shortly to be primed for voice control too.
The 'Acer Projector Smart Home' skill adds to the Amazon assistant's lexicon with commands such as, "Alexa, turn on the projector," and "Alexa, select HDMI as the projector source."
This one technology promises – in an instant – to reclaim the five minutes lost from every meeting to inevitable projector operator incompetence.
Wave Hello
Acer doesn't get to keep Alexa all to himself, however, with Taiwanese love-rival ASUS also caught courting the Amazon assistant.
However, HP pipped its A-list rivals to the post with the fabric-clothed HP Pavillion Wave PC.
The neatly-packaged Wave boasts B&O Play surround-sound audio, and specs up to a beefy Intel Core i7 with 16 GB RAM and dual monitor support.
That the Wave resembles a muscular, more modern take on Alexa's previously prefered bedfellow, the Amazon Echo, may be entirely coincidental. But expect this to be just the first of many fruitful Alexa hookups with eligible PCs in the months to come.
---
October 12, 2017 4:11 PM
Big Data
,
Big Data analytics
,
Data
,
Data Analytics
,
Software
,
Splunk
Alongside Splunk's annual event Splunk.conf runs the software firm's learning and certification course, Splunk University, where in 2017 I spent a day learning how to use Splunk to deep dive data and improve my big data skills.
As is common with third party software deployments, firms usually run certification courses which employees can go on to become an expert in the software their company is using.
After a few wines I decided it would be a really good idea to go on one of these courses and learn a little more about one of the firms I write about often, and managed to get the firm to agree.
I've written before about my fear of getting too techy, having chosen to put my degree in computer science on a shelf and never look at it again.
When it came time to actually attend the Splunk University course before the firm's annual .conf event in Washington D.C I regretted agreeing to go – some of the coding workshops at university had been my least favourite parts of the course and I was worried it would bring back too many disappointing memories.
I joined the Splunk Fundamentals 1 course, which is advertised to do exactly what it says on the tin and teach you the basics of using Splunk to get the most out of your data.
The one day course promised eight modules to cover searching in Splunk, using various different fields as part of searches, creating dashboards and reports, learning about Splunk's search language, using transforming commands in Splunk and creating lookups, reports and alerts.
We started by logging in to a dedicated server which was hosting all of the example data we'd be searching and accessing in real time during the session.
Yes, I did make a delighted "OOH!" noise as I successfully logged in to the server. Yes, I realise logging into the server is not the most complicated thing I've ever been asked to do, but I was anxious so I'll allow myself this joy.
On this server was data from a virtual company called "Buttercup Games" a Splunk invention created to generate data with the purpose of testing and teaching the Splunk environment.
Buttercup is actually quite a big thing in the Splunk universe; the pony mascot has its own game and always stands tall at Splunk events.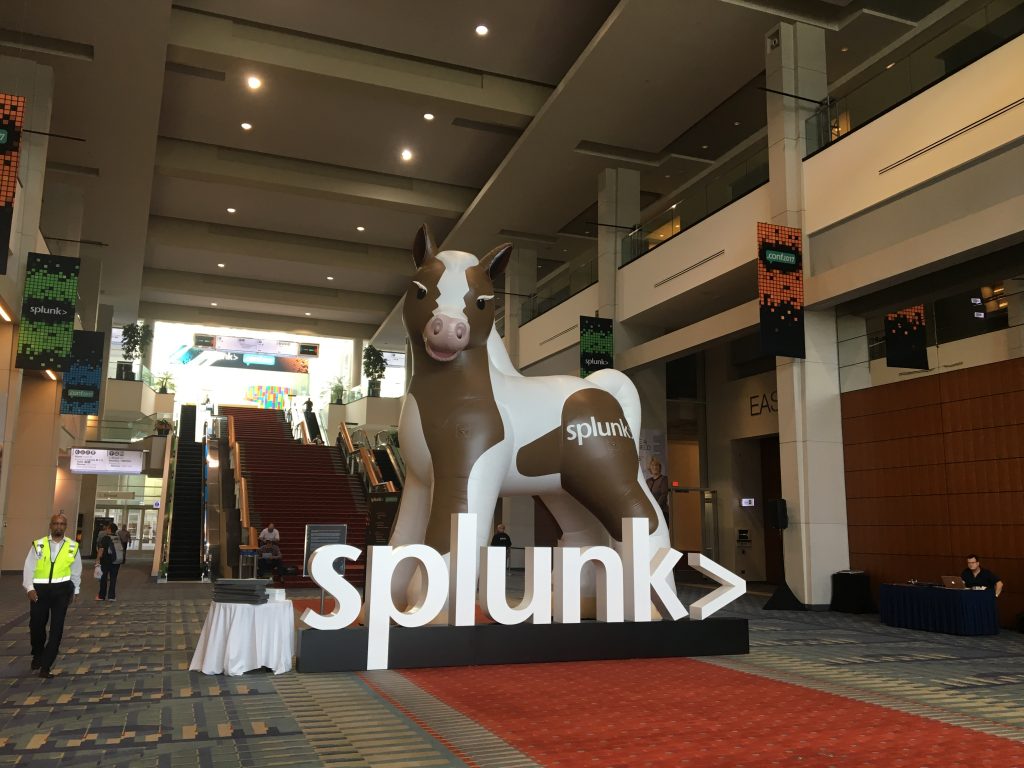 Fictional company Buttercup Games is a platform selling video games and some accessories through third party retailers and an online store with three web servers – two different kinds of data injected into Splunk that can then be interpreted.
Data can come from logs, configurations, messages, call details records, alerts, metrics, scripts, clickstreams, virtual machines, internet devices, communications devices, sensors, databases  – basically "any system using a computer, any device that has logs" according to our session teacher and Splunk senior training technical consultant Laurent Dongradi.
Data is indexed as it enters the system – an index is a location within Splunk that searches for and stores event data – different users have different types of access to data depending on what they would need to know.
For example a security team might need access to the web index and the security index to notice trends in web patterns and whether these may have contributed to cyber-attacks.
As the class started and we were given time to acclimatise to the dashboard, the person sitting next to me immediately said: "Right, let's click on some stuff." to which my response was to stare at him in terror.
There's just something about code that makes me feel unwell – and during our first module where we were talking through searching the data loaded into Splunk I realised we had to use Splunk's own search language, called "Spl".
Since I quit coding I've been continually assured that in some cases it is becoming easier to learn – automation is allowing some companies to develop software that requires little training or technical knowledge to use.
The Spl language was similar to many others, and once the familiarity set in I realised the best way to tackle each module was to power through… until a search returned a ridiculous result and then suddenly I was back to being terrified. I proceeded with caution.
Dongradi explained "we could define Splunk very simply as a search engine" allowing you to use different terms to search through data and use the results to decide what to do next.
For example Shazam uses Splunk to analyse usage data for its application to assess whether any changes to functionality have been successful, and Travis Perkins uses it to help respond more quickly to cyber-security threats.
What you're searching for will depend upon the business – as a fake retailer Buttercup Games may be interested in looking at online vs in-store sales or trying to notice patterns surrounding abandoned online baskets.
If there are searches you hope to return to or check regularly they can be made into reports, and can be displayed on a dashboard which can be shared around the organisation – visualisations of data can be generated to help to drill down to underlying events.
But as we progressed it became clear to me that learning to use Splunk was by no means the most difficult part of the session – it was understanding what data to search and how to use the results.
For example we began by searching for failed log in attempts because our imaginary manager had asked us to.
This made sense to me – I knew that if a company is concerned about cyber-attacks it is a good idea to look at failed log in attempts to see if there were any patterns relating to the server that the attempts occurred on, the time gap between failures and whether the same person is consistently attempting entry and failing.
Insights like this can help pinpoint issues and more quickly prevent a disaster.
Later on in the workshop we were asked to look into other pieces of data, the reasons for which were a little less obvious.
One of the searches developed a chart which showed each of the actions that took place on the Buttercup Games website for each of the products the site sold.
For example, there were certain games that were added to the cart more than others, and also many that had been viewed, but then not purchased.
As it happens, World of Cheese was a good seller, but Holy Blade of Gouda was not very popular – there is an argument that data like this can determine which are the bestselling games or perhaps whether there may be a problem with a certain purchasing webpage if the purchase is abandoned many times for a particular game.
Then as an example of how to transforming commands such as 'top', 'rare' and 'stats' we were asked to find the top two places visitors to the website are coming from.
For some reason when I successfully extracted this data and displayed  it as a pie chart I got very excited – possibly because we'd been sitting in a room for a long time without seeing the sun and it was one of the last things we were asked to do.
Using Splunk was easy enough to learn, but as in many cases this doesn't mean investing in expensive software will gain insight for your company – data scientists are in high demand at the moment as technology adoption and digital transformation has dramatically increased the amount of data firms are collecting.
Learning as many tech skills as possible can only be a positive thing – as an organisation Splunk works to help people in and outside of the firm to learn the skills needed to use its big data technology.
But data should not be underestimated – when properly interpreted it can be the perfect companion to a business plan, but it's also very easy to drown in a sea of figures.
It's all very well and good finding out which products are selling well online and which are struggling… but what are you then going to do about it?
Learning exactly how data ninjas glean insights from software such as Splunk was extremely interesting and gave me a new found respect for exactly how much data organisations are dealing with.
Whether I'll place my Splunk University participation certificate on the shelf next to my degree and never look at it again? I've not decided yet…
---
August 31, 2017 9:33 AM
augmented reality
,
Office productivity
,
Virtual Reality
The office of the future, as viewed through rose-tinted augmented reality glasses.
A new film from augmented reality outfit Meta paints a vivid picture of how the office of the future may no longer be dominated by banks of monitors.
The video, which features the firm's second-generation augmented reality headset running its new Workspace productivity software, depicts workers wearing high-tech-specs interacting with virtual PC desktops, or in meetings collaborating on 3D models.
Silicon Valley-based Meta is one of the protagonists looking to bring general purpose augmented reality headsets to market. Founded in 2012, Meta made a splash on the Kickstarter platform in 2013 and has since been backed to the tune of $75 million.
Yet while its hardware – and indeed that of its competitors – advances to a point of maturity, the search continues to find practical, genuine, revenue-generating use cases upon which to hang these thousand-dollar headsets.
Augmented Reality Office
In Meta's vision of the office of the future, augmented reality headsets perch atop employees' heads, projecting infinite adjustable touch screens within the wearer's personal workplace.
The traditional desktop mouse and keyboard remain, but much of the activity takes place in mid-air with gestures to grab, swipe and pull virtual windows and objects. There's smartphone interactivity here too, with notes and images from the real-world handheld's screen only a pickup and push away from the virtual workspace.
So confident is Meta's vision that its charismatic co-founder, Meron Gribetz, has made another grand gesture on his staff's behalf: in Meta's offices, flat screens are now consigned to the store cupboard, replaced by Meta's own head-mounted displays. A home-grown showcase – and a beta test – for the future of the workplace.
Shoulder surfing at Meta HQ just got a whole lot more difficult.
What's a Meta For?
It's easy to be seduced by the 'wow', but forget about grasping the why.
While it's easy to be short-sighted about future technology, there's little yet to suggest how wearing immersive reality glasses to read an email, browse the web or scroll through a spreadsheet will be any less painful than it already is on a flat-screened display.
Indeed, once the novelty of the arm-waving gestures wears off, many tasked with frequent manipulation of a Photoshop image, for example, may simply rest their arms back on the desktop and revert to a trusted keyboard shortcut, mouse click or pen-tablet — all of which appear faster, more ergonomic, and more accurate. Some might call that lazy, others productive.
Once collaborative working is layered on top of virtual and augmented reality technology, however, more solid use cases begin to appear. Rapidly iterating a prototype design alongside geographically dispersed teams provides a genuine benefit – a workflow already widely employed in some industries.
Outside of the office too, when navigating or performing unfamiliar tasks that may benefit from instant, heads-up contextual guidance, augmented reality technology has a tangible benefit.
Rose-Tinted Specs
Meta isn't alone in the race here. The leading pack also features Microsoft HoloLens and the enigmatic-but-elusive Magic Leap – almost $1.5 billion of investment to date can't be wrong, right? – both of which have also played out their visions of the future workplace.
Apple and Google are chasing too, but have chosen a different tack, engineering platforms to help developers explore from the comfort of their own smartphones and tablets. Apple's ARKit received solid air-time at the firm's WWDC developer's conference this year, and will likely feature again in September's iPhone reveal. Google announced its own augmented reality developer's kit this week, ARCore. Even Facebook is in on the act, announcing its AR extensions during its 2017 F8 conference.
The fact remains that augmented reality in anything other than niche applications is still an uphill sell. Firms have long presented how  immersive technologies will revolutionise the way we work – but we've still to see a standout application that looks likely to endure beyond short-term novelty.
---
August 22, 2017 1:05 PM
Android
,
Google
,
smartphone
Google announces Android Oreo with refined notifications, better battery life, updated emojis and 'the biggest change to the foundations of Android to date'.
Google has opened the packet on version 8.0 of its Android operating system for mobile devices. Oreo succeeds Nougat and Marshmallow, and follows a long-line of candy-themed Android releases.
Timed to coincide with the passing solar eclipse in the US – and prior to the announcement of the next raft of Android smartphones from the likes of Samsung and Sony – Oreo brings dozens of enhancements to Google's mobile experience, yet those expecting a cookie jar filled with colourful new features may be disappointed.
Nevertheless, under the covers is what Google calls 'the biggest change to the foundations of Android to date', promising more users will be able to enjoy Oreo sooner, safer and for longer.
What's New in Oreo?
Headline features in Android Oreo include better battery life, improved usability, and measures to reduce so-called 'notification diarrhoea':
In-app autofill: already a common feature in web browsers, logins to popular apps can now be automatically populated too.
Notifications: Discrete dots appear on the corner of app icons to reveal the presence of a notification from that app. A long/force press on the icon reveals actionable notifications. Long overdue. Also new is notification snoozing and notification categories.
Picture-in-picture: continue watching a YouTube video while checking email, or check your calendar while on a video chat.
Background limits attempt to hobble battery hogs by imposing restrictions on infrequently used apps.
Emoji makeover: over 60 new emoji, with many more redesigned to look more like other platforms' implementations. Bye bye, blobs.
2 x boot speed: anything that improves time-to-productivity must be good, but given that most of us tend simply to lock our phones between uses rather than switch them off, the benefit here is minor.
Smart copy and paste attempts to bring a little more intelligence to the traditionally tricky activity, selecting entire addresses or phone number and suggesting appropriate activities for selected text such as calling, emailing or opening a map.
Oreo Rollout
Google has submitted Android Oreo to mobile networks and manufacturers for certification and testing. At this point, it's up to them when they choose to push Oreo out via an over the air (OTA) update. Many hope it will be soon, but history might suggest patience is required.
However, Google hopes its new modular architecture, also delivered in Oreo may speed this process. Project Treble, announced prior to the Google I/O developer conference this year, attempts to make rolling out Android easier, faster and less costly.
A new 'vendor interface' now sits between the device-specific vendor implementation code and the Android OS framework code, reducing the amount of code that needs to be reworked when a device is updated to a new version of Android.
It's a great idea in theory, but time will tell how much of a real-world difference the change makes to the speed at which existing handsets get shiny new Android releases.
How to Download Android Oreo Straight Away
However, eager beavers hungry for some next-gen Android action can precipitate their Oreo feast by registering their handsets with the Android O Beta programme.
Visit the Beta portal, sign in with the Google account to which your compatible handset is registered, agree to the conditions and you're good to go.
Google's own pixel phone is one of a handful of devices that are ready to roll with Oreo right now.
The full list is:
Nexus 5X
Nexus 6P
Nexus Player
Pixel
Pixel XL
Within a couple of minutes of registering our Google Pixel XL, the System Updates menu revealed that the Oreo 8.0.0 release was ready to install.
---
August 17, 2017 11:12 AM
4D printing
,
5G
,
Gartner
,
Virtual Reality
Gartner has revealed its 2017 Hype Cycle for Emerging Technologies.
The highly-regarded annual report is seen by many professionals as an important indicator of which emerging technologies their organisations should invest in or explore.
Based on the US analyst's insight into more than 2,000 technologies, the Hype Cycle charts how it sees potentially game-changing technologies traversing the bumpy road from 'Innovation Trigger' to 'Plateau of Productivity'.
This year, Gartner has identified three 'megatrends' that it believes businesses must embrace "survive and thrive in the digital economy over the next five to 10 years."
5G Debut
Among the technologies making their debut in the report this year is 5G, although projecting that mainstream adoption won't occur until between five and 10 years from now may irk many mobile networks aggressively working towards a two- to three-year timeline.
Blockchain has progressed through this year's cycle, from nearing the so-called 'Peak of Inflated Expectations' in 2016 to nudging the 'Trough of Disillusionment' today. It too won't be considered a mainstream technology until 2022 at the earliest, predicts Gartner.
Virtual Reality Hype Cycle
Despite major launches in 2016, Virtual Reality remains largely static at the start of its 'Slope of Enlightenment'. Nevertheless, its outlook to the so-called 'Plateau of Productivity' has now improved to between two and five years.
Other new entries into Gartner's hit parade include Edge Computing, Artificial General Intelligence, and Digital Twin technologies, all of which join the 'Innovation Trigger' curve climb.
Megatrends
Gartner groups the emerging technologies it identified into three megatrend groups:
Artificial intelligence everywhere – covering everything from Deep Learning, Artificial General Intelligence and Cognitive Computing to Smart Dust and Autonomous Vehicles
Transparently immersive experiences – contextual, human-centric computing which includes Augmented and Virtual Reality, Human Augmentation, Volumetric Displays and 4D Printing
Digital platforms – it's all about the platform, so 5G, Blockchain, Serverless PaaS and (thankfully) Software-Defined Security all feature here.
Commenting on the report, Mike J. Walker, research director at Gartner, said: "Enterprise architects who are focused on technology innovation must evaluate these high-level trends and the featured technologies, as well as the potential impact on their businesses."
"These megatrends illustrate that the more organizations are able to make technology an integral part of employees', partners' and customers' experiences, the more they will be able to connect their ecosystems to platforms in new and dynamic ways," he continued.
---
August 14, 2017 11:22 AM
Apple Watch
,
mobile apps
,
Mobile devices
,
smartphone
,
Smartwatch
In this guest post Dr Sunny Bains, editorial director of UCL ENGins and lecturer specialising in stories on emerging technologies in AI, computing, and telecoms, discusses why the Apple Watch is well suited to women and why this is a good thing. 
I have no pockets. Well, not none but few: and, like many women, I tend not to use those I do have (it's a thing). Instead, I keep my phone in my handbag, usually with the ringer off.
You can imagine the consequences: phone calls left unanswered, texts unread. Turning up to teach at the wrong lecture theatre because, as I walk around my giant university campus, I foolishly rely on memory rather than dig out my phone, juggling coat, bag and backpack as I go.
I used to wear a beautiful analogue watch with a personal inscription on the back and was happy with that. I was an Apple person, totally co-opted by the eco-system but never really felt tempted by this particular gadget.
That is, until one October evening in 2016. I had dinner with a friend who is a real action hero: she had been a paramedic and a high-flyer (sometimes literally) in the Territorial Army, and now works as a medic on ships in the Royal Naval Auxiliary. She demoed her watch for me. Her appointments were right there on her wrist, with locations and reminders and names. That was useful. That would get me to lectures on time.
I took a punt and I bought one (I think it was actually the next day), and have never regretted it. Neither has my husband. Not only do I now know where I am going and why, but I always get my text messages and answer them instantly (even if Siri's interpretation of my reply is often comedic, and I occasionally have to give up and scribble instead). I can also answer my phone without getting it out of my bag (even if I do look like a lunatic talking into a Dick Tracy watch).
Those are the big things, but there are little ones too. The voice-activated timer and alarm for instance, I use daily for checking on things around the house (laundry, cooking, kid) and calling people back. I routinely ask Siri when a particular film came out, or what the weather will be, or some other random fact: and I often get the right answer.
Best of all, my phone now calls out to me when it's mislaid. We play an electronic game of Marco Polo and I find it in seconds. Miraculous!
The downsides? Not many. One would be the navigation system that works well enough for you to want to use it but not well enough for it to reliably get you from A to B without looking at your phone. Also, there are lots of apps for the watch that seem cool in theory but do almost nothing in practice: you have to separate the wheat from the chaff. Oh, and there is the fact that most of the men I meet are perplexed that I find the thing useful. (They have pockets.)
Lastly, there's the advertising. I think of the Apple Watch as a personal organisation tool. Judging by the ads, Apple seems to think it's a cool toy for young sporty types. Personally, I'm too clumsy to risk wearing anything but a cheap sports watch in the gym, and – though I was willing to spend £300ish on something for work – I would never have spent it for play.
The lesson? There are a lot of professional women. We have money (and spend it). Don't ignore us!
---
June 19, 2017 8:07 AM
ai
,
Amazon Alexa
,
Artificial intelligence
,
Chatbot
,
Cortana
,
Siri
,
UI
Inspect-a-Gadget heads to London Tech Week to meet UMA, a conversational AI chatbot for the workplace.
"It's good to talk," assured Bob Hoskins in the famous '90s ads. The campaign – credited with delivering £5 billion during its run – helped ease the transition from British Telecom to BT, from telephony monolith to consumer-friendly conversation facilitator.
Today it is Apple, Amazon and Microsoft who are trying to convince us of the merits of conversation. What Siri, Alexa and Cortana lack in heart-of-gold cockney gruffness, they more than compensate for in how they make technology accessible to a broader audience.
While this may ring true for the home, however, the battle for conversational AI in the workplace has yet to begin in earnest.
One smart office assistant currently prepping its CV with it sights set on corporate domination is UMA, on show for the first time at London Tech Week last week. UMA is a digital assistant – very much in the spirit of Siri or Alexa – that connects employees to business applications via a single, user-friendly conversational interface. Its strength is its ease of integration with devices and systems, including Salesforce and Dropbox.
So, interactions such as:
"Hey UMA, book me that meeting room on the third floor"
"Hey UMA, what Chris Smith's extension?"
"Hey UMA, the light-bulb in the men's room has blown. Again."
become possible, and more depending upon how and what your IT department choose to plug into UMA's interface.
Inspect-a-Gadget spoke to ISDM, the UK-based team behind UMA:
It's still early days for conversational AIs and chatbots, but a growing market in both the business and consumer spaces suggests there's strong interest. If one of the visions of an AI future is that some human roles get made redundant, UMA may soon have a few admin assistants picking up the phone and calling around for a new job…
---