---
February 13, 2013 11:26 AM
Apple
,
Bluetooth
,
Data protection
,
IDevice
,
iPhone
,
iPhone 4S
,
Nio
,
Security
,
Smartphones
While I was at CES in Las Vegas a few of weeks ago, it was not surprising that a fair few gadgets caught my eye. While at Eureka Park where the technology start-ups were all stashed away, I came across Nio, "the unforgettable accessory".
Essentially, Nio is a very small key ring which uses Bluetooth technology to pair with your Apple device (but they have to be either a iPhone 4S, iPad 3 or later!). Clip the Nio to your bag and when the Nio wanders too far away from your phone, it will sound an alarm.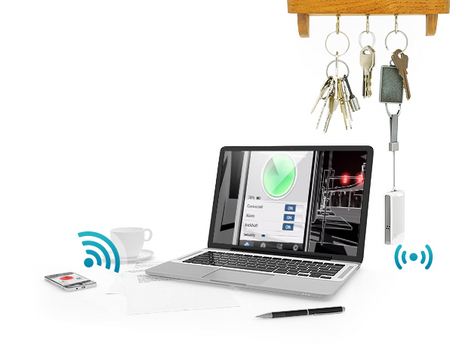 You can set the alarm between two and 20 feet, as well as being able to adjust the sound, volume and vibrate settings. You could also attach the Nio to other precious things like your wallet, keys, laptop, luggage or even pets, and as long as you stay with your Apple device, it will alert you if these things move out of your designated area.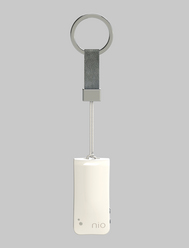 It is tiny and weighs a mere 10 grams so you would hardly notice it and it also holds a three month charge. It is intended to retail at $59.99 which is rather a hefty on-off price to pay, but I only think that because I'm not a forgetful person (touch wood!), however some people I will not name in the Computer Weekly office, I would recommend buying three!
While in Las Vegas, Nio was looking to speak with retailers and more interestingly, with telecoms companies for accessories for corporations. Everyone has a colleague who has left their work laptop in the back of a taxi at least once, this would go towards protecting company hardware as well as data protection issues by preventing the device from getting into the wrong hands.
February 12, 2013 10:08 AM
Android
,
BBC
,
BlackBerry
,
Vertu
,
Windows
,
WIndows Phone
According to the BBC
, exclusive smartphone maker, Vertu, has chosen Android over Windows for the operating system on its new luxury smartphone costing almost £7,000.
The device comes with a titanium frame and sapphire screen. However, the designer told the BBC that it was not 4G enabled, which is not exactly a long-term investment.
The company told the Beeb that it had chosen Windows over Android as it had a more established ecosystem.
"Your device will have to integrate with other devices. I think the Windows phone will have success but it is still a relatively small market share. At the moment it doesn't have the global reach of Android – which is about 60% of the market," said chief executive Perry Oosting.
However, 7,900 euros (£6,994), is small change compared the Vertu Signature Cobra at £167,567. No camera, no touchscreen and only 1MB of internal memory. Not a good start. The Signature Cobra was designed by French jeweller Boucheron and only 8 were made. The phone features one pear-cut diamond, one round white diamond, two emerald eyes and 439 rubies, although if you aren't particularly fond of rubies, Vertu also offer a ruby free handset for £62,162.
The Vertu Diamond is another luxury phone from the company, which would have set you back around £63,620.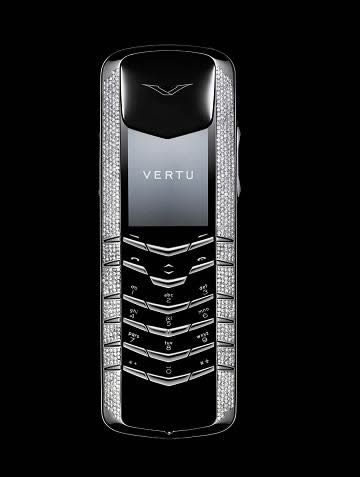 Read more:
---
February 7, 2013 2:49 PM
BlackBerry 10
,
BlackBerry z10
,
review
Last week, it finally happened. After all the delays, the BlackBerry 10 mobile operating system was revealed to the world and showcased on the company's new flagship handset, the BlackBerry Z10.
It's not so much that there were high expectations for both the hardware and software, but more a hell of a lot riding on them to bring the company out of the significant spiral it has been on, losing profits, market share and reputation over the past few years.
So can BlackBerry 10 and the Z10 do the job and bring the firm back to the forefront of the mobile industry?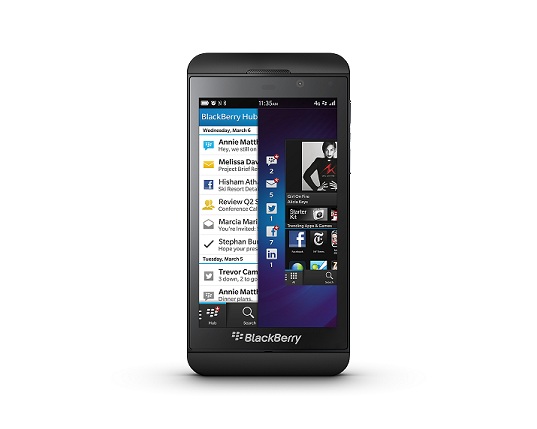 Let's start with the handset itself. At first glance, the Z10 is an alluring piece of kit. The 4.2″ screen stretches from edge to edge horizontally with two black strips framing the top and bottom. The logo and the word BlackBerry are emblazoned at the base, acting as a guide for some of the software gestures needed, but also to differentiate it from a number of sleek, plain black devices on the market.
The back of the Z10 is less glossy with a textured matt plastic and a sizeable silver BlackBerry logo slammed into the centre. However, this is more about substance over style, as the material makes the phone easy to grip, comfortable to hold and gets rid of the cheap, plastically feel some of the most popular phones on the market insist on having.
The power button rests on top of the device, with the volume and voice control button laying down the right-hand side. On the left is the micro USB port for charging and transferring files, but the added bonus with the Z10 is the inclusion of a micro HDMI port, enabling you to play high quality content from your phone onto a larger screen or high definition television.
Back to the screen and the clarity is superb. The 1280 x 768 resolution at 356 PPI (pixels per inch) is sharp and a pleasure to behold, whether working on a document or watching the latest blockbuster. Whatever the coating is, however, doesn't do it any favours as the screen seems to get dirty very quickly and is nigh on impossible to clean with conventional tools to get it back to its best.
The battery isn't top notch either. Maybe it is just we have come to expect such excellent battery life from BlackBerry handsets that this feels like a disappointment, but after charging at night, a full battery would be on the brink of dying by the time I got home late evening as I clutched to it praying for it to keep going until I got to the front door.
The fact is the phone is 4G ready and I have been using it on EE's network to test its capabilities. This means watching a lot more videos, listening to a lot more music and generally hammering rich content that I wouldn't do on my usual phone for fear of monetary reprisals. Here, the trade-off is it will obviously munch up battery life much quicker. It is something most smartphone manufacturers need to address though, as more users absorbing more of this content means we are all desperate for a battery to match.
There are two well performing cameras on the Z10, the forward facing two megapixel and the eight megapixel rear facing shooter. I found both took quality photos and videos, but the extra features available to use with the cameras thanks to BlackBerry 10 brings us onto the software.
BlackBerry intended with the camera to allow a more exciting experience with your own shots natively without having to port them into Photoshop or download some specific app. Features start simply, such as a built in editing tools for adding effects or borders – such as sepia, black and white etc. with film strips along the sides – rotating pictures, cropping or even changing the contrast.
The best feature, however, is Time Shift. It allows you to take multiple shots over a few seconds and move through the individual frames to get the best picture with an easy to use slide bar. Using it in the office had led to a lot of laughing at the movements our faces go through to crack a smile or frown, but in all honesty it has led to some great shots coming out that could have been missed without the software gizmo.
If we head back to the home screen, this is where BlackBerry has made the biggest changes. The BlackBerry Hub now includes all of your accounts, from social networks and emails through to calls and texts, and is accessed by a gentle swipe to the right. What is awesome about what they call 'Peek' though is that you don't have to exit the application you are working on.
With a swipe up you can pin the application at its exact location to the desktop or with a swipe up and then to the right – imagine drawing an upside 'L' – you can just get a glance of what has come into your hub and either swipe all the way to read it or let go and come back later when you have finished the job at hand.
It may sound complex but after a day or two of forcing myself to do the gesture, it really became second nature and a vast improvement on the other operating systems where you have to press a home screen button, enter another application and do the same to go back again, just to see who a tweet was from.
There still is the standard way of getting onto applications. After swiping up to return to your home screen – the lack of physical buttons is quite a joy from my standpoint – and seeing anything you have pinned, a quick swipe to the left will take you through a standard grid view of the apps you have on the phone, making them all simple to find.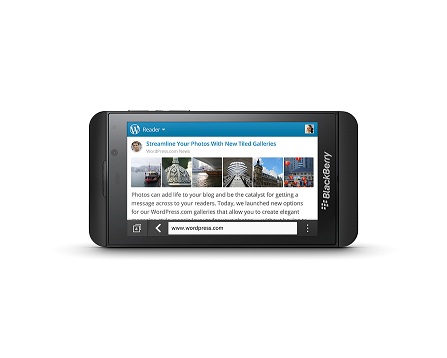 From the lock screen, you are able to swipe down to turn all notifications off whilst also setting an alarm, enabling a very peaceful night's sleep.
BlackBerry has been criticised for focusing too much on the consumer in recent years but one feature of the new operating system really does put the enterprise at the centre. Called BlackBerry Balance, it enables a handset to have two separate profiles, accessed by a brief swipe down from the top of the device.
On the personal screen is all your games, social networks, anything the user desires. However, on the work profile, it is defined by administrators what can be used, even going as far as having a separate applications store only stocking apps approved by the IT department. Users can then switch between the two at their leisure, and very quickly may I add, but never put the corporate network at risk.
This is all controlled through the latest BlackBerry Enterprise Server 10, but we have been reassured previous versions will be able to add support for BlackBerry 10 devices.
It wouldn't be a BlackBerry handset if we didn't mention BlackBerry Messenger (BBM). As someone relatively new to using BlackBerrys, I can't say it ever attracted me, perhaps because of the associations of rioting teenagers in the next borough as me. However, it eventually started winning me round.
As well as the standard free messaging between other users, ripped off by the likes of iMessage on Apple's iOS for example, BlackBerry have now added in the ability to make voice or video calls straight from BBM. If the network is strong enough – e.g. Wi-Fi or 4G – both voice and video were very clear, easy to use and essentially enabled free calls to anyone on a BlackBerry.
I am not taken with video calling myself, but the additional feature of Screen Share, where at the touch of a button your video call can turn into a document sharer, showing exactly what you have been looking at on the home screen rather than your beaming face, finally showed me how on a mobile it could be worthwhile.
Adding friends became a bit of a farce. You can add either by email address, BlackBerry PINs, through NFC by touching phones together or through a personal QR code other users can scan. Sounds simple enough but adding people failed time and time again and left some other Z10 owners I knew almost ready to end it all due to their misleading lack of popularity.
Even if all the elements work though, the only way the great features of BBM can become relevant is if everyone has a Z10 or some iteration of BlackBerry 10 on their device. I have had the handset for a week and have seven contacts, one of which I met on Monday and three of which I barely speak to. If all of my friends and colleagues were on it, my communications would be made ludicrously easier, but until the adoption picks up, it feels like a cherry with no ice cream to put it on top of.
I was dreading playing with the Z10 and the BlackBerry 10 operating system. I have never got on with BlackBerry before but want them to survive as a company, so really didn't want to hate it and slam them into the ground for their efforts.
Luckily what I got was a good looking, if not spectacular, handset with strong, if not mind-blowing, specifications. Running atop of that was software that felt new but not alien. Something that came up with different ways to work on your mobile but that came quite naturally. Something that looked beautiful and, when it worked, was something I didn't want to put down.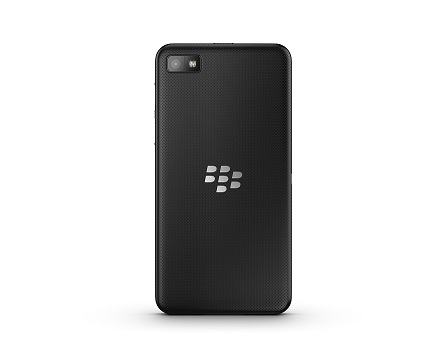 Overall, I found the phone a little temperamental, locking on its own or returning to the home screen without a request, but from experience, I feel these little bugs can be easily ironed out by a small update from BlackBerry – and we heard on the floor at the BlackBerry Jam developer conference this week that one wasn't far off.
But, nearly everyone I have spoken to that has played with this device at some length is now trying to make the same gestures on their Android or iOS handsets, proving how well the developers have thought this through.
Where my concern is for the Z10 is pricing. The cheapest you can get the phone without an upfront cost is £36 per month, making it a very premium handset. With such a raft of features, it is clearly aimed at those who want the best out of their smartphone, but when you can get the market leading Samsung Galaxy S III from just £26 per month, who will take the risk on the new handset and new software?
If as an individual I was looking for a new phone and had the cash in the bank, there is no question in my mind I would go out and buy a BlackBerry Z10 as the nearing £500 price tag is similar to many of the high-end smartphones on the market. But if I was looking at a long term contract commitment, I am afraid those figures don't add up to me and there are much better deals available.
If your business is already using BlackBerry deployments, however, and has BES in place, the added security and the balance between corporate device and BYOD is hard to match on any other handset available and I would give it serious consideration.
---
February 7, 2013 12:08 PM
Android
,
HTC
,
iPhone
,
Microsoft
,
nokia
,
WIndows Phone
,
Windows Phone 8
Windows Phone 7 proved a lifeline for Nokia and the announcement of Windows 8, alongside the Lumia 820 and 920, made the future look bright. Then, all of a sudden, HTC want to join the Microsoft mobile party, bringing James Corden as its +1.
Having already released the Radar, Pro 7 and Titan, HTC certainly know what they're doing with the Windows mobile offering so I was intrigued to see how it planned to differentiate itself from Nokia.
Looks
The 8X is everything I look for in a smartphone, durable, different, practical and eye-catching. The rubberised back is prone to scuffing and marking but who cares, it's colourful and looks nowhere near as bad as a scratch on a metal, plastic or glass cover.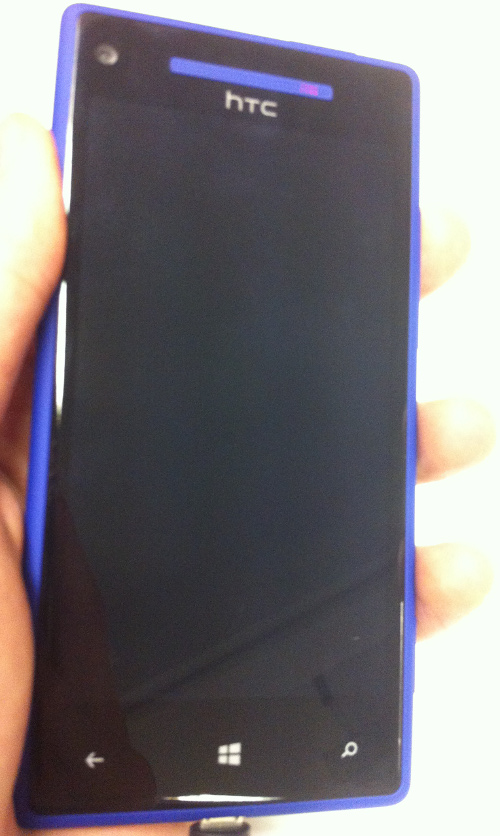 The rubber is not only comfortable to hold in your hand, it also improves grip, even if your hands perspire more than a pig doing star jumps in a sauna.
The slightly convex Gorilla Glass casing over the screen is very similar to that of the Lumia series but works just as well here, accompanied by the back, home and search buttons across the bottom. Along the top you'll find a front facing camera (more on that later) and the ear grille, which also houses a neat little led that lights up when charging.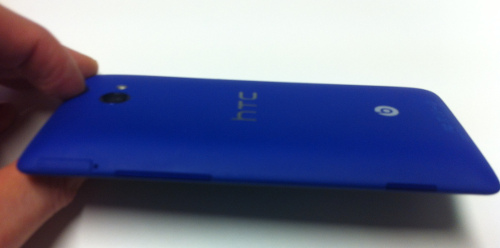 As for the edges of the device, an earphone jack and on/off/lock/unlock button are all you'll find along the top. The left side is bare and the bottom is only interrupted by the MicroUSB slot, smack bang in the middle. The right hand side is where it's all happening, the MicroSIM slot, volume control and camera button are all located on this edge of the handset.
Display
The 4.3 inch S-LCD2 screen, also found on the HTC One X, is certainly bright but despite boasting better pixel density than the Galaxy S3, iPhone 5 and Lumia 920, it just isn't that stunning.
I'm not sure if it was an isolated incident, I did tweet about it and had a few people respond saying they hadn't had a similar issue, but the screen on my 8X did seem prone to flickering. Eventually it put me off using the phone at night, for fear of that thing from The Ring crawling out of the display.
Whilst the, rectangular screen is perfect for Windows Phone 8 and the live tile format in portrait, it isn't what I prefer for watching movies or other media when in landscape.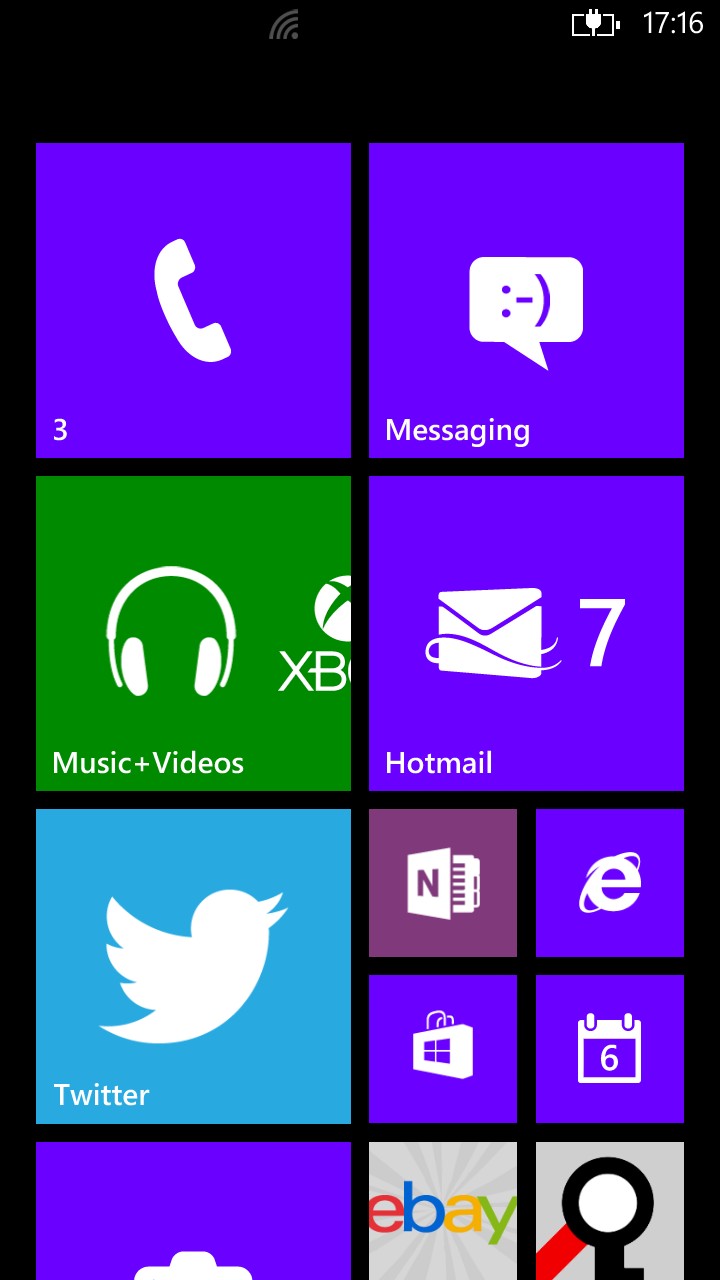 Spec
The 1.5 GHz dual core processor and Qualcomm MSM8960 Snapdragon chipset give this handset as much punch as a concrete fisted Mike Tyson.
The inclusion of Beats Audio was a big pull for me, alas there are no Beats earphones as with some other previous handsets. Whilst there is a distinct difference between the audio quality when Beats is turned on or off, if seems to me to just be, primarily, a volume boost.
Camera
The 8MP rear snapper, capable of capturing 1080p HD video, is a particular highlight. HTC aren't often renowned for its cameras but I'd say it's a highlight on the 8X.
You can find two full res images, one portrait and one landscape, here and here.
There is also a 2.1MP front facer for video calls, which, unlike the equivalent on the iPhone, somehow manages not to stretch your face into an almost unrecognisable state.
Windows Phone 8
Given the amount of money Microsoft has spent on advertising Windows 8, Windows Phone 8 and the Surface, I was expecting big things and, ultimately, I was left disappointed.
Despite being simple to navigate and operate, i.e. accessing multi-tasking by holding the arrow, it isn't as responsive as it should be. Freezing and lag are common occurrences.
There is no doubt Windows Phone 8 is an improvement, an evolution and a stand of independence. However, I don't believe the live tiles (as fun as they are to customise and change colour) offer enough functionality to tempt Android users away from their devices.
As an OS, it feels polished, yet somehow still not fully complete. To me, the main appeal is that it's different to iOS and Android. Not better, just different.
Call Quality
With all the fancy widgets, add-ons and advancements knocking about today, people often forget that the primary use of a smartphone is a voice communication device.
Thankfully, HTC have not forgotten and have put time into ensuring the microphone is placed in the optimum position and is further boosted by an active noise cancellation feature. Perfect for walking around a busy street.
Battery life
My biggest gripe with my iPhone is the battery life. A day I leave my flat without a charger is a day I end up contactless from the afternoon.
Nokia, famed for battery life (granted that's not hard when the 3310 is your flagship device), set a solid mark with the Lumia series and you won't be surprised to hear that HTC fell short of that. Though it beats an iPhone I was expecting the juice in the 8X to stretch a bit further.
A day of medium use and a night's sleep on airplane mode is the most you can expect to get.
Conclusion
Despite a few negatives, add a few more thousand apps to the market place and I'd buy one without a second thought. The aesthetics, quirkiness and simplicity of the OS, collaborative possibilities and camera are more than enough to sell the HTC 8X to me.
---
February 6, 2013 1:37 PM
BlackBerry 10
,
pictures
,
Q10
All the noise this week has been about the BlackBerry 10 operating system, running on the new showcase touchscreen handset, the Z10.
But, as the company's CEO Thorsten Heins said at launch, BlackBerry users are very loyal to their physical keyboards and the idea of leaving them behind would push a large portion of their customers away.
So, worry not BlackBerry fans. Coming to the market in April is the Q10, an all-new physical keyboard handset running the shiny new operating system and sporting the best screen BlackBerry has given its traditional handsets so far.
Like its touchscreen partner, the Q10 runs on a 1.5GHz dual-core processor and has 2GB of RAM alongside 16GB of internal storage.
There are two cameras; the front facing camera for video calling comes in at two megapixels, whereas the rear facing device boasts eight megapixels.
The screen measures in at 3.1-inch and is an AMOLED touchscreen with a 720×720 resolution.
There are hardly any devices out in the wild but at this week's BlackBerry Jam conference in Amsterdam, we managed to sneak one from an executives' hand – trust me, it was a lot harder than it sounds – and take a couple of pictures.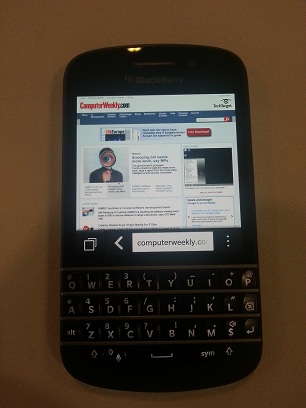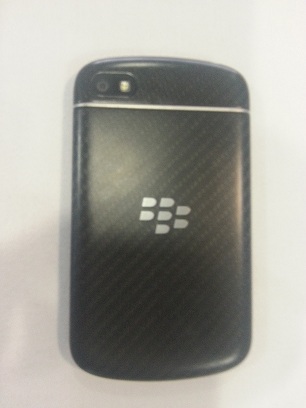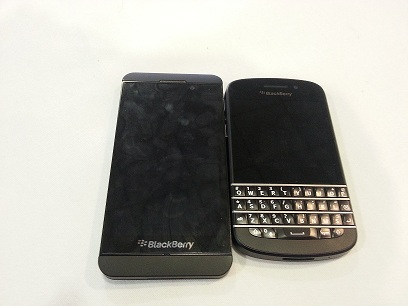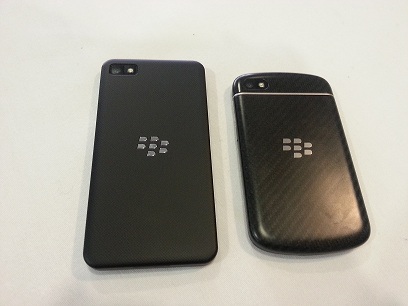 As you can see, we have got our hands on the Z10 as well and will be bringing you a full review later this week.
---
February 1, 2013 9:17 AM
Android
,
Dropbox
,
Fujitsu
,
ibooks
,
imagescanner
,
IOS
,
iPhoto
,
Scanner
The iX500 is Fujitsu's new offering for a desktop scanner, with hardware updates, including the option of wireless scanning to iOS and Android devices.
Where the company's very portable ScanSnap S1100 is an extremely thin and portable device, you would have to manually scan one-by-one, single sided, with a maximum speed of eight sheets per minute, the desktop iX500 scans both sides of a document at 25 pages per minute.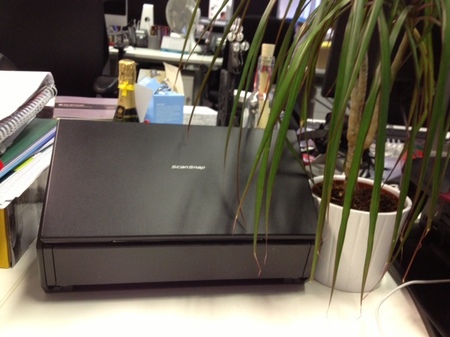 The scanner automatically scans both sides of a document, recognises a blank page and deletes it. It also recognises the orientation, and if the page has been skewed during the feeding process, correcting it as you go along.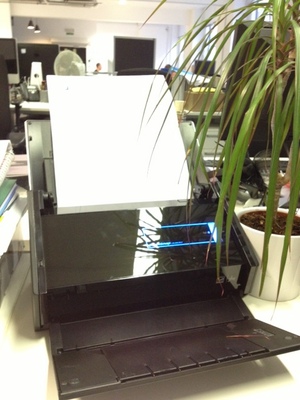 The accompanying software offers a Quick Menu when you scan your documents, with options such as scan to folder, iPhoto or Photo Gallery, print, email or cloud applications such as Evernote and Dropbox. You can organise the various options into 'favourite' to make the Quick Menu even easier to navigate.
What I found particularly clever about the software was the option to import any internal business applications you may need to use. If your business application recognises PDFs, you will be able to import your scanned item straight into it.
Additionally, you can use the settings to make the device as independent as possible. For instance, when using Gmail, if you select to attach a document and then open the software and scan an item, it will attach automatically and can also be selected to delete from your computer locally, avoiding a build-up of unnecessary files.
Wireless
The iX500 is fitted with a GI chip to enable wireless scanning. Download the software through an app from the App Store or Google Play, connect the scanner and away you go. You can even remotely press the scan button 'on' from your tablet and a few seconds later the item appears on your screen with the option to view in various applications such as DropBox, iBooks or email. It is expected that future scanners from Fujitsu will also come with wireless capabilities.
Business card heaven
While I was using the scanner and becoming more and more smitten, it was when I realised I could pop up to 20 business cards in the feeder and have them scanned in seconds, which is what the video below demonstrates.
The Fujitsu software, Card Minder, recognises the business cards and extracts the scanned data into relevant fields, this data is then editable and exportable – like creating and alphabetising your own virtual rollerdex. For an organised soul, this is a dream!
However, when I tested it out on my array of different business cards I have stacked on my desk, it wasn't as easy as scanning a stack of identical cards. It was still astonished at how quickly they scanned through and how the software (most of the time) managed to recognise the different types of information and pop them into different fields. However, if a business card was double sided or more "creative" than the traditional white card with lines of text, about 2 out of 10 times is wouldn't recognise my cards. This was slightly frustrating, but it was still easy enough to edit the fields manually if you were determined to use this system. However, I do blame working in media and the array of whacky business cards for this problem.
A desktop's new best friend
I've previously reviewed the Fujitsu ScanSnap S1300i scanner and I was really pleased with the speed and features, however due to not really being portable, I didn't really see the point, when there are ultra portable scanners, like the S1100, which you can pop into your laptop bag without a thought.
The iX500 should be a staple piece of equipment for the office desk, perfect for the individual who does the most scanning, such as a secretary, and due to the wireless features, anybody in the office with a tablet can also easily access the joys of ScanSnap.
The iX500 was available from January 7 for a RRP of £395.00 ex VAT.
---
January 31, 2013 12:34 PM
Android
,
augmented reality
,
BlackBerry
,
Blippar
,
IOS
,
iPhone
,
research in motion
,
Smartphones
This week BlackBerry are shining in the spotlight of the press in the mobile world, thanks to the launch of its new operating system, BlackBerry 10, and early indications seem that it is reviewing quite well.
Clever marketing from augmented reality company,
Blippar
, has allowed iOS and Android users to experience the BlackBerry 10 experience right on their handsets.
Using the Blippar app, I "blipped" a
landing page,
which then swirled and whizzed through space while loading. After about ten seconds I was redirected to my web browser which then offered me an interactive experience.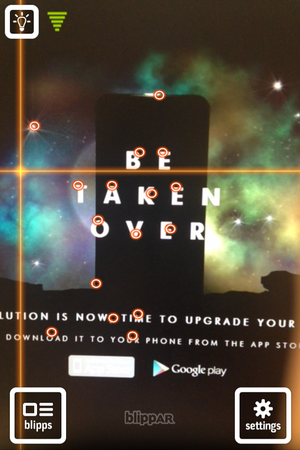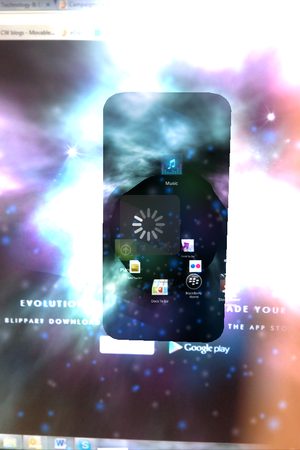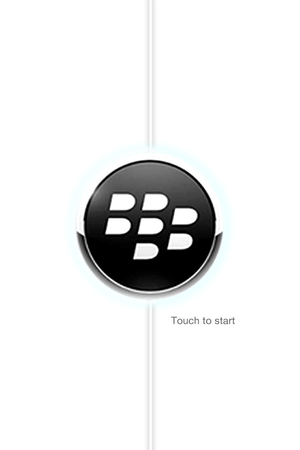 While BlackBerry 10 technically doesn't "hijack" your iPhone or Galaxy, it does provide a good insight into the perks of the new operating system.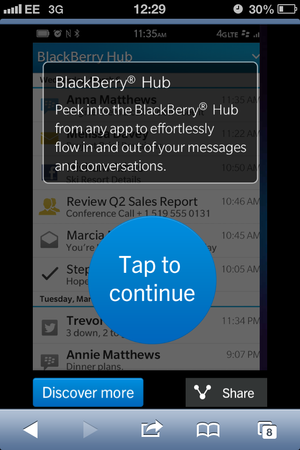 If you want to experience BlackBerry 10 first hand, without paying out the big bucks (yes, the handset does seem to be quite pricey), download Blippar on your handset, open www.bbtakeover.me on your desktop, and
Blip
away.
---
January 24, 2013 12:27 PM
HP
,
tablet computer
,
Windows 8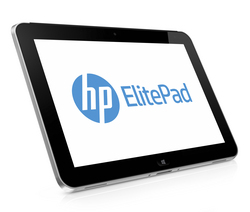 The HP ElitePad 900 tablet has started shipping this month and last night I got my hands on a device and its range of accessories.
The tablet is a Windows 8 Pro device weighing around 700g, 9.2mm thin with a 10.1-inch 1280 x 800 pixel gorilla glass screen. The device has an Intel Atom processor with 2GB of memory, while the tablet comes with either 32GB or 64GB of storage, with an option to expand with a micro SD card slot. The device also comes with the option to have mobile connectivity (3G).
The tablet has what seems like a silver frame and feels rather light without its expansion jacket. It's nice to hold, and its casing is made out of aluminium which, while stylish, may not be the best choice for the enterprise where it could experience unsightly scratches.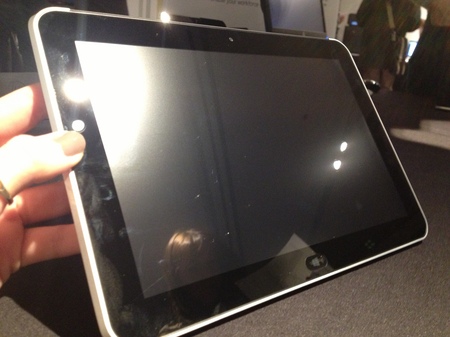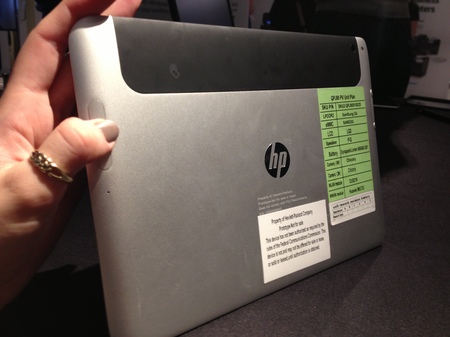 However it is the tablet's accessories which piqued my interest. You can purchase an Expansion jacket for around £80 which adds USB and HDMI ports, while even providing longer battery life when combined with the Jacket battery (for another additional £80).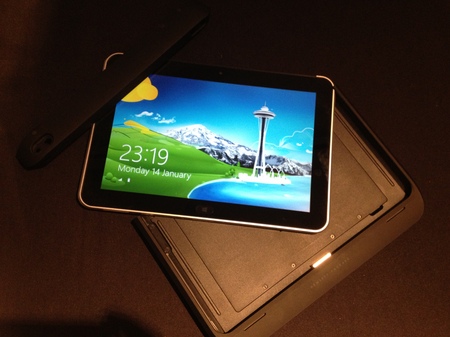 When the device is sat securely in its Expansion jacket it is quite weighty and much larger, this seems a bit strange as it's surely expanding its technical specs not its size? I also found that the plastic material leaves finger prints which cheapens the overall effect. This wouldn't be so bad if it was a robust protective case, but it hasn't been dubbed as shock-proof.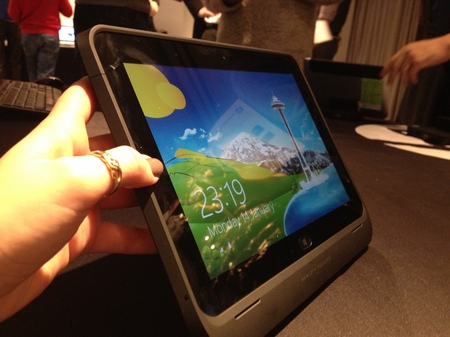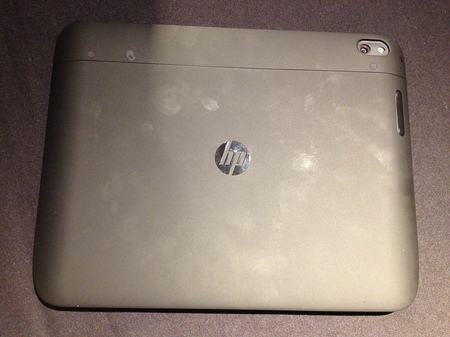 The dock (available for around £100) is very heavy and stable, kind of reminding me of a door stop. Just place it on your desk, wire up a monitor and a keyboard and you will be able to drop your tablet onto your desk when you get to work in order to seamlessly move from on-the-go working to the office environment.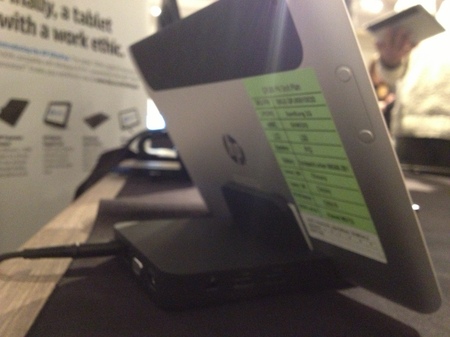 So if you wanted to kit your workforce out with one of these devices as well as the accessories. It would cost nearly £900 per person, and that's not even including another added extra in the form of Productivity jack, which includes a keyboard, connectivity ports, SD card reader and adjustable viewing angles.
Quite a pricey sum of kit, and would only surely be feasible as a complete laptop replacement, which with the processor makes it a decent basic laptop replacement giving it similar specs as a netbook.
---
January 23, 2013 3:21 PM
Bangalore
,
Business
,
India
Last night, 16 of the most innovative technology SMEs from the UK were chosen to join Web Mission 2013 to India in early February.
The chosen start-ups, building tech for various sectors including health, education, infrastructure and mobility, included Audioboo, Cyceera, uMotif, Omnisoft Services and BuffaloGrid.
The Mission programme, organised by The Long Run Venture and the Co-Sponsorship Agency, is supported by the Technology Strategy Board and UK Trade & Investment (UKTI), alongside other private sponsors.
This will be the eighth trip. Each trip is designed to help successful early stage businesses accelerate their growth potential overseas. According to the organiser, the chosen companies are all scalable, while offering profitable solutions for low and middle-income populations in urban and rural India, while also offering B2B opportunities.
"When you take UK and India, people think there is a lot of trade, but this is miniscule in terms of start-ups, especially when in terms of investments , eyes are drawn to Silicon Valley," said Guy Pattison, co-founder of The Long Run Venture.
"You would have around 10 million people to pilot a project in India, but a couple of thousand here. These start-ups have the opportunity to get in there and scale up," he said.
The hand-picked companies will visit the country for seven days, first heading to Bangalore to visit other big companies and universities and then onto New Delhi which will provide a government perspective to venturing into the country.
Start-ups on Web Mission 2013 include:
Audioboo – Audioboo allows users to record audio and post over social networks. With customers already including the BBC and The Guardian, the company claims to do to audio, what Instagram to did to photos. Audioboo is also delving into the audiobook and education sectors.
uMotif – uMotif is a telehealth company which builds attractive apps for users with health problems. The apps help users to comply with taking medicines, to improve treatment and reduce hospital costs of readmissions. The software works on various platforms, not just smartphones, by providing SMS services as well. uMotif is currently demonstrating an app to help people suffering from Parkinsons. The app, which was funded by the Department of Health and adminstered by the NHS Midlands and East, has an engaging colourful interface which encourages the users to "own their own data".
BuffaloGrid –Buffalo Grid provides mobile charging power to rural areas of the world, where it could quite easily take a quarter of a day's wage to charge your device at a local power station. BuffaloGrid uses solar panelling to distribute power and customers can pay via text message. The company hopes to pair with mobile operators, while any residual power is then sold back to the local people at highly competitive rates. There are around 650m off-grid mobile phones in the world, 300m of which are in India, proving the move into this market incremental for the company's future development.
---
January 16, 2013 4:52 PM
bing
,
Facebook
,
Google
,
Microsoft
,
zuckerberg
Facebook launched its new social search function, called Graph Search, last night, and I have been lucky enough to try out the additions which the company have said are still in beta test mode.
The social network, which boasts one billion members, 240 billion photos and one trillion connections, will enable users to "naturally" search through people, photos, interests and places.
Graph Search will enable users to filter content on Facebook to find out particular things, such as which nearby restaurants their friends have liked or which friends like a certain movie, or to search for photos including selected people.
Facebook will then order answers depending on the number of "likes" or the level of a user's interaction with their chosen person, place or photograph, placing more familiar links at the top of the search results.
Dressed in his statement black zipped-up sweater (for the love of God, you're a millionaire, shell out for a checked shirt at least? No? OK), Zuckerberg stated that while Graph Search is not a web search, like Google, Facebook has partnered with Microsoft's search engine, Bing, to enable users to search the internet when Facebook fails to find an answer.
When I used Graph Search for the first time last night, Facebook provided me with a two minute tour which showed you how to type questions into the search bar. It seemed to personalise the tutorial for me, using "Cardiff University" as an example search term.
However, that's where the personalisation ingenuity stopped, for me at least.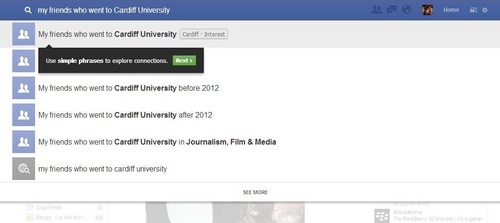 During the press conference Facebook founder, Mark Zuckerberg, and his cronies were describing different types of searches and how they had enabled Graph Search to recognise natural language. They suggested 'photos I have liked' as a search term to gather all the images you have positively engaged with.
Trying out Graph Search for the first time at about 11pm last night, I forgot the "correct" terminology and typed in 'my favourite photos'. Facebook decided to autocorrect my sentence to 'my favourite girl photos' and presented this page of rather nude women, which may I add, I haven't 'liked'.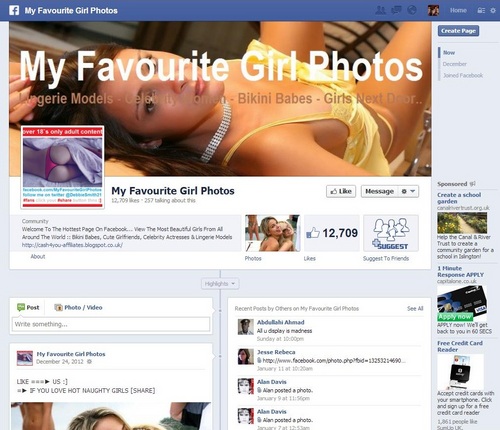 I found another couple of faults, which can only be expected in a beta test version – It seems that my best friend who lives in Bangor, North Wales, lives in Cardiff, because any Cardiff filters I put in she pops straight up.
I can see this going down particularly well with users who wish to check out single men and women. Just type in 'single friends of friends who live in London' and friends of friends who have publicly shared their relationship status will appear as the results. Maybe if everyone everyone knows is taken, Bing will direct you to Match.com?
While the tech industry generally seems underwhelmed with the added functionality, it will be interesting to see how small businesses may be able to explore their customers' likes and dislikes and target advertising at them. For instance if a user has liked a bar, it will be interesting to see if the bar can then go ahead and filter, finding that user to like a particular cocktail or cuisine, then pointing out special offers to them which will in theory be more attractive to the customer.
Zuckerberg kept a quite tight-lipped on using Graph Search for business, avoiding questions, but answering in regards to existing sponsored advertisements on Facebook:
"You build good businesses over time, by people wanting to use something," said Zuckerberg. "Sponsored ads extend quite nicely to Graph Search, but there is nothing new for this."
I predict that Facebook users will not mind the inclusion of Graph Search in general. It's not a redesign of the site, which is when users usually get up in arms about scandalous changes to their ever-so-familiar pages… for about two days.

The search bar will feature at the top of Facebook on the blue bar, with the home button moved over to the right. Facebook users do like complaining though, so they might kick up a bit of a fuss, until they realise the power of the Graph Search functionality to increase stalking by 600%.
Still in beta, Graph Search will be rolled out to a "very small audience" from 16 January. The company will collect feedback from users before rolling out to a wider audience. Graph Search will also go through tests before being available on mobile devices.
---