---
January 22, 2019 4:35 PM
In the age of the selfie (and the accursed self-stick), what more could the average smartphone-toting photo addict really need?
Longer arms perhaps?
How  about an international language app to translate the word "cheese" into 200 langauges?
No, it's none of these. What we really want is something that makes our smartphones look, act and feel more like an actual camera.
This appears to be much of the thinking behind Adonit Photogrip, a multiuse phone grip designed to transform a smartphone so it can be used just like a camera.
Nokia of course did something like this with the Nokia Lumia 1020 – image linked here – which did the phone a good surround, but was proprietary to that model alone and was expensive and heavy.
Camera not-so obscura
Adonit has previously been known for its stylus manufacturing. The company now comes forward with the UK launch of Photogrip, a means of wrapping a casing around any smartphone so that it can be converted into a mini tripod. It is accompanied by a Bluetooth shutter and (and this is the cool bit) a camera remote (so you can make the shutter close while you sit away from the device) to help create group shots.
According to the makers, the Adonit Photogrip allows users can comfortably hold their phone out in front of them with one hand to perfect that selfie with ease thanks to the grooved grip mark, avoiding any accidental slips and resulting cracked screen.
Photogrip can be positioned upright for self-standing portrait mode, allowing users to FaceTime, live stream on Instagram or perhaps and watch videos.
The detachable Bluetooth shutter remote can be used up to 10 metres from the phone whether it be on the Photogrip's mini tripod or self-standing mode. There is no timer required, so users can just click the remote when they are ready.
There's also a mini precision stylus included to help with photo editing.
Jasper Li, CTO for Adonit has said that the Photogrip has multiple uses and is one of the first offering a stand, everyday handgrip for peace of mind as well as the tools to take portrait shots and edit swiftly for ultimate shareability.
The Adonit Photogrip is compatible with iOS 5.0 and above and Android v4.3 and above.
The Bluetooth connection requires v3.0 and the device will work with any phone from a minimum size of 4.5″. In addition, the Photogrip includes a carry pouch, neck strap and features a charge capacity of up to 20 hours, with the allowance to snap up to 72,000 photos.
Inspect-a-Gadget opinion
Okay what did we think of this? Actually, it's one of those 'darn, I wish I'd had this ages ago' type of gadgets… the remote Bluetooth 'clicker' being absolutely the coolest thing about it. Perhaps not just for getting group shots, but if you're the kind of person that likes to climb up a mountain and sit perched with your other half on the edge of some remote escarpment, then how would you be able to get a snap of that kind of thing if nobody else was there?
Having spent an entire youth setting 'auto-shutter' self-timer and balancing cameras on top of rocks and such like and then running around the front, this is an electronic answer to that problem… and it comes with a tripod… and it comes with a casing unit to stop your phone getting damaged. The product is robust and feels tough, it fits all the Huawei phones we tried it on (several sizes) and it would appear to fit 'any' smartphone, although one imagines there must be some that it doesn't especially if you already have your own casing around your device. You can also use the Adonit Photogrip to prop your smartphone up (portrait style) in self-standing mode on your desk. Say cheese please.
The Adonit Photogrip is available from Amazon and Adonit for £44.99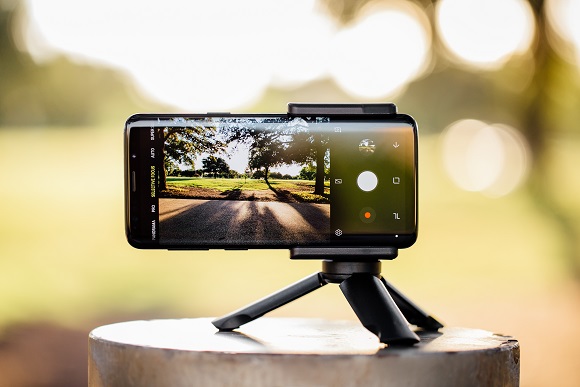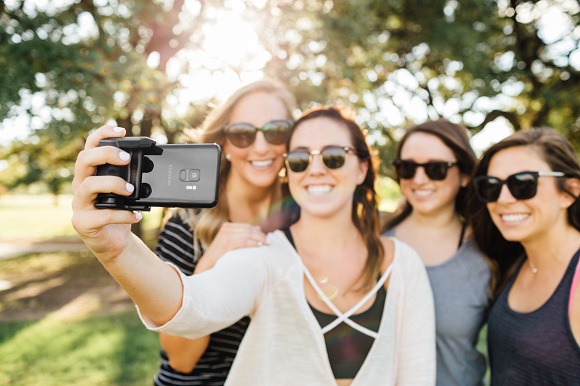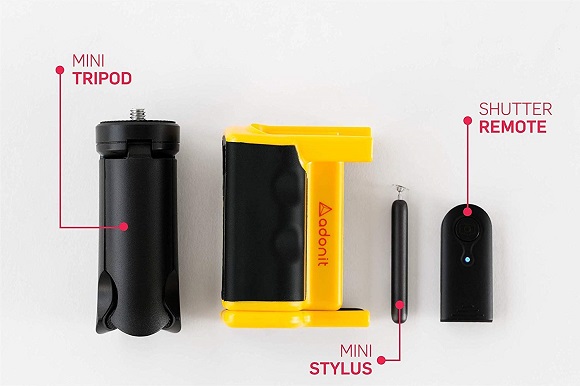 January 3, 2019 10:12 AM
I have a usability issue. My Huawei Mate 20 Pro smartphone is great, but I can't write things on it… and, believe it or not, I am a writer.
Last year I attended a conference in Washington DC and saw a Chinese journalist filing copy on her smartphone using a small Bluetooth keyboard. I thought to myself… why aren't those two devices connected at the hip? I assume you're getting the picture here.
The Gemini PDA by Planet Computers was offered to me for review by a marketing man who said, "Right then, here's a device that is about to change your life." Could it really be true?
We've been here before, kind of
The Gemini (presumably named because it 'twins' a full travel keyboard with an Android smartphone) is reminiscent of the Nokia Communicator and Psion Series 5. Those devices didn't stick around for as long as they might have and the trend for 'on screen' keyboards finally even made it to the Blackberry, so go figure.
But many of us (writers, journalists, bloggers, businesspeople) need something more than a touchscreen experience that takes up around a third of the display leaving very little screen real estate left inside which to (attempt to) be creative.
The Gemini comes as a mobile 4G + WiFi LTE version and a WiFi only version, both featuring a full QWERTY keyboard. It fits in a back pocket with room to spare, although it probably peaks out the top of your pocket more than a smartphone would — it sports a 5.99″ hi-res screen.
When open, the clamshell design also acts as a support for the device. You can just about use it on your knees, but it really needs to be on a hard surface to get the best out of it.
According to Planet Computers, the fully tactile keyboard is recognised as the world's best yet smallest full-sized keyboard for finger touch typing. Touch typing at 50 words per minute is very achievable.
Smartphone trials, tribulations & taboos
Aside from being useful for people who write words for a living, there are a number of additional reasons why this might be a 'life changing' device in real terms.
Think about technical, medical or other niche staff jobs who need to write down long rarely used words, this has to be easier on a full keyboard than on a smartphone screen with autocorrect constantly trying to change your letters. Also… as of 2019, it is still considered somewhat rude to type notes on smartphones in meetings. This factor is arguably overcome with the Gemini.
At this point we should mention, the Gemini is also a smartphone and calls can be received with the clamshell shut and keyboard stowed. There's no external screen though, so you'll need to make calls from your 'desktop' if that's how you want to use it.
Real world usage
In terms of real world usage (and these notes are written on the Gemini device itself), the typing functionality is really good.
The difference between this unit and a smartphone for someone (like a journalist or any other content creator) is that you `feel' like you have a screen and keyboard (which of course you actually do) and so it provides the `creative space' factor that is familiar.
You have the option to use the keyboard to cut paragraphs around, shorten and lengthen text… and basically edit in the same way that you would when using a desktop or laptop machine — however proficient you are with a smartphone on-screen keyboard, the difference should be dramatically apparent.
The arrow keys allow you to jump around your text and highlight areas that you might want to break out before then going back to insert sub-headlines and so on. And yes, we know that sounds silly to say out loud because that's what any other full size keyboard does, but saying it out loud is the whole point here
No mouse is needed and you don't need to think about using a pen stylus for the touchscreen, it's easier to touch the screen with your fingers
Criticisms (or nitpicking)
In terms of criticisms, the device is still smaller than a pocket in your favourite pair of jeans, so they could have arguably made this thing 10% or 20% bigger and it would have still worked
The on board Notes app doesn't always perform at enough speed for editing documents, but that's fine because Google Docs is free and it works a treat.
Some reviews have been less than keen on the browser (Android is most usually used vertically in portrait mode rather than horizontally in landscape as is the case here), but we found the performance fine.
The stereo speakers are there, they're okay, they're not world beaters, there is a headphone jack.
The full stop mark is very close to the dot on the bottom of the question mark key, so if you're just on the verge of needing glasses then it's easy not to see it initially — but that's nitpicking, period.
Additional info
Gemini PDA keyboard layouts are available in English UK, English US — plus also Arabic, Brazilian, Chinese, Czech, Croatian, Finnish, French, German/Austrian, Greek, Hebrew, Hungarian, Icelandic, Italian, Japanese, Korean, Norwegian/Danish, Polish, Portuguese, Russian, Spanish, Swedish, Swiss, Thai and Dvorak… just in case you want to be picky.
The device itself is capable of a dual boot into both Debian Linux and Android although we did not try Debian as part of this review. The Gemini is also capable of running the Sailfish mobile operating system (OS) if the mood so takes you.
On board you'll find 4GB of RAM, with 64GB internal storage capacity. Screen resolution is 2160×1080, 403 ppi — and there's Bluetooth v 4.1, two USB 3 slots, a SIM slot, a micro SD card slot and the whole thing weighs in at 308 grams running on a Quad Core ARM Mali T880 MP4 CPU @ 875MHz.
Also included is an accelerometer, light sensor, gyroscope, magnetic-sensor and a dedicated voice assistant button. The device has a two-week stand-by battery life and around 10-hours standard use battery life.
The crucial matter is price then. The 4G version comes in at £599 and the WiFi only version is £499.
Was it life changing?
So then, was it a life changing experience after all?
The short answer is, yes, so far.
The litmus test being that half of this review was written on the device itself sat on a plane from Gatwick to Fuerteventura. The other litmus test (for me personally anyway) is whether I would place it on my desk next to my main machine and use it to (for example) answer email while working on a full size machine — and yes, that works well. Although MyMail works (for me at least) better than any version of Gmail itself.
The other litmus test is whether I would take the device with me as a standalone machine to work on and again the answer is yes, very much more so than a smartphone, where editing work is simply not really an option.
The Gemini PDA is just about a fully functioning mini computer small enough to fit in your pocket — and it's a thing of beauty. Planet Computers' next enhanced version of the device tested here will be The Cosmo and more information is linked here.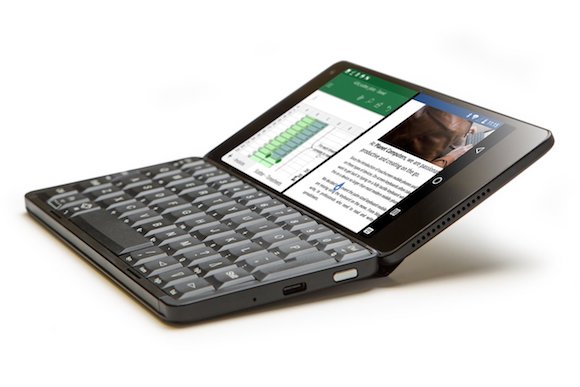 ---
December 4, 2018 5:26 PM
The TSA once dropped my laptop and it made me nervous about the fact that a machine on the road is a delicate thing. To be clear, the fine people at the US Transportation Security Administration (TSA) do a fabulous and invaluable job of keeping us safe and I appreciate them right down to their cotton socks.
But, one morning this March in Atlanta Hartsfield-Jackson airport, the screening trays got so backed up that my laptop got literally squeezed out of position and was ejected onto the floor.
Now then, we're lucky that HP makes its Spectre 360 laptop pretty darn well, because my machine did survive the fall and was easy enough to wipe clean. But the whole experience gave me cause for thought when a trip to Sri Lanka came up this year.
Running through airports, jumping on rickety Sri Lankan trains (some with no windows), traipsing over tea plantations and then trying to sit in cafes at night to write up tech stories and wider experiences… surely there was a better way of computing on the go?
I have always jealously eyed the 'ruggedized' (sorry, that should be ruggedised) laptops and tablets that our London gas engineers turn up with. Chunky sides, reinforced plates on the front and nifty 'easy-grip' handles. Shouldn't I be using one of those types of machines on the go?
Time to play Conkers
Enter Conker… well, the Conker brand. This UK-built brand offers a variety of Windows and Android tablets. We chose to play with the Conker NS10 and actually take it on the road to Sri Lanka.
This is a 10″ display rugged Windows tablet with optional barcode scanner. It ships with Windows 10 Pro and it has an optional Intel Core m3 processor. It comes with 4GB of memory and 128GB of storage. There's a 5.0 megapixel rear camera and a 3.0 megapixel front camera.
The screen is multi-touch sensitive and built is Gorilla Glass for toughness. The drop test rating lists the machine at 1.2 metres. We didn't drop it, but it's a whole lot less worrying to slap in down into airport x-ray scanners than a traditional laptop.
The Conker NS10 has Bluetooth and Wi-Fi, but also sports 1 USB port and 1 micro-USB port. We teamed it with a Microsoft wireless mouth and (paradoxically) an Apple wireless keyboard, both worked perfectly with very fast 'pick up' i.e. Bluetooth connectivity from a state of rest.
There's a waterproof built in speaker and microphone, but these are not the machine's outstanding features. The Conker NS10 weighs in at 1.1kg, but there's a nice carrying strap on the top.
Usage experience
Okay so how was it? The overall feeling with this machine is that everything 'just works' and we mean everything.
Wi-Fi connectivity is strong, connections to external devices are strong, battery life (around 8-10 hours) is good, full-blown Windows functionality in something 10-inches wide is just fine, installation of VPNs and firewalls to enable secure work in remote international locations is perfect… and the rugged factor is there all round in a nice tuff-grip style casing that slid down the side of a backpack very neatly.
NOTE: Exact battery life details state that, "The NS10 has a 5000 mAh battery and in testing completed 7 hours and 25 minutes of continuous HD video playback at 50% brightness."
The Conker Windows line comes in 12, 10, 8 and 6-inch screen sizes, but we deliberately chose the 10-inch form factor because it was smaller than a laptop but bigger than a phablet or smartphone size. Writing reports on tiny tables in train stations, airports and cheap hotels worked perfectly.
Official documentation also states that, "These super-tough devices are drop-tested to 1.2m and are waterproof to 1.5m for 30 minutes. They are also completely dust proof and feature toughened screens as standard."
If there are any criticisms, the product could probably do with a built-in stand for those who want to use it as a rugged PC for most of the time and as a tablet when really on the move. To be fair, Conker does offer mounting stations.
We ended up using an external Anker Portable Multi-Angle Stand, which did the job just fine.
Tough nut to crack?
According to Conker CEO James Summers, the company's name is inspired by the tough conker nut that comes from the horse chestnut tree and is much beloved of schoolchildren in the playground. 
"Like the conker, our business rugged tablet, screen and mobile systems have durable external shells and internal components," said Summers.
CEO Summers explains that his firm is also focused on UK device engineering that goes some way beyond product features.
"Unlike many of our direct rugged, device-engineering led competitors, Conker is oriented on the effective delivery of business rugged systems to achieve business results. The Conker approach is different, as we are consultative, personal, responsive and flexible — and we always seek to deliver measurable business value," said Summers.

He further states that Conker is a British producer of business rugged tablet, screen and mobile systems that offers a collaborative approach for mobile workers to improve productivity and make their lives easier by automating the mundane & streamlining business processes.
As a slightly different kind of computing option for a traveller — or a more standard option for a mobile engineering field worker, this Conker device is a really nice piece of kit.
For additional storage, we teamed the Conker device with a Lacie Rugged Secure 2 Terabyte that comes with rain, drop and crush resistance — upon which we installed around 100 movies (you could fit around 500 movies on a disk this size), lots of music and backed up all our photos and files.
Apparently you can drive a car over the Lacie products and they still work.
So for all that lumping and jumping around in Sri Lankan tuk-tuk auto-rickshaws, final departure from Colombo airport saw the security scanners leave all our IT equipment (and liquids) in our bags… but anyway, we still felt rugged.
---
October 17, 2018 11:25 AM
Whether you can pronounce the company's name or not, it's for sure that Huawei (say: wah-way) has become a significant presence in the smartphone market today.
Now with corporate ambitions to become known for its cloud business and wider development of Artificial Intelligence (AI) at the chipset and software level, the firm has one of those stands at Mobile World Congress that you can't just walk onto without a meeting booked.
This is a smartphones + ecosystem play, for sure.
The latest 'shiny shiny' from the Chinese telecoms giant is the Mate P20 series, a device group that now ranks as the firm's flagship — please note that this overview focuses on the Mate20 Pro.
"This is not a smartphone, this is a smart AI-enabled computer," ran the big production video intro to the launch of the P10 Pro, this line's predecessor — a presentation we saw played out in a strange underground bunker of a conference centre in Munich last autumn.
A good dose of the same 'it's more than just a phone' rhetoric is slapped across much of the Huawei Mate20 series messaging and, in fairness, the device's camera probably outstrips the ageing Nikon in your drawer that you're not really using any more… and it's ability to hook up to a full monitor and effectively be used as a PC is also good.
This year's Mate20 event was staged in London's 'glittering' big E, little x, big C, little e, big L ExCeL centre, presumably because it's roomy… and everybody loves a ride on London's DLR Docklands Light Railway, right?
Specs for spec fans
If you're one of those specifications (specs) list fans, you'll want to know that the Mate20 Pro is 7.8mm thick (or thin) and weighs in at 180 grams with a 2244×1080 RGBW resolution screen creating what is an 82 percent screen-to-body ratio.
The display is actually curved at both edges with higher colour saturation than delivered in any of the firm's previous devices.
In terms of engine room power, the Mate20 Pro ships with Huawei's own Kirin 970 octa-core chipset processor with 6GB of RAM and 128GB of storage — as a whole, the Mate20 series are available in in 6.53-inch, 6.39-inch and 7.2-inch sizes.
The SoC at the core of smartphones has a determining factor in a device's performance and efficiency. Manufactured with 7nm technology process, the SoC fits 6.9 billion transistors within a die the size of a fingernail.
"Smartphones are an important entrance to the digital world. The Huawei Mate 20 Series is designed to be the best 'mate' of consumers, accompanying and empowering them to enjoy a richer, more fulfilled life with their higher intelligence, unparalleled battery lives and powerful camera performance," said Richard Yu, CEO of Huawei Consumer BG.
Huawei's Richard Yu spoke at the launch event to enthuse about the device's 4200mAh battery and it's AI power, "With an AI processor, we can bring forward more and more AI services to the applications running on our smartphones," said Yu. "
Camera power
The device has what Yu called a 'four point design' in its rear Leica camera lens sent up. This is a wide angle lens, plus an ultra wide angle lens and a telephoto lens… all of which are served by a larger light sensor which allows the camera to perform in very low light conditions without flash.
We can also note that in camera functionality, slow-motion video is also included for the first time… and, perhaps most fun of all, the camera's so-called 'Hollywood-style' effect allows you to take a video with a foreground subject in colour and the background in black and white — examples (not taken using this device, but just for explanation) are shown here and here.
"The Mate 20 Series can isolate human subjects and desaturate the colours around them to dramatically highlight the person," reads the official line.
The much loved Bokeh effect has also been extended and can now be made to produce a soft focus background that is now whooshed with a swirl effect rather than just a soft blurred focus.
Huawei has upgraded the water and dust proofing of this device. It has also used what it calls a 'hyper optical pattern' on the glass etching of the screen — and this is supposed to reduce the amount of fingerprints that the user will leave after uses.
Neural power
CPU, GPU and NPU (neural processing unit) power all upped in terms of performance and power efficiency. All of which are meant to produce a more 'responsive feel' for the user.
The Huawei Mate 20 Pro houses a large, high-density 4200mAh battery — and supports 40W Huawei SuperCharge, which gives a [dead] device 70 percent charge in 30 minutes. The safety of the technology is certified by TÜV Rheinland.
The company says that the Mate 20 Series comes with EMUI 9.0, a smart operating system based on Android P. Through AI self-learning algorithms, an integrated and granular resource allocation system, and a highly optimised Android environment, EMUI 9 delivers an 'evergreen' experience.
This device also heralds the first options for wireless charging via a 15 W connection, which also allows you to charge other wireless charge devices and so share a portion of the power that the device has on board.
Summary thoughts
There's a lot to like here — but then, there's a lot (of apps and extended functions) here in general.
Naysayers might suggest that a) some of the apps are extraneous to most users' needs and so, for some, will be considered bloatware and that b) with so many functionality enhancements being shipped that Huawei is almost testing out emerging use case functions live upon its users.
Did you need 3D modelling calorie counting calculation functions to take photos of food and have the ingredients recognised by AI-powered analytics in order to tell you how many calories there are in your meal? Well you're getting it.
"It's all very convenient, we aim to make your life easier," repeats Huawei's Yu throughout his high-energy presentations.
The good news (for those worried about digital dependency) is this product is built as one of the first phones to ship with Android 9 Pie… which does actually come with 'digital wellbeing' features that have been developed by Google, because it's important to know what device functions do actually make your life better and also help users to know when to switch off.
More product info is available on the Huawei website pages for this product.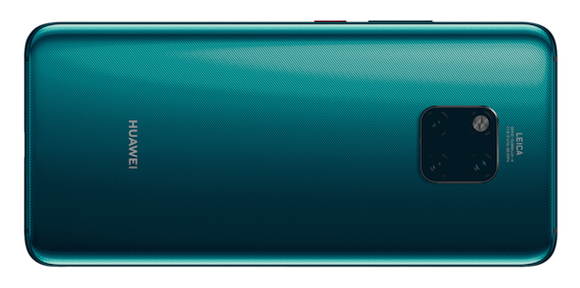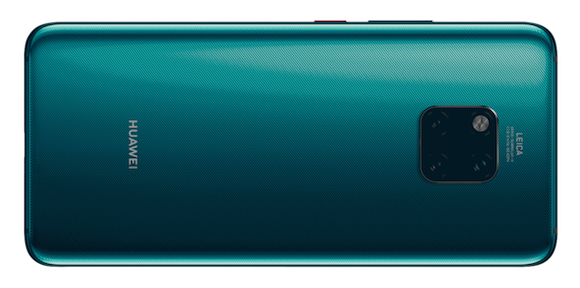 ---
August 6, 2018 3:54 PM
"women in IT"
,
ai
,
Artificial intelligence
,
FItbit
A backlash against a Fitbit feature which allows women to track their period has highlighted the need for more diverse technology teams.
In the summer of 2018 Fitbit added "female health tracking" to its application in a bid to help women the world over understand how their menstrual cycle correlates with other data collected by the wearable such as activity and sleep.
But the fitness brand only allows users to log a period for up to 10 days and no more.
Unsurprisingly, female users who wanted to track their period for more than 10 days were not impressed, and although the "average" length of a period is said to be between two and eight days, women with conditions such as endometriosis can bleed for longer.
Surely it would also be useful for those who have conditions which cause their period to last longer to be able to interpret how that impacts all of the other data that Fitbit collects?
The irony is not lost on us – a feature that is meant to help us better understand our health does not cater to those who may need it the most.
In the US the feature is only available for women who are 13 and over, and although it is stated that age restrictions may vary between countries this is yet another barrier which means the feature only caters to the "average" female population.
Symptoms that come along with a woman's period such as pain, acne or nausea can also be tracked, but women have been objecting to the limited number of options given to describe any discomfort they may be feeling during their time of the month.
Just as an example, when I wrote the above sentence I wrote "bloating" as one of the common symptoms for a period, only to find out this isn't one of the five "conditions" you can log at the moment.
Go figure.
More conditions are set to be added in the future, according to the Fitbit community boards, and there's now a discussion on Fitbit's suggestion board which is urging the brand to extend the number of days the menstrual cycle can be logged, with many women saying the feature is "useless" to them without being able to track their whole period.
This would be my mindset too – surely if your period lasts for longer than 10 days but you can't log that in the app any predictions the feature has about when your next period would start would be based on false data, and therefore not be accurate?
But this isn't just about accurately tracking menstrual cycles; as head of diversity and inclusion for the IET Jo Foster suggested to the BBC, this is indicative of wider problems in the technology industry.
There is a lack of diversity in technology teams, despite the effort many are putting in to change this, and it means that the technology being developed both for women and for the general population is not fit for purpose for all of its users.
When seatbelts were first invented many women and children died because they were only tested with male crash test dummies, then Apple invented Apple Health to allow people to keep track of everything health-related and initially didn't include menstrual cycle tracking at all.
As technology has moved on, more of these problems have surfaced.
Many in the industry are concerned about the development of artificial intelligence (AI) as there is already a trend towards artificially intelligent assistants being characterised as female.
Facial recognition is another example – it is increasingly used in everyday life, now it is even used as a biometric identifier for some phones, but the error rate for facial recognition is much higher for women of colour than it is for white men.
Biases present in society will only be replicated in AI and other future technologies unless the teams developing these technologies changes.
The ability to track your menstrual cycle was one of Fitbit's most requested features, and since it was launched more than 2.4m users have added it to their Fitbit app.
There may well have been a woman on the development team for Fitbit's new female health tracking feature, but one woman isn't enough and much like other bodily functions, not every woman is the same.
Moderators in Fitbit's discussion page on the topic have called the suggestion "interesting" with one saying: "Let's see what other members of the Forums have to say about this."
Discussion is great, and it is opening a lot of people's eyes to the potential problems of developing tech that doesn't suit everyone, but as one forum user said: "It can't be that hard to modify the coding, can it?"
---
July 27, 2018 5:50 PM
Picture the scene… London, summer 2018, it's hot, so hot that British people have been able to take showers straight off the cold tap in their homes.
Day after day of 30+ degree Celsius heat has taken its toll on a public who quite frankly have had enough of barbeques and would like a nice hot bowl of soup and some rain to complain about thank you very much.
Like many of us, I have been working with my windows open in an attempt to cool down.
Now then, for most people, this technique works just fine. But if you, like me, live close to Battersea's London Heliport, then it can be quite noisy when the various dignitaries and glitterati decide to land or take off.
Here's the problem.
London Heliport is arguably somewhat lax when it comes to stipulating exactly how close pilots are allowed to come to the buildings around the Battersea towpath.
Some pilots take a considerate outward loop well away from residents homes and make their approach and exit well out into the river.
Others though, presumably looking to either save fuel or provide a more thrilling ride for their passengers, skirt the edge of the buildings along London's Clove Hitch Quay with a kind of devil-may-care swoop that really puts the wind up those us living just a few feet away.
I have personally taken it upon myself to go in and talk to the London Heliport manager (a Mr Simon Hutchins) and explained that some of the choppers come too close.
"Oh, it's due to the wind on the day," he told me… before offering me a look at the landing 'apron', which was all quite exciting if I am honest.
So… next tactic: send tweets to @LondonHeliport with images of the helicopters that fly too close? No use: "You are blocked from following @LondonHeliport" was the eventual report that comes back. I'm actually genuinely quite impressed i.e. nobody has ever blocked me on Twitter, so well done London Heliport, at least you've set one record.
Technology is the answer
As always with these things, technology provides the answer.
I got myself a set of Jabra Evolve 80 headphones with Active Noise Cancellation (ANC) technology.
These 'cans' are over the ear (as opposed to 'on ear') so they completely cover my poor lug-holes. Once I switch on the ANC function, it drowns out a good proportion of all background noise.
As Jabra notes, "You can switch on active noise-cancellation to virtually eliminate low-frequency sounds, such as the hum of air conditioning. Active noise-cancellation uses advanced microphones to monitor and counter ambient noise. All Jabra USB headsets and speakerphones work with all the most popular online voice call services. [The product] works straight out of the box with all leading UC systems and the 3.5 mm jack lets you connect to a PC, smartphone, tablet, or any other personal device."
Is it enough to drown out a helicopter passing by my window 50 feet away?
With ANC switched on and Absolute Classic Rock playing, yes, for the most part.
How ANC works
Paradoxically, Active Noise Cancellation (ANC) technology was originally created for airplane pilots to improve their comfort on long flights.
As the Guardian notes here, "ANC works by using microphones to pick up low-frequency noise and neutralise it before it reaches the ear. The headset generates a sound that's phase-inverted by 180 degrees to the unwanted noise, resulting in the two sounds cancelling each other out."
Aircraft jet engines create somewhere between 75 to 80 dB of noise inside an aircraft cabin — and most ANC headphones including this Jabra unit generate what is known as 'destructive interference' ranges between 20 and 45 dB, so you're never going to drown out a full helicopter effect really.
Plus also, ANC is more efficient against low-frequency sounds.
According to a Wikipedia, to prevent higher-frequency noise from reaching the ear, most noise-cancelling headphones depend on soundproofing.
"Higher-frequency sound has a shorter wavelength and cancelling this sound would require locating devices to detect and counteract it closer to the listener's eardrum than is currently technically feasible or would require digital algorithms that would complicate the headphone's electronics," notes this post.
The fun part, well, for me, is that the Jabra headset I went for has a fancy swivel around microphone for webchats and calls – so I do look amusingly rather like a helicopter pilot sat at my desk writing this up.
The moral of this story is, if you live next to a heliport and it's the hottest summer on record, then you had better get hold of some noise cancellation technology and you had better like 90s 'grunge', alternative rock and heavy metal.
---
May 24, 2018 4:26 PM
ai
,
Automation
,
Robotics
,
ROBOTS
Every time a robot does something that humans deem to be suspicious, a debate is sparked about when artificially intelligent beings will take over the world.
There have been more than enough films about it, ranging from Terminator and iRobot to more recent films such as ExMachina, to name just a small portion, where artificial intelligence (AI) becomes self-aware and revolts against its human creators.
So when is this likely to happen in the world of non-fiction?
According to Peter Schwartz, senior vice president of strategic planning at Salesforce, it isn't.
Labelling these kinds of proposed eventualities "bad science fiction" Schwartz explained the reason machine learning and AI cannot be made to be more intelligent than humans, or to be self-aware, is because in all of these examples the AI is made by replicating the way the human brain works using technology.
The problem with this is that we still as a whole don't understand how the brain works – and you can't make a computational model of something that is not wholly understood.
So what can we expect instead of a future world resembling the Terminator films?
As it happens, technology in films such as Minority Report, which Schwartz worked on, is already coming into play in the mainstream, and this data-driven augmented reality (AR) and AI is something we can expect to see more of.
We can expect this to look like a world much like the one we live in now, but where intelligence is "embedded everywhere" including sensors and AI in everything from fridges and chairs, to floors and walls.
As Schwartz puts it: "The world around you will know you, and enlighten you."
This sounds far from the doomsday future we have all been expecting, and Schwartz explains the disruption only seems more significant than with other waves of technology adoption because of the pace at which it is happening.
"The change that happened over decades is now happening over a very short period of time,"
"What we're looking at is a world that will have embedded intelligence everywhere and, as long as you're carrying a device like a smartphone, it will know you."
But this comes hand-in-hand with issues, including but not limited to, legislation, protecting personal data and ensuring these technologies are developed to add value to people's lives rather than for technology's sake.
Schwartz explains that in many cases technology tends to get ahead of any legislation that can be made to control it, which is dangerous, because as Schwartz points out: "more and more important decisions are going to be made using algorithms."
There's also the matter of "digital dust" created by people every day, and picked up or used by other humans and companies to no benefit of the owner – which has been hard to regulate, and GDPR is only a small step forward.
Then there's the issue of bias, which will end up embedded in algorithms, AI and robotics if we don't make sure there are diverse teams working on them.
If it isn't killer robots we're scared of, it's robots that will replace us in the workplace and render us useless, another unlikely scenario according to Schwartz, who said this fear has been expressed "again and again" with "every single wave of technology, and every time we create more jobs than we destroy" he assured.
He used cloud technologies as an example – the cloud is a relatively new technology that is still being adopted, but hundreds if not thousands of people hold roles in it. Roles that did not used to exist.
So maybe your worries surrounding automation and AI have abated at least temporarily, because with every wave of technology adoption that has come before now we have kept the robots in check.
Or maybe that's just what they want you to think.
---
May 3, 2018 12:40 PM
Android
,
Apple
,
Huawei
,
iPhone
,
Smartphones
The smartphone sales results are in: Android continues to bite chunks out of Apple in UK and France, while iPhone X is eating Android in the East. 
The latest ComTech Smartphone OS Market Share report from Kantar Worldpanel reveals some interesting insights into how Apple and Android handsets are squaring up against each other — and highlights some striking differences across various markets.
In the UK, Apple iOS devices accounted for 37.0 per cent of sales in the first three months of 2018, compared with 62.7 per cent for Android. The mysterious 0.3 per cent eschewing the mainstream presumably includes those swept up by the recent Nokia nostalgia drive.
Kantar Worldpanel's trend data suggests Apple's pie is being eaten into, however. Sales of Android handsets have risen by 5.6 percentage points from the same period last year, while Apple smartphones have lost ground to the tune of 4.2 percentage points. That equates to a 25 per cent gap, compared to 15.9 last year.
France is even more polarised, with Android taking up 80.0 per cent of smartphone sales between January and February 2018 – up 4.4 percentage points – while iOS slips by almost three points to 19.5 per cent.
The USA market shows a little more equilibrium, with Android and Apple sharing 59.1 and 39.0 per cent of sales respectively, and no notable change on the same period in 2017.
iPhone X Marks The Spot in China
However, China reveals the most substantial swing in sales sentiment, with Android losing 9.9 percentage points in an apparent straight swap with Apple which gains 9.8 percentage points.
The Kantar Worldpanel team remarks that the Apple iPhone X release has played a major role here, with the anniversary handset becoming the best-selling smartphone in all of China in the last quarter. Elsewhere, it appears that iPhone X demand peaked shortly after release, with consumers opting for the less-unaffordable iPhone 8 models in the first few months of 2018.
Apple quarterly results this week were viewed favourably by many with shares jumping 5 per cent, despite handset sales falling slightly below analysts' expectations. However, bossman Tim Cook noted a 20 per cent revenue growth in Greater China and Japan.
Japan is the market with the most equilibrium in Android and iOS sales, with 54.8 and 44.8 per cent of sales in turn. Apple devices lost ground by 2 percentage points.
China – Two-way Traffic
The data also deep-dives into which devices and manufacturers are taking the share of sales; and while Apple grows in China, it notes how Chinese manufacturers continue to set down roots in the west.
"Huawei has managed to significantly increase its presence across the big five European markets, and now holds almost a fifth of sales in the three months to March 2018," said Dominic Sunnebo, Global Director for Kantar Worldpanel ComTech, reflecting on the growth of the Chinese handset giant, despite having been effectively blocked from sales in the US.
Elsewhere in the US, the Google Pixel smartphone range continues to gain ground, chalking up its best-ever quarter of sales as the search/ads/AI firm bakes hardware into its lineup.
---
February 22, 2018 4:11 PM
Education
,
Engineering
,
IT education
,
LEGO
,
Maths
,
science
,
Stem
,
Technology
Lego Education, the more serious branch of the Lego enterprise, aims to provide teachers and other education providers with fun ways to engage children with science, technology, engineering and maths (Stem) subjects.
To us, it may just be a toy we have long left in our childhood, but the makers at Lego Education are creating ways these tiny bricks can support and encourage schools and teachers to make Stem more interesting in a learning environment.
The idea is the kids are learning more about technology, science and engineering without really knowing they're doing it.
The Lego Education journey, for many, begins four yellow bricks, two red bricks and the instruction to make a duck.
Lego ducks
I liked to think of the duck as a sort of thought experiment – there is apparently "no wrong answer" when trying to make the duck, and there are many many different ways of solving it.
Ethan Danahy, research assistant professor at Tufts University, accused our group of being "too polite" and claimed most people usually jump straight in.
The advantage of adding this factor into a classroom is that it encourages some of the quieter children to be more involved in their learning experience rather than feeling like learning is "something that is done to them".
Danahy said: "When you go into a classroom you get these kids that are passive, but when you bring in Lego it brings in this atmosphere."
His argument was that by using tools such as Lego in the classroom, the children move from this passive attitude towards actively participating in their learning experience.
In case you were wondering, here's my duck: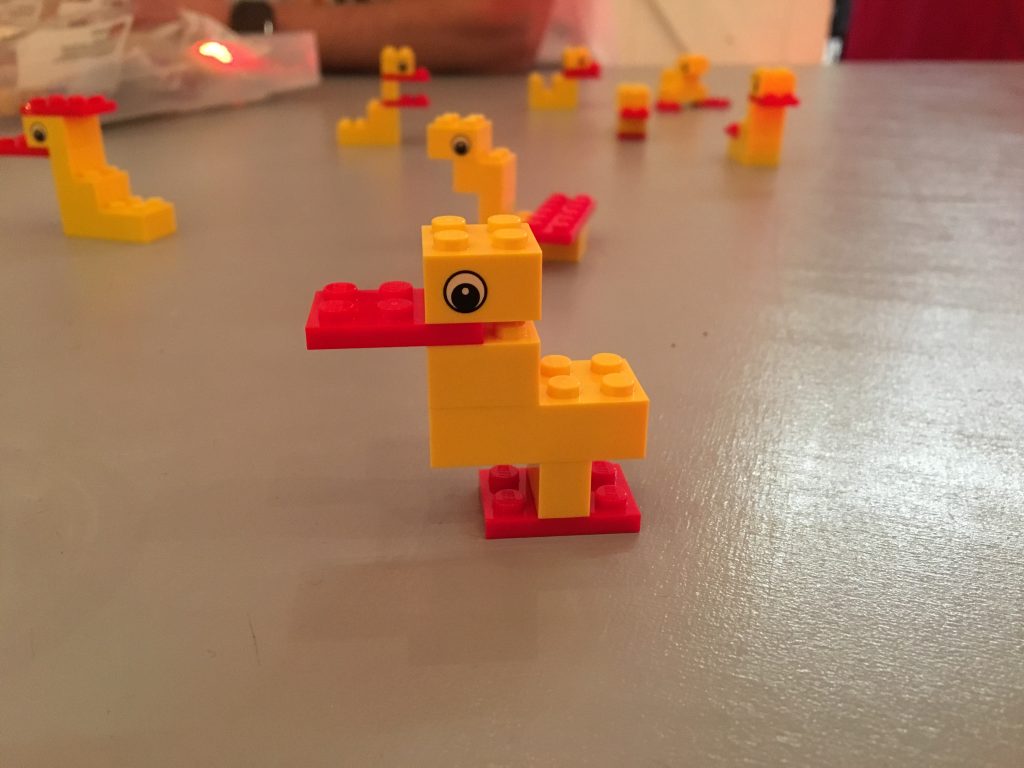 Encouraging creativity
With automation making softer skills increasingly important, there is a focus on trying to encourage creativity by incorporating art into the science, technology, engineering and maths (Stem) focussed fields – in the Lego world it is referred to as Steam.
Many use Lego in the classroom to promote creative thinking, and Jane Meldgaard Johansen, communication manager at Lego Education, claimed it is a good way to get children incorporating technology concepts into their learning whilst thinking outside of the box.
Johansen had a number of examples demonstrating some extremely out of the box ideas children had produced – at one point she held something up and asked "what is this?".
Apparently after being tasked with making a wearable a child had produced a portable duster-and-fan combo ideal for keeping cool and helping his mum clean – a contraption made up of a Lego motor with feathers and an egg box.
I would never have guessed.
As part of the process children are asked to stand up and present their wearables and why/how they made them.
Many of the children explain how they tested ideas before realising they didn't work, adapting their inventions to make them better.
Without even realising it, Johansen explained, the kids are taking part in an agile development process which she called "early scrum".
But while kids might be excited to play with Lego during lessons and surreptitiously learn about computing concepts, teachers can still often be far from comfortable bringing these technologies into lessons.
Lego Mindstorms
Catrine Bjerrehus, associate marketing manager for Lego MINDSTORMS at Lego Education, admitted to feeling out of her depth when she first joined the Lego world.
To try and ease teachers into being more accepting of using Lego to support the curriculum in the classroom, there are resources available including cards with suggestions on how teachers can guide a lesson.
All of the Lego Education sets designed for Primary and Secondary level education also come with a free downloadable guide which includes resources aligned with the curriculum to help teachers with building instructions and classroom tasks.
I was introduced by Bjerrehus to some Lego Mindstorms equipment with an EV3 receiver, a type of technology aimed at students in secondary education (aged 10 years and above) that allows pupils to build and programme robots.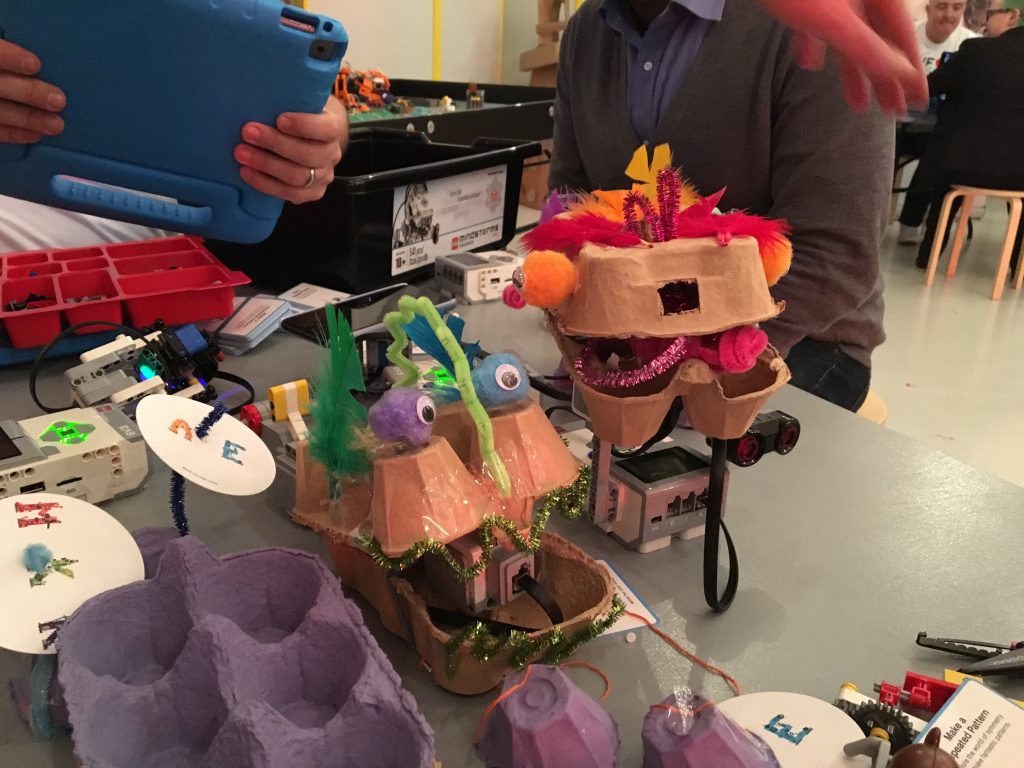 I had no idea what to do.
I decided to latch on to another person's project, helping her to code whatever contraption she created.
Whilst surrounded by Lego-powered egg carton dinosaurs, I used the drag and drop EV3 programming app to develop a string of instructions for our robot, which my partner decided was a lady bird.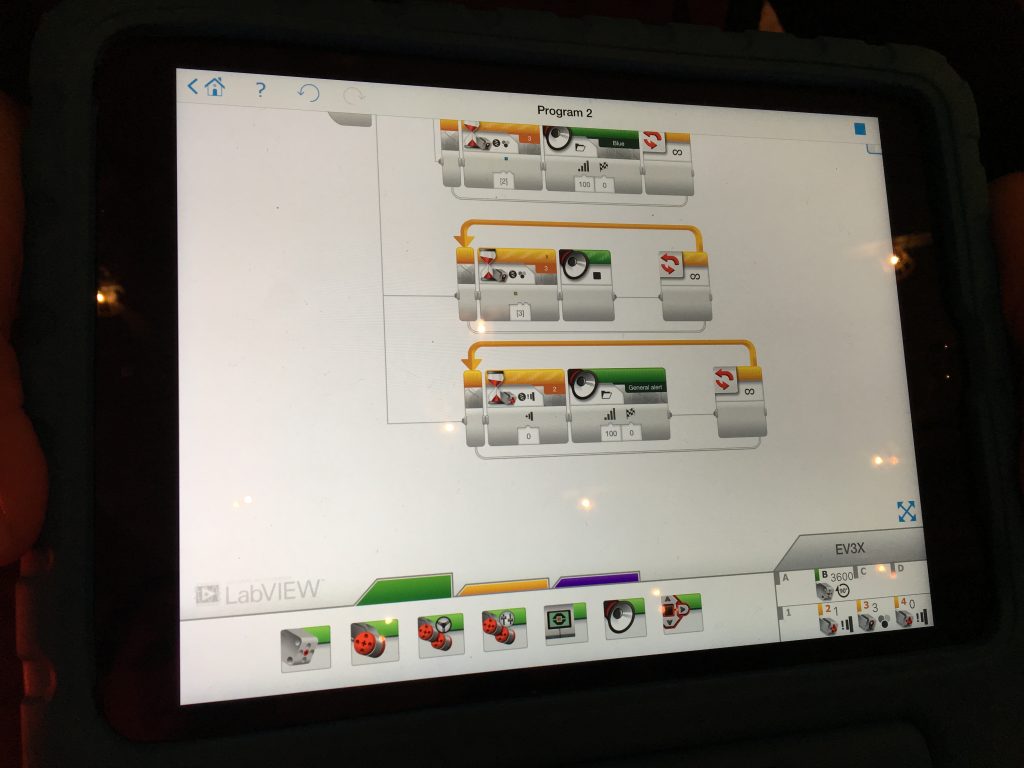 Though I didn't have to develop any code for the robot, there were elements of coding and computational thinking involved in developing the robot's instructions, and there was a mathematical element in trying to work out what direction the robot would go, what degree the robot would turn by and how fast it would go.
Bjerrehus claimed these technologies can be used for "all sorts of Steam lessons" to help students to understand these basic concepts whilst making these discoveries for themselves – again putting the emphasis on actively participating in classroom learning.
The robot didn't work as we expected and we eventually moved along.
Lego for pre-school
Helping children to make discoveries on their own through assisted play can be slightly more delicate for younger children, so for pre-school stage children aged three and up, Lego Education recommends LEGO Education STEAM Park sets.
Children are challenged to use the pieces to build a theme park, and asked what will happen when particular pieces are used together.
This introduces concepts such as balance, centrifugal force, pivots, and other mathematical and scientific theories that will keep occurring throughout their education.
Rikke Baunbæk Wallington, senior concept and design lead for preschool, at Lego Education said she uses these in pre-school lessons filled with 40 children every day, and assured me can contribute to the Early Years Foundation Stage (EYFS) learning standards followed by all Ofsted-registered schools or early years providers  in the UK.
Robots, teachers and future jobs
When moving on to primary learning, the recommended Lego kit for supporting classroom learning is the WeDo 2.0, a kit that pairs with the WeDo 2.0 software application to allow children to develop moving robotics.
Though this kit is meant to be used to teach children aged seven and up, John Pinkney, Learning Adviser at Warwickshire ICT Development Servicer, claimed he has sometimes used it with sixth formers to make them more engaged in lessons.
Most teachers already feel like they don't have the skills to properly teach computing, and children who have grown up using technology can often make teachers feel like the kids know more than they do, making many apprehensive about introducing new methods into a classroom.
"Some teachers are fearful," Pinkey claimed, but explained the benefit of introducing play into the classroom is that the teachers can build and discover at the same pace as the children before the coding element is introduced.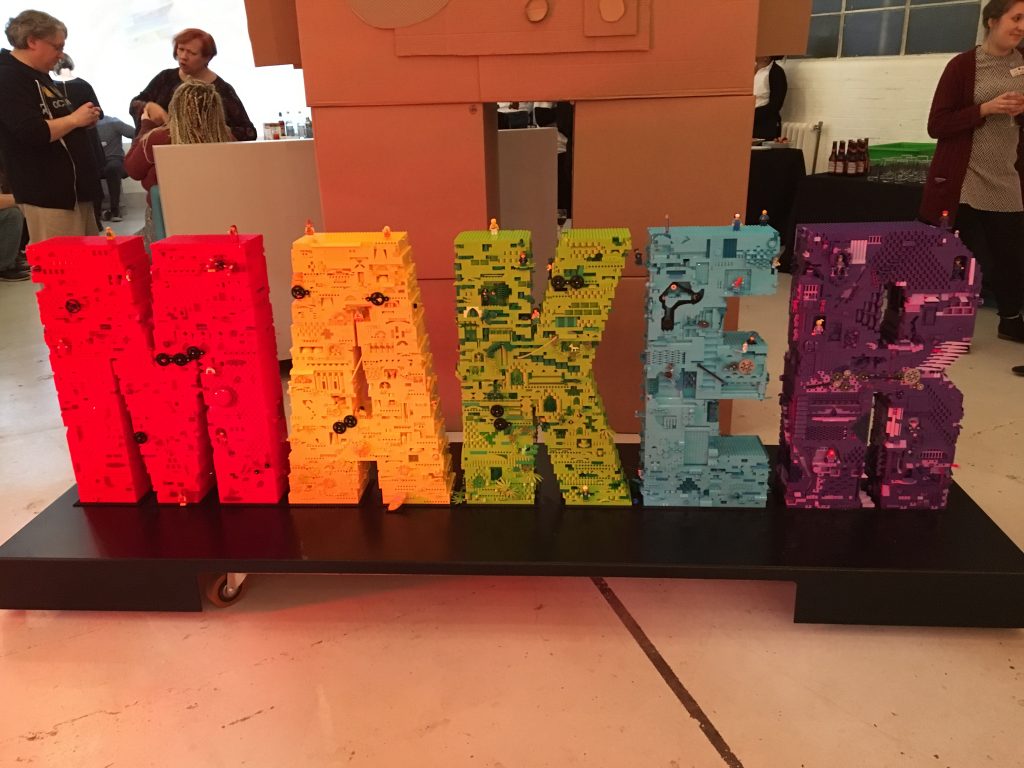 Once they have done this, "the blank canvas has disappeared" he said, giving teachers a bit more confidence because there's something solid to work with.
It also makes lessons more exciting, and Pinkey admitted: "Sometimes as a teacher I forget what it's like to learn because I'm always teaching."
Developing the ability to think outside of the box, something Lego encourages, is important as children in schools now will grow up to have jobs that do not currently exist.
Long-lasting stereotypes mean Stem subjects often appeal more to boys than to girls, and girls can be put off of contributing in these lessons.
But by introducing a fun and accessible element to these subjects, these barriers can be tackled.
When attending some of the Lego League robotics challenges in 2017, Pinkey noticed how many more girls were entering teams and after speaking to one young woman, she said: "I'd never even thought about engineering until I came to this."
Pinkey called the diversity gap in Steam industries "embarrassing" but hoped the dial would begin to shift as initiatives such as Stemettes, Apps4Good and Code Club prevail.
After my Lego Education Graduation I spotted the robot I had been helping with earlier, now fully mobilised and whizzing across the room as people cheered – I couldn't help but smile at my own part in the agile development process of the cheerful egg-box gadget.
---
January 24, 2018 7:49 AM
ai
,
Amazon
,
Apple
,
Artificial intelligence
,
Cisco
,
HP
Amazon, originator of the smart speaker category in the home, is taking Alexa into the office too. However, as David McClelland explores in the first of a two-part feature, Amazon isn't the only outfit attempting to add some AI smarts to our workplaces.
AI voice assistants were the big present under our trees this Christmas.
Affordable smart speakers from the likes of Amazon and Google — along with the less-affordable such as the Apple HomePod which finally launches on February 9 — promise to voice-activate our living spaces, bringing the dream of the futuristic smart-home within reach of the masses.
Amazon is tight-lipped about how many Alexa-powered devices it shifted last month, but stats show that the Alexa app – necessary to set up new Amazon Echo devices – claimed the app stores' coveted Christmas number one spots.
In Las Vegas, CES continued the trend revealing an appetite — or desperation — to stuff an artificially intelligent voice into any appliance imaginable.
So, it's no surprise that those in charge of our workplaces should begin experimenting with how conversational AI assistants might smarten-up our office lives too.
Assistant Appeal
Ease-of-use and convenience are a big part of the voice assistant appeal, concentrating an ever-expanding catalogue of popular services into a single, natural interface:
Alexa: tell me the weather, turn on my central heating, check my diary, call my mum, play my favourite songs, add some batteries to my shopping list, switch off the house lights. Please?
An impressive array of skills, no more than a trigger word away. What's more, the majority of the time it just works — speech recognition finally got useful, and we barely even noticed.
Projecting these skills into the workplace doesn't take a great deal of imagination:
Alexa: book me a conference room, replace printer toner, turn on the projector, start my meeting, message my boss to tell her I'm running late. Now.
In its announcement of Alexa for Business in November, Amazon spoke about how some Alexa devices would be shared for "anyone to use in common areas around your workplace," while others would remain "personal Alexa devices for your employees to use."
The ability to integrate with workplace workflows, software platforms and business processes — 'skills' for the workplace — will no doubt be important for a professional user-base.
Business Apps
At London Tech Week 2017, Inspect-a-Gadget spoke with a UK startup hoping to bring its office-friendly smart assistant, UMA, to a workplace near you.
Alongside room bookings, maintenance requests and more, UMA plays big on its hooks into business applications such as Salesforce, Slack, Cisco Spark and Box.
Building a portfolio of skills and integrations is one thing, but other vendors are taking a narrower approach to their office AI.
Spark will fly
At its recent partner summit, Cisco powered up its collaborative Spark platform with its own voice assistant. Billed as the 'world's first AI-powered voice assistant for meetings', Cisco Spark Assistant is the first fruit of last year's $125 million MindMeld acquisition.
Spark Assistant won't tell you the weather or apply its AI to work out which playlist will suit your mood: instead, it is razor-focused on meetings and collaboration. "Hey Spark, I want to start the meeting/end the meeting/call Robert's meeting room."
Desktop
PCs have dabbled with voice assistants in the past, although Cortana has struggled to gather as much traction as Microsoft might have liked. Last year's hook-up between Cortana and Alexa hook has yet to show any signs of bearing fruit either.
Then, as Inspect-a-Gadget reported here, the likes of ASUS, Acer and HP were lining up at CES to offer an integrated Alexa experience in their new desktops and laptops. Acer even showcased its Alexa Projector.
Commenting on the tie-up with ASUS to bring Amazon's assistant to its PC range, an Intel rep enthused: "we anticipate that the PC will serve an even more important role in maximising your productivity, getting the most from your entertainment, and managing the smart home or office."
Will privacy and security concerns — as well as office etiquette — hamper AI voice assistants' office party? Read on in part two – soon.
---