---
August 4, 2014 4:56 PM
We're being launched into the days of
smart technology
, where our phones are better than computers, we're wearing devices that can monitor our every move and even our fridges are connected to the internet.
It isn't surprising that manufacturers have been toying with devices designed to make you smarter, and we managed to get hold of a Foc.us gaming headset. This uses an electrical current to stimulate particular parts of your brain to 'improve' your thinking power.
However, a recent policy paper by researchers at 
Oxford University's
Oxford  Martin School has urged for greater regulation for devices such as this.
During the testing process,
Cheok
stated that the device made him feel as though his brain was more stimulated, and he did perform better with the headset on. But he also said that it left him with a strange sensation in the area the headset was touching, as well as sensitive skin.
These devices are currently used by consumers in gaming and education in order to enhance their performance.
Maslen emphasised that consumers should be provided with "evidence based information so that users will be able to decide for themselves if the risks are worth taking."
Currently though, there is a distinct lack of regulation around devices such as this, which according to Maslen and other authors of the report could be dangerous, as these devices change the electrical activity of the brain.
In Europe, these devices are only required to pass product safety requirements, even though the electrical signals used by these devices have the potential to alter the brain's electrical activity.
Similar devices are under trial in the medical industry to attempt to treat illnesses such as depression and Parkinson's.
But because CEDs do not provide any kind of medical diagnosis or therapy, they do not come under the Medical Devices Directive, and can therefore not be governed by the same rules.
In the paper, Maslen and fellow authors Thomas Douglas, Roi Cohen Kadosh, Neil Levy and Julian Savulescu, outline a pathway to designing a regulatory model for the use of CEDs.
They recommend that devices such as this should come under the EU Medical Devices Directive as they provide some of the same medical risks as similar devices used for medicine.
When it comes down to it, it's all about consumer safety. Maslen says: "It's about making sure that devices that we're sold are as safe as they can be."
July 30, 2014 3:46 PM
Google Glass
,
Internet of Things
,
lenovo
I wrote a story a little while ago about Beecham Research's survey on wearable tech. The study found consumers will not partake in wearable technology if it does not match their fashion needs as well as their functional requirements.
So when I saw these pictures of the Lenovo smartglasses prototype, my eye went straight to the necklace battery.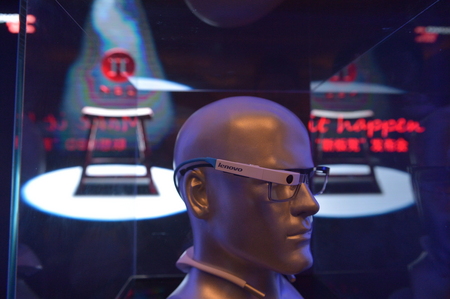 Photo: Lenovo
I couldn't help but wonder whether this addition would end up hindering the sales of the product in the future. This is a classic case of function – increased battery life – over fashion. And besides, wouldn't it get hot during use? If the PC maker is hoping to compete with Google Glass, it might have to try a little harder aesthetically.
Although Lenovo has been doing well in the PC market, it has recently been looking into ways to collaborate with other organisations to extend its market reach.
The glasses have been developed as part of Lenovo's New Business Development (NBD) initiative aiming to accelerate internet of things based Chinese startups. The smartglasses are one of three smart devices developed, including a router and an air purifier.
These products are aimed at the Chinese market, and run Chinese operating systems optimised for use with the internet in that particular region.
---
July 28, 2014 3:48 PM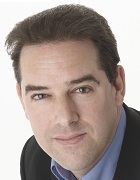 Profile: Bryan Glick
Android
,
HTC
,
Smartphones
I find it's becoming increasingly difficult to review mobile devices unless your audience really is interested in the detailed minutiae of the technology.
Even though I'm a technology journalist, I'm not really a product reviewer. I'm not megabothered about the megahertz of my quad-core processor or the megapixels of my camera. I'm even less interested in the angle of the bezel on the screen or the difference between Gorilla and Sapphire glass.
All I really care about is whether the device will do the job I want it to do.
So if you're anything like me and want the most straightforward of reviews, then I can tell you now with confidence that the HTC One M8 is a very good phone, you won't be disappointed with it, and if you like Android and can afford a top-of-the-range device, then you won't find anything that's much better.
If you want to find out a little more about what it's like to use the M8 based on my experiences over a couple of weeks, read on. If you want to know a bunch of detailed specifications, check the HTC website. But if you just want to know if it's worth spending your cash on one, then be reassured – it is. Thanks for reading this far.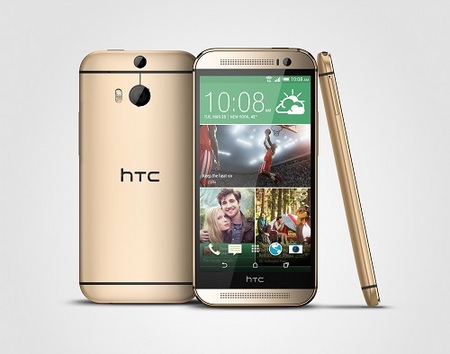 So, for the rest of you:
I've been a fan of HTC for some time, which is why I fancied a look at the M8. I used to have a Desire, then an HTC One X+, but I've since been unfaithful and currently have a Nexus 5 from Google/LG, which is a perfectly good device but a lot cheaper than its equivalently spec'd HTC or Samsung.
You see, that's the problem with being an Android phone – one similarly priced device is not that much different from another. You might like the supplier-specific add-ons of course – personally, not that bothered – but really, on a day to day basis, they are all fairly interchangeable.
It's also difficult to assess a phone specifically for how well it operates in the workplace, because most of them are equally capable in one way or another. Not that it matters, since nobody really worries about how a phone will perform for work when buying one for primarily personal use – not unless you're the bloke in the latest Windows Phone advert, at least.
So why might you choose an HTC One M8? (And I should say that I really hope M8 is not meant to be a chummy attempt to call a phone "Mate")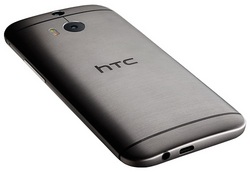 Well, its main attraction is that it's a bit of a beast – it's big and meaty, fast, powerful, with an aesthetically appealing brushed metal case that sends out the message: this is a serious phone for serious phone users. If you have small hands or small pockets (physically or financially) this is probably not the phone for you.
The big problem with HTC has always been battery life – that was another reason I switched away to try the Nexus, only to learn it's just as power hungry. But in two weeks with the M8, I found I was often getting a couple of days of average use between charges – although my past experience has been that HTC battery performance degraded quickly after about six months of regular use.
I use a reasonable amount of data – getting towards a 1MB monthly allowance – but reserve video/music streaming or downloads for Wi-Fi. For regular browsing, social media and email – the M8 is as fast a phone as I've used, making up even for some of the vagaries and unpredictability of the O2 data network.
And to be honest, that's as much as I needed to know. For the rest of it – it's Android, if you like Android (I do). It has a camera that is up to the quality you would expect of a flagship device – although I'm sure there are better cameras on other phones, but unless you're a real aficionado I expect it will do everything you want it to do at a perfectly acceptable level of quality.

Music playback is perfectly good. Usability is fine, the buttons are all in sensible places. I can access all the fun personal apps and information I want, and I can download all my work email quickly and efficiently. It's as useful at home as it is in work.
It does the job I want it to do.
Niggles? Well, a few, but nothing major. I found the screen to be somewhat over-sensitive, often accidentally starting apps I didn't mean to start with a careless mis-swipe of a clumsy finger.
I'm not a great fan of the HTC software customisations on the phone, but they were easy enough to switch off – although the box suggesting I use HTC cloud storage that kept popping up at frequent and unpredictable moments despite ticking "Don't show me this box again" every time, was getting very annoying.
The review device we used had an HTC flip case – a bit like on an iPad, it automatically puts the device in and out of sleep mode when you close and open the cover. But I hated the case because it was spring-loaded and that meant you always needed to use two hands or it flipped shut when you didn't hold it open. But that's easy to remove.
Will this phone be a success? Well, that depends on other factors.
If you're like me – a keen smartphone user with a passing interest in the detailed specifications – you will be pretty happy with it.
If you're a dedicated Android fan who really likes a top-spec device – you'll be very happy with it.
If you're the 80% of smartphone users who just want something you can afford, with a reliable brand name, that does everything you need it to do – frankly, you're unlikely to buy the M8 because it's not an iPhone, nor is it Samsung, nor is it Nokia or Sony or LG. It's poor HTC, which has never quite got it right when it comes to consumer mass marketing.
So there you have it – the HTC One M8 is a very good smartphone, for people with sufficient interest to want to find out about it, and who don't automatically buy the obvious and most popular brands.
Good luck to HTC – I hope sponsoring the Champions League proves worthwhile.
Meanwhile, for those of you who like the specifications – here they are, freely cut and pasted straight from the HTC website:
Size: 146.36 x 70.6 x 9.35 mm
CPU: Qualcomm Snapdragon 801, quad-core CPU
Weight: 160g
D isplay: 5.0 inch, Full HD 1080p
SIM Card Type: Nano SIM
Total storage: 16GB, available capacity varies; RAM: 2GB
Expansion card slot supports microSD memory card for up to 128GB additional storage
Rear camera: HTC UltraPixelcamera, BSI sensor, pixel size 2.0 um, sensor size 1/3″, f/2.0, 28mm lens. HTC ImageChip 2. 1080p Full HD video recording with HDR video
Front camera: 5MP, BSI sensor, wide angle lens. with HDR capability, 1080p Full HD video recording
Networks supported: 2G/2.5G – GSM/GPRS/EDGE, 850/900/1800/1900 MHz; 3G – WCDMA 850/900/1900/2100 MHz with HSPA+ up to 42 Mbps; 4G – LTE 800/900/1800/2600 MHz
Battery: Embedded rechargeable Li-polymer battery; Capacity:2600 mAh; Talk time: Up to 20 hours for 3G; Standby time: Up to 496 hours for 3G
---
July 22, 2014 4:36 PM
Microsoft
,
Microsoft Office
,
nokia
,
PureView
,
WIndows Phone
In this guest post David McClelland gives his impressions of the Nokia Lumia 930,
the first high-end handset to launch with Windows Phone 8.1.
Hardware
The
Nokia Lumia
930 is a substantial handset in more ways than one. First up, the body: Nokia has adopted a sturdy aluminium unibody for its latest flagship, but has still chosen to decorate its back with the signature polycarbonate – neon green and orange get the Lumia treatment this season, with white and black completing line-up.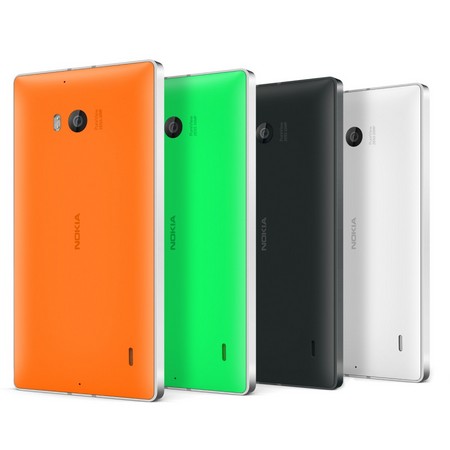 The Lumia 930's Full HD 5-inch OLED screen is striking too: blacks are black, colours pop and despite the high-gloss it repels greasy fingermarks well, remaining readable even in direct sunlight. The bezel is narrow enough, and the curved edges of the scratch-resistant Gorilla Glass 3 screen lap onto the handset's chassis, mirroring the contours on the rear.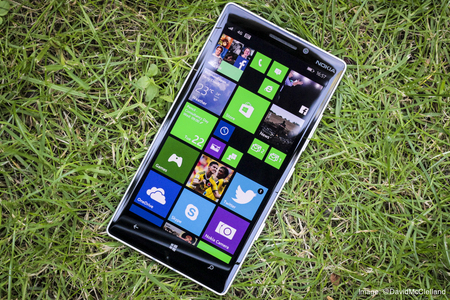 The volume rocker, power and camera shutter buttons all sit along one side of the handset. This keeps the aesthetic clean but means that securing the 930 into most after-market car kits will result in one or more buttons being permanently depressed. Form 1, Function 0.
Beneath the vibrant exterior sits a quad-core 2.2 GHz Qualcomm Snapdragon 800 chipset, 2 GB RAM and 32 GB storage. While the CPU is last-year's model it's certainly no slouch. Despite the missing MicroSD card slot Microsoft now
bundles 15 GB of
OneDrive
cloud storage for free, and 1 TB if you've an
Office 365 account
.
Battery and Wireless Charging
As with other unibody handsets the 930's battery isn't removable, although I found the 2420 mAh unit lasted through the day.
Having toyed with wireless charging on the Lumia 920, Nokia once again integrates the feature and this time includes an induction charger in the retail box.
Disappointingly, I found it a bit flaky. On more than one occasion I left the handset atop the charger to find it hadn't charged the phone. Software bugs need to be ironed out too, with the 930 insisting it was still charging hours after its removal from the charger.
Wireless charging is seen as a panacea by some but until reliability is improved many might still prefer the reassurance of a cable over the questionable convenience of a mat.
Also worth pointing out is that the chassis can get very, very hot on charge or in use.
Camera
The Lumia 930 features a terrific 20-megapixel PureView camera which makes shallow depth of field shots look natural without any clunky software processing. Optical image stabilisation, ZEISS 6-lens optics, dual-LED flash and lossless zoom top out the specs, but again the Lumia's screen steals the show, making pictures pop like a print.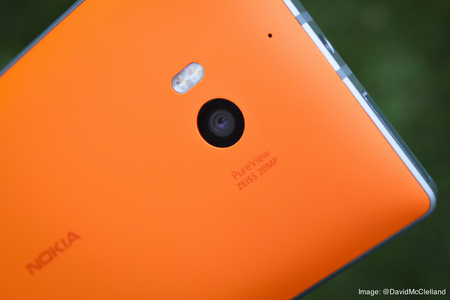 Software
Windows Phone 8.1 is the newest version of Microsoft's mobile operating system introducing features which many hoped might bring it in line with its competitors.
Action Centre apes the notification bars seen in Android and iOS. A swipe from the top of the screen recalls missed messages, a customisable quick menu and a shortcut to the phone's main settings. A welcome addition to the operating system.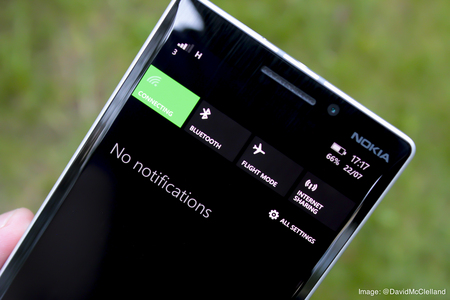 Swipe-style typing also debuts and, once you've the hang of it, is very accurate. However, Cortana, Windows Phone's answer to Siri, hasn't made it onto UK handsets yet – expect to see it (her?) on Windows Phones by the end of the year.
Email and Productivity Apps
For many email will be a main driver and Microsoft makes setting up accounts simple. I didn't get the chance to try the 930 with an Exchange mailbox, but it handled multiple outlook.com, IMAP, Gmail and POP mailboxes with aplomb.
Windows Phone 8 also does some useful things around the concept of the unified inbox. Instead of a single inbox encompassing all configured accounts, individual email accounts can be grouped or 'linked' together. This makes it possible to combine work email addresses into one unified inbox and personal accounts into another, each accessible through its own live tile.
The bundled Bing News and Bing Sport apps are intuitive and well designed pulling news from a variety of credible sources. Fundamentally, for a news app to succeed it needs to leave me feeling as if I've caught up – these do exactly that, with style, and allow custom feeds too.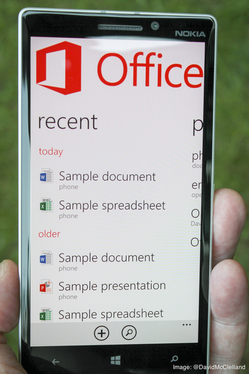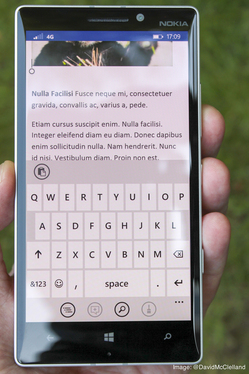 Microsoft Office connects you with documents stored on your OneDrive or Office 365 cloud as well as with email attachments. Excel, Powerpoint and Word are well executed apps, although losing what feels like two-thirds of the display to the over-sized on-screen keyboard is a shame.
Windows Phone UI
Microsoft's spartan UI works hard to differentiate itself from its identikit competitors and, in general, it works well. However, for the sake of productivity I'd prefer to see more actual content on the screen.
A case in point is the official Twitter app – even with the smallest font I can see no more than three or four tweets per screen; similarly, the email app reveals up to six messages before scrolling. At 5 inches and 1920 vertical pixels there's a lot of screen real estate on the Lumia but the important apps just don't seem to fill enough of it.
Conclusion
Despite the '80s-styling on the rear the Nokia Lumia 930 is Windows Phone's most mature handset to date.
Its productivity credentials are top notch, and OS integration with Microsoft cloud apps and services mean it's a capable business workhorse as well as a fun down-time device.
All the Windows Phone ecosystem needs now is more apps, and with high-quality handsets such as this they'll be sure to follow.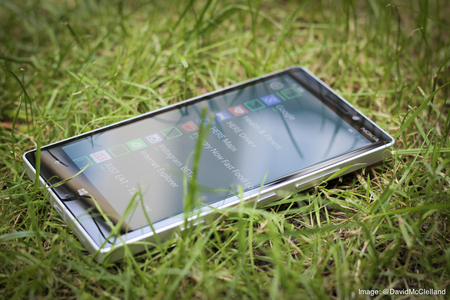 Specs at a Glance:
Nokia Lumia 930
Screen: 5-inch AMOLED 1920 x 1080 Full HD
Camera: ZEISS 20-MP PureView
Chipset: Quad-core Qualcomm Snapdragon 800 @ 2.2 GHz
Memory: 2 GB
Storage: 32 GB (no expansion)
Operating System: Microsoft Windows Phone 8.1
Connectivity: LTE, HSPA+, GSM, WCDMA; NFC, Bluetooth 4.0 LE; Wi-Fi 802.11 a/b/g/n/ac
From free with a £28.00/month contract, or £438.16 SIM-free. Details correct at time of publishing (July 2014).*
---
July 9, 2014 5:29 PM
5G
,
Apple
,
Hardware
,
Huawei
,
innovation
,
Milan
,
samsung
,
smartphone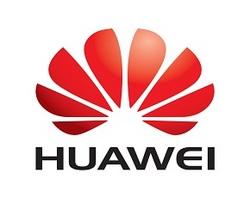 At Huawei's most recent innovation day in Milan, there was a lot of talk about innovation in Europe, research and development centres, and the highly anticipated 5G.
Quite clearly very passionate about the technology, chief Huawei device designer Joonsuh Kim told me that the main aim for him was to make people fall in love with Huawei devices. Kim hopes to provide consumers with something other than just technology.
He said: "Literally we are touching the consumer's heart. That means you can feel that you are emotionally engaged with a Huawei device."
To Kim, the device is all about user preference, and he believes that once consumers start adapting to their devices, they will want to use them for everything.
He states that even though the Huawei brand may not be big yet, it's starting to get through to consumers. Its aim it to deliver users with a "pleasant surprise" through usability, comfort, and a perfect combination of hardware and software.
When building the concept for a phone, Kim considers several user scenarios to make sure there is always a device that caters to what consumers want – including the ability to have multiple SIMs, a more professional device which is lighter for increased portability, low-cost devices, or a personal-only device.
The design team make sure that the hardware appeals to the user they are targeting, providing particular features to appeal to different types of audience such as business professionals, young users and entry-level users.
Kim also believes that using Huawei's knowledge and connectivity in networking, it can be a leader in 5G when the time comes.
During a presentation on device innovation, Kim used Angelina Jolie as an example of a perfect human being (following up by commenting that although she might have been considered the most attractive woman in the world, that was several years ago… ouch) and that aesthetics are very important when targeting the appropriate market.
It just goes to show that even the smallest tweaks in design can make the biggest difference to consumer behaviour.
---
June 20, 2014 9:54 AM
Amazon
,
Amazon.com
,
AT&T
,
Firefly
,
Kindle Fire
,
Mayday
This week the first smartphone designed by online retail giant Amazon was revealed, and its Dynamic Perspective feature allows the screen to present images in 3D to the user based upon the position of their heads. The question is whether or not this is what people actually want or need.
The Dynamic Perspective feature, which uses four front-facing cameras and infra-red LEDs all built into the screen of the phone, allows the device to perform functions such as automatic scrolling to prevent users from having to touch the screen, and screen tilt depending on the user's head position.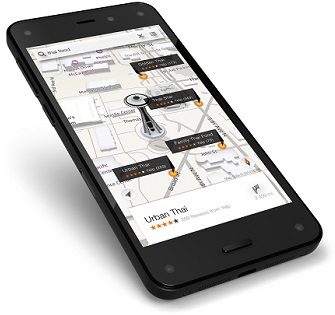 Photo: Amazon.com
Although these things may improve user experience, my main concern would be the feeling that you're being watched, as the phone monitors you to ensure that you are fully immersed in any activities you are taking part in, such as watching videos or playing games.
Perhaps more worrying, then, is the never-before-seen Firefly feature, which uses data that Amazon has collected on physical items, text, audio and text and audio recognition in order to allow users to scan products barcodes or QR codes in order to search on Amazon to allow purchases from its online store.
This also works for TV programs or songs; Firefly will recognise things in the environment around you and allow you to buy it right then and there through the Amazon store. All through the touch of the built in Firefly button.
Specs at a glance:
Amazon Fire
• Processor: Quad-core Qualcomm Snapdragon 2.2 GHz
• Memory: 2GB RAM
• Display: 4.7-inch HD
• Camera: 13MP rear-facing camera, 2.1MP front-facing camera.
Whether consumers will see this as a genius invention or a ploy to make them spend more hard earned cash where it counts has yet to be seen, but its other feature – the Mayday button – is similar to that on the Kindle Fire and allows the user to video chat with a helpline whenever they need assistance with the device, which contributes to a good consumer experience.
The device will be available in the US by the end of July, exclusively on AT&T, at a starting price of $199.
---
June 18, 2014 2:11 PM
Business
,
Data Center
,
Downtime
,
Infographic
This infographic from
TSG
shows the effect downtime can have on small to medium sized enterprises, including what can cause outages, the knock-on effect that outages can have, and a formula that can be used to calculate how much a downtime can cost an organisation.

---
June 3, 2014 5:00 PM
Apple
,
Application Programming Interface
,
IOS
,
ipad
,
iPhone
,
iWatch
At this week's WWDC 2014 – the conference that tells developers everything they need to know about what Apple has planned for the future – Apple introduced its next mobile operating system iOS 8.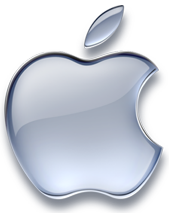 The new OS brings with it over 4000 new APIs in order to allow developers more opportunity to make applications for Apple's flagship iPad and iPhone devices.
There was a focus on the new HealthKit API, which will allow developers to build apps directed towards fitness and health services. With speculation of an Apple wearable on the horizon, enabling applications such as this could be a step in the smartwatch direction.
Apple also took a leap towards the internet-of-things trend with its new HomeKit API, designed to allow developers to make apps that will allow communication with other devices around the home.
Finally, Apple lightened the restrictions on its touch ID technology, meaning that users will now not only be allowed to access their iPhone lockscreens with the touchpad, but also log into apps. This is of course only on the 5S at the moment, but may also be used with future iPhones.
Although this announcement isn't quite as exciting as the eagerly speculated iWatch, it still encourages the use of smartbands/watches with Apple devices in the future, and brings us one step closer to using our phones to control all things household.
Developers have access to iOS 8 now, but the rest of us will just have to wait.
---
May 29, 2014 1:15 PM
BBC
,
SAMI
,
samsung
,
Simband
All this week we've been hearing reports on how the health crisis in the UK is growing ever more serious and although there have been positive initiatives launched to help the sector, such as the health tech competition, progress in the industry still seems slow.
Not to worry, because Samsung has come to the rescue with its "Digital Health Initiative", a project that uses open hardware and software platforms that will increase innovation and speed up development of technology in the personal healthcare technology industry.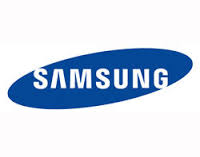 The initiative will look into developing advanced sensors, algorithms and data analysis in order to allow consumers to better keep track of and understand their own health.
The firm has developed an open hardware design called Samsung Simband – the Samsung concept of how a smartband should be. The suggestion is that smartbands such as this could be used with the Samsung Architecture for Multimodal Interactions (SAMI) concept, which will be a cloud-based open software platform capable of collecting data from various sources for analysis which can then be delivered to any other device.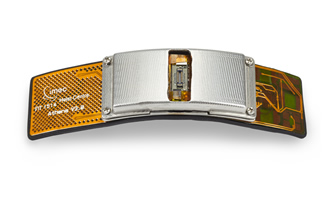 Earlier this week Samsung's team from its Strategy and Innovation Centre demonstrated that the Samsung open platform can be used with wearable wristband hardware in order to track heart rate, blood pressure and respiratory rate. Data collected from these various sources can then be displayed in a format that will help users to better understand their health and how these measurements are affecting them.
There have already been a number of advancements in the wearable technology space including smart watches and smartbands that help to measure physical activity, and the Samsung Galaxy S5 is able to measure the user's heart rate, but no one device yet measures all of these at the same time,  which is exactly what Samsung hopes the combination of SAMI and designs such as the Simband will be able to do, all so that you can know what your body is trying to tell you about your health.
---
May 20, 2014 5:04 PM
BYOD
,
Microsoft Surface
,
Microsoft Windows
,
Tablet
,
Windows 8
,
Windows RT
Microsoft announced the new Windows Surface Pro 3 tablet at an event in New York today.
The device, which is 12 inches, is designed to fit perfectly into user's lives, with Surface product manager Panos Panay claiming that this could be "the tablet that replaces the laptop."
The Surface Twitter feed was inundated with updates, labelling the tablet an "entertainment powerhouse" due to its 2160 x 1440 resolution and Dolby sound capabilities.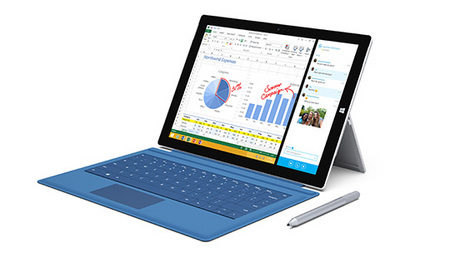 The new kickstand is multi-position, so you can angle the tablet any way you want to if placed on a table, although an emphasis was made about the "lapability" of the device, which apparently means it can be used to comfortably complete work from your lap.
As the tablet runs Windows 8.1 Pro OS, you can use all of the features and applications that you are used to, with the added ability to use the new stylus to generate hand-written documents in OneNote.
Specs at a glace:
Surface Pro 3
Size: 12 inches
Resolution: 2160 x 1440
Weight: 800g
Thickness: 9.1mm
OS: Windows 8.1 Pro
Memory: Up to 8GB of RAM
Battery: Up to 9 hours
Storage: Varies from 64 GB up to 512 GB
The device includes features such as a redesigned keyboard that is larger than the previous model and includes an improved trackpad. The device also comes with an accompanying stylus dubbed the Surface Pen to make writing easier. Looks like this device might not only replace the laptop, but may also wipe out pen and paper altogether.
The new Surface is 800g, only 9.1mm thick, and is built to apply to Satya Nadella's vision of "empowering people to do more and be more."
---