Aug 24 2010 4:17PM GMT
Tags: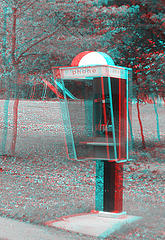 Nokia have teamed up with Intel to try and make *drum roll please* 3D mobile phones by opening up a lab.
Now, while that sounds great I actually think it's a bit rubbish.
Nintendo have already cracked 3D without glasses on a small device.
Nokia are so far bhind with their OS, they're the last manufacturer I'd want to have 3D effects on.
We're still not using 3D in games or TVs never mind phones.
If they were any good, they'd announce 3D phones when it's done not when they're thinking about it. Something Apple would do.
They've said that 'research could look into technologies previously only seen in science fiction' but for some reason I can't see this happening.
Nokia will probably release a prototype when Apple will have it out in the market. I wish I could believe that Nokia (and Intel of course) were about to break new ground and usher in a new wave of 3D devices. I wish but most of my wishes don't come true.
The research lab has been opened at the University of Oulu in Finland under the name 'Intel and Nokia Joint Innovation Centre'.