Oct 22 2012 3:32PM GMT

Profile: Nathan Simon

HP & Windows 8
So you bought a new HP Laptop or system, and if you are like me, already have installed Windows 8 onto that laptop/pc, for me it was an HP EliteBook 8470p, and I am currently running native Windows 8 Drivers or Windows 7 drivers from HP's driver page. So far its working OK, but I am sure it would be optimized and working better if I had true Windows 8 Drivers. The below information is something I have been looking for frequently, finally HP is confirming that if you purchased a PC after October 1st, you will get full support under Windows 8, be it drivers or applications.
Everybody is buzzing about Windows 8, the next generation operating system from Microsoft with a bold new style that can be controlled via touch and keyboard & mouse.

HP is currently testing Windows 8 on HP PCs with Windows 7 sold after 1st October 2011 and on this site you will find PC upgrade instructions. HP will provide all essential drivers when Windows 8 becomes available.

Note that if you purchased your system prior to 1st October 2011, HP has not tested these systems or developed Windows 8 upgrade instructions or drivers for them. Therefore an upgrade of such systems may be difficult or impossible. source:hp.com
This is great news, and I am looking forward to replacing all the Windows 7 drivers with fully supported Windows 8 drivers for my 8470p Laptop. Currently my driver page hasn't been updated, so I guess I will have to keep checking back.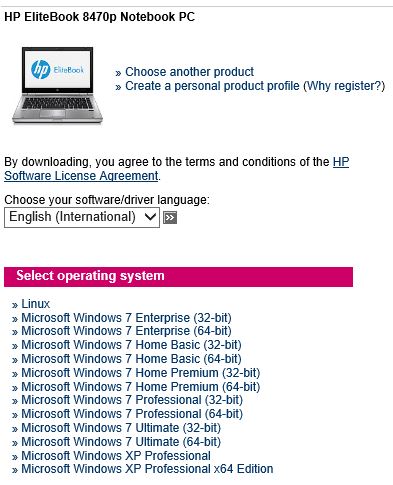 If you create a personal product profile, you can be alerted as to when drivers are updated, have quick and easy access to warranty and support cases etc. Good Luck to you on your Windows 8 installs!