Feb 4 2009 3:08AM GMT

Profile: Nathan Simon
You come into work one day, place your laptop into the docking station, power it up, log in, and you get this message,
" "The User Profile Service" service failed the logon User Profile Cannot be loaded "
It then logs in but not your profile, what happened to all the icons, your settings you wonder. Well fear not there is an easy fix, if your comfortable with the registry that is! 🙂
The fix can be found on www.Vistax64.com specifically this forum post.
My fix involved option #1. There were 2 SID Identifiers located in HKEY_LOCAL_MACHINE\SOFTWARE\Microsoft\Windows NT\CurrentVersion\ProfileList One of them had a bak extension on it. You could tell it was the identifier for the right profile because you could see the pathing to the missing profile, as below…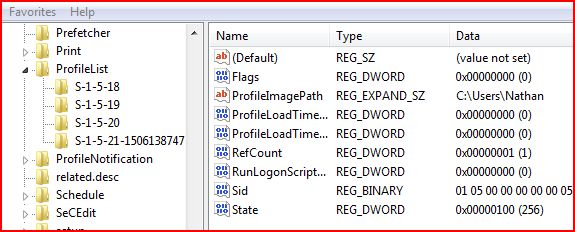 Just follow the instructions in that link, double check software apps that they still function, ie Outlook will need to be reconfigured, and you should be fine.
Any Questions, let me know!
NS