Sep 27 2012 12:28PM GMT

Profile: Nathan Simon
Update Sept 28th 2012
 TF700 JellyBean delayed, should be here next week, there were firmware issues with the keyboard dock, and some apps werent responding correctly…
—
Finally, people will get the long awaited Jelly Bean update to their Transformer Pad TF201 and Transformer Pad Infinity TF700T!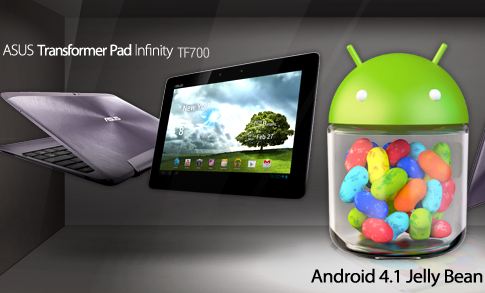 Android Jelly Bean update will begin rolling out in the US on September 27th, 2012 for the TF201 and on September 28th, 2012 for the TF700. Here are a summary of the changes and fixes:

Upgrade OS from Android 4.0 (Ice Cream Sandwich) to Android 4.1 (Jelly Bean)
Default enable System Bar Lock
Add Multiple Photo Selection feature
Support Connect Dock (Accessory)
Remove Adobe Flash support
Remove Wi-Fi Direct function support
Remove Press Reader*

*PressReader is still available and downloadable for free from Google Play.
Does this make you happy? Or are you upset they removed some features? There are ways to get Adobe Flash back, and I am sure with some "Googling' you can get WiFi Direct back as well! Anyways, if you are looking for more information on the TF700T head on over to the Unofficial Facebook page and join the conversation. We just reached 2500 people today!