Dec 19 2012 1:29PM GMT

Profile: Nathan Simon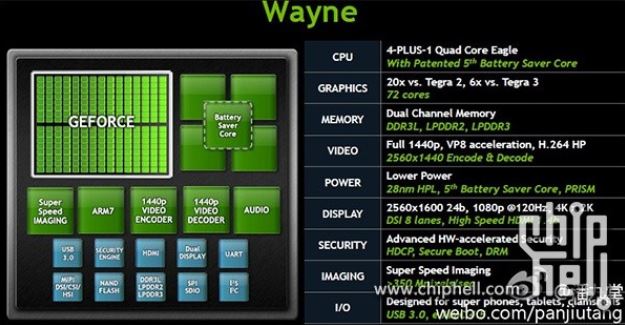 Introducing the Tegra 4 Processor.
 The Tegra 4 will be a 28 nanometer ARM Cortex-A15 quad-core (4+1 as seen in the Tegra 3) system on chip. The A15 architecture is the next generation of silicon, and is already being used in the Exynos 5 as seen in the Nexus 10. The lower power draw and faster processing speed make a remarkable difference when you need it.

The GPU is a whopping 72 core GeForce unit, bringing six times the graphical performance of the Tegra 3. With support for a full 2560×1440 24 bit color display and native hardware decoding for video, it should be able to handle anything you could throw at it in a tablet.
6x more powerful than its predecessor, yet using less power, that's awesome news. We have to remember though that with all smartphones, its the screen that takes up the most battery. So should you get that 1080p display, or is 768p enough. Currently I am perfectly fine with 1280 x 768, I guess we shall wait and see what the future holds. One thing I heard is that Samsung is starting to manufacture an unbreakable bendable display, what? More on that to follow…