Nov 15 2012 1:56PM GMT

Profile: Nathan Simon
That's right Samsung has done it, they have shrunken their memory chips by 20 percent. Samsung has shifted from a 20 nanometer process to 10 nanometer process., you read that right TEN. Since the chips are smaller all their features are more closely smashed together increasing their speed and efficiency by up to 30 percent. Not only is that great news because of the fact that our phones, tablets, and phablets will be faster, but it will allow for more space in the phone itself, think of more battery!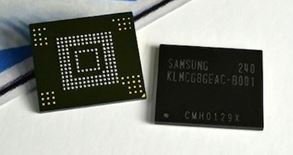 SEOUL, Korea, November 15, 2012 – Samsung Electronics Co., Ltd., the world leader in advanced memory technology, today announced a next-generation 64GB embedded multimedia card (eMMC) using 10 nanometer (nm)-class* process technology. The new 64Gb NAND memory went into production late last month.

The 64GB eMMC Pro Class 2000 measures 11.5mm by 13mm, which represents a 20 percent reduction in size over the conventional embedded memory form factor (12mm by 16mm).  source Samsung Press Release
What does this mean to me personally? I currently am using an HTC One XL (the L denotes LTE) and its quite fast as it is. Can I hold out till the new year when phone with the new chips start shipping? I am not too sure about that. I have been pretty excited to get my hand on the new BlackBerry 10 phone, but if I do get a BB10 phone, that will be the last for a while. I will keep my ears to the ground and wait for the next big thing!