Jan 7 2014 2:48AM GMT

Profile: Nathan Simon
A hardware update has been in the works, and almost ready for shipping, the official shipping date is January 28th.
At 250$ Pebble is hoping to attract the more prideful tech, one who wouldn't be caught dead wearing a plastic smart watch (no matter how smart it is).
They may be onto something… read on…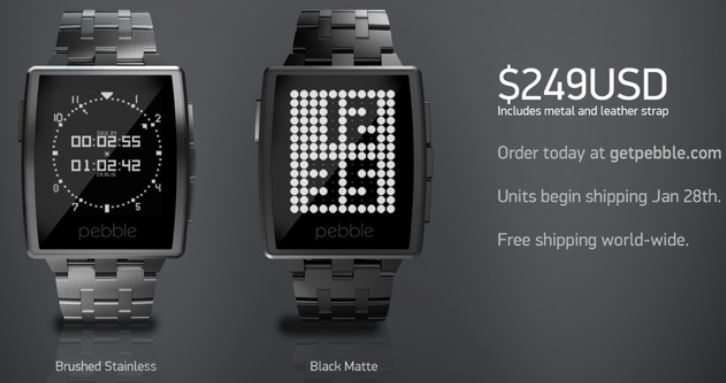 Pebble Steel will ship with the new "OS 2.0" and uses the new corning gorilla glass instead of plastic like its predecessor. Also with Steel you will have access to the new Pebble Store, which will also work with the classic Pebble, after its software update. Apps are sorted into 6 categories: Daily, Fitness, Remotes, Tools & Utilities, Notifications, and Games.
Some quick features, a couple already mentioned:
Crafted with stainless steel and Corning® Gorilla® Glass
 Every Steel Comes with metal and leather straps
 Fully compatible with all Pebble apps
 New Tricolor LED
 Free worldwide expedited shipping (for early orders)
Unfortunately from what I gather the Pebble Steel will not support color of any sort, I know colored e-paper is out there, not sure why Pebble wouldn't want to incorporate it. The Pebble Steel does have an RGB LED for notifications which will come in useful. Even with everything above, this will not get me to budge. I have enough wearable's to deal with right now, if my current set of devices start to bore me, then I may look towards Pebble in the future, but they have to have a color version… or its a no go for me. I also kind of want to watch the scene and see what Google and Apple have under their sleeves…
Go here to check out the full press release from CES 2014