---
January 5, 2009 1:06 AM
Here's an interesting issue that I came across. I have a few clients who are still using IBM Servers, the server referred to here is an x226 Server and a ServeRaid 7 controller.
The client said that he would come in to work in the morning to check the backups and he would have to put in a reason as to why the server shutdown. He mentioned that the backups have also not been working for the last week or so. Just to let you know this wasn't my fault, the client is not managed services and it is up to him to monitor and let me know if they are having issues. Anyways back to the blog :). We came in to troubleshoot the backup and found that we could run a test backup. Just in case a backup to disk was also setup. Next morning it was reported that the backup failed again.
I went onsite and used IBM UpdateXpress, this CD provides an all in one firmware update for all supported components contained within the server. You can download it here. I Updated the Server's BIOS, ServeRaid Bios/Firmware, and also the firmware of the drives themselves.
I also ran an app from IBM's Site called Dumplog, this will "dump" the configuration and event logs from the ServeRaid controller, don't try to decipher any of the info in the txt file, you need to send this to IBM and they will tell you what your next step it based on the info contained within that file. Download it here
Well to make a long story short… the server would crash when stressed with I/O. I figured it had to be the controller, so I ran the onboard diagnostics, and sure enough the ServeRaid test failed. I exported the test log to a text file so I could send it to an IBM Tech. Once the IBM Tech saw the dumplog files he was able to tell me that a specific drive was failing, although the drive was not reporting it to the controller properly, thus the global hot-spare wasn't kicking in. I ended up running ServeRaid Manager and marking the bad drive  defunct, then I pulled the drive out of the server. The global hot-spare then kicked in and the rebuild started.
All seems well. It would have been nice if the drive just marked itself bad in the beginning and the issue would have been resolved much faster.
IBM Tech Support requires firmware and drivers to be up to date before they will really help you, so everything I did needed to be done. IBM is now sending a tech onsite to replace the drive and also the tape drive as It still didn't work in the end. A backup to disk job was configured before going off site.
Till next time!
NS
January 2, 2009 5:58 AM
Well its been a while, but im finally going to start preparing for my VMware VCP-310 exam. I have been putting it off because of the lack of study material and you guessed it the holidays.
I just ordered and recieved my Exam Cram VCP-310 Study guide, I use these for my MCTS exam track. I figure it should be perfect for the VMware exam. If anyone else is interested the ISBN number is 978-0-7897-3805-9.
You can check out the book at the official Exam Cram site, i suggest ordering from amazon as it is much cheaper 🙂 (Amazon link Here)
I have also stumbled across some flash card material from Petri Forums, its called Rob Scmidt's VMware VCP Study Questions and can be access via this link. I am not 100% sure that these questions are for the VCP-310 exam, but changes and updates have been made. Either way these may prove useful.
I am basically just going to read the Exam Cram book a couple times and review a few PDF's given to me by a co-worker and challenge the exam. I'll try and upload those PDFs if i remember, if anyone is actually interested let me know and I will get on it sooner then later.
Wish me Luck!
NS
---
December 31, 2008 2:33 AM
Windows Antispyware 2009, you've got to love their"  creativity on this one. This is one of the more prevalent spyware packages out there, the infect over 20 points of the system, ie registry, file system, drivers, startup, you name it its infected it. It even stops you from running autoruns and process explorer. I have removed this manually before, but it takes a long time…. I have found one utility that makes the world a better place, at least your infected PC 
The program is called ComboFix you can download it from this website.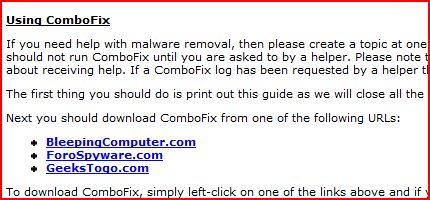 Run this bad boy in safe or regular mode and it performs all the steps required to safely remove any infection, after a few reboots, your PC is free of Windows Antispyware 2009 and other detected malware.
Happy Surfing and have a safe and Happy New Year!

NS
---
December 27, 2008 9:38 PM
Handbrake is an application that converts almost any source(just recently) to any other source, it is multiplatform and multithreaded. It is available for Windows, MacOS X, and Linus.
Inputs included are
– any DVD Source: VIDEO_TS folder, DVD image or real DVD (you have to decrypt your original movies first using 3rd party software)
Outputs supported are
– File Format: MP4, MKV, AVI, or OGM
– Video: MPEG-4, H.264, or Theora
– Audio: AAC, MP3, Vorbis or AC-3 (supports multiple audio tracks)
I'll provide a couple links to some of the more relevant info required to get started. The Handbrake Guide, and the Windows Walkthrough.
Happy Encoding!
NS
---
December 27, 2008 12:09 AM
They call it a Pico-ATX which measure in at a whopping 10 cm x 7.2 cm!
The reference motherboard is very simple; you've got an Intel Atom CPU and a GeForce 9400M next to each other, a single SATA connector and a DDR3 SO-DIMM slot on the other side of the board. And this little thing is powerful enough to play HD video (8 – 25Mbps H.264) the CPU has been measured at 27% utilization while doing so. Ion also has full support for 8-channel LPCM over HDMI.
Built into the board is USB 2.0 ports, a dual-link DVI connector, an HDMI Connector, a SATA 3G connector, and a DDR3 SO-DIMM connection.
Nvidia also says that a GeForce 9400 paired with the Atom Processor will net 10 times the graphics and video transcoding, Fulll HD Video Decode and Display, and is half the size but same battery life. The reference board is Vista Premium and Windows 7 Ready.
For more interesting details check this out.
---
December 26, 2008 10:35 AM
Well i ran into this error today (4:30 am CST, don't ask me why I am up right now!) "File too large" when trying to create a virtual machine with a 30GB drive and a 300GB drive. I tracked it down to the fact that the block size on my second LUN is 1MB which gives a max file size of 256GB. I will have to change the block size to 2MB which will let me create 512GB files, unfortunately I need to move a couple VMs off there to do so, I will just end up utilizing vmotion to move the VMs then reformat the LUN using a 2MB block size, then vmotion back. Sounds like fun! Well it isn't, but its an interesting learning experience. Don't make the same mistake, and you wont have to deal with this issue yourself.
The table below is the Block size in correspondence with the max file size
1MB Block Size: Maximum filesize = 256GB
2MB Block Size: Maximum filesize = 512GB
4MB Block Size: Maximum filesize = 1024GB
8MB Block Size: Maximum filesize = 2048GB
NS
---
December 16, 2008 5:48 AM
I just noticed this in the last few days, I guess its because of the fact that I waited so long to update to SP1, but it seems that with Vista Service Pack 1, Windows XP SP3, and Server 2008 the /console switch is no longer available…
Running mstsc /? will give you the following screen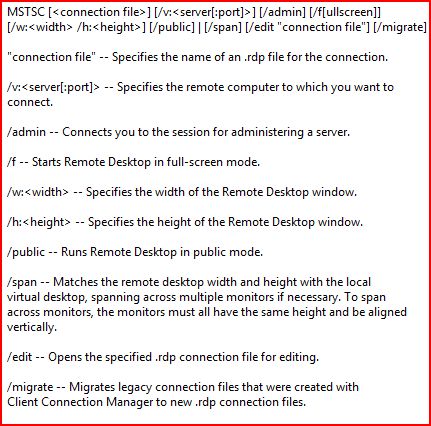 As you can see the "/console" switch is gone, and I am running Vista Ultimate SP1. The only way to connect to the console now and ONLY on systems NOT running Windows Vista SP1, Windows XP SP3 or Windows Server 2008 or later installed is to use the "/admin" switch.
Anyways, check this out for more info.
---
December 12, 2008 7:28 AM
I just read from a TechNet email, Windows Server 2008 and Vista SP2 are out, and its a single update file for both! How you say? Well basically because Windows Vista and Server 2008 share the same code base. You need to already be running Windows Vista SP1 or Windows Server 2008 to install. The update is supposed to add new features like support for Bluetooth 2.1, native Blu-Ray media recording, "Windows Connect Now (WCN)", ex-FAT file system, and windows search 4.0 integration. The list is not complete but it gives you a taste of whats to come. If you feel adventurous then download the update here
I don't install Service Packs until they are out of beta phase and have been out for at least a few months, if you are like me and would like to block the service pack updates download the Windows Service Pack Blocker Tool
The tool works on Windows Server 2003 Service Pack 2 (valid through March, 2008), Windows XP Service Pack 3 (valid for 12 months following general availability), and Windows Vista Service Pack 1 (valid for 12 months following general availability)
NS
---
December 11, 2008 9:10 PM
Boston Power Inc created these lithium ion batteries, apparently what they do is act like new for up to 3 years. That and they will charge to full capacity in 30 minutes while delivering longer, on average, run-times. The batteries will provide 4.4 amps per hour as apposed to 2.6 amps from the standard lithium ion batteries. These batteries will be manufactured to be backwards compatible with all pre-existing notebooks and laptops. HP has also stated that using an optional ultra-capacity battery in its EliteBook will net you a run-time of up to 24 hours without needing a charge!
If people pickup these batteries it will help out the green movement just because people wont be replacing batteries as often.
You will start to see these batteries on the market in the next little while.
NS
---
December 11, 2008 3:03 AM
Would you like to print to that HP Printer that just wont connect through RDP?
Let me lay out the scenario for you.
You have an USB HP Printer of any type.
No matter what you have done you cannot get it to map.
Well here is a little work-around that I put together a while ago.
Take Printer #1 share it; give it any name you would like.
Add a new printer, I usually use Laserjet 1100, assign it to LPT1.
Open up a command prompt.
Type net use LPT1: \\pcname\printer_share_name /persistent:yes
Once you connect to an RDP or citrix session you will see the Laserjet 1100 as a selectable TS Printer.
Print to it, and the print job gets forwarded to the shared printer and will print.
All HP Printers can be mapped this way(the print engines haven't changes much since the early 90's), I have even used it once to be able to print to a Kyocera Printer using HP Drivers…
I usually put a batch file on the users desktop for them to delete and remap to the printer in case the connection gets broken.
Anyways this is to be used as a last ditch effort… USB Printers are NOT recommended for Terminal Services or Citrix, nor are any on the compatibility list.
Here is a good link to a lot of useful information… http://www.ccaheaven.com/citrixPrinting.htm. This page also has some nice information in it on Windows Server 2008 TS Easy Print.
---