---
January 28, 2009 3:56 AM
Backup Exec is a great application, my personal favorite. Recently I had issues with a backup, as you can see in one of my previous posts… the backup works fine, although compression will not turn on. It is known by most Backup Exec experts that Symantec Backup Exec enables compression when the job starts(if compression is configurable), but how do YOU know if Backup Exec is doing its job and possible the drive is to blame?
Well here is the answer, its called SGMON, its a debug tool that is used to view debugging information for Backup Exec components and services. SGMON is in "C:\Program Files\Symantec\Backup Exec\SGMON.exe for Backup Exec 12.5d installations. Earlier revisions its buried in the Symantec Backup Exec folder, best bet is to just search for sgmon.exe and you'll find it easy enough. 
Run SGMON, check off Job Engine; as below…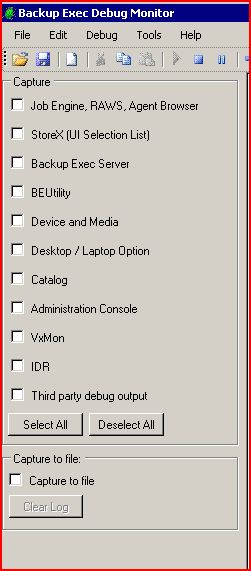 Click "Capture to File also. Leave SGMON running while you start a job, wait for the job to finish, next thing you need to do is locate the file. For Backup Exec 12d its located here; "C:\Program Files\Symantec\Backup Exec\Logs\servername-SGMON.log"
Do a search in the log file for compression, as below…

Once you are sure that Backup Exec is doing what it is supposed to do, and compression isn't working as you can tell under the media tab. and the appropriate Media Set as shown below… MIND You when compression just isnt working you will see 1:1 instead of 2.3:1.

SGMON can be used for many things, you can find the official documentation here
Anyways, I'm off for now.
Any Questions you know what to do!
NS
January 22, 2009 5:54 PM
I saw some videos on the Palm Pre and I am so far impressed.
Some of the things I noticed were the smooth animations of all the menus, the support of universal cut/copy/paste, which is a HUGE feature that the iPhone doesn't have, multi-touch, is supported which looks and works well. It also supports wireless charging… imaging that not having to PLUG your phone in every night, you just lay it on the charging station. There are so many more features that I found a list online and here it is… 
• High-speed wireless (EV-DO Rev. A or HSDPA, depending on version)
• 802.11b / g WiFi with WPA, WPA2, 801.1x authentication
• 3.1-inch 24-bit color 480 x 320 display
• Dedicated gesture area below display
• Slide-out portrait QWERTY keyboard (banana slider)
• Integrated IM, MMS, and SMS messaging
• Email: Microsoft Outlook with Microsoft Direct Push Technology POP3/IMAP (Yahoo, Gmail, AOL, etc). So it does push exchange email, but the rest is not push.
• Built-in GPS
• Bluetooth 2.1 EDR with A2DP stereo Bluetooth support
• High-performance browser
• 3 megapixel camera with LED flash and extended depth of field
• 3.5mm headphone jack
• 8GB of internal storage (~7.4GB user available)
• USB mass storage support
• Phone as laptop modem – Bluetooth tethering
• MicroUSB connector with USB 2.0 Hi-Speed
• Proximity sensor for detecting when phone is near face
• Light sensor to automatically dim display
• Audio Formats: MPS, AAC, AAC , AMR, QCELP, WAV Video Formats: MPEG-4, H.263, H.264 Image Formats: GIF, Animated GIF, JPEG, PNG, BMP
• Ringer mute switch
• Removable rechargeable battery
• Width: 59.5mm (2.3 inches) Height: 100.5mm (3.9 inches) Thickness: 16.95mm (0.67 inches)
• Weight: 135 grams (4.76 ounces)
The official page has a nice teaser video check it out here
---
January 20, 2009 3:58 AM
I had a tape drive at a client slowly die, I was running Symantec Backup Exec 12d. I spent an hour or so troubleshooting and ended up calling HP tech support and they decided to replace the tape drive, soon after, the replacement tape drive died…. it was in there for about one week. I tried everything. I was using HP Tape Tools for Windows. I updated the firmware for the tape drive and this didn't help. I updated the drivers and it didn't help. Diagnostics was pointing to the tape drive needing a cleaning(this was after many diagnostic runs), although the drive is a week old. I didn't believe HP when they said we needed a cleaning tape. Why would a tape drive work, but slowly? it was much faster with compression, but always would come back with a CRC error. In the end, I ordered two cleaning tapes, a few days later, I went onsite and ran the cleaning tape… to my surprise this seemed to fix the issue…. my question to HP is, "Why wasn't this drive quality tested?" Another question is, "Why doesn't a drive that requires cleaning monthly, ship with a cleaning tape?!!?"
Half ranting, half informative… If I save just one person hours of troubleshooting, then my job is done…
NS
---
January 12, 2009 11:22 PM
I just recently took Vista Business 32Bit off my laptop and installed Server 2008 Standard 32bit. I am quite amazed at how much faster it is, I guess mainly because Vista is slightly bloated with Multimedia features not applicable too Windows Server 2008… anyways to get to my point of this particular blog. Installed Office 2007 Enterprise Edition and when I went to search it said that the Windows Search Service is not enabled, click here to fix, it then mentions that the service is not started. Well here is how you start this service in Windows Server 2008
1) Start Server Manager
2) Click on Roles in the left navigation pane
3) Select Add Role in the Roles Summary pane to the right
4) Select the File Services role and click Next
5) Select the Windows Search role service as displayed below…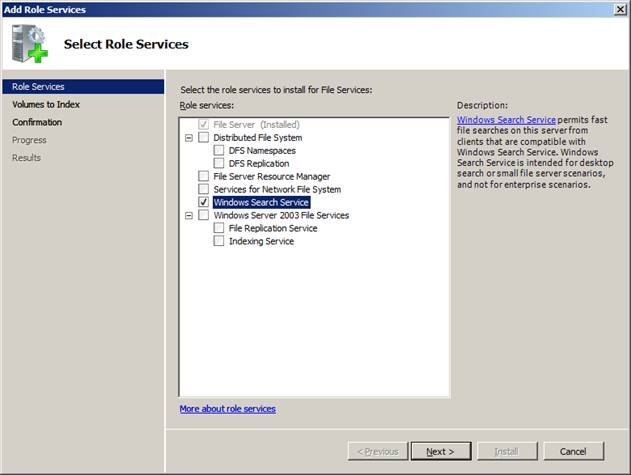 Click Next then finish the wizard and now you should have the Windows Search service up and running.
Restart outlook and you can now quick search. It may take a bit of time to index you message store, depending on how much email you have… I have a lot! 🙂
Cheer,
NS
---
January 10, 2009 5:52 PM
One of the better updates is the fact that you can have "profiles" within Chrome, ie different homepages, favorites, and history. The update also allows for Full Page Zooming, Auto Form Completion, and Greasemonkey. Don't know what Greasemonkey is check this out.
These updates usually force Microsoft to add the same to their browser, but I doubt that Microsoft would allow ANY modification to their browser even though its just scripting…
So your asking, "Where do i download this wonderful piece of software?" Well I have the answer and its here just scroll down a little bit where it says "How to get the new version?" Have fun!
NS
---
January 9, 2009 3:04 PM
Sorry this is going to be a short one…
The file is called outlook.nk2, it contains all the addresses of all the people you emailed or responded to in Outlook. I always make sure to back this file up.
The file is located in "C:\Users\loginname\AppData\Roaming\Microsoft\Outlook" for Vista and Server 2008(yes im running Server 2008 Standard on my laptop 🙂 )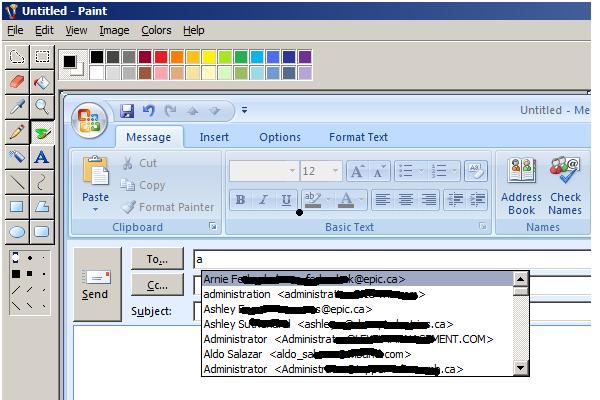 Here is the official link from Microsoft. click here This pertains to Office XP and above.
---
January 7, 2009 1:49 AM
Intel wanted to keep Netbooks at 10″ or less, Dell and Samsung are now each releasing 12″ netbooks. What does this mean? Well its one less reason to not buy a more expensive dual core laptop(which Intel sells at higher prices and higher margins.) Intel is not happy about this, they say that netbooks are to be used as personal devices for short periods of time, not for full out day to day use. I tend to agree with Intel, I wouldn't use a netbook for work, I would definitely use it on a plane, or while on vacation, mainly for music, maybe a movie or two! But you still cannot beat a Dual-Core Laptop for mainstream use. Netbooks are here to stay and I am really thinking of picking one up!
Here is a link to the Dell Mini 12, and then the HP Mini 1000XP (Mind you the HP isn't a 12″ Netbook, I haven't heard anything about a 12″ version as of yet.) Another interesting release by HP is the Netbook 2140 pricing starts at $499 and goes up to $629 for a premium model that hosts a 160GB, 7200-rpm hard-disk drive and a beefed up display panel(1366×768). The Mini 2140 is built to last with its aluminum lid and hardened case.
Samsung has yet to announce their 12″ Netbook (NC20) based on Via's Nano Processor at CES 2009
---
January 7, 2009 1:08 AM
This update includes a cool new option, Hide Microsoft and Windows Entries!
To use this, you start Autoruns (link to follow), then click on options, then "Hide Microsoft and Windows Entries". This option makes it much easier to sort through all the apps and services loading on your system. You know that what is remaining definitely isnt verified by Microsoft, as this app is made by Microsoft Employees!
Run Autoruns now from Live.Sysinternals.com
Arent you curious to see what is in your system? 🙂
Another feature is to view apps running per user/system. There is also a command line tool, but I'm a GUI fan-boy. so i wont include the link. If you know what your doing you'll have no problem finding it on your own 🙂
NS
---
January 6, 2009 3:54 AM
Well have you ever checked the hardware monitor section in your BIOS, this will show you what your powersupply is running at along with Fan speeds and CPU Temperatures. If left unchecked most BIOS' will not warn when there is an issue with the powersupply, depending on the severity of course. For instance I had this Pentium D System, Pentium 4 at 3.6Ghz, running a SATA STRIPE. The Chipset was Nforce4. The 550watt power supply installed was made by Antech. A pretty good system considering it was 1 year old. We decided to install Windows XP x64 Edition and immediately noticed slow downs and programs wouldn't install properly. Well we tinkered with some settings for a while and finally decided to pull the plug, wish I would have done it earlier, but hey hindsight is 20/20 right? No ones perfect.
Anyways the moral of the story is that the powersupply wasn't supplying the mainboard with the proper amount of voltage in the 5V range, it was out by more then 5% and that is bad for the motherboard, CPU, and I/O.
We ended up replacing the powersupply and the 5V voltage was now stable.
Unfortunately well have to reinstall the OS, as there is some residual corruption. Can someone say FORMAT!!! 🙂
NS
---
January 5, 2009 1:20 AM
Here is an insert from CNET News…
"Intel, never one to shrink from competition, announced that it would enter, by 2010, the market for high-end graphics chips. The chip, code-named Larrabee, would give Nvidia and AMD something to think about. And that's about all they could do since the chip–at least initially–was merely a paper tiger."
The say it wont be a GPU as many people are thinking it will be, but it will be made up of many processor cores. It will look and act like a GPU, carrying out many functions of a conventional gamer graphics card. Larrabee will work with most games, because it doesn't rely on a specific graphics API.
Interesting news, but well have to keep our eyes on this one.
Currently AMD-ATI / NVIDIA own 98% of the GPU Business.
NS
---