---
February 25, 2009 3:14 AM
Well this isn't about how much fun you can have with VMWare Virtual Center, but on how somethings can be worked around and some things just need to be re-installed! 🙂
Starts off with an couple ESX Servers and Virtual Center all running out of evaluation days… yes I know, procrastination on my part… and to top it off, my Virtual Center Server (which was a VM, and yes its a supported configuration) was off. When attempting to turn the server back on, the screen barked at me with a message stating that I did not have the proper licensing to do that. Well what does one do? You cheat 🙂 How you say? Create a temporary license from your vmware login/manage licenses. Since the ESX Server is out of eval, you create yourself a nice little lic file and select host based licensing. Once you have the licensing in place you should be able to boot up virtual center. Once you have virtual center up and running, change all licensing to License Server-based Licensing. But be warned, if you let everything including Virtual Center Server run out of eval days, you may have to completely uninstall and reinstall VMWare Virtual Center, this includes SQL Server Express(if you chose to use it) Oh and before uninstalling SQL from Add/Remove Programs, remove "VMWare Update Manager" and "VMWare Virtual Center" from ODBC System DSN Tab.
How do I know all this? Spend 3 hours on the phone with a VMWare Licensing expert and a VMware Technical Engineer, and you will too!
NS
February 22, 2009 10:23 PM
HP announced that Paprikaas(a strategic partner of Dreamworks) chose HP ProLiant BL460c G5 servers to increase performance and establish an energy-efficiency standard in its data center. With its low-power module and the latest low-watt quad-core processor from Intel, the HP ProLiant BL460c is optimized for power-constrained environments. The company stated that they were able to increase computer capacity greatly while not increase the total power draw at all. With 240 Blade servers, Paprikaas' production system was placed on the TOP 500 List of the worlds fastest supercomputers.
Another win for HP!
NS
---
February 22, 2009 9:57 PM
I just wanted to make a quick post to let everyone know that an ESX Update isn't as painful as one would think. Just yesterday I took control of one of my clients ESX Servers from home via ILO(Integrated Lights Out. HP's technology for Direct remote Access) and mounted the ESX 3.5 Update 3 ISO via the virtual media applet, shut the server down via Ilo, booted up from the ISO, and started the upgrade. Everyone always ask the same question, "What about my VMFS and Virtual Machines?" From my new found solid experience with the ESX Updater, I can safely say not to worry. The ESX Installer will find the ESX Installation and upgrade ESX while maintaining all Virtual Machines and configurations. Mind you all my tests and actual implementations were on Servers with local storage, no iSCSI. And I know there have been issues for many users, ie iSCSI Targets disappearing after ESX Update. a quick google search will lead you to many different scenarios and solutions. The one issue i did run into was a SCSI Tape drive that was mounted in the main DC, i just had to quickly edit the machine configuration and select the HP Tape Device, for some reason some obscure device was mounted(old target ID i guess), either way once that was fixed, all the VMs booted fine, and I was back in business. Any questions or concerns, you know where to find me 🙂
NS
---
February 18, 2009 5:10 AM
It's official, Windows Mobile 6.5 is out of rumor status… some things that are worth mentioning is that the main screen will have a honeycomb look to it, i.e. in the way the icons are lain out. Most screens have redesigned menus that will not need that dreaded stylus, IE Mobile will have a touchable zoom slider, and frequently-used command. No devices are said to get a Windows Mobile upgrade, but the first Windows Mobile devices should be available before next Winter. Unfortunately for them, I'll be picking up my Palm Pre before that 🙂
Click here to see a couple pictures, and to learn about some of the other features not mentioned here, like 'SkyBox', 'SkyLine' and 'SkyMarket'.
Also check out the new service being released by Microsoft called "My Phone" Basically you can synchronize all your contacts, emails, texts, photos, documents, and music. Click here. Unfortunately this service is only available as an invitation-only beta. I hope everyone has unlimited data plans!
NS
---
February 18, 2009 4:47 AM
 Well here's a good one for you, and I hope that this helps someone if they run into the same issue. Two PC's both have the same printer, and both have the exact same drivers. The printer was an HP LaserJet 1320. The issues was that Excel would print out duplicate copies of everything. Running Excel in safe mode, resulted in the same issue, duplicates. One would think that renaming book.xlt may fix the issue as it may be an underlying setting in the workbook, but that wasn't the issue either as one did not exist on either PC.
The next step was to go after the printers. Now here is the kicker… the old printer was a USB Printer shared to other PC's, thus the printer would show up as "HP LJ 1320 on pcname" but the port was a TCP/IP Port pointing to 192.168.1.25. What I ended up doing was wiping the printer out completely, and installing from scratch, using the existing port. After doing that excel printing was fine.
I guess the moral of this story is if you having printing issues with Excel, check to see if it is Excel causing the issues, running Excel in safe mode* will give you a temporary clean slate  to work with. If Printing issues persist, check the workbook file(book.xlt), just search for it under program files. Lastly for duplicate print-outs in Excel… wipe out and re-add the printer. More troubleshooting tips can be found here on the official Microsoft "How to troubleshoot startup problems in Excel" KB article 280504
NS
* click on start – run – then type "C:\Program Files\Microsoft Office\Office\Excel.exe" /s (change this based on the location of your installation)
---
February 12, 2009 3:09 AM
I've been following Netbooks closely, not too close, but close enough 🙂
Jenny, yes our Jenny, asked me a couple notable questions. Answering that question will inform people that there are options out there to make the Netbook experience a joyful one.
"I enjoyed your coverage on Netbooks earlier in the month; did you end up getting one? I've been considering one myself, but I'm concerned about the memory and whether it will run smoothly enough. Where do you think netbooks perform the best (under what types of work situations)?"
First off, Netbooks i think are a great idea for a travel bug. They are small enough and just as powerful as some notebooks people are using out in the world. I like to travel quite a bit, and the Netbook bug has bit me, although I am very stubborn when it comes to purchasing "toys" Now your average Netbook will come with a 1.6 or 1.66Ghz Processor, remember the N280 chips are coming out full force, make sure you get a Netbook with at least the 1.66Ghz N280 chipset. Its not really the clock speed that makes a difference its the 134Mhz jump in the FSB. 1GB DDR2 SDRAM and 8GB are the norm for the baseline models. These will work well if you just check your hotmail, webmail, or gmail. But are also powerful enough to play streaming movies, music, iTunes, winamp, internet, and even have a webcam built in. If your the kind of person who does those kind of things then the base model is a great starter Netbook. Only caveat is the SSD HDD is only 8GB once the OS is in there, you loose 30-40% depending if you got Windows XP or Vista.
If you're like me, well then we cant go with the base model… we need to amp it up a bit… 🙂
The HP Mini 1000 XP Edition Netbooks comes with the Intel Atom N70 Processor, but has a 60GB HDD… lots of storage for the avid traveller, but its limited to 1GB Memory, not so good…. The HP Mini Mi Edition lets you install up to 2GB memory, although it runs "HP Mobile Internet" built in Linux(not exactly mainstream)
Dell Inspiron Mini 9 is about the same specs although you can only go up to a 16GB SSD Drive, and the camera isn't standard. There is an option to add bluetooth, I personally have no need for bluetooth. The Dell Mini 12 comes with either the Z520 or Z530 Processor. The hyperlink will take you to Intel's page, which shows you all the Atom Processors and their differences. The Mini 12 also has the option for either a 40GB or 60GB HDD (4200rpm) for 30$ more then the 60GB HDD you can get an extra 20GB to bump you up to 80GB of space.
Acer has a model that comes with 160GB HDD and up to 1.5GB of memory.
And last but not least, my pic of the crop, ASUS, their N10J model, comes with the N270 Processor, 1GB DDR2 memory, up to 2GB max, a 160GB 5200RPM SATA Drive(up to 320GB), a built-in 1.3Mega Pixel Camera, integrated 802.11a/b/g/n(the only one in this blog to come with draft-n wireless technology), 6-in-1 card reader, VGA/DHDMI, HD Audio and microphone, all this jammed into a 10.2" screen Netbook. And yes you are correct, i know what your thinking, "Wow this isn't going to be cheap…" its not, its about 1,000CDN
My honest opinion is that if you haven't bought a Netbook wait for the N280 Atom chip, with its accompanying GN40 chipset, that's when you'll see a real multimedia boost. ASUS, Acer and Gigabyte are all expected to announce new Netbooks using the Atom N280 in the first half of 2009, HP and Dell to follow closely behind.
Remember that you could always go out and buy yourself a 2.5" SSD Drive. Just make sure you get a high performance one. The fact that SSD has 0 seek time, would greatly improve the usability of Netbooks. As always they come with a  price… and I would LOVE to get my hands on one of these for my future Netbook… a 256GB SSD Drive with an amazing 200MB/s data read rate, click here
Well i think I have blogged just about enough for tonight… Let me know how your Netbook experience goes!
NS
---
February 10, 2009 3:49 AM
BestBuy is selling the Dell Inspiron Mini 9 for 299 CDN… not a bad price for the below specs…
Intel Atom Processor N270 (1.6GHz/533Mhz FSB/512K cache)
Windows XP Home Edition
1GB DDR2 SDRAM
8GB Solid State Drive
8.9″ Wide Screen WSVGA TL Display (1024×600)
Intel Graphics Media Accelerator (GMA) 950
Wireless 802.11g Mini Card, 4-in-1 Media Card Reader
4 Cell Battery
Go 
here
 to order. Obviously its out of stock at the moment… the price point was set because BestBuy is most likely making room for the Intel Atom N280 version of Netbook. Watch our for all the great deals on netbooks. I love how technology drives prices down 🙂
I should add that the N280 is clocked at 1.66GHz and has a 667MHz frontside bus. The N270's speeds are 1.6GHz and 533MHz, respectively. The N280 has a TDP of just 2W compared to the N270's 2.5W. Rumor has it that we will see a bigger performance gain once the N280 chip is paired with Intel's new GN40 chipset and intergrated graphics. The GN40 chipset includes high-definition video decoders letting you play back 720p video.
NS
---
February 6, 2009 9:24 PM
What the heck am I talking about you say? Well I decided to load ESX 3.5 on a workstation of mine. This is so I could do a test upgrade from 3.5 to 3.5 Patch 3, mainly because I want to make sure VMFS and the VMs are retained after upgrading to said patch level.
So I commenced installing ESX 3.5 on my 40GB IDE drive, yeah I said IDE, who uses those anymore anyways, apparently I do. The install went fine, for the most part, until it said that I wouldn't be able to use the current drive as a datastore (without advanced configuration). Anyways on I go, I finish the install and all is fine. I was able to connect using Virtual Infrastructure Client, but then I see the message that ViC could not find any static storage, click here to configure a datastore. I clicked on the link and of course nothing was there… did some searching and it turns out that ESX 3.5 does not support IDE drives as a datastore due to the fact that NCQ(native command queuing) is missing from IDE Drive, however SATA drives will work fine. So what I ended up doing is I just installed a 80GB Sata drive, yes small i know, but its only for testing purposes, and rebooted the ESX machine, from ViC. Upon rebooting it found the new hardware and I was able to use ViC to add the new datastore… all 80GBs of it, all right!
Moral of the story… SATA/SCSI okay, IDE not okay 🙂
Till next time,
NS
---
February 5, 2009 2:40 AM
Yikes… why cant we just have 2 versions of an OS already… here are the new SKUs
Windows 7 Starter (limited to three apps concurrently; no Aero UI tweaks)
Windows 7 Home Basic (only available for emerging markets; no Aero UI Tweaks)
Windows 7 Home Premium (adds Aero, Multi-Touch, Media Center, premium games, home networks)
Windows 7 Professional (All Premium features,RDP host, Mobility Center, Presentation mode, Domain support)
Windows 7 Enterprise (All Pro features,volume license only, boot from virtual drive, BitLocker,Adds Branch Cache,Adds Direct Access)
Windows 7 Ultimate (limited availability, includes everything)
Look at those limitations of each version… and the fact that Windows 7 Ultimate is going to be limited availability, what do they mean by that? Are they only going to sell it for a few months? If this sounds like a rant, it was meant to be 🙂 Want more? Go to Jason's IT Rant Blog 
here
.
NS
---
February 4, 2009 3:08 AM
You come into work one day, place your laptop into the docking station, power it up, log in, and you get this message,
" "The User Profile Service" service failed the logon User Profile Cannot be loaded "
It then logs in but not your profile, what happened to all the icons, your settings you wonder. Well fear not there is an easy fix, if your comfortable with the registry that is! 🙂
The fix can be found on www.Vistax64.com specifically this forum post.
My fix involved option #1. There were 2 SID Identifiers located in HKEY_LOCAL_MACHINE\SOFTWARE\Microsoft\Windows NT\CurrentVersion\ProfileList One of them had a bak extension on it. You could tell it was the identifier for the right profile because you could see the pathing to the missing profile, as below…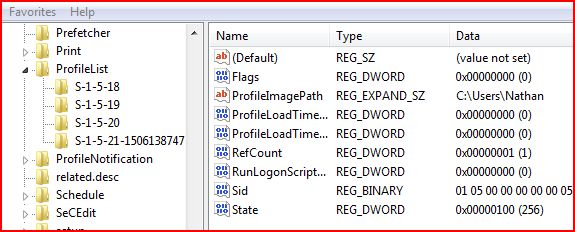 Just follow the instructions in that link, double check software apps that they still function, ie Outlook will need to be reconfigured, and you should be fine.
Any Questions, let me know!
NS
---