---
March 21, 2009 8:39 PM
You have to check this out… Hard Rock Café is using the Deep Zoom technology to power the site showcasing their huge collection of memorabilia.
Deep Zoom is basically allows users to view super high resolution imagery from 3MP to Gigapixel scans, all without using huge amounts of bandwidth. Silverlight 3 also introduced support for multi-touch – the ability to poke and pull applications, as you would on the iPhone using two fingers, for example.
All this will be supported on windows mobile platforms, which is already supported via desktop browsing.
March 20, 2009 7:11 AM
Well Microsoft released Internet Explorer 8 as of 12pm EST.
You can download it here.
If you interested in reading the press conference then check that out here.
The following is an insert from the above mentioned link.
"Customers have made clear what they want in a Web browser — safety, speed and greater ease of use," said Steve Ballmer, CEO of Microsoft. "With Internet Explorer 8, we are delivering a browser that gets people to the information they need, fast, and provides protection that no other browser can match."
There is also a quick tour that you can take before downloading. Check it out here.
---
March 20, 2009 7:02 AM
Okay so who wants to extend there battery life up to 42 hours(7 hours video) but doesn't mind adding a little bulk to their phone/device? Well Mophie seems to have the answer, check out the full story here.
All the details for all the different batteries can be found on www.mophie.com or go directly to the section that I am talking about here.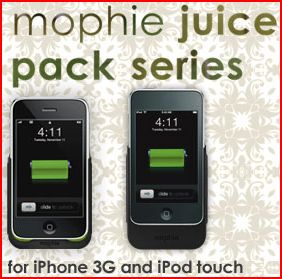 ---
March 20, 2009 6:53 AM
Looks like there's a new contest going on here, just ask 5 IT related knowledge questions and gain the most IT Knowledge points by answering questions and you can win one of three Xbox Prizes! Its has already started and is will be ending April 30th
The three prizes are, the Xbox 360 Elite(120 GB hard drive, Special black console, HDMI cables, controller),  Xbox 360(60 GB hard drive, Packed with features, Standard/HD AV cable), and an Xbox Arcade. More details can be found here, but most of you know what an Xbox is and what it is capable of…
Check out the blog by Jenny here
Here is the link to join IT Knowledge Exchange. So join up, start asking questions and start answering them.
---
March 5, 2009 4:43 AM
Asus just launched this cool new Netbook.
Some specs are as follows *
A 92%-scaled keyboard
1″ Thick
2.4 lbs
 multi-touch touchpad,
Instant key (for quick access to Wi-Fi and the touchpad lock)
Digital Array Mic
1.3 megapixel camera
Wireless connectivity options (802.11b/g/n, Bluetooth, 3.75G** and WiMAX**).
Equipped with SRS Premium Sound technology for pristine audio playback quality.
and rumor has it that it will probably carry Intel's Atom processor (N280) and the new GN40 chipset.
Endgaget has some photos of it here.
This just in Asus says they have the worlds first N280(confirmed) Netbook the Eee 1000HE… here and their promo page here, I might just have to wait for this one to come to Canada… or ill order it from the US…
NS
*subject to change
---
March 4, 2009 7:46 PM
What happens if you esx server stops reporting its memory and cpu usage? What if you cannot connect to any VM's? I just ran into this issue today. What you need to do is restart the vmware-mgmt service on the ESX Console.
What you will need to do is connect to the ESX Service console via Putty, once there login as a user who has root access, then type su – and hit enter, now put in the root username and password. Once you are connected as the root user, type this in "service mgmt-vmware restart" This will restart the Vmware Virtual Center Management Agent and allow you to gain back control of your ESX Server.
NS
---
March 3, 2009 3:25 AM
Veeam Backup 3.0 has just recently been released. Below are some of the main features and benefits.
Backup and replication combined
Support for ESXi and ESXi free
File-level recovery in seconds
Database-consistent backup
Reduced storage costs with data de-duplication
Faster backup and restore with synthetic backup
Replica rollback
Integration with VMware Consolidated Backup (VCB)
I installed the demo version, which can be aquired from here, all you have to do is put some information in including you email and they will send you a demo license. I was able to backup a 16GB VM and do a file level restore in under 30 mins. The scheduling is a breeze, the interface is clean, and the performance is amazing. I highly recommend this product.
HP has recently partnered with them. Check it out here. EPIC information Solutions also became partners with Veeam for the purpose of reselling and support.
For more information on Veeam Backup go to their homepage and check it out.
 NS
---
March 3, 2009 3:08 AM
I wanted to post a follow up on Boston Power from a previous post I made, you can check that out here.
I stated that HP would be the first to utilize this new technology, and guess what, they have been named one of the Top 50 companies on "Going Green East" Boston-Power fell under the category of "Energy Storage Systems" Full story here.
The "Going Green East" Top 50 will be honored on March 10th, 2009 in Boston, MA.
I would also like to mention the fact that HP will charging a premium of 20-30 USD on the new batteries, well worth the cost considering these new batteries will be able to handle 1000 cycles before starting to loose life(current Li-on batteries are about 300 cycles).
I know im a bit late with this last bit of info, but Boston-Power has since tripled production of its laptop battery, and on February 24th Boston-Power expanded mass production of its Sonata rechargeable batteries through a 5 year partnership with GP Batteries from China. GP Batteries is the top consumer battery manufacturer in Greater China. Full Story here.
It would be interesting once Net-books start to ship with these new green batteries. Ill keep my eyes on it and report back here.
NS
---
February 27, 2009 3:35 AM
I cannot and will not take credit for the following, but since my fellow senior engineer does not have a blog I figured I'd share this with everyone out there, because when searching for a solution, this one did not present itself.
Scenario : SQL Server, slow performance, and erratic behavior.
Solution : Reboot the server.
Outcome : Server Hung, for what seems a longer than usual amount of time.
Steps taken to rectify this behavior : Hard Power off the server (don't ever do this, I mean sometimes you have to, but wait just a little bit longer before resorting to this) Things that could have been tried before, would be to run services.msc from another workstation or server, and possible you could connect and stop some services speeding up the process.
What ended up happening? The client shut the server off with thepower button.
Server boots back up and as you'd thing, SQL Server Service failed to start…
Customer reboots again.
SQL Server fails to start once again. Customer called EPIC Information Solutions (the company I work for)
A Programmer was on the task with the senior engineer mentioned above. We came back from a well deserved lunch and the VP of Managed Services asked us to help the programmer and the senior engineer. We tried pretty much everything, permissions on files, on services, hardware profile under services was disabled(which should be enabled, but that didn't fix it) always got SQL Server Service failed to start "Access Denied" nothing seemed to fix it. Procmon.exe couldn't identify which files it was failing on, there was no way to check to see if the databases were okay or not. Renaming Master.mdb and Masterldf.ldf netted the same results, nothing seemed to work. We used and abused Google like you wouldn't believe… the backups were unreliable as they were years old. Sure there were backups of the SQL Databases, but how can you restore a SQL Backup when you cannot start the SQL Server Service and restore them with SQL Management Studio…. The worst came into view, rebuilding the master.mdb. We really didn't want to do that.
Last ditch effort from my friend the senior engineer.
Rename the "Bin" folder under the "Microsoft SQL Server" folder and restored from a backup that ran last night.
Folder was restores, back to services.msc, highlight the SQL Server Service, and click start. Done… service started. SQL Server Management Studio started up and he was able to connect to the database. Our Programmer tested the app that required SQL and sure enough, it was working fine.
Thus as the title says, for the amount of space SQL Server directory takes… Back It UP!
Cheers,
NS
---
February 25, 2009 2:55 PM
Windows Directory Statistics is an app made freely available from Bernhard Seifert and Oliver Schneider.
I use this program alot mainly after it became available on Portableapps.com
The useful little app let you audit hard disk drive space and sorts the directories by amount of space taken.
You can then right click on the folder to browse the various options of that folder selection, like "Explore Here", "Command Prompt Here", "Delete (to Recycle Bin)", or "Delete (no way to undelete).
If you'd like to download and try this app get it here.
NS
---