---
September 27, 2011 1:32 AM
A new version of SQL Server is on the horizon, it is named Denahli. I am not a real SQL Wiz, I can install it, set it up, configure, and that's about it! Well that and manage and maintain, including backups. Either way, new software means I need to blog about it! Here is a short list of new features.
Support for more than 64 cores
Achieve greater scale with support for up to 256 logical processors when deploying on Windows Server 2008 R2.

Unicode compression
Save up to 50 percent in storage space by using UCS-2 encoding.

Microsoft .NET development environment
Write CEP applications by using .NET, using the advanced language platform LINQ as an embedded query language.

Manageability
Monitor and manage a CEP application, even remotely, through a management interface and diagnostic views.

Excel worksheet integration
Get all the data visualization and interaction you need through Excel worksheets.

Sparklines and data bars
New visualizations like sparklines and data bars enable you to convey lots of information quickly and easily.

Report Parts
Build and publish reusable report components such as charts, tables, or maps to improve efficiency.

Report Part Gallery
Search and access Report Parts to create or enhance reports with just a few mouse clicks.

Two new enterprise platforms
Take advantage of new, highly scalable, enterprise database platforms: Parallel Data Warehouse and Datacenter.
Want to know more? Go to the SQL Server Homepage.
September 27, 2011 12:58 AM
Have you heard? Windows 8 release is looming, and yet I haven't really had a chance to figure out what all Server 2008 can do. Microsoft is building this with Cloud Computing in mind. They are really pushing their virtualization platform, or shall i say shoving it our faces, by including Hyper V with pretty much all releases, even in their future desktop release Windows 8.
Windows Server 8 offers you excellent economics by integrating a highly available and easy-to-manage multiserver platform. Windows Server 8 helps IT professionals cloud-enable their infrastructure while satisfying business needs faster and more efficiently by providing a highly available, easy-to-manage multiserver platform with the following benefits:

Continuous availability: New and improved features offer cost-effective, high IT service uptime. They are designed to endure failures without disrupting services to users.

Management efficiency: Windows Server 8 helps automate an even broader set of management tasks and simplifies deployment and virtualization of major workloads, which provides a path to full lights-out automation.

Cost efficiency: Windows Server 8 leverages commodity storage, networking, and server infrastructure, as well as offering increased power efficiency for superior acquisition and operating economics.
Want to know more? Check out this article.
---
September 24, 2011 12:13 AM
Hi my name is Facebook and I am not sure what I want to look like… well guess what, it sure isn't up to you to decide… The newest changes came out days ago, not we hear about this "Timeline" thing… Guess what? I have a preview for you compliments of me turning on Dev mode for Facebook… check it out.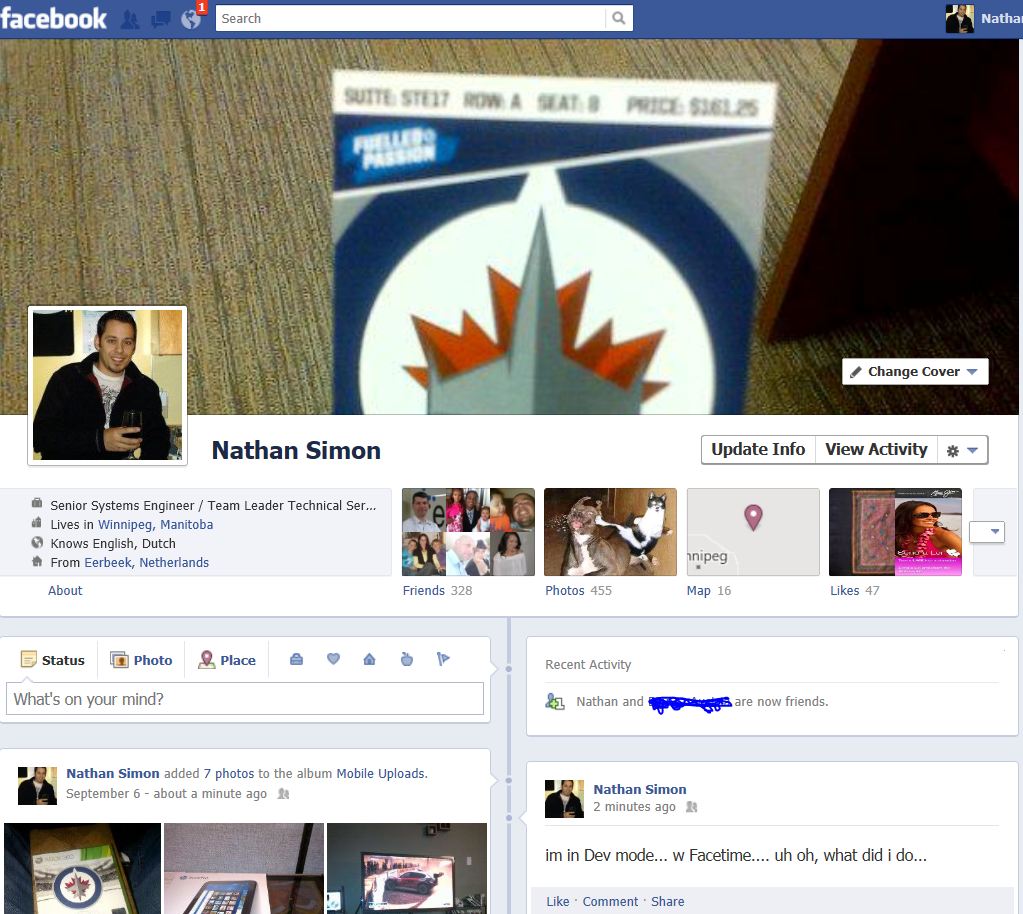 I think its pretty neat, you cannot see it here, but on the left is a slider since you joined Facebook, and you can click on any year and check out what happened back then, when you added friends, posts, pictures, it really is a digital "life book"
Anyways… have fun when you gain access to it!
-NS
---
September 23, 2011 12:22 AM
I created this little guide for a client of mine, and since I did so, it is my property and I wanted to share it with the world. Some people know Snapshots and Templates, and some people do not. This is for those that do not know the damage a run away snapshot can cause… and why choosing to clone a VM to a template is sometimes a better idea… here we go….
When and Why to use Snapshots.
By no means is a snapshot supposed to be used as a backup. A snapshot is great for mitigating risk before doing an update to a VM (Virtual Machine). A snapshot can cause issues if left unattended. For example, if you allow a snapshot or delta file unattended it can continue to grow, it will do so until there is no space left, what this will do is effectively bring every VM on that datastore to a halt. The only way to recover would be to commit that snapshot, and doing so on a full datastore can be very difficult.
When would you create a Snapshot.
You would create a snapshot in these scenarios.
– Before applying security updates and or patches to an OS
– Before installing a major application
– Before attempting the repair of a VM (OS based troubleshooting)
– Before removal of software, in case corruption occurs and you have to use a different method of removal
Removal of snapshots should be scheduled. For example, you create a snapshot, the description should have a short description and a date of when it was created. Once the snapshot is created, create yourself a calendar appointment to remove it a week later, that is probably the longest time you would want to leave a snapshot, any longer, you create the risk or major work being done to the VM and causing the snapshot/delta file to grow out of control.
You would not create snapshots in these scenarios
– You need a backup of an OS
– You are installing a piece of software that you need for a small project and it is intended you roll back to a pristine OS a couple months after.
– Before large DB work, exchange defrags, maintenance, large file transfers, etc.
When and Why to use Templating
Templates allow you to create a pristine copy of a VM without causing any downtime; this VM can then be restored at a later date if needed also the VM can be thin-provisioned to save on space. Creating a template doesn't just duplicate the VM's virtual disks, additionally, the VM's .vmx configuration file is duplicated and renamed with the .vmtx extension, and this means that all the settings behind your VM are being duplicated as well. This saves time by reducing the number of wizards and dialog boxes you need to complete. Note that if a VM is currently in snapshot mode you will not be able to clone it.
When you would create VMware Templates
– When you need a backup of a VM because you are going to be working on it for a long period of time.
– An in place non-disruptive backup of a critical VM
– If you know that you will need to deploy multiple copies of a VM
– When you need a pristine copy of an environment for development testing, ie Install OS, Install SQL, install software package, template, then clone from template, repeat.
When you would not create VMware Templates
– Before applying security updates and or patches to an OS
– Before installing a major application
– Before attempting the repair of a VM (OS based troubleshooting)
– Before removal of software
---
September 14, 2011 6:01 PM
Update March 21st 2012
Now works on ESXi 5 Update 1, or apply a patch from VMware. Find out more here.
Original Post
Don't bother trying to install Windows 8 Developer preview on ESXi 4.1 update 1 or ESXi 5, it just doesn't work. I did however hear that you can install it one VMware Workstation 8! I will give it a shot and update this post later, but for now… go and get VMware Workstation 8!
Download VMware Workstation 8 here.
Update:
Don't bother trying to install the x64 Edition, VMware Workstation says that software virtualization is incompatible with long mode on this platform. When you click OK, it pops up, "The virtual machine is configured for 64-bit guest operating system. However, 64-bit operation is not possible. Long mode is disabled for this vitual machine.
So word to the wise, download the 32bit version and you should be able to install the Windows 8 Developer Preview.
Update 2: Sept 15th
When creating the VM in VMware Workstation 8, make sure to select, "I'll install an operating system later" if you do not do so, the install will ask for a product key. So if you see the need to install a product key before even booting the VM… YOUR DOING IT WRONG! 🙂
And we have success!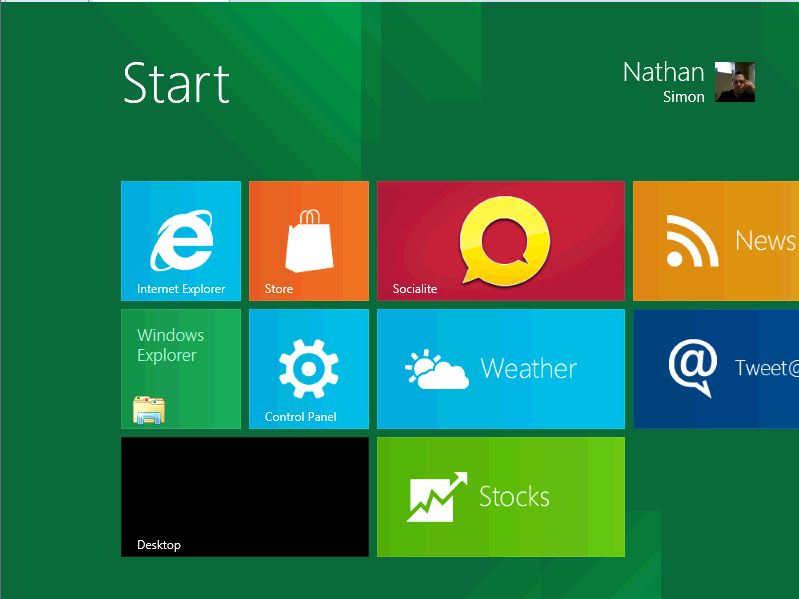 Looking to develop for Windows 8? Interested in the Windows Store, go here for more information.
---
September 14, 2011 4:40 PM
VMware Workstation 8 is out! For those who like to dabble in VMware but cannot afford a separate PC for virtualization sand boxing look no further… there are a bunch of new features.
Run over 600 different operating systems right on your PC. Prove your mastery of the PC and run from DOS to Windows 7

Run the most demanding applications in a virtual machine with 8 virtual processors or 8 virtual cores, 2 TB virtual disks and up to 64 GB of memory per virtual machine

Move to the internal cloud. Build and test your virtual machines locally and then drag and drop to move them directly to VMware vSphere

Remotely connect to virtual machines running on VMware vSphere anywhere on your network to leverage not only your local PC but the internal cloud

Run as a server to share virtual machines with your team, department, or anyone in your organization with enterprise caliber control over user access
Go here for the full list of additions and improvements.
---
September 12, 2011 1:56 AM
So I just got my new 32gb Touchpad today, while the webOS works well for most things that I have tried, I already want to install the Android OS onto it. Reading up on the project, it seems that the Android port takes full advantage of the HP Touchpad Dual Core Snapdragon processor. Rumour has it a full dual boot option will be released soon.
HP's tablet ships with the webOS operating system, but early reviewers complained that the tablet felt sluggish at times when running webOS, despite the fact that it has a fast 1.2 GHz Qualcomm Snapdragon processor. But in this video, it looks like Android 2.3 Gingerbread runs about as well on the TouchPad as on any other smartphone or tablet I've seen.

Hopefully it won't be long before CyanogenMod works out the kinks and uploads a build of CyangonMod 7 for anyone to download and install on the tablet. One of the best things about this particular project is that CM7 will dual boot with webOS, which means you won't have to uninstall the original operating system to try out Android on the TouchPad.
One of the major features missing is WIFI support although Internet connectivity is possible via USB. I'll be sure to post a follow-up when the port is available, and I have it loaded on to my Touchpad. Check out the full story here.
-NS
---
September 1, 2011 12:47 PM
Some of you like BlackBerry(me) some of you like iPhone4/5(not me), aaand some of you like Android, well you guys are in luck, finally the dual-core smartphone is making its way to the west!
Since its announcement back at Mobile World Congress in February, the Samsung Galaxy S II has generated a lot of excitement and that excitement has lead to impressive sales figures. This, of course, follows in the success of their first generation Galaxy S devices. But what is it about these phone's that is lighting the world on fire? In a big way, this has to do with Exynos, Samsung's successor to Hummingbird. The two components of Exynos are a dual-core Cortex A9 clocked at 1.2 GHz and the Mali-400 GPU, both ARM designs. ARM states that clock-for-clock a single-core Cortex-A9 should outperform a Cortex-A8 by about 20%. Give that same A9 a 20% clock bump, and a 40% performance improvement is possible before the second core even comes into the picture. But that only tells us why the Galaxy S II is such a huge improvement over, say, the Nexus S.

What makes the Galaxy S II seem to drastically outpace newer devices like the Droid 3, whose 1 GHz OMAP 4 SoC also features an A9 processor? The special sauce, as Brian will delve into further in his upcoming review of the international Galaxy S II, is Samsung's ability to leverage the Mali-400 to accelerate UI elements and even elements of the browsing experience, as well.
I know a bunch of fellow employees couldn't wait for the Galaxy S2, and ended up with the Infuse I believe, the single core rendition of the GS2. They are kicking themselves thats for sure. The GS2 is set to be released on Sept 16th in the US, hitting Canada soon thereafter.
Enjoy your phone guys, I'm sticking with BlackBerry Bold 9900.
-NS
---
September 1, 2011 3:30 AM
So here we have a nice little video card… now I don't game that much, but have since hooked up my TV via HDMI with a wireless keyboard and mouse, out to my living room. So I wanted to buy a card that had HDMI out, but was also an upgrade to my aging(like me) Geforce 8800GT. What did I grab? An ATI 6950 of course, wow that was a mistake! It just didn't play nice at all with my setup. I would have to fight just to get the display out to my TV to work, and when it did it looked horrible… how? why? Who knows, I promptly returned it to Memory Express here in Winnipeg and they graciously took it back. I then went and grabbed the card that I am talking about today. and I must say I am VERY pleased. I always love when I can buy a 220~ video card and its a HUGE upgrade, everything looks better, plays better, its quieter, and makes me feel better about my purchase. Here is a little insert from AnandTech.
GTX 560 Ti, in a nutshell, is a complete video card using the GF104 design; it is to GTX 460 what GTX 580 was to GTX 480. With the GTX 460 we saw NVIDIA disable some functional units and limit the clockspeeds, but for GTX 560 Ti they're going all out. Every functional unit is enabled, and clockspeeds are much higher, with a core clock of 822MHz being what we believe is much closer to the original design specifications of GF104. Even though GF114 is identical to GF104 in architecture and the number of functional units, as we're going to see the resulting video cards are quite different – GTX 560 Ti is quite a bit faster than GTX 460 most of the time.
So basically, when it comes to a video card that performs well, at the mid-level price range, you have to go with the GTX 560Ti. I specifically bought the MSI Twin Frozer II version, its overclocked from the factory 880 Graphics Core / 4200 Mem Clock and is warrantied for 5years. It also overclocks very nicely. Obviously I bought the 2 year extended from Memory Express, who doesn't love over the counter swaps? Check out the specs.
GPU Engine Specs:
| | |
| --- | --- |
| CUDA Cores | 384 |
| Graphics Clock (MHz) | 822 |
| Processor Clock (MHz) | 1645 |
| Texture Fill Rate (billion/sec) | 52.5 |
Memory Specs:
| | |
| --- | --- |
| Memory Clock (Gbps) | 4008 |
| Standard Memory Config | 1024 MB GDDR5 |
| Memory Interface Width | 256-bit |
| Memory Bandwidth (GB/sec) | 128 |
Feature Support:
| | |
| --- | --- |
| NVIDIA SLI®-ready1 | 2-way |
| NVIDIA 3D Vision Ready |   |
| NVIDIA 3D Vision Surround Ready2 |   |
| NVIDIA PureVideo® Technology3 | HD |
| NVIDIA PhysX™-ready |   |
| NVIDIA CUDA™ Technology |   |
| Microsoft DirectX | 11 |
| OpenGL | 4.1 |
| Bus Support | PCI-E 2.0 x 16 |
| Certified for Windows 7 |   |
Display Support:
Maximum Digital Resolution
2560×1600
Maximum VGA Resolution
2048×1536
Standard Display Connectors
Mini HDMI
Two Dual Link DVI
Multi Monitor
 
HDCP
 
HDMI4
1.4a
Audio Input for HDMI
Internal
---
August 30, 2011 12:39 AM
Well more rumors have been spreading around the Internet about the highly anticipated iPhone 5. Things like the screen size, the processor, the camera, the size of the phone etc. One of the newest rumors isn't exactly a good one, its screen size, some say it will be 4 inches, some say 3.5(current) and some say it will be increase by a paltry .2″. Apparently they have designed a thinner bezel for the display panel, making the screen seems larger… sneaky buggers! The second and last rumor that I am posting is the release date. It is said to be released October 7th. All you Apple fanboys, save up your nickles and dimes, this one wont be cheap!
FYI. I Still love my Blackberry Bold 9900, and I will shout it from the rooftops! I will have an update on battery life and how to improve it, and trust me I spent many hours fooling around… stay tuned!
-NS
---