---
September 13, 2012 2:17 AM
"Let's just coast for a bit…"
That would be a funny statement, but Apple didn't even need to release anything new, and yet they did. Well they kind of just announced a skinnier iPhone 4S, with a slightly larger screen. iOS 6? So what, iPhone 4 and 4S can run it just fine… if you want the latest and greatest then go ahead and buy the new iPhone, sure it will look cool, for a few months, then all of a sudden you have new Nokia WP8 phones, and BlackBerry 10, nevermind the myriad of other Android phones coming out… and guess what? You might just be sick of that same old icon set, either jailbreak or finally move on. I expected more of Apple, and the video kind of explains what they may as well have done, and no I don't think their stocks would have risen. 🙂
Anyways, College Humor says it best!!!
September 12, 2012 11:43 AM
For the iSheep out there, the Official iPhone 5 Commercial!



Today is the day that a new era begins, the iPhone 5 will be announced, and expected to be released very soon after… is it really a new era? I am sure you will have to buy a whole bunch of new things for it, from accessories to cables etc. Go ahead and throw away your old chargers etc, because guess what, yep, they are changing the power and PC connector, no not to a standard connector, but to a new proprietary cable. Yay! Thanks Apple!
According to our sources, Apple's new, smaller 9-pin dock connector is dubbed "Lightning" internally. As of this evening, we believe that this name will extend to the new connector's marketing name. The moniker makes sense for two reasons. One: it goes along with the Thunderbolt connector name on the Mac (Thunderbolt and lightning!). Two: perhaps "Lightning" means that the new dock connector will be able to sync via a computer at faster speeds that the current 30-pin connector. With Apple's new USB3-enabled Macs, we'd hope so anyway. It will sell for around $10/pop. Source: 9to5 Mac

Apple will indeed release a new set of redesigned headphones under the name of "Earpod". The new headphones will feature a unique design and improved acoustics although it is not certain if these new headphones will replace the ones that come as standard or if they will be a premium model. source imore.com
Now if you are like me, you're curious, but won't be clamoring to go buy the newest iPhone 5. Don't get me wrong, Apple is going to make a bucket of money, but I will not support them. I am waiting for the BlackBerry 10, if you are like me check out the Facebook fan page where I post about the latest articles and feeds from all over the world. I have just started it, but if it turns out to be anything like my Asus TF700 page, it will turn into a bustling community of fans!
To those people who are going to pre-order, GOOD LUCK, as I am sure they will go out of stock very quickly. Follow iMore.com for live coverage on todays announcement.
---
September 10, 2012 3:42 PM
What a fun and simple feature to help out the masses…
The password peekaboo button…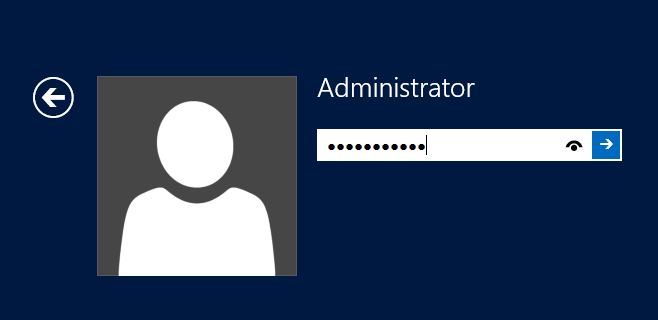 As seen above, if you are typing your password, instead of consistently backspacing the whole password, if you are positive no one is breathing over your shoulder you can quickly click on the peekaboo button, and your password will be revealed, so you can backspace a couple spaces and continue on with your password. Just don't type your password and then leave your desk, someone else might be able to "peek" at your password, of course there is a timeout, at which time it will revert to the CNTRL+ALT+DEL Login screen…  so don't worry about it too much!
What do you think about this feature? I personally love it, more tidbits to follow as I delve into the world that is Server 2012!
---
September 7, 2012 1:47 PM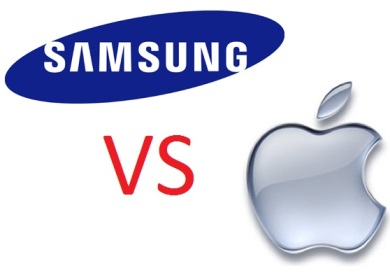 Wow, I guess Apple and Samsung are two children fighting in a sandbox!
Apple is reducing, or as they say diversifying their memory vendors… yeah OK Apple, say what you will. I think Apple is a little sour that Samsung is wanting to counter sue if the iPhone 5 uses Samsungs LTE technology (specifically to Samsung owned patents).
Here is an insert from ZDNet
Samsung remains the world's largest memory chip supplier by revenue, makes DRAM memory and NAND flash memory chips for the iPhone, iPad and iPod, but could be sidelined in favor of Japan-based Toshiba, Elipida Memory, and South Korea-based SK Hynix to supply memory and flash chips, which Apple is eyeing for the long-term.
And here is a link to the original article.
You know what Apple? I hope that Samsung does sue you, and I also hope that the BlackBerry 10, Android OS, and Windows Phone 8 are a success, just so your sales and your bloated market shares take a hit… the looming release of the iPhone 5 next week, I really hope its the same old thing, you need to change Apple… people are sick of looking at those stupid default icons.
Rant over.
---
September 5, 2012 1:06 PM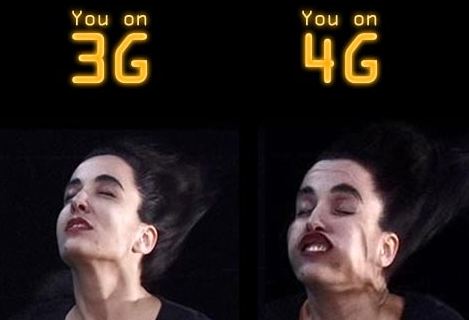 Yes you heard me right, 5G is looming, do not expect to see it any time soon, since 4G is expected to hit Winterpeg late 4th quarter 2012. 5G is more than just a speed boost, don't expect LAN speeds, but it will be faster. 5G will be more about meeting the expectation of service quality for  the millions of devices out there. Just think in the next 5 years, how many devices will you have connected to carrier networks, your watch, your phone, your laptop, your car, and the list could go on… We will need a stable network to handle all that, and to maintain the speeds that we expect. Hey give me 1MB/sec and I will be happy! I cannot wait for LTE to hit Winnipeg, I will be sure to post about it when it does!
---
August 29, 2012 12:52 PM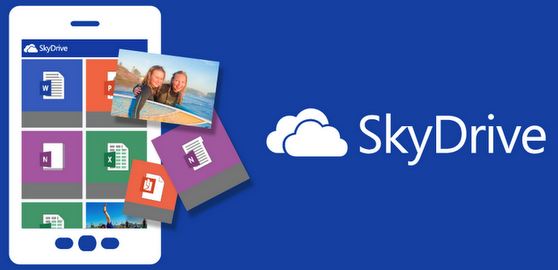 The official SkyDrive client has been released on the Google Play Store, and apparently its quite good. Out of 1267 people who have downloaded it already, it's rated 4.5+ stars!
Description
SkyDrive is the place to store your files so you can access them from virtually any device. With SkyDrive for Android, you can now easily access and share files on the go. You can also upload photos or videos from your phone to SkyDrive.Features• Access all of your SkyDrive content including files shared with you.
• View recently used documents.
• Choose multiple photos or videos to upload from your phone.
• Share your files and photos – send a link in email or in another app.
• Open your SkyDrive files in other Android apps.
• Manage your files – delete, or create new folders.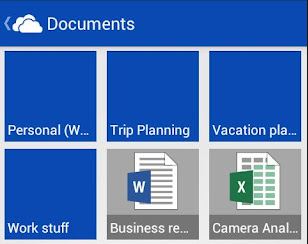 The Grid Interface is clean and easy to read, matching the Windows 8 interface, is that bad? SkyDrive for Android has also made sure you can share anything direct to the SkyDrive from any menu or application. Might I add that it is quite fast even on 4G! While in "List Mode" I ran through my directories in no time, picture previews, how many files exist in the folder, and how much data is in the folder, pretty slick!
Go here to download it to your phone. If you attempt to search for it on your phone, as of "right" now it isn't indexed into the search, that could change very soon though.
---
August 28, 2012 12:54 PM
If you are ready to start taking some Microsoft certifications, then now would be the time to start! The Second Shot is back, what that means is you can write an exam, then re-write if you don't pass.
Retake an Exam for Free
When you earn a certification from Microsoft, you prove to the world that you have knowledge and skills in the most current and specialized technologies and solutions. Passing the exams needed to demonstrate those skills can be tough, but for a limited time, you'll get a free second chance to succeed.

In today's challenging economic times, how do you stand out from the crowd, stay up to date with relevant technologies, and get the top jobs? Becoming a part of the Microsoft Certification program is a great start.

Sign up today for your Second Shot exam or exam pack. You'll save at least 15 percent on the cost of the single certification exams, and you'll be able to retake any exam you don't pass the first time, at no extra cost.

Here's how it works:

For Microsoft Certification packs: In addition to saving at least 15 percent on the cost of the certification exams, you get one free retake for each exam you don't pass the first time.
For single exams with Second Shot: If you fail your exam the first time you take it, you may use the same voucher for your retake exam.

Read the FAQ to find out more.

| Exams | Second Shot Availability End Date | Exam and Second Shot Expiration Date |
| --- | --- | --- |
| | May 31, 2013 | May 31, 2013 |
| Second Shot is attached to the following MCSA, MCSE, and MCSD certification exam packs and saves you at least 15 percent off single exam pricing: | May 31, 2013 | December 31, 2013 |
Go here to read more!
---
August 27, 2012 12:49 PM
If you work in the virtualization field you should go to this link now… Big things are happening in VMworld 2012 and you wouldn't want to miss it! Trust me I would love to fill you in on some goodies, but I am under strict NDA from VMware, so you will just have to believe me when I say it will be good!
VMware CMO Rick Jackson invites you to view the VMworld keynote live for breaking news that will help accelerate your transition to cloud computing.

Please join us on August 27 on VMware NOW for important announcements about VMware's cloud strategy and solutions.

VMware NOW is our digital experience that helps you explore how to transform your cloud infrastructure, with on-demand access to keynotes, new product overviews, demos and more.
With under 3 hours to go, head on over and fill out the form and stay connected!
---
August 24, 2012 1:41 PM
GizmoCanada.com, its unofficial Asus Transformer Pad Infinity page, and their users have shined a bit of light on the latest Android OS from Google. See insert below.
A lot of rumors are swimming around about Jelly Bean OS for the TF700T, and I believe some people are jumping the gun, now I know the update will go OTA in the coming months, as ASUS stated about a month ago. TF300T owners are lucky enough to know that the update WILL push out very soon, if not already. One site claims that updates are rolling out for the TF700T already, but almost 2000 users over at the Asus Transformer Pad Infinity Facebook Page (unofficial) it hasn't been seen.
So I guess all you TF700T owners will have to wait and see. If you are rooted, you will be out of luck, although modified ROMS will be released into the wild soon after the official OTA goes out. You must have patience, personally I think TF700T users waited long enough just to get their tablets!
-NS
---
August 23, 2012 1:31 PM
So rumors abound, it looks like the newest BlackBerry 10 phones will be powered by the Qualcomm's S4 Pro MSM8960T processor clocked at ~1.7 Ghz, this processor is a step up or the big brother to the processor found in the HTC One XL and ASUS Transformer Pad Infinity, so we will have some serious power here! The Adreno 320 GPU delivers WUXGA 1080p video performance and out performs most other mobile GPU's in the market today. The communication capabilities are as follows, BT 4.0, 802.11a/b/g/n (2.4/5 GHz), World Mode (LTE FDD/TDD CAT3, SVLTE-DB, TD-SCDMA, Rel9 DC-HSPA+, GSM/GPRS/EDGE, EGAL, 1x Adv., 1x EV-DO Rev. A/B), this will allow the phone to work all over the world.
I for one cannot wait to get my hands on this phone, as I've said before, I will definitely be going for the touchscreen device. I think I am going through BBM withdrawal!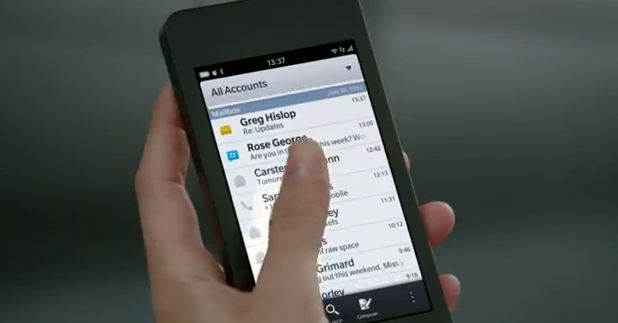 *note that this isn't the final design*
Since it will be a late Q3 to early Q1 2013 release more news and specifications will follow, and that means more hype, and the more hype the better the campaign, and the better the campaign the more BlackBerry users will get excited… I think RIM is doing a good job, keep it up. Now watch the videos below and get excited with me!
Here is a BlackBerry 10 Web Commercial

And this one is where Thorsten and one of his employees show off the BlackBerry 10 software.

---