---
January 19, 2014 1:50 AM
I remember when I first read about this, I seriously thought it was "Google Glass" in a contact, I feel a little dumb now!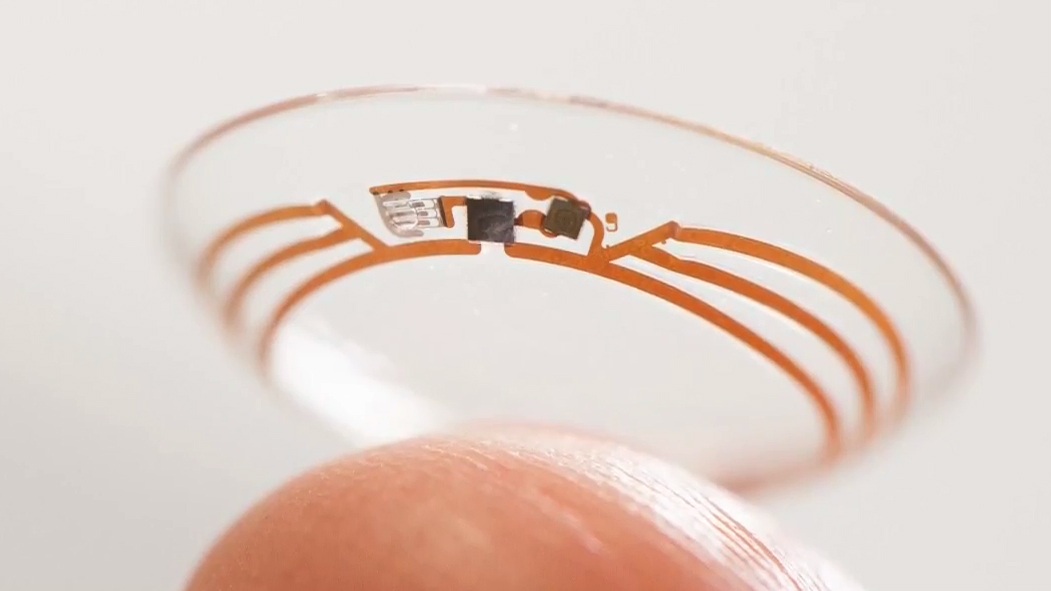 Now remember this is just in the testing phases, but this is supposed to allow people to know when they should give themselves a shot of insulin, is it for everyone? Probably not, I mean most diabetics that I have come across know when they aren't feeling right, if they are "high" or "low" and they will then test themselves. Using it on a child, I just don't think that would happen. This is more for the people who have trouble monitoring their glucose levels. Still this is great news for many people and shouldn't be overlooked as an option (when its ready of course).
"We're testing prototypes that can generate a reading once per second. We're also investigating the potential for this to serve as an early warning for the wearer, so we're exploring integrating tiny LED lights that could light up to indicate that glucose levels have crossed above or below certain thresholds," Google stated in a blog post."
What do you think of this latest wearable?
January 19, 2014 1:34 AM
Well this was bound to come along, I am quite surprised that it has taken so long. SmartOne is a device that will monitor your child, letting you know if s/he is moving, sleeping, breathing, or if s/he has rolled over, it also let you know if the room is too warm. Sensible Baby and SmartOne gives everything a new or experienced parent would love to know all right to your smartphone.
The SmartOne is composed of a specially designed infant onesie with a pocket on the chest that houses the sensor. The sensor has the capacities of connecting directly to your smart device via Bluetooth Smart™. It can monitor the position of the baby (on belly or back), the temperature around them (too hot/cold or change too rapidly), movement or breathing. The best part is the system filters this information and only sends alerts when it senses a change outside the conditions you set.
If you would like to learn more, go here.
---
January 19, 2014 1:14 AM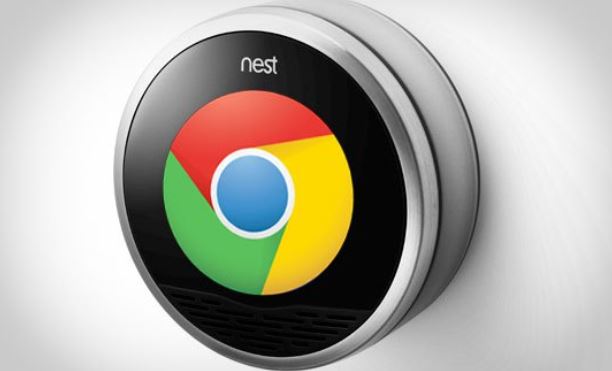 What's Nest you say? Well apparently you have been living under a rock for the last while, Nest is a home thermostat that is compatible with thousands of home furnaces, allowing you to set schedules, modes, temperatures, and away modes all from your smartphone. Check out the video below.
Now onto the good news, Google has purchased Next for 3.2 billion dollars, what does that spell for current and future owners? A thriving ecosystem of technology, constant updates, and now Nest will most likely be incorporated into Android Phones, ie: outside temperature and temperature of your home, that kind of stuff!
"They're already delivering amazing products you can buy right now–thermostats that save energy and smoke/CO alarms that can help keep your family safe," said Google CEO Larry Page in a statement. "We are excited to bring great experiences to more homes in more countries and fulfill their dreams!"
I am thinking a "smarthome" that pairs with your "smartphone" I wonder what else Google has up their sleeve, and I sure cannot wait to find out!
---
January 7, 2014 2:04 PM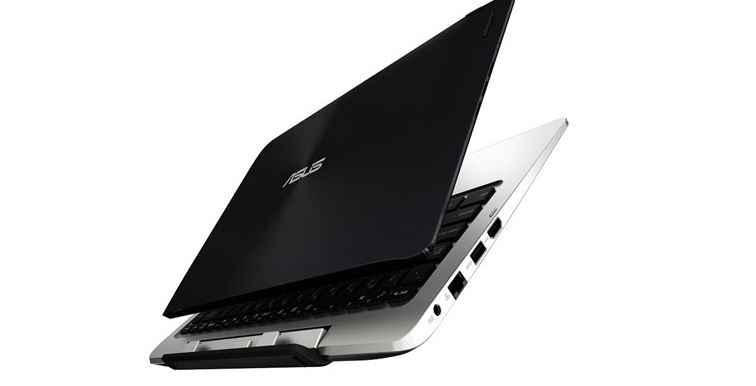 Finally a proper joining of the two operating systems, Windows 8.1 and Android 4.2.2. The Transformer Book Duet will run the two operating systems on a fourth generation Intel processor, allowing you to seamlessly switch between Android and Windows with the push of a button. Don't worry about security, the two will run separately. The only thing this machine cannot do is run iOS apps, and that my friends is why Apple will lose this battle. You can only horde your ecosystem so long until people leave it behind for greener grass. Note that AMD is also pursuing a duel ecosystem environment, but they are going about it in a different way, which honestly may be better…
In addition, Transformer Book Duet TD300 has a front-facing HD camera with a built-in digital mic for video chats. The tablet display has 128GB of SSD storage that can be supplemented by a 64GB Micro SD card, while the keyboard dock houses up to a 1TB hard disk drive. The dock is also home to USB 3.0 and USB 2.0 ports, a LAN port, and HDMI 1.4 output with 1080p support. In terms of connectivity, ASUS Transformer Book T300 has 802.11ac Wi-Fi and Bluetooth 4.0 with EDR. source asus.com
The Transformer Book Duet starts at $600, more information as it becomes available.
---
January 7, 2014 2:48 AM
A hardware update has been in the works, and almost ready for shipping, the official shipping date is January 28th.
At 250$ Pebble is hoping to attract the more prideful tech, one who wouldn't be caught dead wearing a plastic smart watch (no matter how smart it is).
They may be onto something… read on…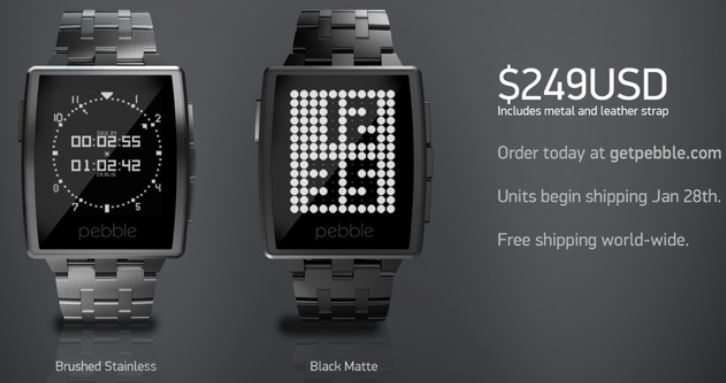 Pebble Steel will ship with the new "OS 2.0" and uses the new corning gorilla glass instead of plastic like its predecessor. Also with Steel you will have access to the new Pebble Store, which will also work with the classic Pebble, after its software update. Apps are sorted into 6 categories: Daily, Fitness, Remotes, Tools & Utilities, Notifications, and Games.
Some quick features, a couple already mentioned:
Crafted with stainless steel and Corning® Gorilla® Glass
 Every Steel Comes with metal and leather straps
 Fully compatible with all Pebble apps
 New Tricolor LED
 Free worldwide expedited shipping (for early orders)
Unfortunately from what I gather the Pebble Steel will not support color of any sort, I know colored e-paper is out there, not sure why Pebble wouldn't want to incorporate it. The Pebble Steel does have an RGB LED for notifications which will come in useful. Even with everything above, this will not get me to budge. I have enough wearable's to deal with right now, if my current set of devices start to bore me, then I may look towards Pebble in the future, but they have to have a color version… or its a no go for me. I also kind of want to watch the scene and see what Google and Apple have under their sleeves…
Go here to check out the full press release from CES 2014
---
January 7, 2014 2:13 AM
Google VP9 is quite an accomplishment, video encoding has come a far ways since the AVI and MPG codecs of old. VP9 will allow we the people to stream 4K media at much lower bandwidth costs, as you can see in the picture below, VP9 looks much better at the same bandwidth as H.264. Google's VP9 Video Codec already has backing from ARM, NVidia, Sony and others, and considering they own YouTube, we can definitely see VP9 video streaming getting a fighting chance.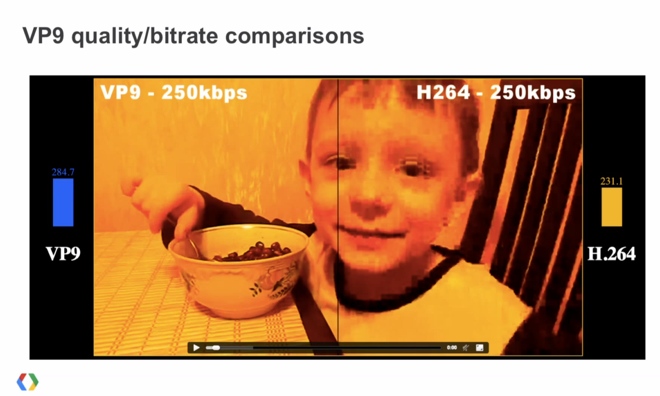 Of course Apple doesn't have any interest in supporting the codec. One can only ask, will Youtube stop working? Will Apple bend to the masses and accept VP9 as a viable codec?
Go here for the full story.
---
January 7, 2014 2:06 AM
If you don't know what "Typo" is, it's a keyboard for your iPhone, basically turning it into an iPhone with a BlackBerry keyboard. The makers of Typo, say they respect BlackBerry and its intellectual property, yet plan to officially launch their product at CES this week.
You can judge for yourself, but I think BlackBerry may have a case with this one… check out the pics below.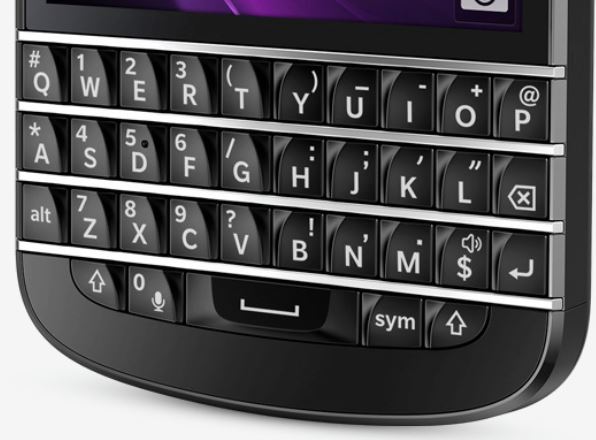 Now if you ask me the one above, looks quite a bit like the one below…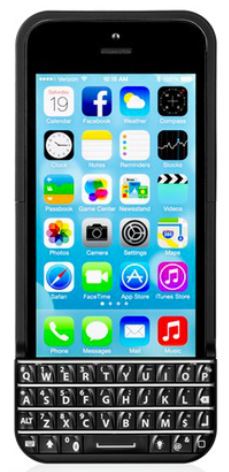 And besides for aesthetics? Your iPhone will be super long, well I guess no longer than my Galaxy Note 3! But long none the less. Do you think this is a low blow by BlackBerry? Think they should have made the product first? For the most part I think all is fair in love and war, but let's not straight out copy anyone. If Typo proves itself as not having infringed on any patents then I wish them luck, on the other hand, if they have, they should cease and desist.
---
December 31, 2013 4:53 PM

"Pure Performance ACCELERATED The GeForce® GTX™ 780 Ti is the best gaming GPU on the planet. It delivers an extreme experience to game at the highest resolution at ultra settings with quiet, cool performance."
Bold words from Nvidia, but when you are telling the truth, is it showing off? The GTX 780 Ti is in fact the most powerful card on the market right now, dethroning the R290x, check out the specifications below.
GTX 780 Ti GPU Engine Specs:
CUDA Cores 2880
Base Clock (MHz) 875
Boost Clock (MHz) 928
Texture Fill Rate (GigaTexels/sec) 210
GTX 780 Ti Memory Specs:
Memory Speed 7.0 Gbps
Standard Memory Config 3072 MB
Memory Interface GDDR5
Memory Interface Width 384-bit
Memory Bandwidth (GB/sec) 336
Now don't get me wrong this card isn't for everyone, not too many people would pay 700$ before taxes just on a video card, but if you want the best, and you want to take advantage of G-Sync, then you would get this card along with ASUS' 24″ G-Sync enabled monitor, pair those two together and you have some amazing eye candy! 144 Hz rapid refresh rate and 1ms (GTG) response time, good bye vsync!
---
December 31, 2013 4:33 PM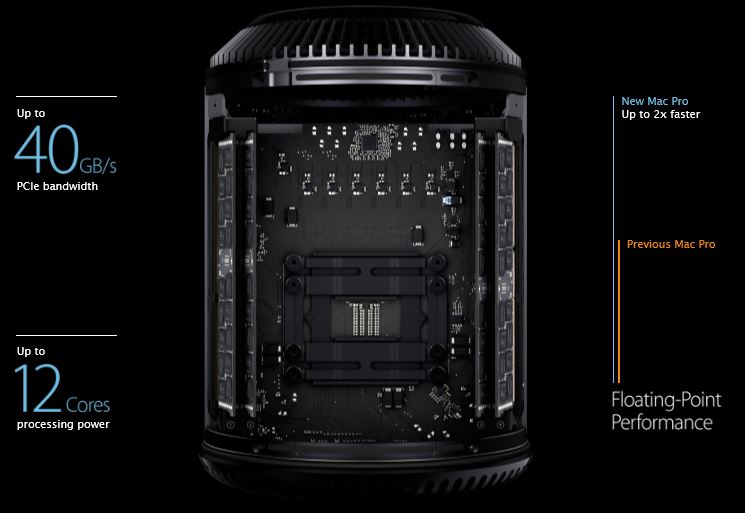 Welcome to the worlds the fastest Mac Pro ever created. How much do I care? Not so much, but I still want to follow Mac and their exploits. We all know that I don't like Mac, but I have got to hand it to them, this is a pretty machine, would I ever buy one, No. Why? Because I don't care about pretty when it is sitting under my desk. I am still running a Core i5 Sandybridge processor and I can do anything and everything I want, that's not to say that I don't want more, and couldn't use more, it just that I just don't need it right now. Anyways, this is about the Mac Pro, the very expensive Mac Pro, so let's start with the specifications, check them out below.
3.7 GHz Quad-Core Intel Xeon E5 processor
16GB 1897 MHz DDR3 RAM
Dual AMD FirePro D300 graphics cards with 2GB of RAM each
256GB SSD
6 Thunderbolt 2.0 Ports, 4 USB 3.0
802.11ac + Bluetooth 4.0
MSRP: $2,999
Pros
No faster Mac exists under the sun.
It's like having an exhibit from an industrial design museum in your house.
Cons
It's super expensive.
Bring your own screen/everything.
These specifications came from Techcrunch, feel free to head on over for an unbiased review, because clearly I am rooting for white box/custom build supremacy 🙂
So as you look over the pros and cons, nothing really gleans out at me, if you are looking to build your own monster you can head on over to PC Gamer and check out their budget, baseline, and performance builds, note that these are primarily built for gaming, and they state in the performance model you can trade a few things and upgrade to a hexa-core processor which would give the above Mac Pro a run for its money allowing for more SSD and 3TB of spindle disk for 600$ less, mind you its still BTOKBMM (Bring your own keyboard/mouse/monitor)
Anyways,  you make up your own mind, you know where I stand!
---
December 23, 2013 8:07 PM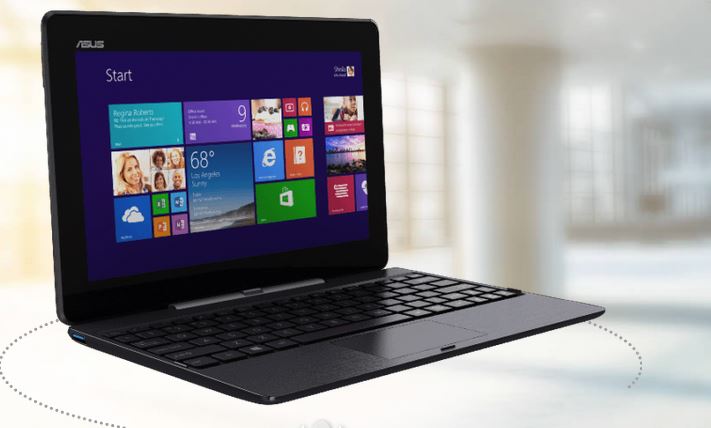 I like it when I read positive reviews on Windows 8.1 Tablets, it's gets me all excited, so much so that I would want to buy the device being reviewed! One thing holding this version is its screen resolution, I would personally rather pay a little more and get the T300. But then again the average user doesn't care, and they are looking for a more portable solution, thusly the T100 would win in that category. Check out the specifications below.
| | |
| --- | --- |
| Processor | Quad core Intel® Atom™ processor |
| Operating System | Window 8.1 with MS Office Home & Student 2013 |
| Main Memory | 2GB |
| Storage | 32G/64G eMMC with ASUS WebStorage |
| Display | 10.1″ HD (1366*768) IPS with multi-touch |
| Graphics | Intel HD Graphics |
| Camera | 1.2Mp camera |
| Battery | 31Whr (11 hrs) |
| Dimensions | Tablet: 10.4" x 6.7" x 0.41" Dock: 10.4" x 6.7" x 0.51" |
| Weight | Tablet: 1.2 lbs Dock: 1.2 lbs |
Not bad for 349$ (32GB version) If you are looking for a good review on the device head on over here.
---