---
December 14, 2012 2:00 PM
Finally Google Maps is back, and it kicks Apple Maps all over the place! We all know Google didn't have to do this, they could have let people suffer with Apple Maps, but being the kind hearted superhero they are, they saved Apple users from the demise that was Apple Maps… The only thing I find missing that is on my HTC One X, is downloading offline maps…
Anyways, here are the details… straight from iTunes.
Navigate your world with Google Maps, now available for iPhone. Get comprehensive, accurate and easy-to-use maps with built-in Google local search, voice guided turn-by-turn navigation, public transit directions, Street View and more. Use Google Maps to discover great places to eat, drink, shop and play, with ratings and reviews from people you trust. Sign in to save your favorite places and quickly access all your past searches and directions from your computer, right on your phone.

Search * Find addresses, places and businesses around the world with Google local search. * Discover places to eat, drink, shop and play, with ratings and local reviews. * Sign in to sync your searches, directions, and favorite places between your computer and your phone.

Directions * Get voice guided, turn-by-turn driving directions. * Find your way by train, bus, subway or walking directions. * Access live traffic information in cities across the world.

Street View and imagery * View 360-degree panoramas of places around the globe with Street View. * See inside more than 100,000 businesses worldwide. * View high resolution satellite imagery of locations around the world.

Simple and easy to use * An entirely new Google Maps experience on your iPhone. * Newly designed and streamlined interface for even easier navigation of your world. * Use gestures to explore the map and browse results.
Download here or search for it in the App Store from your iPhone. Safe Travels, no more falling off the edge of the world, or driving through melted buildings! Sorry I had to say it! 😉
December 12, 2012 6:07 PM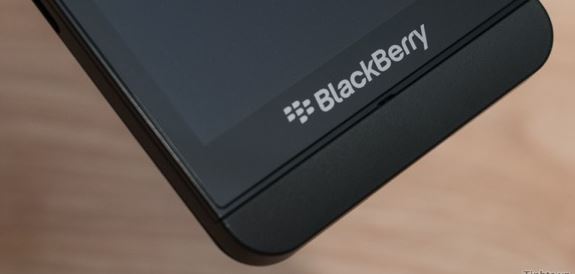 If you have any interest in what BlackBerry is up to, watch this video…

Also Check out the "all new pictures" just featured in a CrackBerry post yesterday evening… very exciting news, I think it would be time to buy some RIM stock… 49 Days until BB10 hits the streets!
---
December 11, 2012 2:38 PM
So you want to move your Server 2003 Servers to a clustered environment in VMware. First thing I must mention is  that it is supported by VMware but not Microsoft. So it should be pristine before and after migration. The problem I had been facing was that I would have a two node cluster with SAN attached storage, I wanted to present those LUNs to ESXi, when doing so I ran into a couple issues.
Reboot of the host, it takes extremely long to reboot (ESXi / ESX hosts with visibility to RDM LUNs being used by MSCS nodes with RDMs may take a long time to boot or during LUN rescan), the fix is here.
After mapping to an RDM, you cannot browse the containing folder. You need to be able to browse to the containing folder to map the second VM, to be able to run Cluster Across Boxes. If you cannot browse your cluster is already finished before it started. The solution to this one wasn't as straight forward, I couldn't find any concrete evidence anywhere of hos to bypass this or why it was happening, Server 2008 R2 works fine. Either way, I did happen to find a partial solution, if both physical nodes were shut down, I was able to bind to the disk and browse the folder of the RDM VMDK pointers. The second test was to see if I could bind to RDM disk that was present on the primary cluster node, so I shut down the secondary node, bound the RDM LUNs to my VM, and to my surprise I was able to boot up the VM. What I did find that kind of led me to this, was that Server 2003 only supports 2 active nodes in a cluster with SCSI SAN Disk, even though the physical hosts were Fibre Channel, I guess the 2 node part stands…
The main thing is to remember that Windows Server 2003 holds SAN storage differently than Windows Server 2008, 2008 is more exceptive of other machines seeing shared storage, while Server 2003 will have none of it. In the end since it is not supported, its up to you to make it work, and keep it working. Most consulting firms suggest moving to 2008 R2 Clusters, or just don't bother clustering at all. Let HA(High Availability) do the work.
Good Luck… Questions Leave a comment.
---
December 10, 2012 2:16 PM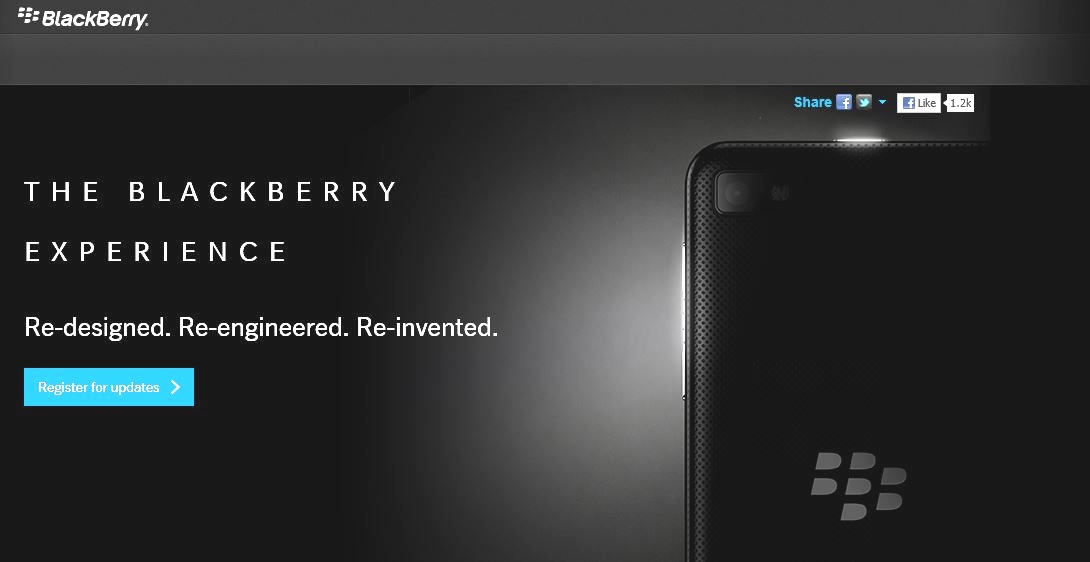 RIM has put up a new BlackBerry 10 information page where you can sign up for new information. You also get a peek at the back of the new device, where you can see the camera lens and LED flash. You also see volume buttons, and  I am not sure what that is on the top, maybe an LED for notifications, or just the Lock button, like we are currently used to. This sure doesn't look like anything I have seen, I am thinking the design is going to be much more streamlined than  the phones they have been giving away for development. It also look way different than the devices used in their commercials.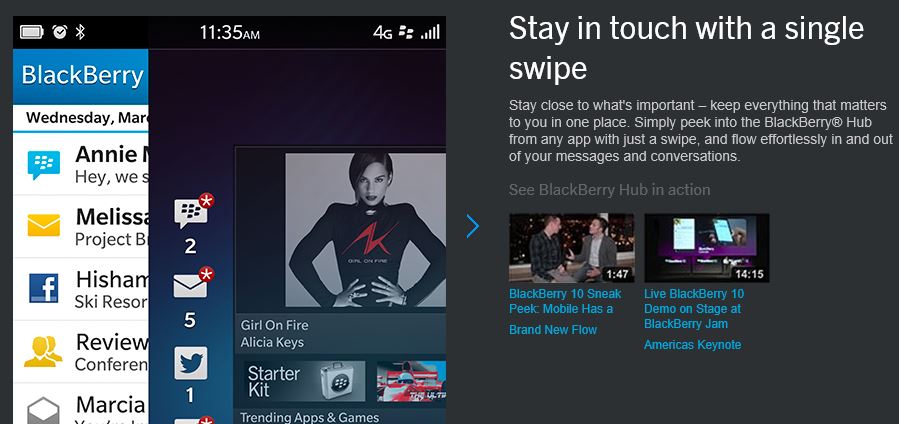 The above picture which is on the site as well, gives those that haven't seen "Flow"" a small taste of how it will work. Go here to check it out!
---
December 7, 2012 8:10 PM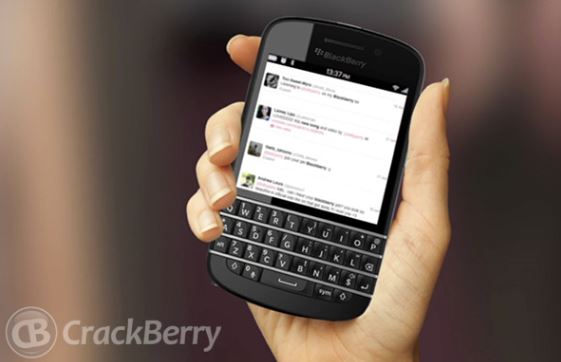 Sad news if this is true… apparently a Forbes representative wrote an article based on a research note.
Although this write is of little note, he may be correct. RIM will not release a device that they feel is not ready.
I am sure the full touchscreen device will be awesome, I guess we will see when RIM releases the BB10 OS to PlayBooks all around the world, considering it will be the same OS.
I don't know if I mentioned this before, but this is a powerplay that RIM is holding onto, an ace in the hand so to speak… I am very excited to see what happens when BB10 OS is released…
Now back to that Qwerty phone, RIM please don't wait too long before releasing new on this device, the people need more info…
Read the full story here.
---
December 7, 2012 1:41 PM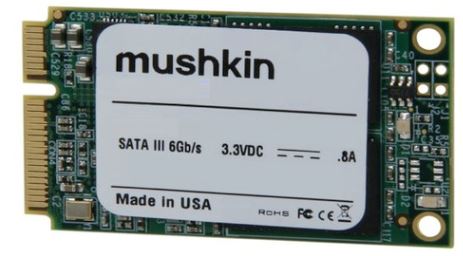 … is aimed at next years ultrabooks. This tiny device packs 480GB of raw SSD power.
Until now, the broadly accepted upper capacity limit to those drives has been 256GB. Apple offers a 512GB upgrade when you buy a MacBook Air, but there are very few third-party, high capacity SSDs available to upgrade with. source Gizmodo
Remember that this is for those ultrabooks that don't even have room for a 2.5″ drive, other devices that this can be used in would be net-tops, possibly tablets needing more storage and horse power. I would also love to see this mSATA devices get enclosures, so you could have a tiny 480GB sized HDD in your pocket… I'm thinking eSATA or USB 3.0.
Read all about it here.
---
December 3, 2012 10:41 PM
My personal favorite BlackBerry Site, CrackBerry is on top of the news that a list of accessories was leaked, it's nice to see that they will have a bunch of new accessories to complement our shiny new BlackBerrys!
Until now we've been all about the BlackBerry 10 hardware and software but haven't seen much related to accessories. Today a leaked slide has surfaced that shows off some of the BlackBerry 10 cases we might expect for the upcoming devices. The list includes various BlackBerry 10 accessories including the Transform Shell, BB10 Flip Shell, Holster and BB10 Leather Pocket. Also on the list are the BB10 LS-1 Battery, BB10 Battery Charging Bundle and BB10 Multimedia Dock. Source CrackBerry.com
Are you planning on waiting till January 31st? You did know that when the phones are announced that I believe all BlackBerry Playbooks will get the new OS pushed, because they have so many out there, it will really show people just how awesome BB10 is, I personally cannot wait!
Anyways head on over to the source link and see the list for yourself.
---
December 3, 2012 10:25 PM
So as you all know I had a Nokia 920 phone for about a week, I liked it a lot, only thing missing was native Google apps and Instagram (yes I am addicted), other than that it was a great phone, solid, quick, WAY better than the HTC 8x (sorry HTC, your phone is small and lags). The main issue for me was a personal peeve, basically the phone rattled when it vibrated, people all over the world were reporting this, and Nokia never had a quick answer, return the phone and we will replace it, unfortunately, most of the returns had the same issue. Most people say it's a floating lense issue, then why is the rattling coming from near the sim slot? No removing the card and sim did nothing… I went to my local Rogers shop and promptly returned the phone. Trading it in for the HTC 8x, I won't even get into how quickly I returned that phone. So here I sit, no Windows Phone for me, back to BlackBerry until BlackBerry 10 is released. Sorry Microsoft, your manufacturers messes up, Maybe the Samsung ATIV S will be better, it has to be, or Windows Phone 8 will not survive… Rant Over.
---
November 21, 2012 5:03 AM
Okay so I got my grubby paws on a Nokia Lumia 920, so far so good, it's definitely a whole new world.
The quick and dirty is that most apps we are used to are supported, awesome, a full list of what I use is forthcoming…. There is an official Facebook (from MS) which is different, but it gets the job done. ANYWAYS, I have just sidetracked myself…
Google Reader, hands down cannot live without it… so how do you get it working on Windows Phone 8?
That's easy enough, install NextGen Reader (1.29, but you can try it for free) then create an application specific password for it from your GMail account.
Sign into NextGen Reader using your Gmail email address and the application specific password and you should be good to go!
Did I mention that the camera is amazing? There are lots of cool new features I would love to go over, but right now I have to get some rest. My personal review is soon to follow. But so far I am impressed, let's see how long this 2000mAh battery lasts…
---
November 20, 2012 1:40 PM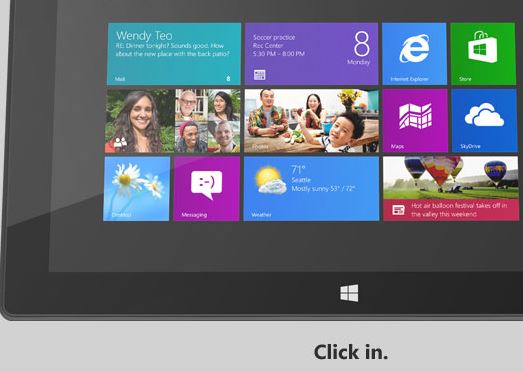 Microsoft has recently released a Windows 8 and Server 2012 update KB2770917.
From the KB:
This article describes the cumulative update for Windows 8 and for Windows Server 2012 that is dated November 2012. This cumulative update package includes performance and reliability improvements for Windows 8 and for Windows Server 2012. We recommend that you apply this cumulative update as part of your regular maintenance routines.

This cumulative update includes the following performance and reliability improvements:

Enable enterprise customers to customize the default lock screen.
Improves the performance when you wake the computer and when the computer is asleep, in order to improve battery life
Resolves an issue that may prevent Windows Store Apps from being installed fully
Other software updates and performance improvements
So instead of that boring Windows 8 welcome screen, you can set a corporate IT Logo and push it to all your corporate machines. I am going to install this update right away as my Windows 8 machine, an Elite Book 8470p, doesn't like to come out of sleep gracefully…
Here are the download links
Update for Windows 8 (KB2770917)
Update for Windows 8 for x64-based Systems (KB2770917)
Update for Windows Server 2012 (KB2770917)
Please feel free to let me know if this patch improved your systems performance in any way!
---