---
January 9, 2013 1:38 PM
Petri.co.il has been a very helpful site over the years, no matter what platform or application. Today I bring you Petri's top 10 Performance Tweaks, all of them are valid, but not all can/would be used in your environment. It sure doesn't hurt to read this though. Below you will find the list in reverse order, and in fairness to the original author I can only post some details, the rest you can read in a link below.
10. Install VMware Tools in all virtual machines
9. Use the latest VM virtual hardware version
8. Run the latest version of vSphere
7. Utilize Distributed Resource Scheduler (DRS)
6. Consider SSD
Another way to utilize SSD with vSphere to improve performance is to utilize the vSphere host-caching feature such that if a host is low on RAM, the host-swapping option is used to swap memory to low-latency disks that you specify (such as SSD). Now, if you use swap to host cache, remember that it's not the same as placing regular swap files on SSD-backed datastores — the host still needs to create regular swap files. Even so, when you use swap to host cache, the speed of the storage where the host places regular swap files is less important.
5. Reduce VM snapshots
Too many admins think that snapshots are for periodic backup purposes and leave many GB of snapshots on disks. Besides being a waste of disk space, VM snapshots slow down many things such as svMotion of the virtual disk, backups, disaster recovery, and more.
4. Utilize Storage I/O Control (SIOC) and Storage DRS (SDRS)
3. Replace your hardware
2. Right-size virtual machines
Where underallocation can certainly cause performance issues, overallocation can also cause slowdowns for other VMs that can't gain access to the memory that they need. By knowing your application and monitoring its performance, over time you'll better be able to "right-size" the virtual machine that it runs on.
1. Use capacity analysis tools
vCenter Operations Manager is a very useful tool from VMware.
 So there you have it, as I said before, some tips may be impossible for you to implement, depending on your situation, either way take some of these into consideration, and you might make your life easier! Go here to read the rest.
Don't forget about VMware's own document on Best Practices : Performance Best Practices for vSphere 5.1 – VMware
January 8, 2013 4:16 PM
As the above title states, USB 3.0 is getting a boost, I would gather a software boost, where throughput will be increased to 10Gbit/second, which blows away current SATA 6G speeds.
"SuperSpeed USB (that's USB 3.0, if you're curious) enhancement that will "add a much higher data rate, delivering up to twice the data through-put performance of existing SuperSpeed USB over enhanced, fully backward compatible USB connectors and cables." This supplement to the USB 3.0 specification is anticipated to be completed by the middle of this year, bringing along a new 10Gbps data rate" source engadget.com
So does this mean we can hook up our OCZ Vector and see speeds above 600MB/second? I would think so, as right now SSD drives have reached the limits of SATA 6G. This is big news for the technology community, it allows USB 3.0 to compete with Apple's Thunderbolt.
---
January 8, 2013 4:08 PM
Wow… just think a phone that can shoot 2160p video at 30 frames per second, by the middle of 2013… Qualcomm is looking to increase overall performance by 75% with its Snapdragon 800 processor.
Here are some features.
a shift to a 28nm HPm ("High Performance for mobile") fabrication process
an upgraded Hexagon V5 digital signal processor
the adoption of 800MHz LPDDR3 memory to match up to the PC-like 12.8GB/s bandwidth of Samsung's Exynos 5
an all-new Krait 400 architecture running at higher clock speeds of up to 2.3GHz
an equally new Adreno 330 GPU that'll offer a double helping of compute power
This makes you wonder, will they make screens more dense, do you think its feasible to put a 2160p screen on a phone? You wouldn't be able to see pixels anymore at that point… but if they can do it then why not? I sure wish they would improve batteries as quickly as they do processing power! Now that would be innovation.
Look forward to more posts in the coming future about these new SoC chips, which phones they are used in and how they will improve our lives. 🙂
---
January 4, 2013 2:22 PM
With Start8 you can bring back the start button you miss so dearly, it even lets you pin Metro Apps! I have been using it, and the trial just ran out, now I miss it, I think its definitely worth the 5$ price tag!
Before Start8

After Start8

Return the Start Button to Windows 8
Windows 7-style Start menu with Windows 8 enhancements
Search for Windows 8-style (Modern UI) apps
Pin desktop and Metro apps to the start menu
Jump List support
Unified Search for apps, settings and files
Boot directly to the Windows 8 desktop
One click access to shut down, devices, music, documents, and videos
Read all about its feature set, and download a trail today.
---
January 3, 2013 10:46 PM
Yes I said it, if you didn't think they would be launching it soon, then you have been living under a rock! I say that kindly though! We all knew it, and it isn't official, but it is going to happen. Will they call it the iPhone 6? Probably not, consensus says they will call it the iPhone 5s.
If they do call it the iPhone 6, it may come with a lot of enhancements, like an edge to edge screen(does that mean another column of icons?!), removal of the home button, distinctively curved glass, 128GB of memory, although they still may be sticking with a smaller screen than most competitors, some say 3.7″, which is still one full inch smaller than most phones. I am not sure how much more they can improve the camera, the 4s and 5 have a very good camera.
A recent rumor is that Apple is testing a new touch interface, which is supposed to fix buggy touch responsiveness when swiping at extreme angles. Click here to read more.
So here I stand, a tried and tested Android fan, will I ever go back to Apple? Not if I can help it. BlackBerry 10 is launching very soon, and I am interested in how  the phone will actually look, feel, and operate.
For once in my life I will not be an early adopter, BB10 will be pushed to the Playbook, so I will test it out on there first.
I will be referencing this article as more rumors are released, so stay tuned!
---
January 3, 2013 8:33 PM
Hey everyone, so hope everyone had a Happy New Year!
In this post I am highlighting Microsoft's Second Shot for Prometric Exams. Here is a quick insert.
Buy a Certification Set of Exams and save up to 15% plus get free second shot

Laid out below are the sets of exams for MCSA: Windows Server 2012, MCSA: Windows Server 2008, and MCSA SQL Server 2012 certifications. These exams are prerequisites for achieving an MCSE (Microsoft Certified Solutions Expert) certification. These sets of exams save you up to 15% off regular exam prices, and for a limited time comes with a 2nd shot attached to each exam.
So basically this is kind of like an insurance policy, if you happen to fail the initial exam, I myself haven't had to use one of these vouchers, but since it is free, why wouldn't you? It can definitely take some of the financial burden off of you knowing that if you do fail the exam, you do not have to pay for a second time.
So head on over here, register for the exam and your second shot and you will be on your way to Microsoft Certification!
---
December 19, 2012 1:29 PM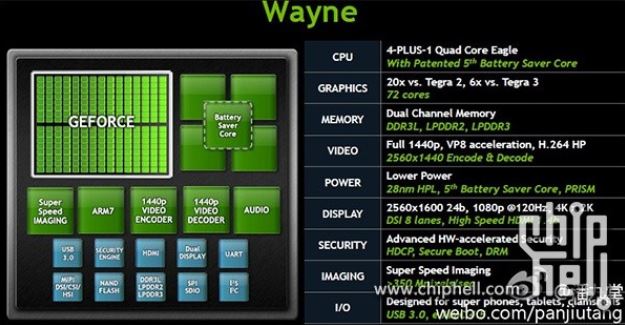 Introducing the Tegra 4 Processor.
 The Tegra 4 will be a 28 nanometer ARM Cortex-A15 quad-core (4+1 as seen in the Tegra 3) system on chip. The A15 architecture is the next generation of silicon, and is already being used in the Exynos 5 as seen in the Nexus 10. The lower power draw and faster processing speed make a remarkable difference when you need it.

The GPU is a whopping 72 core GeForce unit, bringing six times the graphical performance of the Tegra 3. With support for a full 2560×1440 24 bit color display and native hardware decoding for video, it should be able to handle anything you could throw at it in a tablet.
6x more powerful than its predecessor, yet using less power, that's awesome news. We have to remember though that with all smartphones, its the screen that takes up the most battery. So should you get that 1080p display, or is 768p enough. Currently I am perfectly fine with 1280 x 768, I guess we shall wait and see what the future holds. One thing I heard is that Samsung is starting to manufacture an unbreakable bendable display, what? More on that to follow…
---
December 18, 2012 2:22 PM
So your ESXi host is stuck at a PSOD or the "Purple Screen of Death", what do you do? Well one would figure its hardware, but it also could be software related. Well I am going to tell you how to download and review the error logs. Mind you the way I am going to explain it is if the host can boot up and be connected to either vCenter or VI Client. I will also show you a command you can run from the service console if you just want the support logs to send to VMware.
Onto the Information.
First you want to have the host back up and running, it could be unstable at the moment, but you should have enough time to pull the support logs.
Highlight the host in question. Click on File (top left of the VI Client), then click on "Export" then "Export System Logs"
Your next screen will allow you to select the system logs you would like to export, I just select them all. Once you click next you can select where you want to export them to. Click next to start the export.
Use a program like 7-Zip to extract the newly created file to a temporary location, once it is extracted you need to extract again, I know, they doubled up the compression, more so to keep the normal folk out! 🙂
Once everything is extracted you should see the following folders.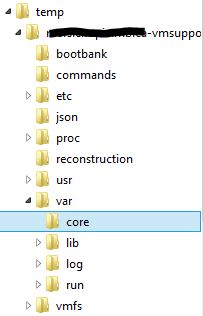 The most important one is the "Core" folder which contains the kernel dump, the PSOD will purge what was in memory to a file called vmkernel-zdump.1 or something to that affect and place it in that directory.
You will have to use something like NotePad++ to open the vmkernel-zdump file, once you do, you can pretty much search for "error" or "fail" or "panic" and you should find your issue. In my example, there is a memory bank error, see below.
2012-12-17T13:07:25.816Z cpu19:8211)MCE: 1278: CMCI on cpu19 bank9: Status:0x900000400800009f Misc:0x0 Addr:0x0: Valid.Err enabled.

2012-12-17T13:07:25.816Z cpu19:8211)MCE: 1282: Status bits: "Memory Controller Read Error."

2012-12-17T13:07:26.367Z cpu19:8211)MCE: 1278: CMCI on cpu19 bank9: Status:0x900000400800009f Misc:0x0 Addr:0x0: Valid.Err enabled.

2012-12-17T13:07:26.367Z cpu19:8211)MCE: 1282: Status bits: "Memory Controller Read Error."

2012-12-17T13:07:28.528Z cpu19:8211)MCE: 1278: CMCI on cpu19 bank9: Status:0x900000400800009f Misc:0x0 Addr:0x0: Valid.Err enabled.

2012-12-17T13:07:28.528Z cpu19:8211)MCE: 1282: Status bits: "Memory Controller Read Error."

2012-12-17T13:07:33.595Z cpu19:8211)MCE: 1278: CMCI on cpu19 bank9: Status:0x900000400800009f Misc:0x0 Addr:0x0: Valid.Err enabled.

2012-12-17T13:07:33.595Z cpu19:8211)MCE: 1282: Status bits: "Memory Controller Read Error."
Once you know what you are looking for, you can go ahead and run a memory diagnostics on your host and find the offending memory modules.
If you cannot see the vmkernel-zdump file follow  the steps below. Thanks to gsilver in the forums for this info.
If you don't have a vmkernel-zdump in /root, you'll need to retrieve it first.  Look at your disk and find the "Unknown" partition (in my case /dev/cciss/c0d0p9

fdisk -l /dev/cciss/c0d0

Disk /dev/cciss/c0d0: 146.7 GB, 146778685440 bytes 255 heads, 63 sectors/track, 17844 cylinders Units = cylinders of 16065 * 512 = 8225280 bytes

Device Boot    Start       End    Blocks   Id  System /dev/cciss/c0d0p1   *         1        65    522081   83  Linux /dev/cciss/c0d0p2            66      1370  10482412+  83  Linux /dev/cciss/c0d0p3          1371      1631   2096482+  82  Linux swap /dev/cciss/c0d0p4          1632     17844 130230922+   f  Win95 Ext'd (LBA) /dev/cciss/c0d0p5          1632      1892   2096451   83  Linux /dev/cciss/c0d0p6          1893      2153   2096451   83  Linux /dev/cciss/c0d0p7          2154      2414   2096451   83  Linux /dev/cciss/c0d0p8          2415      2479    522081   83  Linux /dev/cciss/c0d0p9          2480      2493    112423+  fc  Unknown

Then get the dump

vmkdump -d /dev/cciss/c0d0p9

Then dump the binary dump to a useful log:

vmkdump -l vmkernel-zdump.1

Then you can analyze it:

tail -20 vmkernel-log.1
There you have it, ESXi troubleshooting at its finest! Good Luck! Any questions, you know where to find me.
Links Used to find this information.
Collecting diagnostic information for VMware ESX/ESXi using the vSphere Client
---
December 18, 2012 1:31 PM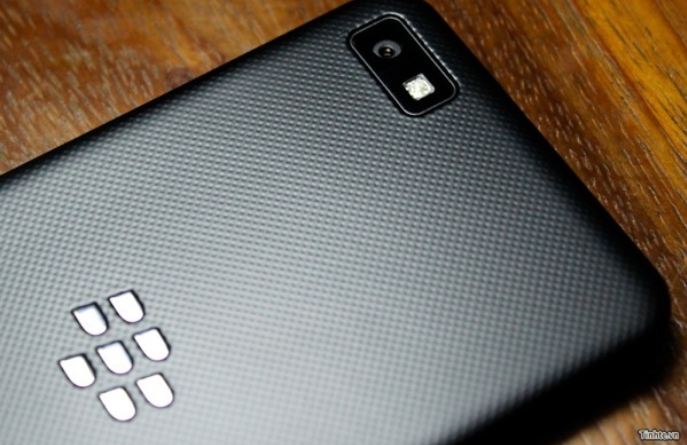 You know it's going to happen, someone in your company, or some people will want the new BlackBerry 10 phone, so why don't you get one for free?
BlackBerry Technical Support Advantage level customers who complete three easy steps will qualify to receive a free BlackBerry 10 smartphone for their organization upon general availability.

As BlackBerry 10 launches, you'll receive your free smartphone, once it's verified you've met all the criteria below.

Step 1: Register

Complete the online registration form. You'll need to provide your BlackBerry® Enterprise Server Advantage level or above BlackBerry® Technical Support Services code and accept the Terms and Conditions. Limit of one registration per Advantage level BlackBerry Technical Support Services code.

For the other 2 steps, go here.
Have you even seen what the BlackBerry 10 will look like? Some people are actually saying it might just work for RIM, this may be their saving grace, I for one will be purchasing one as soon as I can get my hands on it. Take a look here for more BlackBerry 10 information, pictures, and videos.
---
December 18, 2012 1:17 PM
As I mentioned in a previous post about the MAP Beta, the full version is available for download, take advantage of this to get yourself ready for virtualization. I used it to help an Enterprise company plan for ESXi Hosts, hey who said you have to use Hyper-V 🙂
Overview

The Microsoft Assessment and Planning Toolkit (MAP) is an agentless, automated, multi-product planning and assessment tool for quicker and easier desktop, server and cloud migrations. MAP provides detailed readiness assessment reports and executive proposals with extensive hardware and software information, and actionable recommendations to help organizations accelerate their IT infrastructure planning process, and gather more detail on assets that reside within their current environment. MAP also provides server utilization data for Hyper-V server virtualization planning; identifying server placements, and performing virtualization candidate assessments, including ROI analysis for server consolidation with Hyper-V. Learn more.
MAP is one of the tools provided by the Microsoft Solution Accelerators team. The Microsoft Assessment and Planning Toolkit, Microsoft Deployment Toolkit, and Security Compliance Manager provide tested guidance and automated tools to help organizations plan, securely deploy, and manage new Microsoft technologies—easier, faster, and at less cost. All are freely available, and fully-supported by Microsoft. Learn more.
The MAP Toolkit includes the following components:

Microsoft_Assessment_and_Planning_Toolkit_Setup.exe. Installation package containing the tool, release notes, Getting Started Guide and toolkit help (chm file).
readme_en.htm. Available as a separate download. Provides information to read before installing the MAP Toolkit, including installation prerequisites and known issues.
Getting_Started_Guide.en.doc. Provides information about toolkit installation, environment preparation, and assessment scenarios supported by toolkit wizards and the UI.
MAP_Sample_Documents.zip. Available as a separate download. Contains sample reports and proposals.
Have you use the new version yet? How do you find it compared to the last version? If you are looking for help or suggestions, please feel free to contact me!
Download and details here.
---