---
February 4, 2013 3:37 AM
So did you happen to catch the commerial during the Superbowl? I was hoping to see it earlier and more often, but I will take what I get! 🙂 If you missed it, check it out below!
And here is a message from BlackBerry CMO Frank Boulben on the Big Game. (The same commercial, but with a lead in)
What did you think of it? Were you hoping to see more features? I wouldn't worry about it, I got to hold one in my hands, and I was sold! The phone is awesome… check it out here.
---
---
January 30, 2013 2:25 PM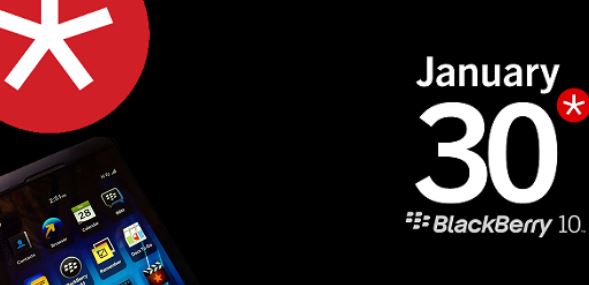 Are you excited? I sure am! Which one will you be getting? Black, or will you wait it out for the white one? If you want to wait for the white one, they wont be available till February 15th.
Check out  my post over at my company's website. I also posted the unboxing of the new Z10… how did that guy get his hands on that?!
I didn't feel like retyping everything 😉
But I will leave you with the official specifications!
Whilst the BlackBerry Z10 is not set to be officially unveiled until tomorrow, full BlackBerry Z10 specs were recently leaked in a selection of training materials with the first BB10 handset set to play host to a 4.2-inch HD display with a 1280 x 768p resolution.

With the BlackBerry Z10 release date expected to see the handset launch with 16GB of internal storage in tow, the BlackBerry Z10 specs sheet has been tipped to be bolstered by 2GB of RAM, an 8-megapixel rear-mounted camera with 1080p Full HD video recording capabilities and a 1,800mAh battery. A second, 2-megapixel snapper around front will also be present.
Don't forget that you can get a microSD card and use it with this phone, unlike Apple, RIM isn't going to charge premiums for more memory. You will be able to add up to 64GB of microSD card goodness!
---
January 29, 2013 12:39 AM
Here we go VMware, tackling the application provisioning market, I have heard great things about VHAM 1.5, and am working on getting a solid PoC running in my home lab. I will tell you one thing, it is not for rookies that's for sure!
VMware has been doing very well in the Readers Choice Awards this year.
According to Virtualization Review, "This year's Virtualization Review Reader's Choice Awards survey was sent out to approximately 20,000 of [their] readers… Job titles for the group ran the gamut from C-level executives to help desk technicians. Vendors were not allowed to vote for themselves or solicit votes."

VMware dominated the end-user computing categories starting with ThinApp bringing home the reader's choice award for Application Virtualization for the third year in a row beating out Citrix XenApp and Microsoft App-V. VMware View took home the crown in the category of Desktop Virtualization & VDI also for the third year in a row, coming in ahead of two Citrix products. Horizon Application Manager, a brand new product, took home a preferred product award in Mobile Virtualization &
 Bring Your Own Device. This shows a tremendous amount of momentum and direct customer validation of VMware technologies across all of our end-user computing products. source VMware.com
Check out the video of how to install the Horizon Agent and provision applications to users.

If you are interested in Enterprise Thinapp provisioning, then check out the documents below.
---
January 24, 2013 2:43 PM
Here is a re-post from my companies website about BlackBerry 10 Enterprise Server…
BES 10 is available for download, it's an evolved Enterprise Mobile Management solution for BlackBerry 10 Phoens, not only does it manage all other BlackBerry devices and Playbooks, it also supports Android and iPhone. BES 10 is the counterpart required to enable enterprise-specific BlackBerry World and Balance on upcoming BB10 devices.
RIM has been piloting BES 10 in many big enterprises, and the feedback has been extremely positive, as noted in the full press release below. The recently-announced trade-up program RIM recently announced is also important to highlight. Companies upgrading to BlackBerry 10 in 2013 will be able to trade in their current BES licenses for BES 10 ones at no charge. Keep reading for full details! source crackberry.com
What are your thoughts? 6 days and counting till BB10! Are you Excited?
---
January 22, 2013 2:00 PM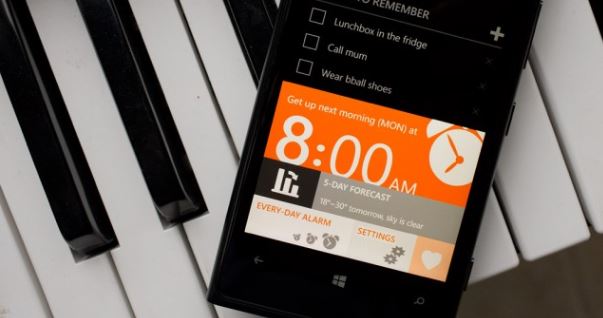 Okay we are all professionals here, and as such we have to get up in the mornings to do our jobs… 627.am stands for the time that the developer of this wonderful Windows Phone 8 app gets up in the morning, well maybe not every morning, but the time is what gave it its name.
I can speak personally to this application, because it really was the only rock solid alarm I could use with my Lumia 920, along with that you could see the time/temperature on a Live Tile, as well as any reminders or tasks you set from the night before.
That was months ago.
627.am has been updated to support Windows Phone 8 natively! Along with native Windows Phone 8 support there are  some exiting new features like better gesture support for Windows Phone 8 devices, fast resume support, wide live tile, high resolution live tiles, new resolution support for 720p HD screens, e.g. HTC 8X, many bug fixes and improvements.
If you want all these improvements now, you will have to pay 1.49, trust me, it's worth it. The trail version works on Windows Phone 7.x and Phone 8 and may be lacking some features, but should help convince you to purchase the full version regardless if you are Windows Phone 7 or 8.
Windows Phone Central also did their own review and have posted some pictures, along with Windows Store links to 627.am, check it out here!
---
January 16, 2013 2:45 PM
Beginning of the month I posted about iPhone 6 (original article), well there will be an iPhone 6, just not right away, there will, however, as I stated the iPhone 5S and its slated for a June release, with production to start in March!
Below is a great article on how Apple is moving ahead to iOS 7.
There'll be a Retina iPad mini. There'll be a thinner, lighter iPad 5. There'll be an Apple A7 system-on-a-chip. There'll be an LTE radio that can do simultaneous voice and data, and eventually voice over LTE. There may be curved displays, biometric sensors and security, 4K AirPlay, onboard voice parsing, in-air gesture and face recognition, and much, much more. source iMore.com
So what are your thoughts, is Apple in need of a change? When the BlackBerry 10 phone gets released, as the above article states, iOS will be the oldest smartphone OS on the market. I personally think its a huge mistake to not change or enhance their UI, I find it boring and old.
---
January 16, 2013 2:06 PM
A while back (October 2012) I had a blog post about the availability of LTE in Winnipeg, now apparently Rogers has finished moving east (see Rogers beats SaskTel to LTE forum discussion), but still no word on when LTE hits Winnipeg. I mentioned pretty low speeds in my last article about LTE, but when I was travelling through Vancouver, my HTC One XL was connected via LTE, I used the SpeedTest.net application to gauge my speed, and I was hitting speeds in upwards of 22Mbps down! That's exactly what we want to see here in Winnipeg… All we know is that LTE was delayed for Manitobans early December 2012, and now they say 2013, since they were behind getting to Saskatchewan cities, I wouldn't expect seeing it here in Winnipeg till February or March… What's the deal Rogers?
---
January 14, 2013 2:22 PM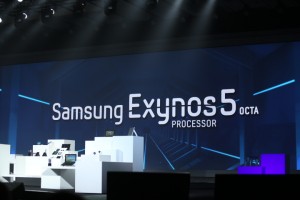 Samsung sure isn't backing down from NVIDIA, announcing an 8-Core Mobile Processor. Didn't they just announce a new Quad-Core Processor? Yes I believe they did, considering I wrote an article about it! 🙂
Because it's using this strategy, this chip is more suitable form small form factor devices like phones. Samsung says this tech will allow the chip to use up to 70-percent less power than a traditional quad-core A15 SoC, or even a dual core Exynos 5 like the one seen in the Nexus 10. source AndroidCentral

Samsung used the big.LITTLE technology developed by ARM for its Exynos 5 Octa chipset. The Samsung processor is built using four ARM Cortex A15 cores, most likely clocked at 2.0 GHz, used for the tasks that require more processing power (games, photo/video editing, etc.) and four ARM Cortex A7 cores, probably clocked at 1.7 GHz, for the basic tasks. Source Android.gs
This seems very promising, but then again, the processor isn't currently the battery drain, it's the screen, in the end, every little bit helps. I sure look forward to seeing this in our future smartphones!
---