---
June 4, 2013 1:14 PM
Looking for the next best Intel Microserver? I was in the market for a microserver earlier this year, but their price to performance was lacking, that and 350$ you only get 2GB of ram, and a maximum of 8GB of ram. Completely useless to me for my internal lab. I am going to go out on a limb and say that the Avoton chipset will be able to support more memory! Avoton also uses a paltry 9 watts of power
Intel showed off its next-gen Atom processors for microservers, called Avoton, saying it was already shipping samples to customers for testing, and unveiled its data centre chips based on the 22nm process.

The Atom chip, code-named Avoton, will become commercially available in servers starting in the second half. Avoton chips will be based on the new Silvermont microarchitecture, which is the first major Atom architecture redesign since the chip was first released in 2008.

Specifically, Avoton server chips will bring more performance-per-watt to microservers, Brookwood said. Microservers are an emerging category of dense servers backed by companies like Dell and Hewlett-Packard in which performance can be scaled quickly while keeping power consumption low.

Avoton will include a host of server-specific features including 64-bit support, Ethernet controllers and virtualization.
Go here to read more about Avoton.
May 28, 2013 12:48 PM
I use MAP to help clients prepare for the cloud. MAP collects all system data and performance that is relevant to a VMware or Microsoft virtualization project.  Allowing you to choose the right hardware and amount of resourced to convert your physical machines into virtual.
The beta review program now open and you can download MAP 8.5 Beta here

Accelerate your VMware or Windows Server 2012 migration with Microsoft Assessment and Planning (MAP) Toolkit 8.5. This latest version of MAP adds new scenarios to help plan your environment with agility and focus while lowering the cost of delivering IT. Included in MAP 8.5 are hardware and infrastructure readiness assessments to assist you in planning the deployment of Windows 8 and Windows Server 2012, preparing your migration to Windows Azure Virtual Machines, or VMware Virtual machines readying your environment for Office 2013 and Office 365, and tracking your usage of Windows Server, Lync, SharePoint, and Exchange.

Key features and benefits of MAP 8.5 Beta help you:

Newly designed user interface makes it easier to find and use the right MAP scenario for the task at hand.
Usage tracking scenarios for Lync, SharePoint and Exchange have been updated to include the latest versions.
Advances in virtual machine discovery offer improved VM inventory results.
New Windows Volume Licensing scenario helps identify the licensing status of your desktop computers.
What are you thoughts, how do you prepare for the cloud?
Previous Post
Microsoft Assessment and Planning Toolkit v8.0 is Ready for General Consumption
---
May 27, 2013 1:16 PM
IT professional
MOAR! Update #2 – June 4th 2013
News Highlights from Computex

Intel introduced 4th generation Intel® Core™ processors that serve as foundation to wave of new 2-in-1s that combine stunning PC performance with tablet-like mobility in one device and deliver on Ultrabook™ vision.
New Intel Core processors deliver biggest power savings in company history, enabling over 9 hours of battery life1 with stunning performance and two times the graphics capability versus the previous generation2.
Intel demonstrated for the first time its next-generation 22nm quad-core Intel® Atom™ SoC for tablets in conjunction with its forthcoming 4G LTE multimode data solution.
Showed first smartphone reference design platform based on next-generation 22nm Intel Atom SoC for smartphones.

COMPUTEX, Taipei, Taiwan, June 4, 2013 – Ushering in a wave of new Ultrabook™ andemerging 2-in-1 devices that deliver a PC when you need it and a tablet when you want it, Intel Corporation today introduced its ground-breaking 4th generation Intel® Core™ Processor family.
source article newsroom.intel.com
Update #1
According to the leaked server/roadmap summary slide, Haswell or the Xeon E3-1200, is due this quarter. Intel lists about thirteen different SKUs to support it, ranging from the E3-1285 to the E3-1220, plus low-power alternatives ("L") for several. Haswell's launch date is given as sometime between May 27 and June 7. source Slashdot.org
If you haven't seen them at your local retailers yet, expect them right away. A local place here in Winnipeg has them in stock, when you purchase one you get a copy of Grid 2 and a t-shirt. The Core i7 4770 is going for 349$ and the Core i5 4670 is going for 249.99$. Source Memoryexpress.com
Original Post
If you were looking to upgrade your home PC or laptop, I would suggest you hold off for a little bit until Intel's new chipset is released. The new flagship chipset is called Haswell, and it promises to last 50% longer with conventional use and can be in standby mode 20x longer than a device using ivy bridge. Here are the CPU specifications. They say it will be released early next month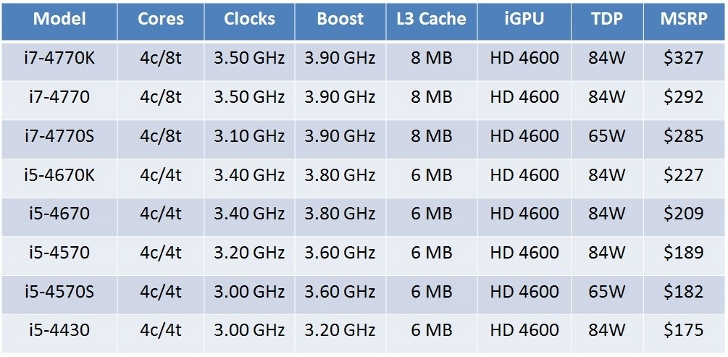 Features carried over from Ivy Bridge:
A 22 nm manufacturing process.
3D tri-gate transistors.
A 14-stage pipeline (since the Core microarchitecture).
Mainstream up to quad-core.
Native support for dual channel DDR3.
64 kB (32 kB Instruction + 32 kB Data) L1 cache and 256 kB L2 cache per core.
Confirmed New Features:
Haswell New Instructions (HNI, includes Advanced Vector Extensions 2 (AVX2), gather, bit manipulation, and FMA3 support).
New sockets — LGA 1150 for desktops and rPGA947 & BGA1364 for the mobile market. It is possible that Socket R3 will replace LGA 2011 for server Haswells
Intel Transactional Synchronization Extensions (TSX).
Graphics support in hardware for Direct3D 11.1 and OpenGL 4.0.
DDR4 for the enterprise/server variant (Haswell-EX).
Variable Base clock (BClk) like LGA 2011.
Supervisor mode access prevention (SMAP)
Fully integrated voltage regulator, thereby moving a component from the motherboard onto the CPU.
New advanced power-saving system.
37, 47, 57 W thermal design power (TDP) mobile processors.
35, 45, 65, 84, and ~100+ W (high-end, Haswell-E) TDP desktop processors.
15 W TDP processors for the Ultrabook platform (multi-chip package like Westmere) leading to reduced heat which results in thinner as well as lighter Ultrabooks, but performance level will be lower than the 17W version.
Features source Wikipedia
Which processor you pick will depend If you are a gamer, casual gamer or need to encode video/audio.
If you were a gamer and intended on playing the latest games you will want the i5-4670 (k or non k), you will get a very strong processor but no built in video, one could say the extra 28$ could save you time when troubleshooting video card issues (just fail over to  the HD4600 built in video).
If you are looking to encode video/audio and just want the fastest processor around, you would get the i7-4770 (k or non k). Not many games will take advantage of 8 threads, but it is coming. I remember my first Core i5 was around 300$, so to spend an extra 30 dollars wouldn't break the bank.
Of course if you see an ultra-book out there with the Core i5-4430 processor, know that it is going to be an impressive processor and will definitely do all that you need it to. So no matter what package you pick, if you wait till at least next month, you will not be disappointed. If you buy something right now, then you will be buying old technology, so try to avoid that! 🙂
---
May 22, 2013 2:28 PM
Here are a couple updates from Systinternals.
What's New (May 16, 2013)
ProcDump v6.0 Procdump is an advanced utility for capturing process memory dumps based on a variety of triggers including CPU usage, memory usage, performance counter values, and exceptions. Version 6.0 is a major upgrade that adds the ability to specify multiple filters, attach to a process by service name, and display/filter-on the message text of a CLR or JScript exception.
What's New (March 21, 2013)
Autoruns v11.5 This update to Autoruns, a utility for managing autostarting applications and components, now reports the image timestamp of executables and the last-modified timestamp of other file types and autostart locations to help with forensic analysis. The jump-to-entry feature is also improved to navigate directly to files rather than their parent directory.
Registry Usage (RU) v1.0 Ru (Registry Usage) is a new command-line utility that reports the size, value and subkey counts of registry keys. Like its Sysinternals Du (Disk Usage) counterpart, Ru can help you find the keys that contribute to registry bloat.
The Sysinternals web site was created in 1996 by  Mark Russinovich and Bryce Cogswell to host their advanced system utilities and technical information. Whether you're an IT Pro or a developer, you'll find Sysinternals utilities to help you manage, troubleshoot and diagnose your Windows systems and applications.
Get up to speed fast!
Sysinternals Live is a service that enables you to execute Sysinternals tools directly from the Web without hunting for and manually downloading them. Simply enter a tool's Sysinternals Live path into Windows Explorer or a command prompt as http://live.sysinternals.com/<toolname> or  \\live.sysinternals.com\tools\<toolname>.
You can view the entire Sysinternals Live tools directory in a browser at  http://live.sysinternals.com.
---
May 21, 2013 5:30 PM
Update #5 06/21/13
Microsoft's plans to not be able to share games etc has been wiped out, they bent to pressure from the masses. Release date November 30th.
Canadians can pre-order from Xbox console, more info here.
Update #4 05/27/13
Have a look inside Microsoft and the Xbox One! Link here.
Also Engadget gets a hands on preview of the Xbox One.
But now it's time to take a deep dive into the Xbox One, Microsoft's next-gen console, and what it might mean for Earth's living rooms. Engadget was given exclusive access to the hallowed labs at the heart of this project and to the engineers who made it happen. We got to play with prototypes of the hardware and to discover firsthand whether Kinect 2.0 really can tell if we're winking. source article
As the writer mentions,  there is still a lot unknown, so make sure to check back!
Update #3 05.24.13
So  those 300,000 servers that Microsoft added for Xbox One will not only help make multiplayer games awesome and store save games and states, they will also help make the game look better?
He said the improved cloud architecture will speed up GPU- or CPU-heavy chores that aren't dependent on latency — like lighting or cloth dynamics — by pre-calculating them before applying them to a scene. To make that happen, the Xbox One server cloud will provide three virtual devices for "every Xbox one available in your living room." source engadget.com
Very cool stuff Microsoft!
Update #2 05.22.13
So What about Games?
You buy a game, then you use the activation code to activate it (online), once activated, you can play all you like. This of course includes all LIVE profiles on your console. If you want to bring it to a buddies house, only your LIVE profile can play the game for free, a friend would have to activate the game himself if he wants to use his profile. There will also be a way to trade games online, how and for what type of currency I am not sure. source article kotaku.com
Also check out this walkthrough on the new Kinect Sensor, pretty awesome stuff…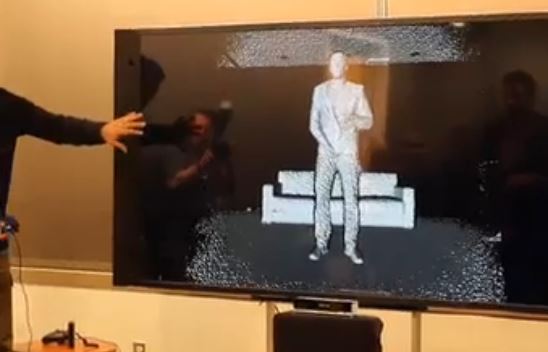 Update #1 05.21.13
Gizmodo has a big article on all the new features of the Xbox One. One things I read, which is slightly alarming for all you gamers out there, Xbox 360 games will not work on the new Xbox One.
The new architecture is what is responsible for the fast switching between apps and content. But it also means it's not backward compatible with older Xbox games. Microsoft did not address this at the show, but it's been speculated that it will use game streaming, like the PS4, to play older games on the new hardware. We'll update you once we get a chance to shake down some Microsoft employees.

Kinect is "complete redesigned" to respond to you and your voice, and is made to be more conversational. It picks up motion at 13 billionths of a second, the time it takes light photons to bounce off of you and make it back for the sensors. source article
I am wondering if Microsoft will make available games you prove you own (maybe inserting the disc) available for you to download a copy that is modified to at least work on the new Xbox, lets hope they have something like that in the works.
Also note that the Xbox will always be on, and listening, pair that with an HD camera (lets hope its off most of the time!), can anyone say "privacy issues" lol? *Update : You will not require an always on internet connection, but obviously, for multi-player games, most xbox features etc. you will require connectivity.*
The Xbox One will be available later this year, I gather we will know more in a couple months at the next E3. As always stay tuned for more updates as they come in.
Are you going to pre-order it? I know I will…
Original Post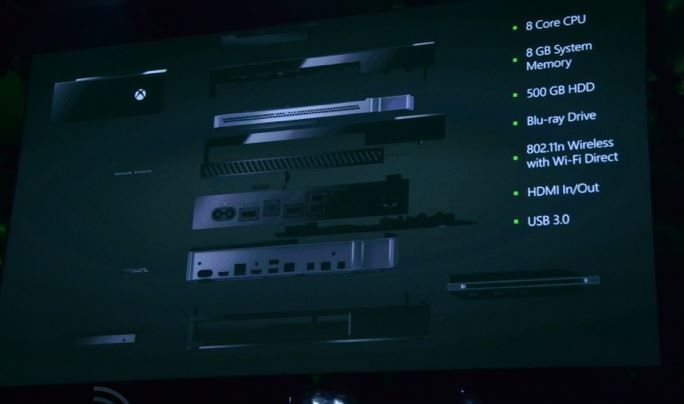 Well that was unexpected, Microsoft just showed off some crazy cool stuff… instant flipping from games to movies to TV and back, all instantly… the Kinect sensor can apparently read your heartbeat when you are exercising! 2GB of data per second are used by the Kinect sensor.
Tim Stevens 12:23 PM

The battery compartment is more flush, there's vibration built into the triggers, and yes, a new D-pad.

 Tim Stevens 12:23 PM
Time to look at the controller. "We're taking the world's best controller and making it even better."
Tim Stevens 12:23 PM
The skeleton is more precise, as is 3D sensing. It can even read your heartbeat!

Source Engadget.com (go here to follow live)
Other neat controller features are, raising the controller, raises a shield, will be used for other game controls. Native game recording, editing, and uploading. Really amazing stuff.
Xbox is also presenting via a live video feed. Go and check it out!
---
May 15, 2013 4:50 PM
If you weren't aware Google I/O is in full swing.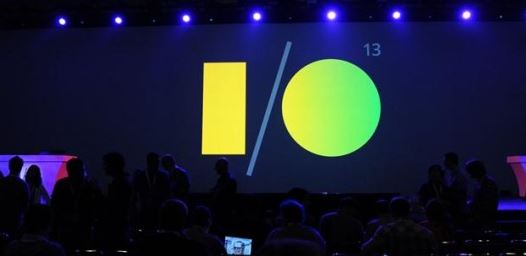 Updates to Google Play, cross platform leaderboards, multi-player, developer enhancements, are just a few things.
OK, boys and girls. This is it. We're live from the Google I/O developer conference this week in San Francisco, for all the developer/services/apps/hardware/whatever Google can throw at us.

Kicking things off today is the week's only keynote, and it's a 3-hour whopper. We're all charged up and ready to go. The keynote starts at 9 a.m. PDT — that's noon on the east coast and 5 p.m. in the UK.

So join us for the live stream, our photos and commentary, and basically the best Android coverage on the planet. source AndroidCentral.com
Looks like there is a huge update to Google Music (streaming audio! ; they call it Radio without rules, sounds awesome), also Google Play on the web will look just like your phone's Google Play…
Go here to follow the live blog!
---
May 14, 2013 3:32 PM
Update 04/06/13
Release date rumored to be June 27th. Blackberry denies it, but T-Mobile tweeted it, so even though they deny it, it could very well be the date! You know how it goes.
On May 14th, BlackBerry announced plans to make its ground-breaking mobile social network, BlackBerry Messenger (BBM), available to iOS and Android users this summer, subject to approval by the Apple App Store and Google Play. While there have been reports that BBM will be available to iOS and Android on June 27th, this is not accurate. We will communicate an update as soon as we have an availability date to share. via a statement released by Blackberry
Good on you Blackberry for bringing more news on BBM, no better way to spread the word than passing rumors. Everyone I have spoken to says they want BBM, this makes me happy.
Update 03/21/13
Confirmed features list on release, but still no release date…
In the first version of multi-platform BBM, iOS and Android users are expected to be able to experience the following BBM features:
The immediacy of BBM chats
Multi-person chats
Voice note sharing
BlackBerry Groups, where BBM users are able to set up groups of up to 30 people and share calendar, photos, files and more
Some BBM Quick facts you may not know.
More than 60 million monthly active users
More than 51 million daily active users who are connecting with friends or colleagues an average of one and a half hours every day.
BBM users send and receive more than 10 billion messages each day, nearly twice as many messages per user per day as compared to other mobile messaging apps
Almost half of BBM messages are read within 20 seconds of being received; indicating how truly engaged BBM customers are
They said pending Google Play and Apple Store acceptance we will be able to download BBM onto our devices… I can't see Google or Apple blocking BBM from their app stores, but we have seen worse…
Original Post

This has been long overdue, but BBM will finally be available to iOS and Android users this summer, not sure of the actual release date but it should  be in the next couple months.
Initial released will only support chats and group chats, with added features on each release after that. BBM Voice and Video chat is said to be introduced later this year.
It has been a while since I have been on BBM and I cannot wait to get back to it!
It's clear BlackBerry is finally waking up. They are no longer the big dog in the mobile war. If they are to survive, the company needs to forge new relationships and learn to work well with the two reigning platforms. This move to put BBM on Android and iOS is a big step forward. BlackBerry might actually have a chance. via TechCrunch.com
Stay tuned for more information as it's released! What are your thoughts? Is this the right move for Blackberry? I think so.
---
May 7, 2013 2:34 PM
I was just browsing an article where Seagate is finally releasing SSD disks. Among the reasonable specifications for 120/240/480GB selections, they mention drives with dual-port 12G SAS Connectors! These guys are twice as fast as previous generation drives and will be available in capacities up to 800GB, in both 1.8 inch and 2.5 inch form factors, which will be ready for the enterprise.
Seagate 600 SSD: Faster Performance with 6Gb/s SATA

The ultimate laptop upgrade, the Seagate 600 SSD delivers faster boot up speeds, shorter application load times, and improved system responsiveness for the ultimate performance. Laptop users can boot up nearly four times faster and load applications more than two times faster than with a standard hard drive, greatly reducing the amount of wait time to access content.
Here are the official specifications from the 600 series of drives.
120GB: 500+GB/s read, 300+GB/s write, up to 80,000 IOPS read, up to 60,000 IOPS write
240GB: 500+GB/s read, 400+GB/s write, up to 80,000 IOPS read, up to 70,000 IOPS write
480GB: 500+GB/s read, 400+GB/s write, up to 80,000 IOPS read, up to 70,000 IOPS write
Also mentioned in the article is the Seagate x8 Accelerator
Seagate X8 Accelerator— Application Performance Turbocharged

The Seagate X8 Accelerator, powered by Virident, delivers memory-class performance and storage-class capacity with enterprise reliability and data integrity in a single, low profile PCIe card. Providing industry-leading performance, with up to 1.1 million IOPS, the X8 Accelerator boosts server performance with ultra-fast speed that is up to 2X faster than the closest competitor and closer to DRAM performance than storage.
No pricing for any of these drives was mentioned. Read more about the Seagate 600/1200 SSD drives here.
---
May 7, 2013 12:44 PM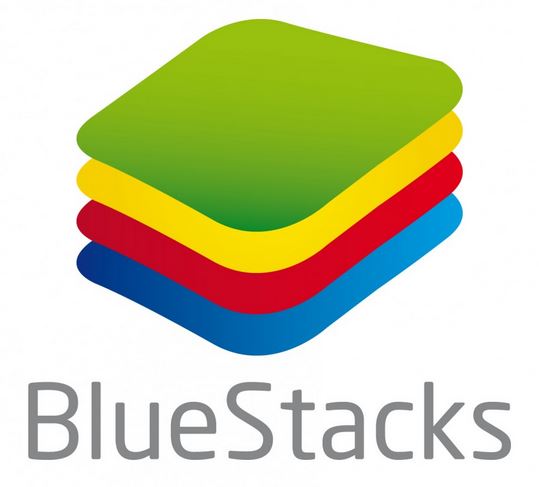 Are you looking to run Android applications on your PC? If you don't know how, then you haven't heard of BlueStacks.
BlueStacks, which makes software that lets users run Android apps on their desktops, laptops and Windows tablets,  has reached the 10 million user mark in just over a year. Possibly even  more impressive is that 4.2 million of those users started using the software in just Q1 of this year. CEO of BlueStacks Rosen Sharma also notes that active usage has increased exponentially, which in many ways is a more important metric to determining success of a product. BlueStacks is now being used in over 100 countries, due in part to the fact that it is now pre-installed on many manufacturer's devices. source Android Central
Now don't get too excited, it isn't the full Android experience ported to PC. From the time I spent with the application, there is no home screen, syncing didn't work the way I had expected it to, no "direct" access to Google Play, and I was unable to login to Facebook, I gather that is because BlueStacks isn't supported with the Facebook API as of this time. If they fix these issues, and make it more akin to what we are used to seeing, including full syncing capabilities, a lot more people may be inclined to use it. I know I would.
All in all, it's a great step forward, and the creators say that the biggest apps to be downloaded are the games, so maybe it's not so much for the user experience, but for Android gaming, which has exploded onto the scene in the last while.
---
May 6, 2013 12:28 PM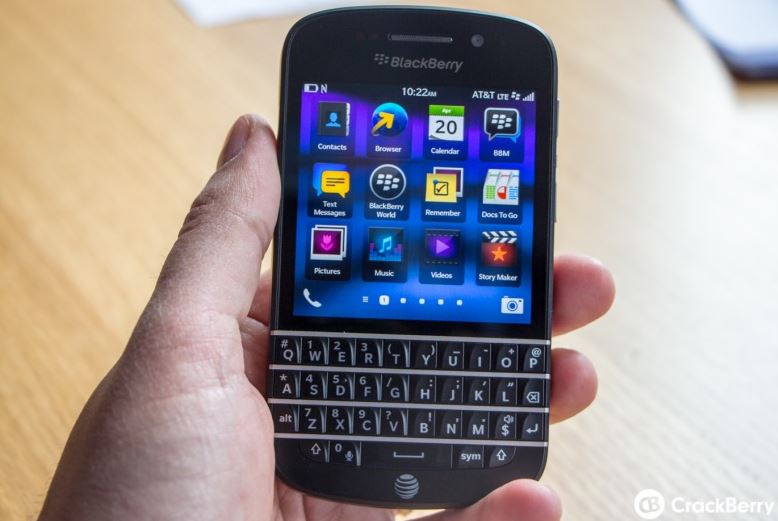 Over in the UK the Blackberry Q10 outsold the Z10 by a large amount. The Q10 is supposed to be the phone to save Blackberry, although the Z10 has exceeded everyone's expectations, people really love the physical keyboard, and pair that with a pretty hefty battery (2300 mAh) and you have yourself a pretty sweet phone.
The department store began selling the Q10 last Friday, but buyers were also able to pre-order the device from the store's Web site since April 24.

Selfridges' initial stock of 2,000 Q10 units sold out in a matter of two hours from the time store opened its doors last Friday. Additional stock was being delivered "Continually on the hour, every hour" to keep up with demand, according to a statement from Selfridges.
Read more at the source links below.
You can also order the phone online from various retailers via Blackberry's website.
---