---
June 19, 2013 1:39 PM
The scenario, you have a VM that is stuck running because it cannot find its VMX file. Don't ask me Site Recovery Manager messed that one up! 😉
I need that VM off and unregistered.
So here is how you do it!
Use putty or got to the physical console command line.
Login with root or another SU
Type "esxcli vm process list" like below.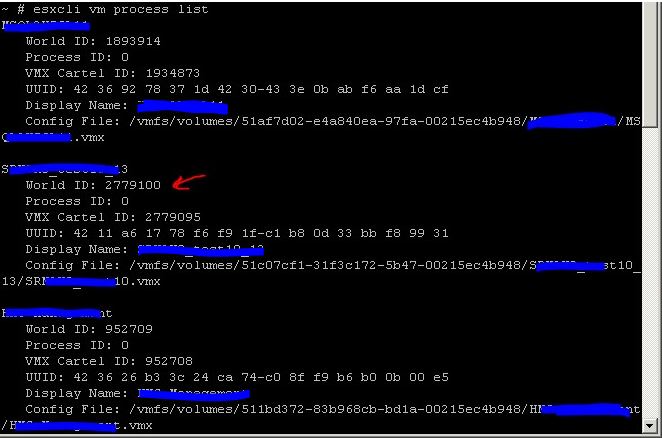 Take note of the World ID(red arrow)of the VM that you would like to "kill"
Type the following (Since I want to force the machine to be off, you need to use the force "type" other types are soft and hard; no point in using them)
"esxcli vm process kill –type=force –world-id=2779100"
You will not get a confirmation at the command prompt, but your VM should now be off… I was thgen able to unregister the VM and continue on with my tests.
June 17, 2013 7:14 PM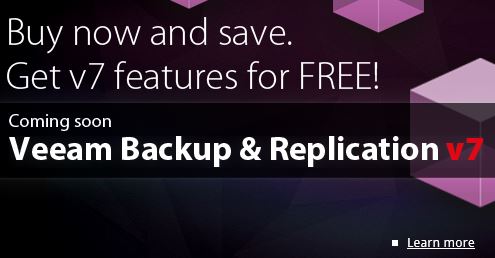 Been waiting for Veeam Backup and Replication v7? Wanting to try out the Beta? See details below on how to get it.
We are getting close to starting the beta for Backup & Replication 7.0. We keep B&R betas limited for a few reasons, but most importantly, to stay in close touch with the testers, which makes beta more efficient. Our sales teams will soon be reaching out to select customers and partners – those identified as the best fit for testing specific v7 functionality (such as vCloud Director, HP SAN integration or tape support). As always, the beta will be driven by our Systems Engineers – so if you have an interesting scenario that makes it beneficial to test some of the major v7 features against, right now is the best time to reach out to your Veeam sales rep.
Here is an edition comparison listing all the features that will be available in v7.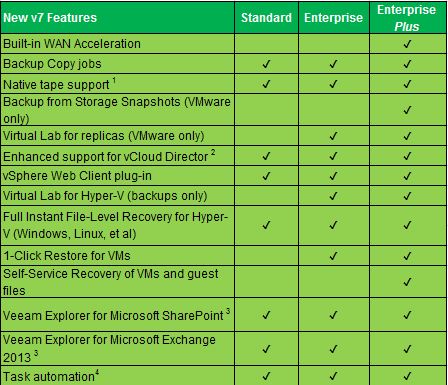 ---
June 13, 2013 5:36 PM
Well this was a cool find, Foglight for Virtualization.
The Free Edition, a single downloadable virtual appliance, now offers six free utilities:
Snapshot Explorer – Detects all snapshots, including orphaned shapshots, to avoid problems with performance and capacity.
Environment Explorer – Provides at-a-glance information about performance, efficiency and capacity.
Change Explorer – Lists all changes that occur in a virtual environment, and provides associated risk impact.
Storage Explorer – Assesses storage performance and capacity across datastores and VMs.
vScope Explorer – Offers immediate identification of VMs, hosts and datastores suffering performance, capacity and efficiency issues.
SearchMyVM Explorer – Delivers search capabilities, similar to Google, of the virtual environment.
What interests me the most is Snapshot Explorer, a lot of people let snapshots roam free and wild until they are so out of control it takes days to commit. Let's be proactive and keep those snapshots a bare minimum. Go here to download the above appliance.
---
June 13, 2013 4:53 PM
So you are planning a trip to the US of A, or somewhere else and you have a smartphone, and its locked to your carrier, you can either wait 90 days until your carrier can unlock it for you(which costs money) or you can unlock it now!
Here are 2 relevant questions and answers from Rogers.com
Q: Am I still subject to my term commitment if I unlock my device Yes.

A: Unlocking your device does not affect your FLEXtab™ agreement or term commitment.

Q: Do you charge for unlocking a device

A: You can unlock your device for a $50 fee plus applicable taxes.
So I ask you this, why wait for Rogers and pay a 50$ fee? That's right, don't bother! I recently used a website I found off of Ebay that unlocked my HTC One (M7) in less than 5 minutes! Now I cannot promise that they can service you that fast, but they promise very quick turn around times!
Here is the link QuickPhoneUnlock.com, start a chat at the bottom right and someone will be with you in moments…
Once your phone is unlocked, if you are in Canada, head on over to ROAM Mobile's website and get started! Other wise head on over to a cell phone kiosk and get yourself a pay as you go SIM Card, with unlock code in hand, insert the SIM and it will ask for a code, use the code provided by QuickPhoneUnlock.com and you should be good to go!
Good Luck and happy travels!
---
June 12, 2013 1:52 PM
Update October 3rd 2013
In case you are having issues with GPU/USB pass-through you may want to check out this forum post…
Original Post
Great article that steps you through configuring a VM to use a Video card via VMDirectPath I/O. Here is a little insert.
Following on from the previous post about a recent white-box VMware ESXi 5.1 build I was hoping to enable GPU pass-through to one of the VM's. Initially this was to make use of things like Adobe Photoshop via XenApp to aid in GPU rendering, but having played around with Plex I was too tempted to divert the resources to a media based VM to output via HDMI as my existing WDTV Live is feeling a little dated.

First I tried with an old Nvidia Geforce 7300 I had lying around but this appeared a no go, it was detected by the VM but Windows couldn't seem to start the device driver for it. Reading further it appears AMD cards have the best results for pass-through so I went ahead and purchased an ASUS 7750 1GB DDR5 card for around £75. I opted for the DirectCU model as this is a completely fanless design further aiding in a silent ESXi host. source article
Note that most Nvidia or AMD cards are supported, but it should be a discreet card. This is not the same concept of VMware View 5.2 and a single card hosting multiple VM's. In this article you are giving the VM direct access to the video card, a one to one relationship.
About VMDirectPath I/O pass-through devices
You can connect up to two passthrough (ESX 4.0) and up to four passthrough (ESX 4.1) devices to a virtual machine. When selecting the devices, keep in mind these restrictions:
VMDirectPath limits in ESXi 5.1
VMDirectPath PCI/PCIe devices per host 8
VMDirectPath PCI/PCIe devices per virtual machine 4 (6 if 2 of them are teradici devices)
So if you are asking if you can use more than one video card to VM, the answer would be yes…
---
June 10, 2013 7:48 PM
Update #1
Pre-ordered mine the other day, just login to your Xbox and on the top right of your screen you should see a picture of an Xbox Day One Edition, you can pre-order here. so for 525 taxes in, no shipping costs, I will have an Xbox on the day of release shipped to my door!
Oh and DRM has been abolished and Disc sharing/swapping, buying used games etc. is back…
Original Post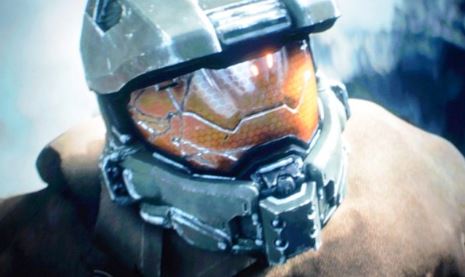 I just got a message in my mail box allowing me to pre-order the Xbox One… I was quite happy to be on the shortlist, although the page only loaded once, and I ended up closing it by mistake… when I finally got it open again, I couldn't order it. Why was that you ask? Well I am from Canada, pre-orders are only for US residents. Either way I headed over to the Canadian site and opted-in to get an email when Canadian pre-orders were available. Back to waiting for me. Oh well, the release is going to be November 2013 and will be priced 499 US/CDN, 499 Euro's, and 429 Pounds.
Games like Halo 5, Killer Instinct, Project Spark, etc. had been showcased. See more here.
If you are in the states I would suggest you pre-order now! Good luck!
You can also revisit my previous Xbox One post if you haven't seen it yet.
---
June 7, 2013 12:33 PM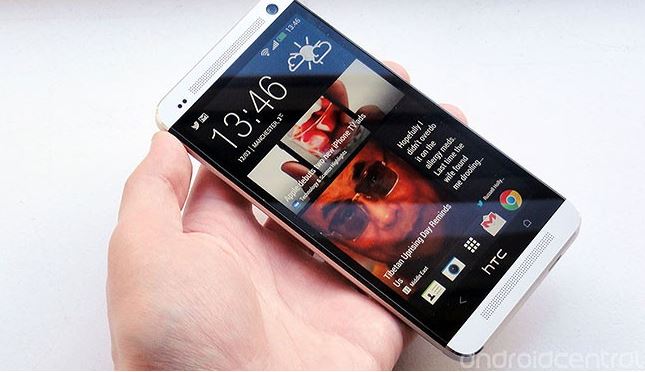 Android Central produced a great round up of the best smartphones you can buy to date. My phone the HTC One is rated #1!
If anyone needs help unlocking, rooting, etc. I have been through it all.
Onto the tidbits from the article. I have included inserts from the HTC One and Samsung Galaxy S4.
"We really have reached the point where the top of the Android smartphone market is blanketed by some highly impressive devices. It's tough to go wrong. There's something for everyone, be it form factor or features or gimmicks and gizmos. But for our money, there's currently no better phone available than the HTC One."

"If ever there was a phone to beat, it was this one. Samsung took everything that was good in the Galaxy S3 and made it better in its successor, the Galaxy S4.

Well, maybe not quite everything. The plastic body remains a turn-off for many, and it's certainly not as chic as the aluminum HTC One. It's also lost a bit of the curve of the Galaxy S3. And while Samsung has managed to squeeze a 5-inch display into the same size as the slightly smaller Galaxy S3, the IPS or Super LCD displays on other phones perform better in sunlight and seems to better handle shifts in brightness. The TouchWiz user interface has been refined a bit, but it's still flat in places and doesn't match the sophistication of other UIs." Source : AndroidCentral
So if you just bought your S4, and you are concerned about it at all, use the buyers remorse clause to return the phone and get the HTC One!
---
June 6, 2013 6:03 PM
The Blackberry A10 is set to be released in November, Sprint is already on board, and others will follow.
The device will have these rumored specifications
Screen : unknown (most likely 1920 x 1080)
Storage : 16GB or 32GB with SD Card slot
Memory : 2MB Ram
Radio : GSM/4G/LTE
Revised Home Screen
OS : 10.2 (which is in Beta right now)
Camera : Front and Back, both will be improved
Casing : It is said it will be unique to the A10, stylish and well built, possibly metal. Apparently it will be shaped akin to the Samsung Galaxy S4
That's it for now! More news to follow for sure!
---
June 6, 2013 2:09 PM
So in the wake of new BYOD software, being able to connect to your office to work remotely is important. Earlier tablets lack the resolution to make doing so worth while. The next generation of tablets have the resolution to support desktops up to 1080p and beyond. Would you use a Nexus 7 v2 with a Bluetooth keyboard and mouse? a Retina iPad Mini 2? Even though most people would be squinting at their screens, I am sure they will love every second of it!
Either way Android is banking on the fact that price may outweigh preference. I can see that the iPad Mini will most likely be in the 300$ and up range, while the Nexus 7 v2 is supposed to be 199-249$. Apple has always put a premium to their products, partly because their technology is sometimes ahead of the curve. iPad Mini 2's display will be a eye melting 2,048 x 1,536 or 324ppi, while the Nexus 7 v2 will be 1920 x 1200 or 323ppi.
With the advent of VMware Horizon Suite, VDI, and Unity, it will become increasingly easier to use tablets to do day to day work.
Here is a great article on the Retina iPad Mini, and one of the Nexus 7 v2bo
---
June 5, 2013 1:05 PM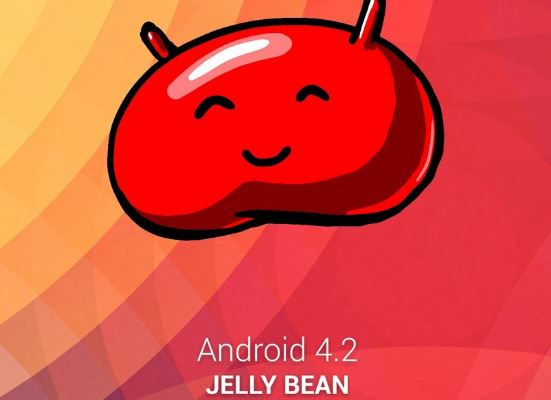 So you've upgraded to Jellybean 4.2.2 and you lost Developer Mode/Options.
Well here is how to get it back.
Go to – Settings > About > Software Information > More > Build number
Tap on Build number repeatedly about 7 times, it will start counting down the amount of times you have to click.
After touching 7th time you will see a message that, "you are now a developer!".
You should now see the Developer options in the Settings menu. Fun stuff like USB debugging will now be available! Have fun and don't break anything! 🙂
---