Apr 18 2013 1:54PM GMT

Profile: Nathan Simon
Tags: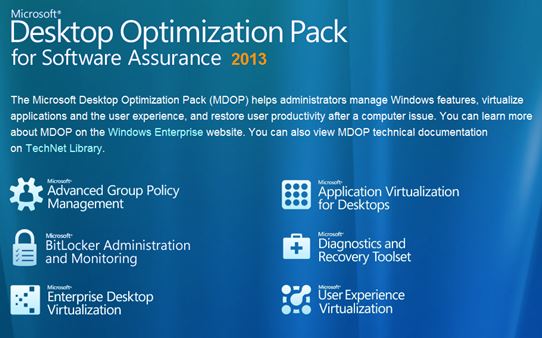 Get it while its hot, MDOP 2013 is now available to MSDN Customers!
The Microsoft Desktop Optimization Pack (MDOP) is a suite of technologies available as a subscription for Software Assurance customers. MDOP virtualization technologies help personalize the user experience, simplify application deployment, and improve application compatibility with the Windows operating system (UE-V/App-V/MED-V). Additionally, MDOP helps manage, monitor, and deploy key Windows features (MBAM/AGPM).

Using MDOP shifts desktop repair from reactive to proactive, saving time and removing challenges associated with troubleshooting and repairing system failures (DaRT).
I use MDOP to build its recovery disk, and in-case one of my home systems, or virtual machines fail I can boot from it to, recover files, repair the disk, run memory tests, the list of options goes on.
Here are some links for you to check out the full feature set.
Go here to read more.