Sep 18 2012 12:28PM GMT

Profile: Nathan Simon
I won't take credit for any of the content, nor am I personally wanting an iPhone 5, but I know a lot of you out there do. Sure you could get an iPhone 4s that will be much cheaper, but here are a few reasons on why you should go big.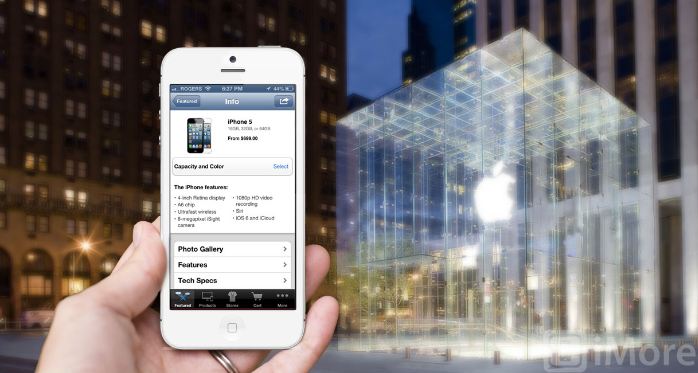 iMore.com has put together a 2012 Buyers Guide. Here is an insert from that guide. I am only including the beginning and leaving it fully intact.
Everything you need to know about choosing the perfect iPhone color, capacity, carrier, and more!

There are a lot of decisions involved when it comes to buying a new iPhone, or any phone for that matter. Once you've decided you do indeed need a new phone, you still have to decide if the new phone you need is an iPhone. While we still believe the iPhone is the best choice for most of the people most of the time, there are a lot of great phones on the market these days and there might be one better suited to some people's individual needs. And let's say you do decide the iPhone is perfect for you, then comes the choice of model (iPhone 5, iPhone 4S, iPhone 4), color (white & silver or black & slate), storage capacity (16GB, 32GB, or 64GB), and carrier network (in the U.S., AT&T, Verizon, or Sprint are the major ones). And what do you do with your old, broken phone when your new, hot phone arrives?

Enter iMore's 2012 iPhone buyers guide. If you need help deciding what to buy, we've got your back. And if you've already decided, just bookmark, email, Facebook, or Tweet this so we can help your friends and family and you can get on with enjoying your new iPhone!

iPhone or something else: Which phone should you get?

Just because Apple has released the new iPhone 5 doesn't mean you have to race off and get it. Crazy, I know, particularly coming from the biggest iPhone enthusiast site on the web, but that just goes to show you how true it is. When the time comes for you to get your next phone, whether it's today or next year, and iPhone or something else, you should look at what's on the market and decide what best suits your needs.

If you want the sleekest, slimmest, easiest to use, most mainstream friendly, most content rich, most well supported phone in the industry, the iPhone might just be for you.

If you're not sure, here's a breakdown of the pros and cons of upgrading to the iPhone 5, whether you own and existing iPhone, an Android, BlackBerry, or Windows Phone, or a feature phone. Also, because the Samsung Galaxy S3 is probably what's going to give the iPhone the biggest run for its money right now, we've also done a special, in depth, comparison of the two:

Read the rest of the article here.
 Being well written and interesting, when you are done reading it, it will have helped you make your decision. Thanks iMore!