May 27 2013 1:16PM GMT

Profile: Nathan Simon
Tags:
MOAR! Update #2 – June 4th 2013
News Highlights from Computex

Intel introduced 4th generation Intel® Core™ processors that serve as foundation to wave of new 2-in-1s that combine stunning PC performance with tablet-like mobility in one device and deliver on Ultrabook™ vision.
New Intel Core processors deliver biggest power savings in company history, enabling over 9 hours of battery life1 with stunning performance and two times the graphics capability versus the previous generation2.
Intel demonstrated for the first time its next-generation 22nm quad-core Intel® Atom™ SoC for tablets in conjunction with its forthcoming 4G LTE multimode data solution.
Showed first smartphone reference design platform based on next-generation 22nm Intel Atom SoC for smartphones.

COMPUTEX, Taipei, Taiwan, June 4, 2013 – Ushering in a wave of new Ultrabook™ andemerging 2-in-1 devices that deliver a PC when you need it and a tablet when you want it, Intel Corporation today introduced its ground-breaking 4th generation Intel® Core™ Processor family.
source article newsroom.intel.com
Update #1
According to the leaked server/roadmap summary slide, Haswell or the Xeon E3-1200, is due this quarter. Intel lists about thirteen different SKUs to support it, ranging from the E3-1285 to the E3-1220, plus low-power alternatives ("L") for several. Haswell's launch date is given as sometime between May 27 and June 7. source Slashdot.org
If you haven't seen them at your local retailers yet, expect them right away. A local place here in Winnipeg has them in stock, when you purchase one you get a copy of Grid 2 and a t-shirt. The Core i7 4770 is going for 349$ and the Core i5 4670 is going for 249.99$. Source Memoryexpress.com
Original Post
If you were looking to upgrade your home PC or laptop, I would suggest you hold off for a little bit until Intel's new chipset is released. The new flagship chipset is called Haswell, and it promises to last 50% longer with conventional use and can be in standby mode 20x longer than a device using ivy bridge. Here are the CPU specifications. They say it will be released early next month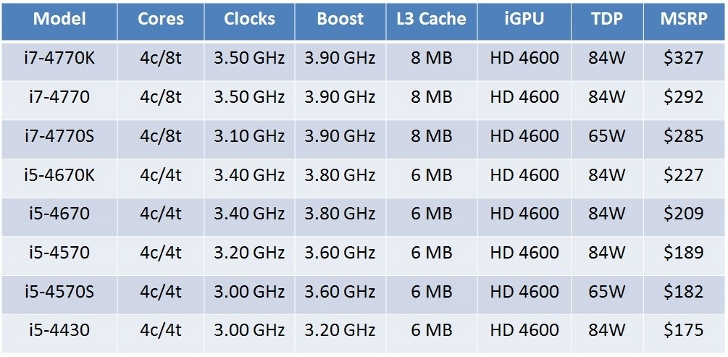 Features carried over from Ivy Bridge:
A 22 nm manufacturing process.
3D tri-gate transistors.
A 14-stage pipeline (since the Core microarchitecture).
Mainstream up to quad-core.
Native support for dual channel DDR3.
64 kB (32 kB Instruction + 32 kB Data) L1 cache and 256 kB L2 cache per core.
Confirmed New Features:
Haswell New Instructions (HNI, includes Advanced Vector Extensions 2 (AVX2), gather, bit manipulation, and FMA3 support).
New sockets — LGA 1150 for desktops and rPGA947 & BGA1364 for the mobile market. It is possible that Socket R3 will replace LGA 2011 for server Haswells
Intel Transactional Synchronization Extensions (TSX).
Graphics support in hardware for Direct3D 11.1 and OpenGL 4.0.
DDR4 for the enterprise/server variant (Haswell-EX).
Variable Base clock (BClk) like LGA 2011.
Supervisor mode access prevention (SMAP)
Fully integrated voltage regulator, thereby moving a component from the motherboard onto the CPU.
New advanced power-saving system.
37, 47, 57 W thermal design power (TDP) mobile processors.
35, 45, 65, 84, and ~100+ W (high-end, Haswell-E) TDP desktop processors.
15 W TDP processors for the Ultrabook platform (multi-chip package like Westmere) leading to reduced heat which results in thinner as well as lighter Ultrabooks, but performance level will be lower than the 17W version.
Features source Wikipedia
Which processor you pick will depend If you are a gamer, casual gamer or need to encode video/audio.
If you were a gamer and intended on playing the latest games you will want the i5-4670 (k or non k), you will get a very strong processor but no built in video, one could say the extra 28$ could save you time when troubleshooting video card issues (just fail over to  the HD4600 built in video).
If you are looking to encode video/audio and just want the fastest processor around, you would get the i7-4770 (k or non k). Not many games will take advantage of 8 threads, but it is coming. I remember my first Core i5 was around 300$, so to spend an extra 30 dollars wouldn't break the bank.
Of course if you see an ultra-book out there with the Core i5-4430 processor, know that it is going to be an impressive processor and will definitely do all that you need it to. So no matter what package you pick, if you wait till at least next month, you will not be disappointed. If you buy something right now, then you will be buying old technology, so try to avoid that! 🙂