Aug 13 2013 1:43AM GMT

Profile: Nathan Simon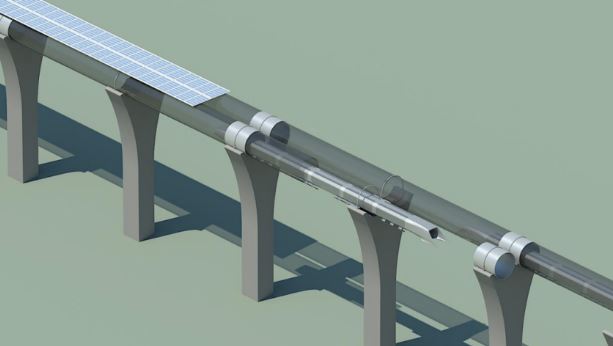 Update 8:45PM August 12th
After weeks of anticipation, Musk's open-source design is here. While he hopes someone else will take up developing the new transit mode, he said he will build a prototype if no one else does.
The reveal has already taken place, here is an excerpt from an article about it.
Musk proposes two sizes for the tubes. The smaller version, which would have an interior diameter of 7 feet 4 inches, would be large enough to carry people. The larger design would have a diameter of 10 feet 10 inches. That would allow pods large enough to fit a car, which means passengers could drive right onto the hyperloop.

The hyperloop would be solar powered. Panels would be placed along the tubes sporadically, as otherwise they would produce much more energy than the hyperloop would need. They would power linear induction motors, which are designed to power objects traveling in a straight line. Each time a pod passes a motor, it would receive a boost, allowing it to gradually accelerate to and maintain a speed of 800 miles per hour. Energy is recaptured when the pod slows down.
Read the rest here.
Original Post
Yeah, you read it right, I am sure some of you already know what Hyperlooping is, but a lot of people do not. It may just be the next way to travel. At nearly 750MPH you can get where you want to go, fast!
Tesla and SpaceX CEO Elon Musk to unveil 720 mph 'Hyperloop' designs today.

Musk's Hyperloop sounds very much like an idea promoted by Evacuated Tube Transport Technologies, or ET3, which  theoretically would enable not just city-to-city transportation but also country  to country, and even continent to continent, whisking passengers from New York  to Beijing in just two hours at speeds of 4,000 mph.

ET3 can provide 50 times more transportation per kWh than  electric cars or trains.

Speed in initial ET3 systems is 600km/h (370 mph) for in state trips, and  will be developed to 6,500 km/h (4,000 mph) for international travel that will  allow passenger or cargo travel from New York to Beijing in 2 hours. ET3 is  networked like freeways, except the capsules are automatically routed from  origin to destination.
Read more at here.