Jan 28 2014 3:27AM GMT

Profile: Nathan Simon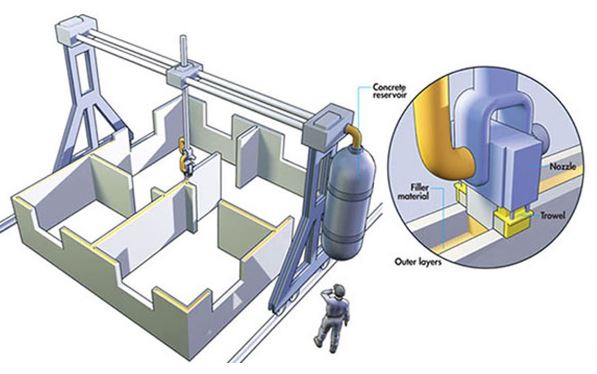 Apparently a 3D printing robot can construct a house in 24 hours?
Since 2008, Professor Behrokh Khoshnevis has led a research team in the creation and development of a new layered fabrication technology using 3D printing called Contour Crafting. Instead of using thermoplastics, a common material used in 3D printing, the robot applies layer after layer of concrete to construct straight and curved walls, as well as domes.

The process involves a giant robot with a hanging nozzle and a flexible arm on a gantry-type crane — the whole rig is known as a "contour crafter" — above the foundation. The contour crafter then proceeds to layer concrete based on a computer-generated pattern. The layers eventually take shape into walls, embedded with all the necessary conduits and passages for electricity, plumbing and air conditioning.
Now this is just the foundation, but made out of concrete that's pretty awesome… I mean we will still need workers to finish off everything else in the house including fixtures, roof, etc, but this would still be a huge time saver… I wonder what you would pay for that premium build?
Go here to read the rest.