Dec 31 2013 4:33PM GMT

Profile: Nathan Simon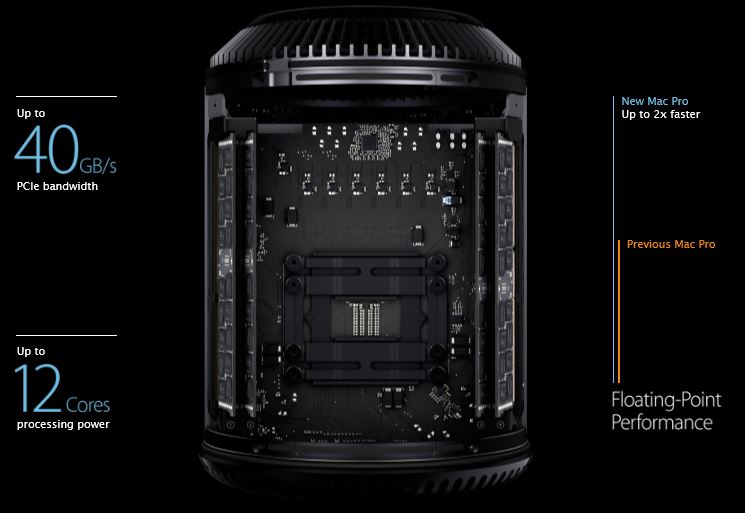 Welcome to the worlds the fastest Mac Pro ever created. How much do I care? Not so much, but I still want to follow Mac and their exploits. We all know that I don't like Mac, but I have got to hand it to them, this is a pretty machine, would I ever buy one, No. Why? Because I don't care about pretty when it is sitting under my desk. I am still running a Core i5 Sandybridge processor and I can do anything and everything I want, that's not to say that I don't want more, and couldn't use more, it just that I just don't need it right now. Anyways, this is about the Mac Pro, the very expensive Mac Pro, so let's start with the specifications, check them out below.
3.7 GHz Quad-Core Intel Xeon E5 processor
16GB 1897 MHz DDR3 RAM
Dual AMD FirePro D300 graphics cards with 2GB of RAM each
256GB SSD
6 Thunderbolt 2.0 Ports, 4 USB 3.0
802.11ac + Bluetooth 4.0
MSRP: $2,999
Pros
No faster Mac exists under the sun.
It's like having an exhibit from an industrial design museum in your house.
Cons
It's super expensive.
Bring your own screen/everything.
These specifications came from Techcrunch, feel free to head on over for an unbiased review, because clearly I am rooting for white box/custom build supremacy 🙂
So as you look over the pros and cons, nothing really gleans out at me, if you are looking to build your own monster you can head on over to PC Gamer and check out their budget, baseline, and performance builds, note that these are primarily built for gaming, and they state in the performance model you can trade a few things and upgrade to a hexa-core processor which would give the above Mac Pro a run for its money allowing for more SSD and 3TB of spindle disk for 600$ less, mind you its still BTOKBMM (Bring your own keyboard/mouse/monitor)
Anyways,  you make up your own mind, you know where I stand!