Jun 25 2013 9:19AM GMT
  By Edward Jones
As with the release of any new technology, there tends to be an immediate shortfall in information available to users as they look to get to grips with the new system. Following the general release of SharePoint 2013 in March (it went on release to Microsoft Volume licensees MSDN and TechNet subscribers in late 2012), Administrators and Developers a like were searching the web looking for handy guides, new info and the latest updates on the new instalment.
3 months on as the dust begins to settle and there appears a wealth of information on the Inter Web, Firebrand has compiled the top 5 resources for all thing SharePoint 2013. (nb. IT Knowledge Exchange would definitely be in the top 5 if you weren't already on their site reading this.)
 SharePoint IT Pro Blog – http://blogs.technet.com/b/tothesharepoint/
An obvious choice, the SharePoint IT Pro Blog is brought to you by the Microsoft Experts who are currently working on SharePoint IT Professional content. The Blog contains a repository of information including the latest updates on all the changes to SharePoint 2013, as well as a comprehensive series of 'how-to' guides helping to get to grips with all the features in the new system.
Definitely check out Bella Engen's current series "How to set up a product-centric website in SharePoint Server 2013". Bella is currently on Stage 15, wowzer.
TechNet – SharePoint Section – http://technet.microsoft.com/en-US/sharepoint
As with any Microsoft Technology, TechNet should always be high on your list resource pools when searching for the latest information. The platform acts as a portal to a variety of information sources and is arguably Microsoft's largest collection of centralised information for their enterprise products.
TechNet offers a SharePoint centric section that caters to both Admins and Developers. Not only does it cover SharePoint 2013, but also the recent versions including SharePoint 2010 and SharePoint 2007. From here, you can access the SharePoint library (where all technical documentation is held) and find learning roadmaps amongst other handy guides, download the latest versions and updates for SharePoint, or simply head to the forums where you can ask and answer questions.
The aforementioned SharePoint IT Pro Blog is also an extension of the TechNet platform.
Joel Jeffery's Blog – Resident SharePoint expert at Firebrand – http://joelblogs.co.uk/
Another resource that is well worth a mention is our resident SharePoint expert Joel Jeffery. Joel is a SharePoint Architect and Subject Matter Expert for versions 2007 through to 2013, as well as being an official Microsoft Certified Trainer.
Joel's Blog contains a plethora of 'how-to' guides on SharePoint 2013 and 2010, links to other valuable SharePoint resources and the occasional mention of his live support service SharePoint Doctors. Our Joel is also a lyrical superstar when it comes to teaching SharePoint, check out his SharePoint song.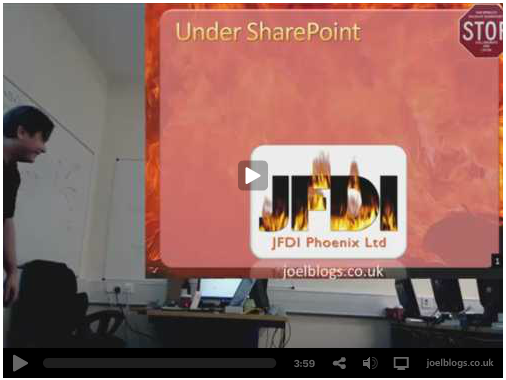 (Nb. Image opens in new window as I couldn't embed the video)
SharePoint Pro – http://sharepointpromag.com/
SharePoint Pro was designed for both Developers and Admins and is packed with the content and coding required to build, deploy and manage world-class SharePoint sites. The platform is an independent collaboration managed by Penton Media and is supported by SharePoint experts not associated with Microsoft. The site is segmented across 5 clear sections, SharePoint 2013, SharePoint 2010, SharePoint 2007, Administration and Development making it fairly clear cut when you are looking for support.
As well as the latest news and support guides, SharePoint Pro offers a weekly newsletter as well as hosting regular on-line and in-person events to talk about SharePoint matters.
Stack Exchange – http://sharepoint.stackexchange.com/
Our final resource is from popular Q+A platform, Stack Exchange. The site is a network of free to use, community-driven Q+A sites with a sub-section devoted to SharePoint.
Ask questions for which you have no answer to a community of SharePoint enthusiasts and experts. There is of course the risk of being provided incorrect answers, thankfully the community element nullifies this issue, as members can validate or quash answers. Search previous queries, help answer questions and become part of a wider SharePoint community.
Final word
So there we have it, 5 invaluable resources to stick in the bookmarks section whenever you have questions or concerns with SharePoint 2013, or perhaps if you just want the latest gossip or an update patch.
Think we've missed a trick? Got a SharePoint resource you think deserves a place in our top 5? Why not drop us a comment and let us know.
Until next time…..
About the Author: 
Ed Jones works for Firebrand Training heading up community engagement within the Marketing department. Ed spends his days thinking up topics for surveys, article titles and concepts for engaging infographics. You can check out a range of his most recent work via the Firebrand Press Page.