---
January 30, 2013 9:59 AM
By Edward Jones
About the Author: Ed Jones works for Firebrand Training as a Content Strategist within the Marketing department. Ed spends his days thinking up topics for surveys, article titles and concepts for engaging infographics. You can check out a range of his most recent work via the Firebrand Press Page.
Here at Firebrand, we love 2 things – Microsoft Technology and Movies. So on a not so sunny Thursday afternoon back in August, we came up with the idea of trying to merge the 2.
We set forth with grandiose offers of Amazon vouchers and worldwide acclaim (via our blog) for the best movie parody using a Microsoft technology submitted by our readers via Twitter. By Friday afternoon we had an inbox full of fantastic/terrible suggestions from "SharePoint Blank" to "Windows M.E, myself and Irene". Pleased with our responses we doled out the goodies and planned to rest on our laurels for a job well done, that's when someone muttered 3 words that would change my life forever/the next few weeks……"Microsoft Movie Posters".
Our excitement barely contained, we enlisted the services of a designer and poured over the submissions. Finally we selected the top 5 submissions we felt came accompanied by Iconic Movie posters and set to work…..so now the results….
First and possibly my least favourite:
Fantastic 4: Rise of the Silver Server
This parody is based on the awful second version of Fantastic 4 and Microsoft's Windows Server OS. Interestingly enough "Rise of the Silver" is a good link, back in August 2012 Microsoft launched the latest rendition of Windows Server. Dubbed the first "cloud OS", since it's release there has been a positive reaction from the industry. This is very much reflected in our recent survey which suggests 85% of companies plan to integrate Windows Server 2012 into their Network. You can see the infographic in our previous post.
Now without further adiue….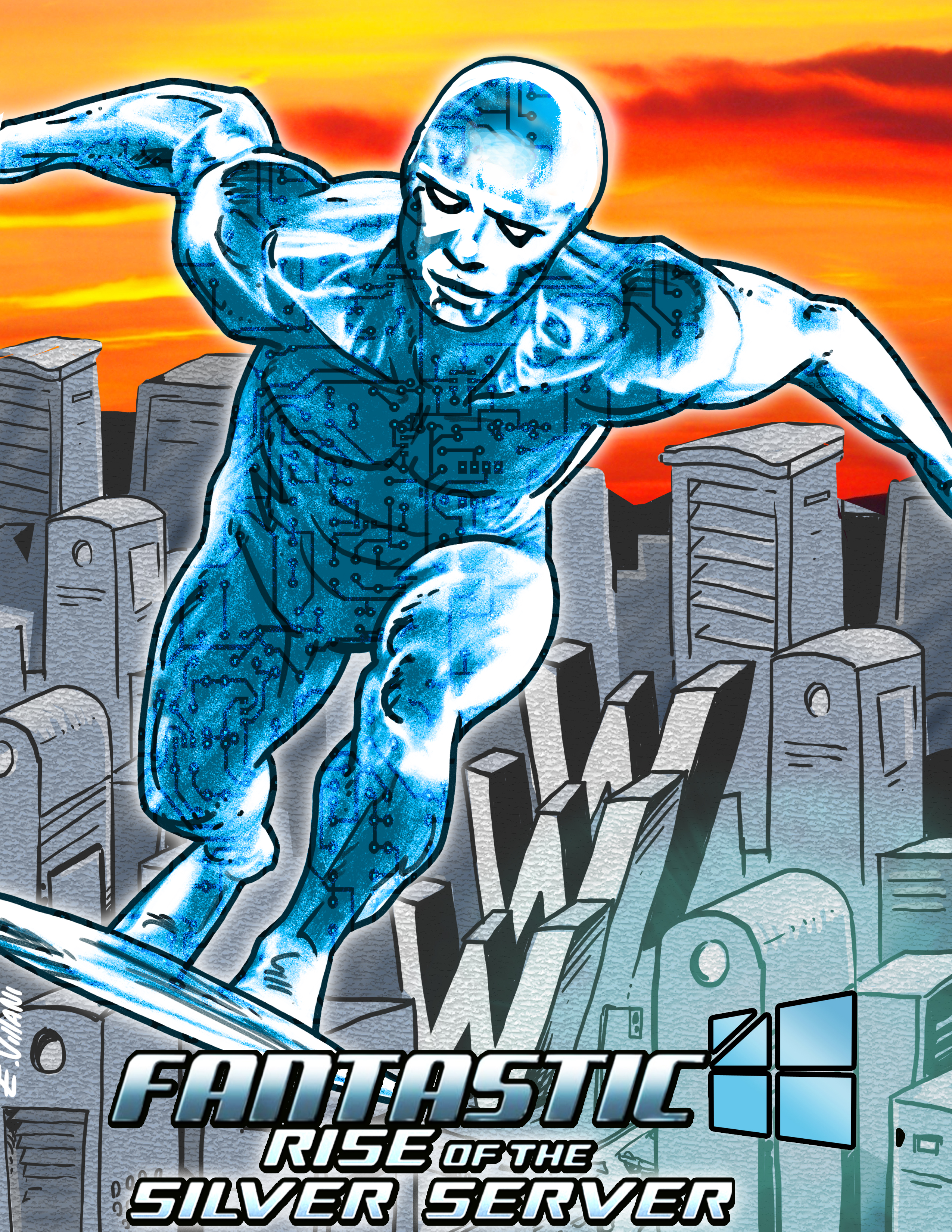 Check back tomorrow for the next instalment…I promise they get better.
January 11, 2013 11:45 AM
As we move into 2013, it is with increasing certainty we embrace the notion that "the Cloud" is the next logical step in the evolutionary IT process. We have moved safely past the dreaded "betamax" and "minidisc" phase and must now look forward and prepare for an increasingly cloud-y future.
In August 2012, Microsoft released Windows Server 2012, dubbed the first "cloud ready" server operating system. The system was designed so that whether you were a small business setting up a single server or a major organisation architecting a new datacenter environment, Windows Server 2012 would allow you to cloud-optimize your IT.
In this brave new world increasingly dominated by mass virtualization and cloud ready server operating systems, the requirement for a high speed, highly available network has never been more important. Windows Server 2012 was designed to help you achieve this. In previous versions Windows Server made the teaming of Network Interface Cards (NICs) a notoriously tricky and time consuming process, hours would be spent downloading third-party drivers and tinkering with technical configurations for certain NICs
Not so in Windows Server 2012, follow our Windows Server 2012 How-to guide for teaming NIC's to create and maintain a high speed, highly available network.
This infographic designed by Firebrand. The content is from our Windows Server instructor Ed Baker, and the original guide can be found on Server Watch.


Infographic – How to Team your Network Cards in Windows Server 2012 by FirebrandTraining
---
November 15, 2012 9:58 AM
In the past 30 years Microsoft have developed Technologies that influence just about everything we do both in the work place and the comfort of our own home.
Most well known is the Windows Operating System; synonymous with the PC; which according to a recent Operating System Market Share Survey by Hitslink , maintains a 91.73% share. Outside of the Windows Operating System, Microsoft have produced a range of innovative and hugely successful software products including, Powerpoint, Windows Server, SQL Server and .NET to name but a few.
And as we move towards the end of 2012 we will again see a flurry of new products as Microsoft transition into the next stage of Technologies. We will see the roll out of the Surface Tablet, Windows 8 and the latest instalments of Windows and SQL Server. So as we look to the future lets take a quick journey through their past.
---
November 2, 2012 2:28 PM
Are you planning to integrate Windows Server 2012 into your network?
With Windows Server 2012 securely off the production line and readily available to the Technology Industry, here at Firebrand Training we surveyed over 1000 technology companies to gauge the mood of the consumer market.
We went for the kill and asked the big questions that would determine the success of Windows Server 2012:
When are you planning to integrate Windows Server 2012 into your Network?
Why are you planning to integrate Windows Server 2012 into your Network?
Why are you not planning to integrate Windows Server 2012 into your Network?
After incentivising our respondents with £500 worth of goodies, we collated all the data and were faced with some exciting and interesting insights. Suffice to say if our sample of data transcends to industry behaviour this could be Microsoft's most successful Windows Server Operating System to date.
So here are all the results in a nice shiny infographic, some of the findings may surprise you.
---
October 22, 2012 11:04 AM
Windows Server 2012 has hit the shelves, and already businesses around the globe have begun to adopt the latest version of the Server Operating system. Today we take a look at one of the core features in the new operating system, Fine-Grained Passwords.
IT security has been a huge feature in the media in 2012, so its no surprise this latest instalment of Windows Server is packed with new Security features. If you missed the big headlines, 2012 endured the Flame Virus touted as "the most complex virus ever created", 6.5 million LinkedIn Passwords Leaked by a Russian Hacker and now the US prepares for Cyber Attacks that could "do more physical damage than 11 September 2001 attack."
So to lighten the mood and seeing as it's Monday, we thought we'd add a twist to the way we deliver this rather technical 'How to'.
Without further ado, check out our Star Wars Fine-Grained Passwords Prezi…
---
September 25, 2012 8:48 AM
On September 4th we reached another monumental milestone in the History of Microsoft Technology, the release of Windows Server 2012.
This product underpins the shift occurring  across the entire IT world….transition of technology towards the cloud. Windows Server 2012 is truely a reflection of this shift, heralded as a new operating system for the cloud.
As the dust begins to settle, here at Firebrand HQ our Windows Server Instructor Mike Brown decided to take a look at all the new features in Windows Server 2012 and lay them bare.
After creating a beautifully written article we decided to pull it apart and turn it into a Prezi presentation. Take a look below.
---
August 31, 2012 4:12 PM
Author: Ed Baker, Windows Server Instructor at Firebrand Training
Until now if you wanted to implement High Availability in Virtual Machines (VM), you would have to invest in cluster technology and some shared storage. Now the arrival of Windows Server 2012 brings with it a perfectly acceptable disaster recovery solution for Virtual Machines that is free, built into the product and easy to implement.
A replica is just what it says, a copy of a live VM stored on a remote server that is updated every five minutes with any changes. At any point in time you can failover to the replica and bring the virtualised workload back online.
What you need to get started
Hyper-V Replicas can be implemented if you have any two physical Windows Server 2012 servers. These must both have the Hyper-V role installed. The location of the servers is not important – they can be in the same rack or on different continents. The only other requirements are that they can be connected by an IP network, they have sufficient storage to host the virtualized workloads to be replicated, and that the network bandwidth is sufficient to cope with the initial transfers.
Replication is very flexible: in or out of domains, and in or out of failover clusters (same cluster or not). It also allows a completely standalone non-domain single replication model – which is the scenario that this article deals with.
Where to begin
First install the Hyper-V role on both machines (using Server Manager, or PowerShell 3.0 if you are a command-line guru). To prepare for replication, set-up an External Replication network using the virtual switch manager. This needs to be done on both servers, with the network name being the same on each. The only other step to prepare for the use of replicas is to have a Virtual Machine (VM) configured on each server. This is because we are going to set both servers up to replicate each other.
We now have two physical servers acting as Hosts or Parents to a VM, using the same replication network.
On Server One, open Hyper-V manager and select the VM you wish to replicate. Right-click on the VM, and select "Enable Replication". Unsurprisingly, this fires-up a wizard. In the Specify Replica Server Box, enter the FQDN of your second server. You will receive an error stating that the server is not ready to host replicas. There is a convenient Configure Server button – click this.
This opens the Hyper-V Settings window for the second server, with the focus on the Replication configuration section. Check the Enable this Server for Replication box. Depending on your requirements, these settings allow for unencrypted HTTP traffic (port 80) or encrypted HTTPS communication (port 443). It also allows for authentication from a single server, a group or from any server.
You then want to check the Use Kerberos (HTTP) box, and the Allow Authentication From Any Server Radio button. Apply these settings.  A warning points you to the correct firewall rules to enable. This screenshot shows which rule to set on both servers:

Simply accept all the defaults for the rest of the wizard. There are also many areas for configuration, to allow for more flexible use of replication.
Now do it all over again
Replication is now enabled, and the initial replication has started. If this is a small machine and the network is quick, go to the second server and see if the replicated VM has appeared. If it has, in the bottom section of Hyper-V manager, you will see there is now a Replication tab. Select the replicated VM and click that Replication tab. You will see it is listed as a replica.
Repeat the above steps for the VM on Server Two.
Provided that you set the Firewall rules correctly, you now have a cross-replicated system, where each server hosts a primary and a replica VM. There is no cluster, no SAN, no shared storage, just replicas as shown below.
It's possible to select a time period for replication – and whether it starts manually or automatically. VHDs can be included and excluded from the replication if required. Recovery points can be maintained, and the number of these to be stored is also configurable (between 1 and 15). The transmitted data can be compressed and encrypted if required.
All of these settings can be managed in the VM Settings window.
Failover scenarios
Hyper-V replication allows for several different failover scenarios. From the replica copy itself, these options are available: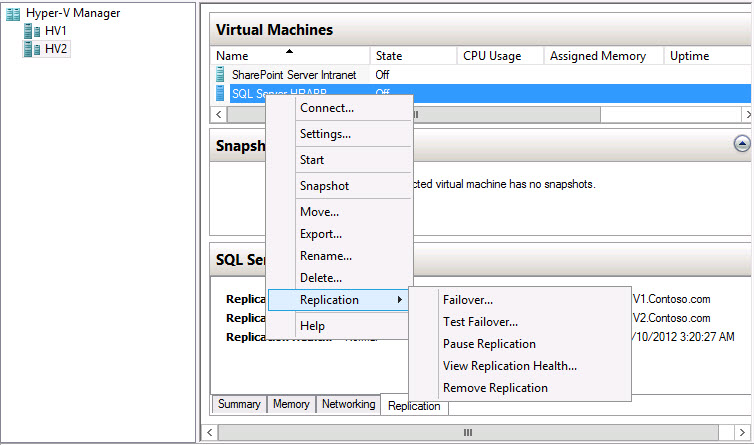 While from the Primary VM, the below are available: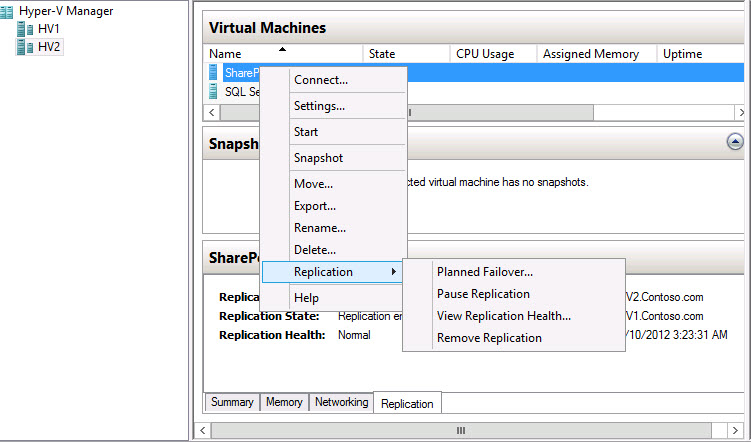 So there are: Test Failover, Failover and Planned Failover…
1. Test Failover
This option ensures that your replica VM starts correctly, and is a viable DR solution. By selecting this, a new VM is created which allows the administrator to confirm its status: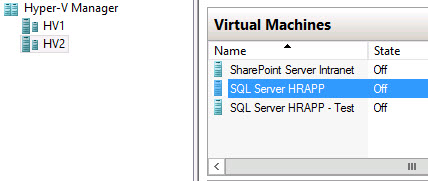 To ensure that your Test Failover doesn't interfere with your production machines, Hyper-V now has the ability to inject a different IP addressing scheme into your Replica. It can also start it using an entirely different network, using the virtual switch.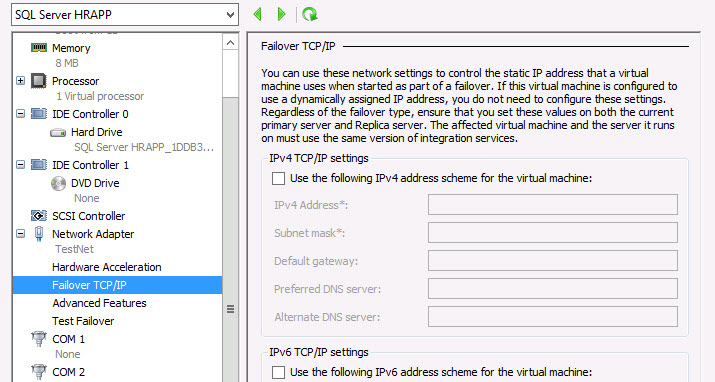 In the VM Settings – under Network Adaptor – the configuration options cater for IPv4 , IPv6 and advanced options and test failover for networks. This flexibility allows an administrator to carry out failover tests regularly – this is best practice!
Once tested, right-click the original replica VM and click Replication. Stop Test Failover, and the test VM will be deleted.
2.  Failover
This is the one to use when the Primary VM has failed, and you need to get your virtualised workload up and running as soon as possible. Simply select Replication and Failover. The standard warning appears, select your recovery point and click Failover. The replica remains the replica, but is the active VM. The Replication tab highlights the completed failover, and the warning that the primary is offline.
Once the Primary VM is up and running there are several options to return to normal. Though these are outside the scope of a short article. Microsoft has published an 82-page Understanding and Troubleshooting guide for Hyper-V replicas, which will assist with this and any other unanswered questions.
3.  Planned Failover
This is carried-out from the primary VM. When selecting the option from the Replication sub-menu, a prerequisite check is carried-out to ensure that the replica can take over in the absence of the primary. And that all the necessary action is then set in motion; including reversing the replication to ensure the original primary is kept up-to-date when it comes back online.
Summary
This has been a short toe-dipping into what is set to be one of Windows Server 2012 'Big Five' areas of functionality. The ability to carry out failovers and high-availability on a tiny budget is something small businesses have been crying-out for, and can now embrace with zero additional costs.
---