---
April 29, 2013 3:46 PM
By Edward Jones
About the Author: Ed Jones works for Firebrand Training as a Content Strategist within the Marketing department. Ed spends his days thinking up topics for surveys, article titles and concepts for engaging infographics. You can check out a range of his most recent work via the Firebrand Press Page.
Ok, so in the last two posts we have covered Family Safety and File History in Windows 8. You should now have the power to prevent data loss and protect your kids whilst surfing the web, it's time to move on to Refresh and Reset. This feature has been designed as an alternative to re-installation of Windows 8.
If you've ever had to re-install a Windows Operating Sytstem, that is if you can even find the original OS disk and the access key, then you know it's a time consuming and often arduous task. Windows 8 has put Refresh and Reset at your fingertips to give you a powerful and quick alternative. So you've filled you PC to the brim, its lethargic and that little loading timer is driving you to despair, you now have two alternatives to the re-install.
Refresh – less severe of the two options, Refresh allows you to remove all downloaded applications and games whilst keeping all personal files and Windows Store purchases.
Reset – this is the more severe option, so consider carefully before using. This is a complete factory reset, no files, downloads or purchases, a fresh OS with default system settings in place. Good as new.
So lets learn how to put these features into action with the following infographic created by my colleagues at Firebrand Training.

April 25, 2013 3:28 PM
By Edward Jones
About the Author: Ed Jones works for Firebrand Training as a Content Strategist within the Marketing department. Ed spends his days thinking up topics for surveys, article titles and concepts for engaging infographics. You can check out a range of his most recent work via the Firebrand Press Page.
Welcome to the latest instalment looking at the new features in Windows 8. In our last post we took an in depth look at File History, the automated back up feature that allows Windows 8 users to create regular back ups of all files, favourites and contacts to an external device. Today we look at Family Safety, which adds an extra level of security to protect children when using their PC and browsing the web. Family Safety was designed for adults concerned about the type of content their children can be exposed to while surfing the web. Microsoft responded by building in a variety of new control's that parents can administer to a child's profile.
Family Safety Features
Lets take a look at some of those protocols in a little more detail:
App Restrictions – worried about your kids purchasing or downloading inappropriate apps, or simply don't want your PC clogged with the latest version of Candy Crush? This feature allows you to restrict applications being downloaded through the Windows Store.
Game Restrictions – this feature allows parents to protect their children from downloading or installing violent/disturbing games. The system works on ratings from child friendly to 18+ red band games, so you can choose to prevent installation of certain/any type of game.
Time Limits and Curfew – limit how long your child can access their account in a single day or simply set access times, no late night surfing web or playing games till the early hours.
Web filtering – prevent your kids from visitng website deemed unsuitable, or simply logging into eBay and spending all your money on clothes and Xbox games before you get the chance to.
Activity Reporting – keeps tabs on the time your kids access the web and what they're looking at. Check you out you cyber sleuth you.
Requests – this is a function through which your kids can request access to materials you can then approve or deny.
Learn it
You know what it does, now learn how to use it with this Infographic. The content was written by Gary Fildes, lead Windows and Apprenticeship Instructor for Firebrand Training

---
April 24, 2013 11:28 AM
By Edward Jones
About the Author: Ed Jones works for Firebrand Training as a Content Strategist within the Marketing department. Ed spends his days thinking up topics for surveys, article titles and concepts for engaging infographics. You can check out a range of his most recent work via the Firebrand Press Page.
As we move past the 6 month mark of living with Windows 8, we begin to see the gradual and somewhat natural transition from the consumer market to Windows 8. As new PC's are purchased with Windows 8 retrofitted and the enterprise sector begins the slow upgrade from Windows 7 (….or Windows XP for some) a growing community are getting to grips with Windows 8 and all the new features. In the next few posts, Firebrand plan to take you through some of these powerful and useful new features.
First up we look at File History in Windows 8.
What is File History?
File history is the new automated back up tool built into Windows 8, by activating the function you can create a secure external back up of all documents within you libraries, contacts, favourites and even your Microsoft Sky Drive. The function also allows you to create historical versions of individual documents, allowing you to role back to older versions. No more losing your files, no more BSOD nightmares (you're not a true techy if you are unfamiliar with the BSOD Acronym).
You know what it is, learn how to use it.
Right,  now you know all about the features of File History, follow this how to guide created by Firebrand Training and in a matter of minutes you'll know exactly how to set it up. In our next post we'll run you though Family Safety, the powerful security feature protecting your kids while they surf the web and use their PC.
If you have any feedback or commentary you'd like to add, feel free to get in touch.

---
April 18, 2013 2:11 PM
The computer is part of just about every aspect of our lives. Most transactions are completed online – from the email conversations to online banking. This all makes life easier – until a hacker spoils our fun. Having your bank account emptied is no laughing matter.
The hacker has many identities. Ranging from the prankster, to the full-blown criminal. Either way, malware and viruses becoming ever-more sophisticated. But there's one constant…
For a virus to 'work', it must be opened by a human (that could be you). Once that's happened, there's no telling what evil deed the virus has the power to instigate. That's where some simple awareness comes in. If you know the basics, chances are you won't be giving a hacker your bank details any time soon.
It really is this simple
Be it through a wire or in the air, there are countless ways for a virus to hit your PC. While good security software is essential, developing great security awareness is key. Remember that the potential for malware or transferring viruses is always present.
Hackers will always prey on their easiest victim. Keep these three steps in mind, and you'll ensure that it's not you:
1. Get anti-virus software!
You'd think this would be obvious. There's even free anti-virus software out there. Always keep it up-to-date
2. Hide behind a firewall
Does what you expect. This is the virtual wall between you and your nosey neighbour (aka the hacker). Firewalls prevent unauthorised connections to your network.
3. Maintain tireless wireless
Chances are you'll be connecting to the internet wirelessly. It's a little bit like shouting your credit card details to a friend across a crowded room. Anyone between you and your friend (the router) can hear those details. It's possible for the hacker to position themselves between you and your router. Look up wi-fi man in the middle attacks, and you'll be tempted to never go online again.
But creating a long, un-guessable password for your wi-fi connection will stop the hacker in their tracks. You can also get a little more technical, and switch-on encryption. This will give you an extra layer of security.
Stick to the above and you'll be cyber safe. Just beware of complacency – because the hacker will be waiting for you to drop your guard.
Author Bio: Sarah writes for Firebrand Training on a number of IT related topics. This includes exams, training, certification trends, project management, certification, careers advice and the industry itself. Sarah has 11 years of experience in the IT industry.
---
April 9, 2013 11:36 AM
If you are on IT Knowledge Exchange then chances are you work in technology; either that, or you are lost and a long way from Kansas Toto. Lets assume you are the prior, one of the best ways to boost your technical knowledge and improve your chances of career progression and salary increase is through training and certification. Don't believe me, check out Microsoft's studies outlining the benefits of certification. Don't believe them, check out IT Jobs Watch and look at salaries for  popular job titles, then compare them with associated certifications, those with certification will earn on average 15-20% more. If that's not enough, then I can't help you.
Anyway, if you're in IT, then you know the cost of training isn't cheap, especially classroom training. Your typical MCSE Server course can range from £1000 to £10,000 dependent on the number of exams your looking to take, Project Management certifications from £500 to £3000. Convincing your line manager to free the budget for training isn't exactly a walk in the park either. But what if you could take every certification you ever wanted for Free? Well here at Firebrand Training we have launched Free Training for Life, a competition whereby one luck winner will win as the competition states Free Training for Life on any of our portfolio of courses.

Microsoft? Cisco? Oracle? PMI? EC-Council? CompTIA? The list is almost endless, so whether you want a career as a Project Manager earning up to £100,000, a Chief Enterprise Architect on £122,000 or an Information Security Risk Manager on £135,000 (the list of jobs is endless), then we've got the certification to help you on your way, did we mention it's Free?
So what are you waiting for? Join the competition now at – http://www.firebrandtraining.co.uk/ftfl
Then share your unique URL and if someone else enters you get an extra ticket in the lottery.
Competition Closes –  23:59 GMT, Sunday 1st September 2013.
---
April 8, 2013 2:15 PM
By Edward Jones
About the Author: Ed Jones works for Firebrand Training as a Content Strategist within the Marketing department. Ed spends his days thinking up topics for surveys, article titles and concepts for engaging infographics. You can check out a range of his most recent work via the Firebrand Press Page.
Put plainly, being a Project Manager is tough. You are responsible for understanding a range of processes, implementing the correct strategies and making best use of the tool available, and god forbid it all goes wrong there is only one person to blame. The practice of Project management allows organisations to significantly improve the efficiency and productivity of their organisation; this means improved profits, so it is no surprise that Project Managers are in high demand. It's also a highly rewarding role offering work variety, competitive salaries and long term career prospects, so it comes as no surprise that competition is higher than ever.
So in an increasingly competitive marketplace, how do you stand out from the crowd? Past experience is critical, however an increasing volume of professionals are turning to project management certification as a way of elevating themselves above the average Project Managers CV. Certification is proof of knowledge and endorsement from an independent third party that you can apply the necessary practice.
Top of the list is PMI's Project Management certification.
More about PMP Certification
Like other professions, there is a membership association in place for the project management profession – it's called the Project Management Institute (PMI). Regarded as the World's leading professional association for Project Management their flagship offing is the Project Management Professional (PMP), which is a globally recognised and transferable project management credential; moreover, this program is the very first certification to be honored with the ISO 9001 quality certification.
The members of PMI enjoy direct access to the skills, knowledge, networking opportunities, educational support, and everything else required for a business to yield positive results through portfolio management, program management, and project management. According to the most recent Project Management Salary Survey, your PMP certification will give you increased marketability to employers and a higher overall salary, responses from over 30,000  project managers is fairly compelling results. By now you'll probably find yourself asking, how do I obtain a PMP credential?
Are you eligible for a PMP Credential? 
Due to the ever increasing status of the cert, to even apply, you must now have either:
Five years experience of project management accompanied by 7500 hours of leading and directing projects, 35 hours of project management centric education and a secondary degree (high school diploma, associate's degree, or the global equivalent).
OR
A 4 year degree (bachelor's degree or the global equivalent) 3 years project management experience accompanied with 4,500 hours leading and directing projects and 35 hours of project management education.
Not only do you need to meet the eligibility criteria, you also need to pass the PMP examination. An especially designed test that includes 200, multiple-choice questions.
Misconceptions of PMP
Some candidates think they have a strong project management background, so they don't have to prepare seriously for the exam. It's nothing but a misconception. The test is designed to be tough and checks your knowledge and understandings of different project management related concepts. The difficulty of attaining the certification ensures an employer quickly understands that a candidate with a PMP certification has a solid foundation of experience and possesses sufficient knowledge of every issue related to the field of project management. Therefore, it is important to prepare vigorously otherwise you could easily fail your PMP exam.
How to ensure you attain your PMP Certification
Aside from meeting the pre-requisites, to give yourself the best chance of passing the exam and securing your certification there are several training routes you can go down:
Classroom learning – whilst a more expensive option, classroom learning offers a structured environment conducive to learning with a qualified instructor to help prepare you, thus improving your chances of winning. There are range of Official PMI training providers which includes Firebrand who offer a 4 day all inclusive PMP bootcamp designed to fully prepare you for passing the exam.
Self-Study – for the self-disciplined amongst you, not looking/unable to invest significant funds in training, self-study is a viable option. As always there a range of official and non-official study guides available on Amazon, the benefit/downside of this method is that it's up to you when and how you chose to study.
Distance Learning – This falls somewhere in between self-study and classroom learning both in cost and structured/unstructured training. The market is currently flooded with a range of operators offering varying levels of service with interactive video learning and live instructors on hand to help you if you get stuck.
Pros and Cons of Obtaining a PMP Certification
By now you should know all about the PMP and how to obtain it, lets take a look at some of the pro's and con's some of which have already been included earlier in the article.
Pros
According to figures from IT Jobs Watch the average Project Manager (without certification) earns £50,000 per annum, whereas Project Managers who are PMP certified command an average salary of £57,500, a 15% increase!
As a universal certification, PMP is applicable to and coveted by a wide range of industries offering a wide array of career opportunities across the globe.
PMP is regularly listed among the top 10 in demand certifications as reflected in this recent post from Tech Republic.
Cons
As a reflection of demand and its high reputation the pre-requisites are tough, if your just entering the project management sector it may be a long time till you become eligible.
Preparing for the exam is expensive if you wish to get the right kind of training to ensure you pass, of course this can be nullified if your company is paying or by increased salary offsetting the cost of training.
Summary
Having read the article you should now know what PMP is, whether your eligible, common misconceptions, methods of training and the Pros/Cons of obtaining the certification. So now all you need to know is whether it's right for you and if so when you start training. Good Luck.
---
March 1, 2013 3:37 PM
By Edward Jones
About the Author: Ed Jones works for Firebrand Training as a Content Strategist within the Marketing department. Ed spends his days thinking up topics for surveys, article titles and concepts for engaging infographics. You can check out a range of his most recent work via the Firebrand Press Page.
In a global marketplace increasingly dominated by technology, it is now more important than ever to consider the principle of enterprise architecture. In the modern day, nearly every company, public entity and even government department now requires a strong online presence. This can range from company websites and blogs to organisation pages on social media, and that is just the beginning. Remote working using Cloud computing and VPNs are the beginning of a trend that links all business via computer systems and the Internet.
Gartner, the world's leading IT Research and Advisory company defines enterprise architecture as:
"a discipline for proactively and holistically leading enterprise responses to disruptive forces by identifying and analyzing the execution of change toward desired business vision and outcomes. EA delivers value by presenting business and IT leaders with signature-ready recommendations for adjusting policies and projects to achieve target business outcomes that capitalize on relevant business disruptions. EA is used to steer decision making toward the evolution of the future state architecture."
Enterprise Architecture Framework
Enterprise Architecture Framework is an agreed set of standards, rules and tools used in implementing enterprise architecture.
There are three parts to architecture frameworks:
Views: these refer to the way information is communicated within the architecture, particularly regarding interactions and relationships.
Methods: the methods are formulae for ensuring that all the necessary information is gathered and used, ensuring that all contingencies and basics are covered. This helps to make certain that the architecture is completely accurate, comprehensive and have integrity.
Training and Experience: These ensure familiarity with the standards, standardised tools and structures of enterprise architecture, ensuring seamless compatibility between different systems and infrastructures.
Left unchecked, enterprise architecture could potentially become an unmanageable field, with development sprouting wildly in all directions. Architecture framework contains the development and channels it into manageable and expandable directions. Think of a climbing plant with no frame; it will grow over the ground, mingling and interfering with the growth of grass or other bedding plants, whereas with a trellis to climb up, and even be tied to if necessary the plant can reach up to the sunlight and no longer has to compete with other flora. The architecture framework acts as the 'trellis', guiding enterprise architecture along desirable and profitable lines, yet keeping it within a manageable structure.
Types of Architecture Framework
There are five basic types of architecture framework available at present, and this number is growing with demand. The five types are; defense industry frameworks; government frameworks; consortia based frameworks, those set up by groups and affiliations of concerned parties; open source frameworks, worked on by interested parties who share code and programming skills to achieve the finished product; and proprietary frameworks. Some examples of the five types follow:
Government: FEAF and TEAF, the Federal and Treasury Enterprise Architecture Frameworks, respectively; NORA, used by the Dutch government and GEA, used by the Queensland government
Defense Industry: MODAF and DODAF perform the same task for the British Ministry of Defense and the United States Department of Defense, the French have AGATE and the Canadians use DNDAF.
Consortia-based: TOGAF, from The Open Group is the most famous of the consortia frameworks, arguably the best known of all the frameworks. There is also EABOK, GERAM, and the IDEAS Group, the latter of whom caters to networks rather than individual entities. RA-ODP and ARCON are also the brainchildren of consortia. 'Good enough architectural methodology' is a system based on real-life needs and processes found in the business world, a practical solution for pragmatists.   Open-source Frameworks: SABSA, Praxeme, TRAK and MEGAF are all open source frameworks, as is the cheekily-named GOD.
Proprietary Frameworks: Information Framework, OBASHI, IAF and there are many more proprietary frameworks, some fairly small scale having been designed specifically to fulfil a certain criteria. One proprietary framework that deserves a special mention is the Zachman Framework, the oldest architecture framework – dating to conception in 1982 and fruition in 1987, the dark ages of computing! Zachman, along with TOGAF, offers a broad architecture framework, allowing for complete analysis and planning for an enterprise.
Certification for Enterprise Architects
Enterprise architects often need certification in any one of the many architecture frameworks, in order to attract job offers from the biggest companies. IT managers may have a lot of experience working with and setting in place architecture, and may find themselves needing to adhere to a framework, simply to stay on top of their job. It is for this reason that many employers looking for IT managers will ask for some kind of enterprise architecture accreditation.
Architects find it easier to work within a framework, as clear guidelines, standard tools and a clear united vocabulary mean that every aspect of the work is clearly understood.
Should you be considering a career in Enterprise Architecture, the TOGAF certification offered by the Open Group is a solid investment. TOGAF is the most widely used of Enterprise Artchitecture frameworks and so opens you to the greatest number of opportunities. If you are looking to embark on a career sooner rather than later, why not check out the 3 day TOGAF certification by Firebrand.
With a TOGAF certification behind you, you will be well on the way to a career as an Enterprise Architect. And with certified architects enjoying an average salary of £65,000 (*source – IT Jobs Watch), you can add a spring in your step.
---
February 22, 2013 11:16 AM
Author Bio: Phil Chapman has 23 Years RAF/MoD experience as a Chief Technician. Phil has 5 years experience as a Microsoft Certified Trainer delivering Microsoft and CompTia training courses. Phil is a Lead Instructor for Windows 8 Training with Firebrand.
The advent of a new Windows operating system is always heralded with pomp and ceremony. And normally from those of us who are tasked with deploying and administering the new beast – some trepidation.  Microsoft Windows 8 was no different – with plenty of media hype, secrecy and intrigue over the final interface.  Combine this with the new hardware of course, and we had the usual fear of the unknown!
For those of us that were keeping a close eye on the development of the system, the fear was mostly around how they were going to improve upon Windows 7.  If operating systems were Olympic athletes, I'd hand-out gold medals to Windows XP (a marathon stint, at the top of its game) and Windows 7 (for taking the baton from Vista and crossing the line in style). Though Windows Vista would pick-up a bronze, just because it's the closest colour to brown!
Vista aside, Windows 8 has a hard act to follow – but comes from a good pedigree. Windows 7 gave us everything and more on the network, inherited from the ageing XP. And although most of us choose to ignore or ridicule Vista – it was a victim of poor timing more than poor design.
Change is inevitable in IT. Though Microsoft has chosen not to try to totally reinvent the wheel, and it seems to have found the happy balance between keeping the legacy of Windows 7, while creating a desktop interface that has never been seen before.  The biggest hurdle is finding where everything is!
Where to Start?
When you first install Windows 8, you're given the option to select a Windows Live (online) ID. This ties-in all online applications, and immediately allows for the personalisation of the interface to suit you. If Windows ID is not for you, a 'normal' local user account is available with profile to match.
Once you've launched the new-look GUI interface, your 'live tiles' leap into action; making the experience as personal and interactive as you like.  You can add new application tiles, increase and decrease their size, and de-activate the live aspects to suit.  One downside to this is the impact that this has on resources, if you inadvertently leave your application in live play and switch to the desktop.
It is likely that none of this will affect the Enterprise user, as applications will continue to be deployed to the desktop or virtualized as before.  However, advancements have been made in supporting the client when working with Cloud-based resources, Remote Desktop Services and VPN.  Not least, the more 'streamlined' and infrastructure friendly approach to Direct Access.
Let's cut some corners
The corners of the screen are the key to discovery with Windows 8:   • Click bottom left – allows you to toggle between Desktop and Start Screen • Right-click bottom left of the Desktop – opens up administrative features, including the run command and search • Click top left of the Start Screen – allows you to see and toggle between most recently used applications (including those still running in the background). • Top right / bottom right – opens up the Charms Bar, which allows you to configure several settings. All explained below.
What's the Charms Bar?

Search – allows for fast searching across files, applications and settings
Share – allows you to share links with email and social media sites.  Some applications also allow for the sharing of data (such as translation tools etc.)
Start – toggles between Desktop and Start Screen
Devices – allows for the quick connection between connected devices, such as second screens or external displays
Settings – allows for the control of display settings, a direct link to the Control Panel, power options (yes, this is where you power down or restart a Windows 8 machine!), personalisation settings and a quick link for simple PC configuration changes.
---
February 1, 2013 10:06 AM
By Edward Jones
About the Author: Ed Jones works for Firebrand Training as a Content Strategist within the Marketing department. Ed spends his days thinking up topics for surveys, article titles and concepts for engaging infographics. You can check out a range of his most recent work via the Firebrand Press Page.
Welcome to part three of our Microsoft Movie Posters series. Today's iconic poster adaptation is of a slightly darker nature, today we cover demonic possession, rotating head's spewing vomit and the exorcism of demons from ones children. You guessed it…..The Xboxercist! I myself am filled with a sense of dread as I look upon this poster with the eerie green light flooding the street outlining the silhouette of our Reverend.
The Xboxercist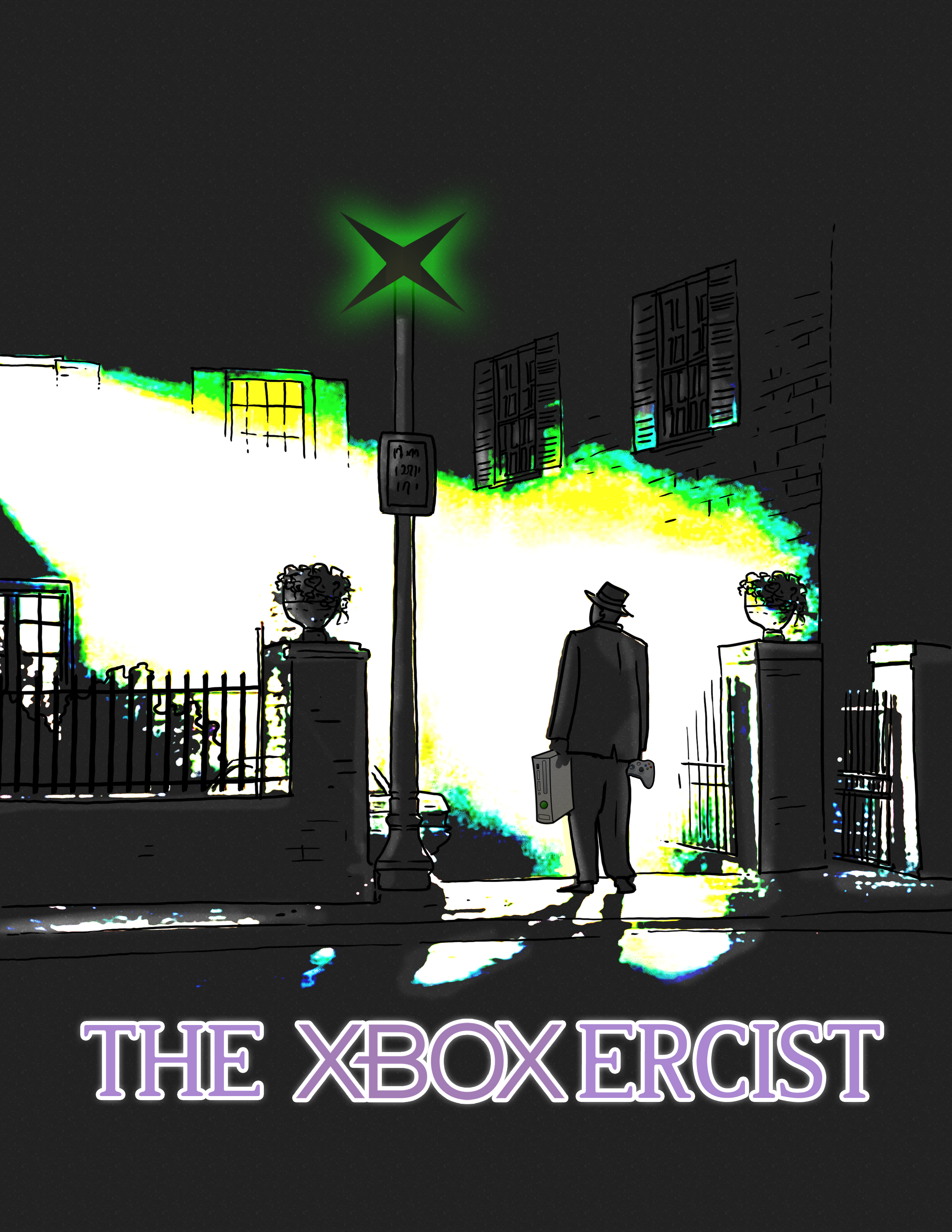 In today's technology centric society it's not hard to imagine requiring the services of a Priest, some Holy Water and the power of God to separate children from their most prized technological possession, such as the Xbox 360. I myself partake in the use of this system and often feel possessed by some unsavoury force as I rain down death and destruction upon my foes in the latest version of "Call of Duty".  I often return to my sense's in haze unaware of the time I have spent on the console, which brings me on to my next point…time. In March 2012, Head of Marketing Strategy for Xbox, Yusuf Mehdi was quoted in the LA Times stating that the average Xbox user spends 84 hours online per month!
But before you raid your closet to unearth that wooden cross or the good book, spare a moment to read "An Education Revolution: Automate and Humanize" by Daniel Burrus, a Technology Futurist. Perhaps their is method in the madness…..perhaps the children aren't possessed but achieving a higher state of focus and learning. Burrus addresses the interesting dynamic that the often complex and engaging nature of today's games teaches children a range of skills. These games require children to memorize elaborate scenarios and develop sophisticated strategies  to complete a range of goals. These games tune the child's focus, putting them in situations where the must prioritise and make complex decisions in pressurised time sensitive situation. They do all of the above whilst plugged into a head set coordinating with team mates half way round the world….when's the last time you multi-tasked like that? I'm struggling to sip my coffee and type!
I digress, check back tomorrow for the fourth and penultimate poster.
---
January 31, 2013 10:19 AM
By Edward Jones
About the Author: Ed Jones works for Firebrand Training as a Content Strategist within the Marketing department. Ed spends his days thinking up topics for surveys, article titles and concepts for engaging infographics. You can check out a range of his most recent work via the Firebrand Press Page.
In the esteemed words of Bill S. Preston and Ted "Theodore" Logan, I welcome you to a most excellent second instalment of Microsoft Technology Posters. For those who missed yesterdays "Fantastic 4: Rise of the Silver Server" edition, step into our fantastical time machine and travel back to yesteryear (yesterday) to check out our first instalment of Microsoft Technology Posters.
This poster was made possible thanks to a "totally bodacious dude" who goes by the Twitter handle @TheTerinator.
As we gaze upon this magnificent masterpiece, one can only imagine what kind of adventures Bill and Ted would have gotten up to back in 1989, as they poured through spreadsheets packed full of data  on Excel 2.2 (according to Wikipedia, whatever that website is), revealing hidden trends and insights lodged within the cells.
As I let your minds wonder on the numerous possibilities enjoy the Movie Poster Parody below. Perhaps you have a Microsoft Technology Poster Parody you wish to share with us, tweet us at @beafirebrand.
Bill and Ted's Excel Adventure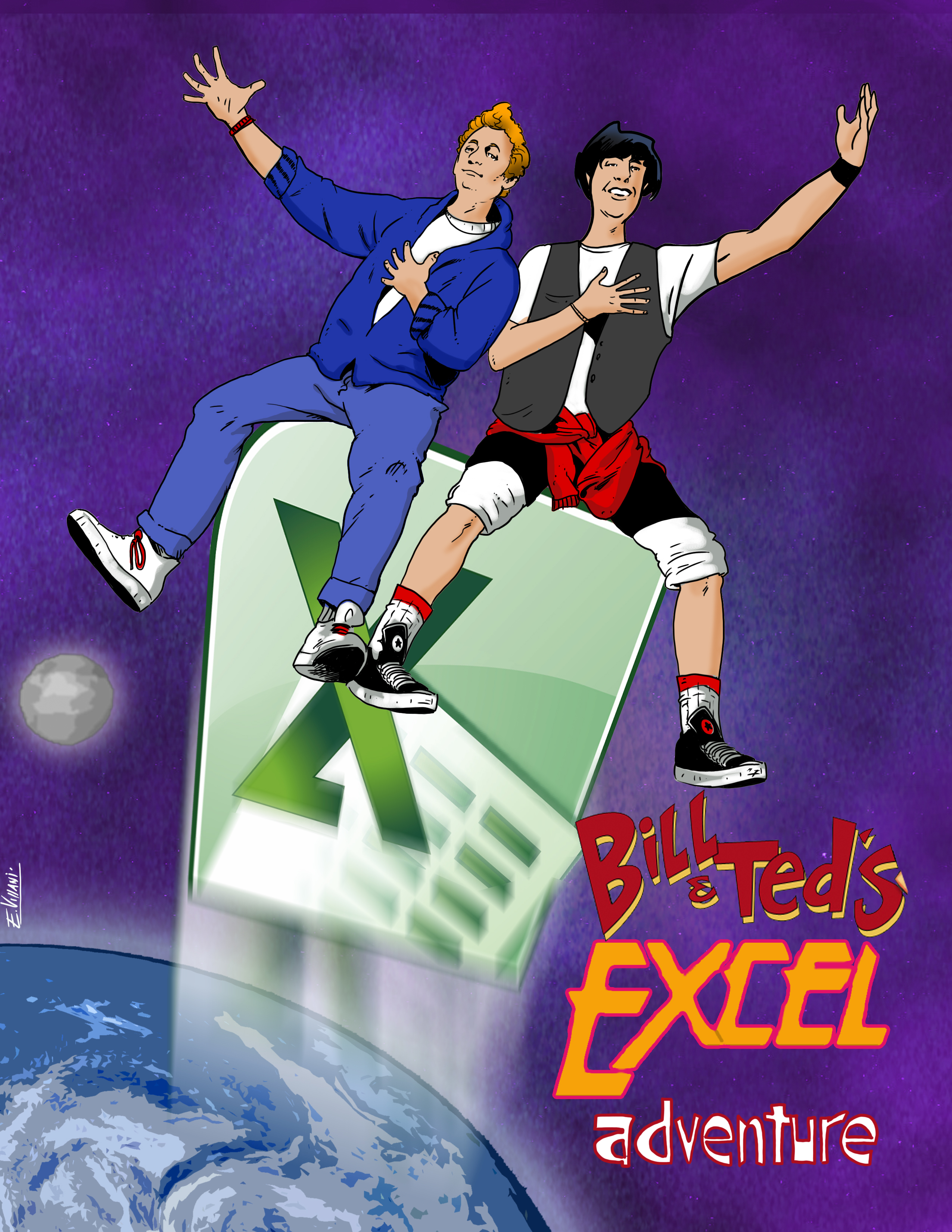 ---