Jul 4 2013 3:21PM GMT
  By Edward Jones
On July 1, 2013, Microsoft announced they are pulling the plug on their World-renowned TechNet Subscription service. Whilst the TechNet Blogs and Customer Support Platforms will continue to operate as before, come August 31 ,2013 Microsoft will no longer accept new subscribers to the annual service. It is though that the service will cease existence as of September 30, 2014, when the last subscriber contract is due to end.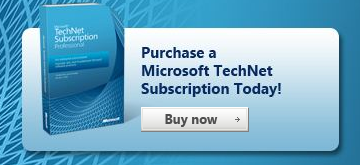 The end of cheap Microsoft Software
Since its release more than 15 years ago, the TechNet Subscription has been widely regarded as one of the best software deals available in the market place. IT Professionals / Tech Enthusiasts flocked to the annual subscription service, paying £130-£400 per annum to gain unrestricted access to the purchase and download of a majority of Microsoft's Desktop and Server software products. The software itself is licensed for evaluation purposes only, that restriction however is part of the license agreement and is not enforced in the software itself.
It was this loophole that made the TechNet subscription so popular, enthusiasts would use the platform to access cheap software then use the multiple product keys to activate everyday  us Windows PCs rather than adhering to the "evaluation only" limitation. This aspect was hugely popular for those partaking in software piracy who would sell on the product keys with counterfeit software at "discount prices". Despite Microsoft seeking to crack down on piracy through the platform in 2010 and 2012, you need only search Google or any 'respecting' torrent site to find these product keys in their thousands.

The finer details
To get you up to speed on the facts of Microsoft's announcement, you can check out their Subscriptions Retirement FAQ,  with some of the main points summarised below:
New subscribers have until August 31, 2013, to purchase an annual subscription.
Newly purchased subscriptions must be activated by September 30, 2013.
Current subscribers will continue to receive their benefits until their contract ends which for most retail purchases is limited to a year.
Existing subscribers with an end date before September 30, 2013, may renew for an additional year as long as they purchase prior to the August 31, 2013, cut-off.
 Subscribers with an active Microsoft Certified Training account will continue to access their program benefits until March 31, 2014.
MVP's will still receive a free copy of Visual Studio Premium through an MSDN subscription.
The MSDN subscription will remain unchanged.
Time is ticking
It stands to reason that many will be left not only disappointed, but also out of pocket as a direct result of these changes. So with 58 days to go, ensure you make the most of this offer for the final time by renewing or purchasing your subscription before the cut-off date.
It's August 31, 2013, in case you missed the countless mentions throughout the article.
About the Author: 
Ed Jones works for Firebrand Training heading up community engagement within the Marketing department. Ed spends his days thinking up topics for surveys, article titles and concepts for engaging infographics. You can check out a range of his most recent work via the Firebrand Press Page.