Nov 13 2013 3:32PM GMT
Here at Firebrand, we're conducting a survey to gather your opinions on Classroom based training vs. Self-Study. Complete our ludicrously short two question survey for your chance to win a £50 Amazon voucher or one of fifteen "Failure is not an Option" t-shirts.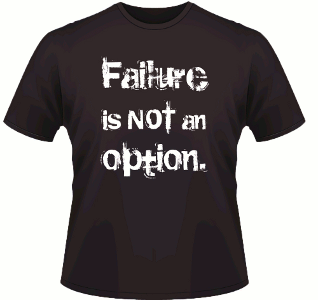 With Christmas round the corner, it's a quick way to tick another item off the list.
Here's how to enter for your chance to win:
Complete the two question survey which on my test run took a whole 36 seconds…
Enter your name and email address on completion of the survey (this is how we will contact the winner).
And you are sorted. The survery will be open till Friday with the winner announced the following week.
Outlined below are the terms and conditions which are also available on the survey page:
The prize draw is open to all respondents that provide their name and email address, and complete the survey before Friday 16 November 2013 at 11:59pm (GMT). The draw will be held by Firebrand Training the week commencing Monday 18 November 2013, and only the winners will be notified via email – by the end of November.
Prizes are as stated and there is no cash alternative. Firebrand training reserve the right to substitute a prize of equivalent or greater value (if this is necessary for any reasons).
Firebrand Training cannot be held responsible for prizes which are lost or delayed.
In all matters Firebrand Training's decisions are final. Entries that do not comply in full with these rules will be disqualified.
Note: The email address entered in this survey will not be shared with any third party.
About the Author
  By Edward Jones
Ed Jones works for Firebrand Training heading up community engagement within the marketing department. Ed spends his days thinking up topics for surveys, article titles and concepts for engaging infographics. You can check out a range of his most recent work via the Firebrand Press Page.