Jan 31 2014 11:52AM GMT

A quick history lesson for those unfamiliar with the MCSE.
Historically, Microsoft's flagship MCSE track was known as the Microsoft Certified Systems Engineer. At the time it was recognized as the highest level of certification one could achieve for Microsoft operating systems. In 2007, it was exiled and replaced by the new Microsoft Certified Information Technology Professional (MCITP) tracks. Deemed outdated and in need of a fresh start the MCSE was abandoned to the scrap pile of certifications left in Microsoft's wake, doomed to linger in the annals of history. Unexpectedly the acronym did not disappear, the Information Technology sector clung to the MCSE. The certification had history, it was well known to the industry and carried a recognized authority, holders longed for its return and the MCITP failed to gain the traction it deserved.
In 2012, the return of the MCSE was announced, only it came back to use with a new name, the Microsoft Certified Solutions Expert. Microsoft took the certification in a new direction, unlike the tracks of old that focused on specific job roles, the MCSE targets a holders ability to design and build technology solutions, whilst adressing the integration of different technologies, or multiple versions of a single technology.
There's a great video from Microsoft on why they reinvented the MCSE for the cloud, sadly I can't embed it, but you can view it by clicking the below image: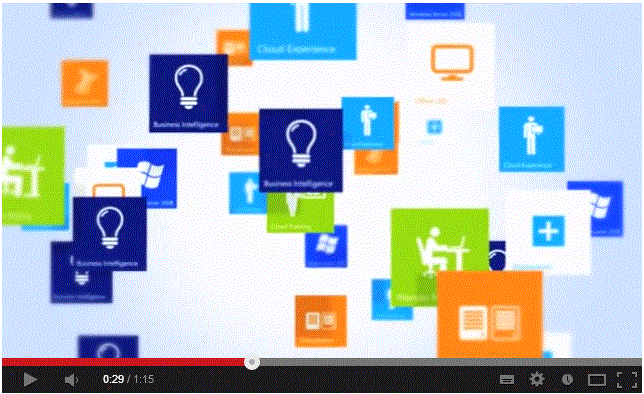 With the history lesson complete, lets take a closer look at those new tracks.
The Microsoft Certified Solutions Expert certifications
There currently exist eight certifications that relate to the new MCSE:
MCSE: Server Infrastructure  – this certification focuses on Windows Server 2012 and the skills required to operate a modern and efficient data center. The track covers systems management, virtualization, identity management, networking and storage. Typical job roles associated with attaining the certification include information security analyst and computer support specialist. Pre-requisite certifications to the Server Infrastructure certification include the MCSA Windows Server 2012, MCSA Windows Server 2008 and a range of soon to be retired MCITP tracks including the Server (MCITP SA) and Enterprise Administrator (MCITP EA) tracks.
MCSE: Desktop Infrastructure – common job roles associated with this certification include desktop support, device support, data and applications manager. The certification develops a skill set focused on application virtualization, remote desktop services and desktop virtualization, whilst demonstrating the holders ability to deploy and manage desktop devices which can be accessed from anywhere.
MCSE: Data Platform – focussed SQL server 2012, attaining this certification demonstrates the holders ability to build and administer enetrprise-scale data solutions both on-premises and in the cloud. With the growing demand for big data and cloud professionals, this certification is a must have for 2014. Associated job roles include database analyst or database engineer.
MCSE: SharePoint – want to qualify as a network or systems analyst? This certification develops the skills required to attain the aforementioned job title with focus on Windows Server 2012, SharePoint Server 2013 and their integration. Learn how to aid a company in the organizing, syncing, collaborating and sharing information whether it be a start-up single site or global multi-site enterprise.
MCSE: Private Cloud – through System Center and Windows Server 2012, organizations can create their own private cloud solution, which is precisely what you will learn on this track. Demonstrate the skills required to implement and manage a private cloud with Microsoft technologies, qualifying you for the role of systems programmer, network manager or server administrator.
MCSE: Business Intelligence – learn knowledge on how to design, build and deploy solutions in SQL Server 2012 which provide your organization with the data required to make better informed business decisions. Become a Reporting Engineer or carve out a career in Business Intelligence.
MCSE: Communication – facilitate your organizations communications through gaining the skills necessary to implement, configure and administer Windows Server 2012 and Lync Server 2013. Typical jobs roles that can be attained on completing this certification include computer and network systems administration.
MCSE: Messaging – with 51% of worldwide mailboxes in the business email and collaboration market serviced by Microsoft Exchange Server, if your looking to become a computer or network systems administrator then the MCSE messaging track is right for you. Learn the skills required to transition your organization to the cloud whilst improving productivity, reducing data loss and boosting security.
Get learning…
So now you know all about the tracks, lets take a look at a few resources that will help you attain the MCSE in all its guises.
Why not take a training course?
Take the official route with a Microsoft Gold Learning partner. Firebrand Training offers the full range accelerated courses helping you to get the MCSE certification faster. In bootcamp format you work through MOC and get hands on with the technology.
Make use of the Microsoft Virtual Academy
The Microsoft Virtual Academy is a fantastic resource that can help you prepare for the full range of MCSE certification tracks, as well as the MCSA and MCSD tracks. There are virtually thousands of hours of dedicated learning materials in videos across the full portfolio of Microsoft Technologies. The content comes from MCT's, so you know its experts that are teaching you.
Test your knowledge
 Taking a practice test will help you access your knowledge in a current area and benchmark whether you are ready to take the exams. There are three  practice test sources I can recommend (endorsed by Microsoft):
So there you have it, a post all about MCSE, check back for the MCSA and MCSD posts.
About the Author
  By Edward Jones
Edward works for Firebrand Training as a Technical Writer within the Marketing department. He spends his days thinking up topics for surveys, engaging articles and concepts for informative infographics.