Jan 16 2014 1:58PM GMT
If you work in IT security, and you're considering improving your existing skill set or career prospects, securing a certification is one of the fastest and most promising paths to take. Industry recognized certifications are a third party endorsement that you have the skills necessary, don't believe me? The following figures might just shift your perspective:
Ninety one per cent of recruiters view certification as a critical part of their hiring criteria. (Microsoft, Microsoft Certification Program Satisfaction Study)
In a survey of 700 IT networking professionals, sixty per cent said certification led to a new job. (Network World and SolarWinds, IT Networking Study).
Online salary database Payscale.com recently reported certain IT certifications can boost your pay twenty seven per cent. ( Monster, Best Certifications for Boosting Your Salary)
When it comes to IT Security, the CISSP certification from (ISC)² is among the most popular pursued by professionals.
Who is the CISSP for?
The certification is recognized globally, attaining it is confirmation that you have paramount knowledge with the field of information security. It was the first of its kind to attainin the ISO standard 17024, after conforming to a range of strict requirements. Holders of the CISSP tend to hold the following job titles/functions:
Security Consultant
Security Manager
IT Director/Manager
Security Auditor
Security Architect
Security Analyst
Security Systems Engineer
Chief Information Security Officer
Director of Security
Network Architect
What does the CISSP exam cover?
It is based on ten domains covering a wide range of carefully selected information security topics which are:
Access Control
Telecommunications and Network Security
Information Security Governance and Risk Management
Software Development Security
Cryptography
Security Architecture and Design
Operations Security
Business Continuity and Disaster Recovery Planning
Legal, Regulations, Investigations and Compliance
Physical (Environmental) Security
More information can be found on the CISSP domains via the official (ISC)2 site.
Resources to help prepare you for the CISSP certification
When taking a professional certification, it is of vital importance that you prepare accordingly:
Get the official material
Don't settle for second best, whilst third party textbooks are often appealing due to a reduced price and "added extras", they are a false economy. Nothing can prepare you better for an examination better than the own vendors common body of knowledge. You can secure the official (ISC)² Guide to the CISSP CBK from their main website in 3 formats.
Take a training course
There are many training providers offering multiple formats, Authorized Partners again should be your trusted route, anything else is likely to be gray material.
Classroom Training – if your company sponsored or require the certification as soon as possible, put your self in a dedicated training environment, surround yourself with like minded individuals and find a qualified instructor to guide you through the official material. Firebrand Training are an official provider of CISSP training,  offering the course in a seven day accelerated format.
Online/eLearning – attend virtual training at lower cost which can be wrapped around your schedule. (ISC)² offer official training live online.
Self study – don't want to spend money on training, or keen to learn at your own pace in your own style? Purchase the official material outlined linked above and work through it in your own time. To maintain motivation, and bounce ideas, try working with a partner.
Test your knowledge
Whether your ready to take the exam, or just trying to gauge your knowledge levels to see if CISSP is right for you, testing your knowledge is an important step. Use the studISCope Self Assessment and Exam Simulator Tool and test your base knowledge level.
Watch a video/webinar
With the advent of YouTube, and the sheer amount of video material made available by vendors and training partners alike. (ISC)² offer a fantastic 11 part CISSP Domain Webcast Series which covers all 10 domains and an overview webcast on how to become a CISSP.
The benefits once you're certified
We've come full circle when looking at the benefits of certification, this time specific to the CISSP. (ISC)² Global Information Security Workforce Study recently found the following:
Almost ninety per cent of hiring managers view security certifications as a vital requirement when selecting candidates.
Sixty per cent of respondents reported a salary increase after attaining their certification.
Hiring managers were more likely to hire a credentialed professional suggesting it reflected quality of work and competence.
The study was summarized fantastically in this recent infographic: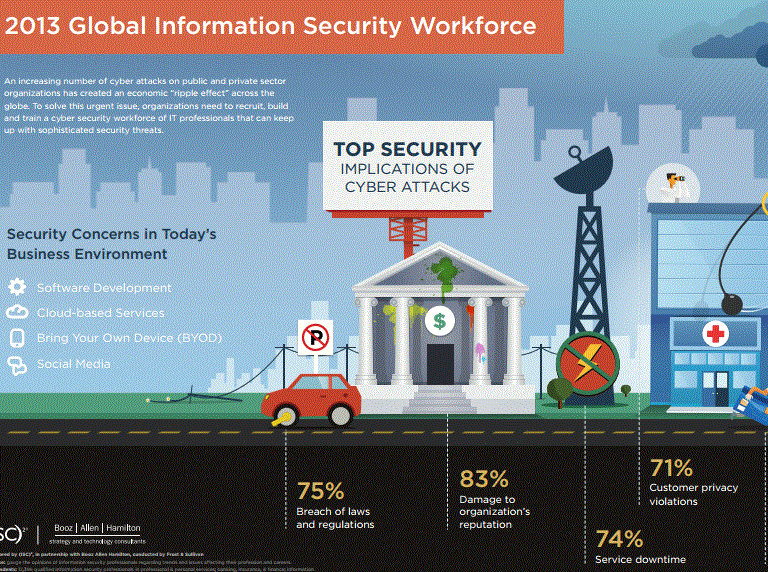 About the Author
  By Edward Jones
Edward works for Firebrand Training heading up community engagement within the Marketing department. He spends his days thinking up topics for surveys, engaging articles and concepts for informative infographics. You can check out a range of his most recent work via the Firebrand Press Page.