Dec 9 2013 4:47PM GMT
As eLearning companies continue to charge thousands of dollars for self-study resources, a new survey from Firebrand shows the majority of IT professionals believe classroom training gives students a better chance of preparing for exams.
The recent study received 952 responses, with 87.2% of respondents agreeing classroom training prepares students better for exams. The 87.2% who prefer classroom based training were then asked why they thought self study was worse with 5 options including other. The graph below outlines the results: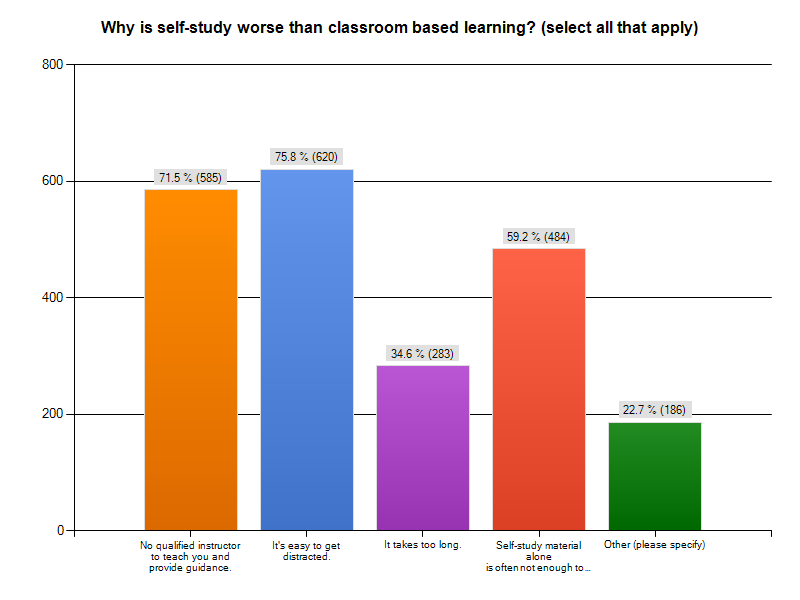 The main reasons for self-study being worse as per the chart were:
71.5% of respondents believe the lack of a qualified instructor negatively impacts training
 75.8% of respondents think it's too easy to be distracted whilst learning
59.2% of respondents are of the opinion self-study material alone is not enough to prepare for professional examinations
When asked about the above figures Robert Chapman, Co-Founder of Firebrand Training responded:
"At Firebrand, we don't believe that self-study alone is a viable method of learning. The compelling results from this survey show we are far from alone in this opinion. Companies should not be charging thousands of pounds for eLearning and self-study resources, while effectively setting up the student for failure."
"While we wouldn't recommend self-study, Firebrand respects each learner's decision to choose their own pathway to certification. In launching the Learn platform, students can experience self-study for free and without risk. Should they be unsuccessful, the student has only given up their time, and not their money."
What is Learn?
Learn is a free self-study platform which has launched with the Project Management Professional (PMP) course, which will enable students to work through:
All the courseware available on Firebrand's accelerated 4-day PMP course
A series of practice exam questions, complete with answers to benchmark knowledge
A range of exercises designed to test real-life problems
Additional resources including books, videos and resource websites.
Over the next few months, Firebrand will be adding to the platform with a series of practice tests and additional resources. By January 2014, students will have everything they need to trial self-studying for the PMP exam.
To try self-studying PMP for free, head to:  http://www.firebrandtraining.co.uk/learn/pmp
About the Author
  By Edward Jones
Edward works for Firebrand Training heading up community engagement within the Marketing department. He spends his days thinking up topics for surveys, engaging articles and concepts for informative infographics. You can check out a range of his most recent work via the Firebrand Press Page.