---
December 15, 2017 12:26 PM
cybersecurity
,
Data Analytics
,
Mobile
The New Year is right around the corner and when it comes to health IT, healthcare professionals have quite a few health system issues on their mind.
C-level healthcare professionals have to juggle keeping the lights on and making sure their organization is secure, while also looking to the future and innovating to adjust accordingly.
The Center for Connected Medicine, an executive briefing center jointly operated by GE Healthcare, IBM, Lenovo Health, Nokia and the University of Pittsburgh Medical Center (UPMC) in Pittsburgh, in partnership with the Health Management Academy, surveyed and interviewed CEOs, CIOs, CMIOs, CFOs, and CNIOs from major health systems and discussed overall strategy and priorities – including technologies — for their health systems in the coming year.
Here are the top U.S. health system issues that c-level professionals are focusing on in 2018:
Cybersecurity
Cybersecurity is always one of the top health system issues and 2018 is no exception. Nearly all respondents (92%) said they are increasing cybersecurity technology resources for 2018.
Respondents said they plan to focus cybersecurity spending on technologies that will help with identifying (such as asset management, governance, risk assessment, etc.), protecting (such as access control, awareness and training, etc.), detecting (such as continuous monitoring and detection processes), recovering (such as disaster recovery), and responding (such as incident response and analysis) to cybersecurity threats and breaches.
One CIO said in the survey: "Most tools that I want to spend funds on are focused around being more proactive. We are good at reacting after the situation, but I want to be more proactive."
Consumer-facing technology
Another developing health system issue is recognition of the potential of patient-generated data and if a health system doesn't have patient generated data integrated with their EHR, they plan to in 2018.
The top sources of patient generated data for health systems in 2018 are patient portals, home monitoring equipment, mobile health apps, and wearables, according to survey respondents.
Although not all health systems are currently collecting or utilizing patient-generated data, according to the survey, they all recognize the potential and expect patient-generated data to make up a significant portion of patients' health data in the future.
Furthermore, 100% of respondents said they plan to promote health and wellness apps to patients in 2018. Respondents said they plan to promote health and wellness apps in 2018 via physician recommendation/prescription, patient portals, and social media, for example.
Virtual care
Although 71% of health systems are not currently receiving reimbursement for virtual care, many health systems are still using these technologies and developing a strategy around them.
The main clinical areas where virtual technologies such as telehealth are being used today include for stroke, mental health, primary care, urgent care, dermatology, and in the ER, the survey found.
One CIO said: "The lack of reimbursement has not affected our strategy. We have moved forward because it's the right thing to do. [Telehealth] gives a better consumer experience."
Respondents said that while reimbursement for virtual care is of the health system issues right now, they believe they will begin receiving reimbursement in 2018 and many respondents said they believe virtual care is integral to the future of healthcare.
Artificial intelligence
Nearly two-thirds of respondents said that the implementation of an AI solution at their health system are either a low or very low priority for 2018, although the survey found that over half of respondents are currently using AI.
The most common areas health systems either are planning to or have already implemented AI include clinical decision support, population health, and disease management.
One CFO said in the survey: "I think it's just a technology. It comes down to the priorities of the organization. You can use AI for anything: rev cycle, standardization, access, readmissions. AI is interesting and fun and exciting, but nascent. It still needs refinement."
Predictive analytics
One CEO said in the survey: "Just getting started on this now. We need to do much more. It's an area of great interest – we can see the huge impact. We are in the early phases of figuring out practically how to integrate that."
Respondents said they expect predictive analytics to provide significant value in areas such as patient safety and quality, readmissions, and clinical decision support in 2018.
However, a few challenges stand in the way including resource allocation, standardizing clinical practice, culture, unstructured data, and more, the survey found.
December 8, 2017 5:09 PM
FDA
,
mobile health
The Food and Drug Administration (FDA) has issued new draft guidance clarifying its oversight of mobile medical apps. Furthermore, the agency will loosen its regulations for certain technologies it has deemed outside of its purview. The changes have been made in accordance with the 21st Century Cures Act.
In its 2015 guidance, the FDA defined a "mobile medical app" as a software application that could be used as an accessory for a regulated medical device, or to transform a mobile platform (such as a smartphone) into a regulated medical device.
Under its 2017 draft guidance for mobile medical apps, the term "mobile application" will be changed to "software function" and will not be defined as a medical device, nor will it be subject to FDA regulations. Software functions that are not related to the diagnosis, cure, treatment or prevention of diseases are also not considered medical devices. This includes software that focuses on weight, sleep or stress management.
The Cures Act states that certain software is exempt from the requirements for medical devices. Software will remain subject to FDA regulations of medical devices if it "acquires, processes, analyzes, or interprets medical information" or if the FDA "identifies use of the software as reasonably likely to have serious adverse health consequences."
As such, the FDA has removed software that it considers "low risk" from its oversight. This includes apps that are intended to promote or maintain a healthy lifestyle, such as apps that track the user's steps, since they can be valuable to consumers.
Some examples include:
Provide dietary logs or calorie counters
Monitor and trend exercise activity
Provide motivational tips via text or other messaging
In a release, FDA Commissioner Scott Gottlieb, M.D., said the changes to its guidance on mobile medical apps is "reflective of the agency's new, more modern approach to digital health products."
---
November 20, 2017 3:22 PM
EHR
,
health IT tools
EHRs have been touted for their ability to make billing easier and more accurate, improve patient care, provide a foundation on which to conduct data analytics, and more.
It may be time to add tracking the spread of infection throughout a hospital to the list of benefits of EHRs.
When a potentially deadly hospital-acquired infection appeared and spread throughout the University of California, San Francisco (UCSF), researchers used the hospital's EHR to figure out where in the hospital people were becoming infected.
In a report in JAMA Internal Medicine, it was revealed that the CT scanner in the hospital's emergency department was the source.
The report's researchers used time and location stamps on electronic records to map patients' movements through the hospital and thereby track the course of the infection as well.
The lead author of the report, Sara Murray, M.D., medical director of clinical informatics at UCSF Health, told Reuters in an article that this research demonstrates just one of the benefits of EHRs and how they can improve healthcare.
"I think it's a proof-of-concept for the capabilities of EHR data that other hospitals can use," Murray said in the article. "Maybe it's not their CT scanner. Maybe it's their pulmonary-function lab or their MRI machine or their operating room."
Using the hospital's EHR, researchers of the report mapped patient location changes for more than 86,000 adults in the UCSF hospital for over three years. One question the researchers wanted an answer to was whether using a room 24 hours after a patient infected with Clostridium difficile (C. diff) increased the risk of infection in specific areas throughout the hospital.

The team of researchers discovered that patients who entered the CT scanner in the emergency department within 24 hours after a C. diff infected patient were 2.5 times more likely to also become infected than patients who entered the CT scanner after the 24 hour mark.
Although doctors frequently complain about EHRs, Murray told Reuters that she believes they will come around and see the benefits of EHRs; especially as it is further proven that EHRs can be helpful in many areas of healthcare.
"The private sector has been data mining for years," Murray said in the article. "We are just starting in the healthcare sector to improve care for our patients. This is an example of that kind of data mining and something that could be replicated at other institutions."
---
November 17, 2017 4:25 PM
telehealth
,
Telemedicine
More senior healthcare executives are planning to grow or expand their telemedicine programs than three years ago, according to a survey by law firm Foley & Lardner.
Of the 100 senior healthcare executives surveyed, 76% said their organization currently offers or plans to provide telemedicine services. More than half of the executives, 53%, said they were currently growing or expanding their existing telemedicine programs. In 2014, only 34% of survey respondents were considering or planning to develop telemedicine programs.
One major component driving the expansion of telemedicine is that patients are beginning to see the value of telemedicine thanks to its convenience and effectiveness. According to the survey, a third of respondents said that half of their patients or more continued to use telemedicine after an initial visit.
Although some healthcare providers have expressed concerns about the ROI of telehealth and telemedicine programs, less than half of survey respondents said they are tracking the ROI of their programs.
"While the low percentage of respondents who track return on investment (46%) appears surprising at first glance, it could simply indicate that organizations have moved beyond questions about telemedicine's ROI," the survey said. This could be due to the fact that the purpose of telemedicine has been to expand the delivery of healthcare services, not to increase returns.
However, reimbursements continue to be a challenge despite the fact that most of the states in the U.S. have updated their telehealth laws to expand access to services. More than half of the survey respondents said third-party reimbursement was the biggest challenge to implementing telehealth and telemedicine programs.
"We are entering a new era of how medical care is delivered, and on whose terms," Nathaniel M. Lacktman, chair of Foley's Telemedicine Industry Team said in the report. "Healthcare organizations have realized telemedicine is not just a fad or pilot project; it is a new way to practice medicine and manage populations."
---
November 10, 2017 1:55 PM
algorithmic
,
Interoperability
Patient matching has been an important issue in health IT and healthcare specifically as it relates to interoperability. More specifically, the inability to match patients to their health data, no matter where it resides, has been a huge barrier to interoperability and has also resulted in patient safety risks as well as decreased provider efficiency, a press release by the Department of Health and Human Services Office of the National Coordinator for Health IT (ONC) said.
This is why ONC launched their Patient Matching Algorithm Challenge. This challenge, an ONC spokesperson said via email, was meant to educate those in healthcare about the performance of existing patient matching algorithms, spur the adoption of performance metrics for developers, and positively impact other aspects of patient matching including deduplication and linking to clinical data.
The winners of this challenge were recently announced and, in addition to acknowledging these winners, valuable insights were revealed about the algorithms currently being used in patient matching, the ONC spokesperson said.
The winners of the Patient Matching Algorithm Challenge included Vynca, a company that offers advanced care planning solutions, PIC-SURE, a patient-centered information commons, and Information Softworks, a company that specializes in enterprise data architecture, data warehouse design and implementation, and process automation
"Many experts across the healthcare system have long identified the ability to match patients efficiently, accurately, and to scale as a critical interoperability need for the nation's growing health IT infrastructure.  This challenge was an important step towards better understanding the current landscape," said Don Rucker, M.D., national coordinator for health information technology at ONC, in the release.
This was an important step because the patient matching algorithms each competitor, and winners, used was different. For example, some used machine learning techniques while others a significant amount of manual adjudication.
"PICSURE used an algorithm based on the Fellegi-Sunter (1969) method for probabilistic record matching and performed a significant amount of manual review," the release said. "Vynca used a stacked model that combined the predictions of eight different models. They reported that they manually reviewed less than .01 percent of the records. Although Information Softworks also used a Fellegi-Sunter-based enterprise master patient index (EMPI) system with some additional tuning, they also reported extremely limited manual review."
ONC plans to hold a webinar soon that will focus on their current patient matching efforts.
---
October 27, 2017 5:01 PM
Data access
,
patient engagement
At this year's Connected Health Conference in Boston, one main focus was on the patient experience in healthcare. While all the technology that comes with engaging the patient is important – such as mobile apps, wearables, remote technologies, etc. – one expert urged the crowd to empathize with the patient.
Adrienne Boissy, chief experience officer at the Cleveland Clinic Health System in Ohio, implored the audience to think of the patient when they're developing health technologies and/or choosing which technologies to use.
She aimed to get the audience to put themselves in the patient's shoes. When a patient is trying to fight an illness, such as cancer, the healthcare system should make it as seamless as possible for them to get the care and the information they need when they need it.
She asked the audience to empathize with the patient experience in healthcare. She asked the audience to imagine what it would be like to have a serious illness and not be able to schedule the appointment you need when you need it. She asked the audience to imagine what it would be like to be fighting cancer, receiving the necessary treatments, not knowing costs up front and finding out later that now a hefty bill needs to be paid.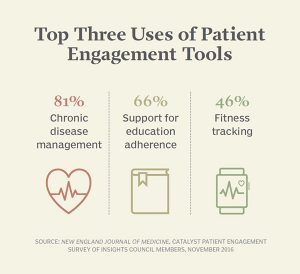 Boissy explained that technology could very easily solve these issues when it comes to the patient experience in healthcare today. However, it could also pile on more suffering to an already suffering patient. Some of the suffering that patient may be experiencing is unavoidable, such as chemotherapy. But some of the suffering that patient is experiencing is avoidable, she said. And it comes down to choosing the right technologies to provide the right services and the right information.
To Boissy, the technologies that would help achieve this would include technologies that allow patients to self-schedule and to access their data anytime, anywhere, and from any device.
It also means making the physicians' job easier so they can fully engage and care for the patient such as voice recognition or remote scribes to reduce data entry and the number of clicks a physician makes, and increase face-to-face time with the patient.
---
October 23, 2017 1:51 PM
telehealth
,
Telemedicine
Almost every state in the United States and the District of Columbia has updated their telehealth laws, not only expanding access to services but also clarifying how those services can be provided, according to a report by healthcare law firm Epstein Becker & Green.
In particular, the report examines how the states have updated their telehealth laws to include telemental and telebehavioral health in the past year.
According to the report, telehealth is a good fit for mental health services "because mental health providers rarely have to lay hands on their patients, even in the context of conventional face-to-face care encounters." Therefore, "providing the same services remotely using telehealth technology is not viewed as far removed from the way these services are provided in the in-person context," the report said.
Telemental and telebehavioral health services can also fill in the gaps for mental healthcare providers in rural areas or areas where there is a shortage of those providers. New technologies such as mobile health apps are also driving the growth of telemental health services, the report said.
According to the report, several states modified their telehealth laws to allow physician-patient relationships to be established via audio and visual telehealth technologies. Previously, many states prevented physicians from providing medical advice without first performing a physical examination.
The only two states that did not update their telehealth laws were Connecticut and Massachusetts. However, in 2015, Connecticut passed a law that required commercial health insurers to cover telehealth services the same as in-person visits. Massachusetts does not have a parity law but, according to state law, private health insurers may reimburse physicians for telehealth services with certain provisions.
A 2016 report by the American Telemedicine Association found that 31 states and the District of Columbia had telemedicine parity laws, but it was expected that Medicaid programs in every state would cover some form of telehealth or telemedicine beginning this year.
---
October 12, 2017 12:33 PM
EHR
,
Regulations
In a letter to the Office of the National Coordinator (ONC) for Health IT's National Coordinator, Don Rucker, the Pew Charitable Trusts (PEW) as well as several other healthcare organizations urged ONC to "consider and incorporate improvements to safety" — especially with pediatric EHR software – as they implement provisions from the 21st Century Cures Act.
EHRs can contribute to medical errors, especially with children, for several reasons, the letter said.
One example is that a child's weight affects the dose of medication prescribed and taken by the pediatric patient.
"EHR design may influence how clinicians order weight-based doses of medications, and could contribute to children receiving incorrect drug doses," the letter said. "In a well-known example, the weight-based dosing usability of an EHR contributed to a 16-year old receiving 39 times the intended dose of a medication."
The letter emphasizes that correctly tracking a pediatric patient's height, weight and other vital indicators is not only necessary to make sure children are within normal ranges, but to also ensure that clinicians don't make care decisions with a negative impact.
The 21st Century Cures Act can help
ONC requires EHR developers to test their product to ensure certification requirements are met. However, ONC's certification requirements are not specific to the pediatric population, the letter said.
"The development of voluntary certification criteria for pediatric EHRs—as required by Section 4001 of the 21st Century Cures Act within two years (end of 2018)—offers ONC an opportunity to focus on improving the safety and usability of these health record systems," the letter said.
Through this voluntary program, the criteria developed should include provisions to detect potential safety concerns before an EHR system is installed and used, and also after implementation to identify any challenges, the letter said. These challenges would also include the need for customization depending on the healthcare facility.
The letter suggests ONC look to standards, measures and testing and assessments laid out by the National Quality Forum, a nonprofit organization dedicated to improving the quality of healthcare in the U.S., and The Leapfrog Group, an organization dedicated to safety, quality and affordability of healthcare in the U.S.
The voluntary certification criteria for pediatric EHR software means that ONC has an opportunity to improve safety of children, the letter said. "We urge ONC to promptly begin work on the pediatric EHR certification criteria and to include provisions that monitor and test for safety through all of the stages of EHR development."
---
October 6, 2017 2:24 PM
telehealth
,
Veterans Affairs
The Department of Veterans Affairs is proposing a new rule that would standardize telehealth for veterans.
The VA telehealth rule would increase the availability of general clinical care, mental health and specialty services for veterans. The agency is the largest integrated healthcare system in the U.S. and provides care to 9 million veterans across the country.
The proposed VA telehealth rule would amend the current regulations to provide telehealth to veterans no matter where they are located. This means a provider in one state would be able to provide services to a veteran in another. The agency is making the change to combat the lack of expansion for telehealth programs due to state laws; in the proposal, the VA says many of its physicians have refused to practice telehealth because they are afraid to lose their medical license.
The rule would also override existing state laws, rather than the agency asking each state to remove its licensure restrictions to expand telehealth for veterans.
"By providing healthcare services by telehealth from one State to a beneficiary located in another State or within the same State, whether that beneficiary is located at a VA medical facility or in his or her own home, VA can use its limited healthcare resources most efficiently," the agency said in its proposal.
The proposed VA telehealth regulation would also allow the department to "waive the imposition or collection of copayments for telehealth and telemedicine visits."
Healthcare providers would still have to maintain the credentials required by their specialty to continue practicing in the VA.
The deadline to comment on the VA telehealth rule is November 1, 2017.
The VA recently announced initiatives that would provide telehealth services in more than 50 specialties, such as intensive care and dermatology. The agency also rolled out an app called VA Video Connect that would provide telehealth for veterans via a mobile phone or PC.
---
September 28, 2017 11:30 AM
certification
,
ONC
The Office of the National Coordinator for Health IT (ONC) recently announced in a blog post two changes that will be made to the agency's Health IT Certification Program.
According to the blog post, those two changes to the Health IT Certification Program are:
Approving more than 50% of test procedures to be self-declaration.
Exercising discretion for randomized surveillance of certified health IT products.
These changes apply to ONC-Authorized Certification Bodies (ONC-ACBs) as well as ONC-Authorized Testing Laboratories (ONC-ATLs).
Self-declaration of test procedures
This change to the Health IT Certification Program means that health IT developers can now self-declare their product's conformance to 30 out of 55 certification criteria without having to do any testing.
Before, testing usually included either a visual demonstration of the product's functionality or providing documentation that confirms the required functionality is there.
The blog post notes that the Health IT Certification Program criteria that are now self-declaration are functionality-based certification criteria.
"By making this change, ONC enables ONC-ATLs and health IT developers to devote more of their resources and focus on the remaining interoperability-oriented criteria, aligning with the tenets of the 21st Century Cures Act," the post said. "In addition, health IT developers are still required to meet certification criteria requirements and maintain their products' conformance to the full scope of the criteria. Any non-conformity complaints received and associated with these certification criteria would continue to be reviewed and investigated by ONC-ACBs."
Discretion for randomized surveillance
When it comes to ONC-ACBs conducting randomized surveillance, ONC is using enforcement discretion. This means that ONC will not audit ONC-ACBs for compliance with randomized surveillance requirements or take administrative action or any other action to enforce compliance requirements until further notice.
"In addition, we will not consider lack of implementation of these requirements by an ONC-ACB to be a violation of an ONC-ACB's compliance requirements under the Principles of Proper Conduct, nor will it impact an ONC-ACB's good standing under the Certification Program," the post said.
ONC said this will allow ONC-ACBs to devote their resources to certifying health IT to the 2015 Certification Edition which will hopefully support greater availability of certified health IT products to providers participating in CMS' Quality Payment Program.
---