---
July 11, 2018 7:32 AM
Healthcare
All the talk about interoperability in healthcare misses the point, according to Rick Halton, vice president of Lumeon, a European automated care pathway platform provider that moved in to the US market last fall.
For Halton the place to start is with the appointment reminder. "It's so basic," he said in a recent interview. "But a lot of providers are struggling with medical appointment reminders because of the need to tie in to the medical records. It's taking so long to get there."
Halton points out his barber and his vet can manage to remind him of appointments – so why can't his doctor?
Medical appointment reminders are symbolic of the many ways healthcare simply does not make it easy for patients – or providers, he said. He points to other industries, like the airlines, that have managed to make the entire experience simple, streamlined and mobile/online. Book a flight on your phone, or change it. Get a text on your phone if your flight is delayed. Find out which carousel your baggage is in.
Medical appointment reminders and readiness
It's a stark contrast to healthcare. "We need to fix the broken appointment experience," he said. It starts with pre-appointment readiness and a reminder about paperwork, insurance information and even directions to the facility. And it can go further. "'By the way, the physician is running 30 minutes late, so your appointment time has been shifted,'" Halton said. "A provider knows how the day is going. That information needs to be easily communicated to the patient in advance."
And when the appointment is done, and the patient is referred elsewhere, another opportunity to automate and simplify the process exists, Halton said. "We need to make sure the patient arrives at the recommended outpatient center and that they're engaged along the way so they're not lost."
His vision carries this streamlined automation through a hospital stay and beyond. And it's not only a way to boost patient satisfaction (and care). There's more than a little in it for providers (and perhaps even for payers). "This could be a big brand differentiator for them," Halton said. "Providers can create their own digital patient experiences."
But unlike barbers and veterinarians, there's a lot holding doctors and practices and hospitals back because they see problems like medical appointment reminders as simply too overwhelming to tackle. "What you see in healthcare today is providers throwing people at the problem. It's a good way to do business in the short term but in the long term it becomes expensive."
Halton's advice is to turn the problem on its head. "It's not really the technical problems that need to be solved. We can exchange data. We need to solve the commercial problem. That's how we can move on to engaging the pathway of the patient and solving problems."
March 22, 2018 8:26 AM
EHR
EHR data can help healthcare providers identify which patients in a hospital were most likely to be prescribed opioids after discharge, according to researchers at the University of Colorado Anschutz Medical Campus.
According to the Department of Health and Human Services (HHS), in 2016, more than 42,000 people died from an opioid overdose and 11.5 million people misused prescription opioids.
The researchers used EHR data from the Denver Health Medical Center that was collected between 2008 and 2014 to determine which patients were the most likely to progress to chronic opioid therapy (COT) after discharge. They defined COT as receiving a 90-day or greater supply of opioids with a less than 30-day gap in supply over a 180-day period, or as receiving 10 or more opioid prescriptions over one year.
Using that EHR data, researchers predicted 79% of future COT among hospitalized patients. They also predicted no COT correctly in 78% of hospitalized patients. Some of the variables researchers looked at were medical and mental health diagnoses, substance and tobacco use disorder, acute or chronic pain and surgical interventions while hospitalized.
The researchers concluded that a predictive model using EHR data could help clinicians "provide early patient education about pain management strategies" and "wean opioids prior to discharge while incorporating alternative therapies for pain into discharge planning." Currently, there is no predictive model to determine who will abuse opioids.
In a release, lead author Susan Calcaterra, said, "We can assist physicians in making informed decisions about opioid prescribing by identifying patient characteristics which put them at risk progressing to chronic opioid use."
Healthcare organizations and also government agencies are increasingly finding new ways to battle the opioid epidemic. Last June, HHS announced that it would award $195 million to community health centers to expand mental health and substance abuse services geared toward increasing awareness, prevention and treatment of opioid use.
---
March 2, 2018 8:43 PM
cybersecurity
Over the past month, HIMSS 2018 exhibitors have proposed nearly 150 story ideas to me, so I decided to informally track the topics associated with these product pitches.
Although it didn't surprise me that healthcare cybersecurity made up about 23% of the story ideas I got suggested, buzzwords like population health and value-based care were hardly on the lips of sellers. I found that fact interesting, because by comparison, those trends will surely remain on the minds of tens of thousands of conference attendees in Las Vegas.
The quandary probably speaks more to the business challenges faced by HIMSS 2018 exhibitors.  Few, if any, of them truly have a value-based care application, for example. It's more likely they sell patient data analytics software or patient outcome tracking that can assist with value-based efforts. That subtle difference may be put health IT purchasing teams in a tough spot if they're seeking software help to meet value-based care goals.
Traditional products in healthcare, such as EHR software and communications and networking platforms, persist as high priorities for vendors, based on my numbers.
Newer tech, including artificial intelligence and blockchain, are fairly prominent among HIMSS 2018 exhibitors, although I suspect AI will be a hugely discussed topic — perhaps No. 1 — among healthcare IT professionals and CIOs at the conference.
One of my missions at HIMSS is to learn more about what the big enterprise tech players are doing in healthcare these days, so those are the vendors I'm heading to see. How about you? Let me know in the comments section below. And good luck at HIMSS.
---
February 28, 2018 1:51 PM
EHRs
,
Health IT
,
HIMSS
The American Academy of Family Physicians has recommended steps to relieve the burden of health IT regulations on physicians.
In a letter to CMS administrator Seema Verma and ONC national coordinator Don Rucker, the AAFP stated that the "current regulatory framework with which primary care physicians must comply is daunting and often demoralizing."
The organization also said providers "spend needless hours reviewing documents and literally checking boxes to meet the requirements of each health insurance plan" — time that could be spent with patients.
The letter reiterates an issue raised by former Health and Human Services secretary Tom Price at the Health Datapalooza Conference in Washington, D.C. last year. At the time, Price said that while data is essential to providing better care to patients, physicians need to be patient-facing and not just computer-facing.
Price also lamented that the burden of health IT regulations in systems such as EHRs was causing current physicians to want to retire earlier than physicians of past generations.
In a study in its journal, Annals of Family Medicine, the AAFP found that clinicians spend nearly two hours on EHR tasks for each hour of direct patient care. The AAFP also said that clinicians spent almost six hours of an 11 and a half hour workday in the EHR per workday.
The study echoes one previously conducted by the Mayo Clinic that found that EHR use may be causing physician burnout, particularly in terms of computerized orders, and that EHRs have failed to improve efficiency.
The AAFP recommended seven principles to reduce the amount of health IT regulations physicians face daily.
Minimize health IT utilization measures — Analyze policies that mandate or financially penalize physicians' prescribed use of health IT to assess the benefit and burden in real-word usage before they are put in place
Medical record documentation — Medical record documentation should focus on recording essential elements of a patient encounter and sharing that information with other providers
Focus interoperability policy on information blocking and how data is to be exchanged — Policies should be centered around ensuring standards-based capabilities for information exchange
Lack of standard representation of clinical data models — Create consistent data templates, led by physicians and clinicians
Prior authorization — Activities that require prior authorization should be justified in terms of financial recovery, and should be eliminated for physicians with aligned financial incentives
Quality measures and the need for measure harmonization — Measures should focus on improving process and care outcomes in terms that matter to patients
Certification and documentation — The physician's order should be sufficient for patients to receive certain services and not require them to sign multiple forms
Verma and Rucker will both be presenting at the 2018 HIMSS conference in Las Vegas on March 6.
Verma's morning session will address her efforts at CMS to advance interoperability and patient ownership of healthcare data. In his evening fireside chat, Rucker will discuss the 21st Century Cures Act and how ONC is working to improve health IT interoperability and usability.
---
February 9, 2018 1:27 PM
I am floored by how many players made significant moves in recent weeks to become new healthcare technology companies or further anchor their existing position in the industry.
Consider these ambitious announcements:
Apple promoted that its updated Health app would allow people to get a broad view of their medical records, pulling from EHR systems and other sources.
Epic Systems promoted that its new One Virtual System Worldwide will expand data sharing for clinicians working in hospitals that use Epic EHR systems.
Amazon, JPMorgan Chase and Berkshire Hathaway announced a long-term plan to form an independent healthcare company for their workers, including through a heavy dose of technology.
For an editor like me, it's been a fun month to cover healthcare technology companies. Amazon's plans, as vague as they are at this early point, lie beyond the traditional health IT world for now. But it's not hard to image that if Amazon and company are successful, Uncle Sam and providers will be looking at how the new health system works with value-based care.
Apple Health app is undergoing pilot testing with a dozen hospitals and other organizations (we've got a reporter chasing down these "daring dozen" right now). The tech giant has the influence and power to create a rift in how other tech companies do things in the health IT world.
As our story on Epic noted, the company's EHR has always been interoperable for different hospitals using Epic platforms. But its moves are a notable attempt to boost data sharing.
One Virtual System Worldwide features three tiers: the previously existing Come Together (gathering patient data in one place) and Happy Together (presenting combined data in an easy-to-read format), along with the new Working Together (enabling providers to take data-based actions across organizations). The nod to 1960s rock tunes as product features is firmly within the quirky culture of Epic.
Although the Beatles probably knew nothing about healthcare technology companies or interoperability back in the day, one of the lyrics from their famous song "Come Together" rings true for liberating patient record access in today's health IT world:
"One thing I can tell you is you got to be free."
Which of these big companies do you think stands to make the most headway this year with its new products? I'm going with Amazon's group, if only because its members will operate outside the usual sphere of healthcare limitations — and the work will likely get the most mainstream press. Let me know what you think in the comments section below.
---
January 17, 2018 4:29 PM
Artificial intelligence
I browsed through two vastly different reports on artificial intelligence (AI) this week, leading me to again wonder if there is substance on the matter or just a lot of hot air blowing around.
My publisher posted an Adweek story on her LinkedIn page which reported that marketing teams have decried AI as overhyped. In the marketers' opinions — culled from a study by digital marketing services company Resulticks — martech vendors, journalists and analysts all stand guilty of flinging the alleged AI baloney.
However, just two days later, I read a new study funded by Uncle Sam that predicted significant potential for AI in healthcare, albeit coming with associated challenges.
The report was researched and written by the somewhat clandestine advisory group JASON, an independent collection of scientists that advises the federal government under a contract.
Interoperability could hurt AI in healthcare
The JASON report is a long read, but generally concludes that for AI in healthcare, there is a treasure trove of patient data waiting to be analyzed, but privacy requirements, costs of collecting that data and a lack of EHR interoperability hinder artificial intelligence's progress.
The report acknowledged AI's hype, however, and suggested that the technology has to go beyond its fans in computer science and instead work its way into the lives of clinicians and consumers.
I see AI in heal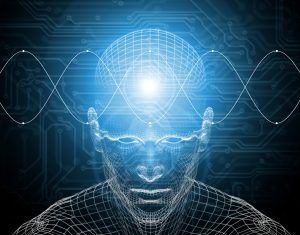 thcare finding its footing with the value-based care movement, which is largely based on patient outcomes with a strong dose of data thrown in. AI will be handy in predicting negative outcomes, which may allow clinicians to change course, avoid future health problems for patients and in turn boost reimbursements.
FYI, you can read the Adweek story here.
Where do you stand with the hype and reality of AI?
---
January 12, 2018 4:33 PM
Digital Health
,
FDA
In an effort to help consumers make informed health decisions, the Food and Drug Administration (FDA) renewed its commitment to digital health technology in its 2018 strategic policy roadmap.
The FDA said in its roadmap that digital health not only allows consumers to "take more effective control of their care," but also allows clinicians to "provide better medical care." The agency also said it will adapt its traditional approaches to regulation to address the challenges of digital health technology, using its previously announced Pre-Certification Pilot Program.
The goal of the program is to develop a tailored approach to regulating digital health technology by first concentrating on the developer of the technology and not the technology itself, as the agency currently does for traditional medical devices. This will allow change to occur more quickly to accommodate the faster pace of innovation in digital health technology, the FDA said.
FDA Commissioner Scott Gottlieb, M.D., said in a statement that the roadmap isn't intended to be a traditional strategic plan and that it is not a comprehensive list of policies the agency will focus on in 2018. Instead, it is a way to provide transparency about the FDA's policy undertakings to organizations and people affected by FDA oversight. By focusing on new areas like digital health technology, the agency "will optimize our resources to achieve clear deliverables that will yield results over the next two years."
The FDA previously issued draft guidance that loosened its regulations on certain technologies, such as mobile apps that help consumers manage their weight or track their steps. The agency considers these types of apps low risk for causing harm; rather, the data collected and managed by these apps can be valuable to the consumer.
The FDA's focus on digital health technology is in line with an industry trend that shows no sign of slowing down, as investments in digital health hit $3.5 billion in the first half of 2017 alone.
---
January 5, 2018 12:34 PM
health IT tools
I've been reporting and writing for SearchHealthIT for about three years and the day has come for me to say goodbye.
Looking back on these past three years, I can't help but laugh at, as well as be in awe of, some of the experiences I've had and some of the healthcare stories I've had the privilege of telling:
Running around my first HIMSS conference lugging video equipment and booking myself solid with interview after interview;
Finding myself walking around John Halamka's farm;
Geeking out when then-U.S. Vice President, Joe Biden, took the stage at a conference in Washington, D.C.;
Actually getting a VP at Epic on the phone for an interview (Epic is much better about talking to the media nowadays);
Sitting down with Zane Burke, president of Cerner Corp., and Colonel Nicole Kerkenbush, military deputy program executive officer for the Defense Healthcare Management Systems within the Department of Defense, to talk about the DoD EHR contract;
And so much more.
After all these experiences, I wanted to tell you about the top three healthcare stories I reported on during my time as a health IT reporter that I will never forget.
John Halamka and his farm
If you have anything to do with health IT, then chances are you know who John Halamka is. Shortly after I began writing for SearchHealthIT and learned that Halamka, the CIO of the Beth Israel Deaconess Medical Center (BIDMC), is a health IT superstar, as some have called him, I decided I wanted to try to do a video interview with him.
I ended up getting way more than I asked for.
In addition to an hour long video interview in his office at BIDMC where we discussed topics ranging from his wife's battle with cancer to telemedicine to data sharing, he let me visit his farm in Sherborn, Mass.
One of the videos that came from this adventure with Halamka, a video about the technology he used to help cure his wife of cancer, would end up winning several awards.
Joe Biden's personal experience with data blocking
Just seeing the then-Vice President of the United States was an honor. But to hear him discuss the very personal story of how data blocking affected the ability for his son, Beau, to receive care humanized him and tapped into something I was already very passionate about.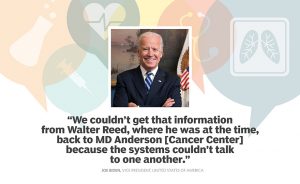 The topic of data blocking has always fascinated me as a health IT reporter and it was always a very slippery subject to really nail down with concrete evidence. Healthcare professionals will discuss the data blocking issues they've experienced but no one will really name names.
So to have someone like Biden publicly discuss his experience and acknowledge that it's happening (there really is no denying it is happening) was a powerful moment for me.
MGH's experience implementing Epic
There's something special about being allowed to visit a healthcare organization, to sit down with the CIO, and to discuss health IT issues at length. It is something that has definitely enriched the healthcare stories I've written.
But to be welcomed at Massachusetts General Hospital (MGH) – video camera in hand — and have the opportunity to discuss with MGH's CIO, Keith Jennings, MGH's experience implementing Epic – a $1.2 billion project – is something I won't soon forget.
Everyone in healthcare can relate to the challenges that come with implementing an EHR. After all, you're all required to do it!
But MGH's implementation of Epic was a huge project and Jennings was open about discussing the challenges and lessons learned from that experience.
Final farewell
It's been my honor to tell these healthcare stories and I'm grateful for all the amazing people I've met and interviewed along the way.
Make sure to visit SearchHealthIT for more health IT articles, podcasts, videos, and more!
---
January 4, 2018 2:52 PM
Amazon
,
Apple
,
consumer devices
,
Google
,
Microsoft
Consumer technology giants such as Apple, Google, Microsoft and more are accelerating their efforts to remake the healthcare technology industry by developing new tools geared towards consumers, patients, doctors, insurers as well as medical researchers, and increasingly investing in health start-ups, according to a New York Times article.
While the tech industry has long been involved in healthcare, especially IBM, Intel and Microsoft, there has been a shift in the creation of, and investment in, new kinds of technologies for doctors, patients, and consumers.
The article cited data from CB Insights, a research firm that tracks venture capital and start-ups, that found that in the first 11 months of 2017, 10 of the largest tech companies in the United States were involved in healthcare equity deals worth $2.7 billion. This is up from $277 million for all of 2012, according to the article.
"Each tech company is taking its own approach, betting that its core business strengths could ultimately improve people's health — or at least make health care more efficient," the article said.
Here are what some of those tech giants are up to in the healthcare technology industry:
Google's parent company, Alphabet
Alphabet is possibly the most active American consumer tech giant in health and biotech, according to the article. Specializing in data, Google's parent company recently acquired Senosis Health, an app development company that uses smartphone sensors to monitor certain vital signs.
Alphabet also has a research unit called Verily Life Sciences, the article said, which is dedicated to developing new tools to collect and analyze health data.
In 2017, Verily introduced a health research device called the Verily Study Watch. This wearable device has sensors that can collect data on a person's heart rate, gait and skin temperature, according to the article, and is currently being used in a research study called Project Baseline, financed by Verily, which has about 10,000 volunteers. Project Baseline participants are also asked to use sleep sensors in their beds and to also have blood, genetic and mental health tests done, the article said. The goal is to use data analytics and machine learning to get a more detailed picture of the progression of diseases such as cancer.
Apple's consumer approach
Not surprisingly, Apple is using its iPhone and Apple Watch to help consumers better track and manage their health, the article said. In 2015, Apple introduced new software called Apple ResearchKit for health researchers and Stanford developed an app to enroll volunteers in a heart study and track their physical activities, their sleep as well as their fitness.
Stanford is also conducting an Apple Heart Study that is intended to determine whether an app for the Apple Watch can accurately detect irregular heart rhythms, the article said, particularly those associated with atrial fibrillation which is a condition that can lead to blood clots and strokes. If the app does detect an irregular heart rhythm it will send participants a notification, the article said, as well as offer them a free video consultation with a doctor.
Microsoft ramps up health business
Microsoft has been a major supplier of software and cloud services to healthcare organizations for a while now. But the company is ramping up its interest and business in the healthcare technology industry, according to the article.
In 2017, the company announced its initiative to create products for medical providers and patients using artificial intelligence and cloud services such as speech recognition, the article said. This initiative is called Healthcare NeXT. Microsoft worked with the University of Pittsburgh Medical Center to develop digital services aimed at improving physician and patient experiences, the article said. One of those digital services includes a virtual assistant that takes notes during conversations between a doctor and patient. Furthermore, the virtual assistant would also analyze the conversation and send a summary to the patient's EHR.
Facebook and Amazon in healthcare
Facebook is making its way into the healthcare technology industry in a couple of ways, the article said. First, the social media platform made it more appealing for pharmaceutical companies to advertise their medications on the platform by introducing a rolling scroll feature. This feature allows drug makers to list their drug and its side effects in an ad, the article said.
Facebook is also the owner of Oculus, a virtual reality gear-maker. Oculus has teamed up with Children's Hospital Los Angeles to develop virtual reality simulations for doctors and medical students in order to allow them to practice handling high-risk pediatric medical emergencies, the article said.
And, although Amazon has been hush-hush about its plans in healthcare, the article said, industry analysts speculate that Amazon could enter the pharmacy business.
---
December 22, 2017 2:46 PM
Data breach
,
OCR
The Office for Civil Rights (OCR) is urging healthcare organizations to create effective identity and access management (IAM) policies to prevent data breaches by former employees.
An IAM policy can help prevent healthcare security threats by making sure that users only have access to appropriate data, and terminating that access when they leave the company.
To combat insider threats, OCR emphasized the need for healthcare organizations to terminate user accounts after an employee leaves to prevent unauthorized access to protected health information (PHI). Any laptops or smartphones should be returned, and PHI should be wiped from any personal devices. OCR also recommended procedures to terminate a former employee's physical access to PHI, such as changing security codes or combination locks and removing users from access lists.
OCR also recommends using logs to document when access is granted to a user or when privileges are elevated. This documentation can be used when it is time to terminate a former employee's access after they leave the company. The IT department or a designated security employee should be alerted when an employee quits or is fired so that person's access to be can be terminated. Audit procedures should also be put in place to confirm that IAM policies are being implemented.
In 2016, insider healthcare security threats accounted for 71% of attacks, and inadvertent actors caused nearly half of those. While that trend appears to be reversing slightly in 2017, healthcare security threats from internal sources accounted for 32.1% of data breaches in November, according to Protenus. Hacking comprised 28.6% of breaches, and stolen or lost records accounted for 25.0% of data breaches.
Altogether, there were 28 data breach incidents in November, down slightly from a consistent trend of at least one breach a day since the beginning of the year. Nine of those attacks were due to insider healthcare security threats; seven involved insider error and two involved insider-wrongdoing. Eight of the attacks were due to hacking — although data was only available for five — and four were due to loss or theft.
---