---
October 13, 2017 11:33 AM
Disruptive technology is all very exciting. Every industry is looking at the technologies they can use to turn their business models into their advantage.
A taxi service is pretty much the same product regardless where you buy it, but I doubt half a million people would sign a petition to save their local taxi firm if its licence application was rejected. But that's what happened when Uber's was in London. Not because the journeys are better but because its business model is different its way of engaging with customers is focused on them.
Today being able to get a taxi from anywhere by tapping your phone, with all payments settled immediately seems pretty normal. Autonomous cars are already becoming inevitable in most peoples' minds. It won't be too long before you tap your mobile and your own car comes to pick you up, and that's without a helpful relative, or anyone for that matter, behind the wheel.
So what's next? A subscription to a data service 250 million miles away, which automates the ordering of new machinery, that's what. Subscription billing software is not the most exciting subject to be writing about, but the colonisation of Mars no matter how subtle the link is.
That's exactly what heavy machinery manufacturer Caterpillar is planning.
First a bit of background. I spoke to Tom Bucklar, director of IoT ad digital solutions at Caterpillar, at the recent London conference of subscription billing software maker Zuora about this.
NASA could eventually use a subscription based model with a manufacturer to monitor or replace the machines that will be used to prepare Mars for colonisation by humans, and the machines used to support the colonisers afterwards.
This not only has obvious benefits for NASA but also the machinery suppliers.
Caterpillar manufactures machinery such as trucks and earth moving equipment and it sells or rents these out in a traditional way through its dealers. But the company is now looking to sell services on top, known as Cat Connect services, which involves changing how it serves and charges customers.
"This is where we move into subscription services," said Bucklar. "These machines are big capital assets and organisations want to manage then and better understand their utilisation."
Through a subscription model Caterpillar can charge for the services without the painful journey from CRM to ERP or quote to pay as it is also known. You don't want the signal from the machine 250 million miles away taking less time than the second part of its journey through Caterpillar's and NASA's back offices.
Providing an efficient back office is certainly not NASA's core business so automating quote to pay for parts is something else it doesn't need to spend time and money on.
Scientists likewise don't want to be maintaining machinery and setting off a transaction for a new part when needed. So remote monitoring systems, connected to a service that automatically informs users of the status of machinery, and automatically orders and pays is attractive.
And machines on Mars might eventually be connected.
"We have worked with NASA over the years to look at what type of machinery they will need as they look at Mars exploration," said Bucklar.
The companies work together on research and development to understand the machines that will be required in the Martian environment.
Caterpillar currently does this with customers. Some of them, like in the mining industry, are is some of the most remote places on earth. Bucklar said companies want to know exactly where machines are as well as information such as fuel consumption.
He gave an example of a service that customers can subscribe to. "For all these things you need a data service which provides this information to a single user interface for the end user customer."
Caterpillar already has over half a million units of machinery connected to its services and this is growing, said Bucklar.
So with NASA as a customer it will be able to subscribe to a service like this to help in manage and get the best out of machines that will be between 33.9 million miles and 250 million miles away depending on the positions of the two planets in their orbit around the sun.
Bucklar said that although services through subscription models is an aim to help keep customers happy. With over half a million machines already connected managing subscriptions needed to be automated which is where the Zuora's technology comes in.
It doesn't just make life easier for the customer. "If you just look at the automation of the process between us and our dealers it has massively simplified that," added Bucklar.
October 10, 2017 10:29 AM
You won't see marketing executives programming and lawyers playing with artificial intelligence in the latest Blade Runner film, but it is the future.
It might not be as exciting as driverless cars, robot police, and printing prosthetic limbs but it is another, albeit more subtle, change brought by tech disruption. And a change that will affect many.
It's not as overt as some of the advances the latest Blade Runner film and its predecessor show, but it is arguable more transformational.
I recently met up with the CEO and CIO of Starling Bank. I wrote an article here. Starling is one of a growing number of challenger banks and in its case it is a current account in a mobile app. Customers receive their entire service through their smartphone.
APIs, apps, AI, big data, developer portals are all subjects close to the banks heart. Yet CIO John Mountain told me the company doesn't really have an IT department. Doesn't he worry as a CIO that he has no department?
Not at all. In fact the entire company is an IT department.
"My team is not technology because we don't really run a technology function here, the whole company is a tech function. What you don't find here is a whole suite of technologists reporting into me."
"To work here in any capacity whether its marketing, finance or a developer you will have some involvement in technology."
He said he puts "hard core technologists" everywhere. "We have technologists in finance and programmers in marketing."
He said this mix up is essential to a tech company even if its business is banking. He said in traditional banks the IT department and the business felt like different companies.
The new model sees anything that is not core to the business outsourced with, for example, the extensive use of software as a service.
Perhaps the big banks are looking at this in the long run with IT departments being savagely cut.
But not only are there hardcore techies strewn throughout the business but people in different departments are tech savvy. In fact the reason many apply for jobs at companies like Starling is because they enjoy using and understand the IT they are providing to customers.
A contact of mine in the legal industry told me that even lawyers have to improve their IT skills. "In the near future, if you want to be a lawyer in my kind of practice, you are going to have to be able to put a document together specifically for AI review," he said.
---
October 6, 2017 10:37 AM
Is it any surprise that businesses that are disrupting established markets are running into a few hurdles? There is after all an industrial revolution happening around us.
It was only a matter of time that hurdles such as industrial relations challenges and competition laws catch up with them.
Trade unions have been around for centuries and were legalised in 1871, while competition laws were around in Henry VIII's time.
These hurdles to digital disruption could water down the benefits, but that is not necessarily a bad thing. Sometimes you feel that the companies causing disruption feel they are above the law. We rarely associated workers being exploited when we consume digital services. It has taken a long time for people to understand how workers in developing countries are exploited to supply goods to the rich West. And the knowledge doesn't stop us buying the stuff they make anyway.
Uber is synonymous with digital disruption. The phrase "Uber moment" is always used when referring to how a business is shaking up a sector through a business model using the latest technology. But since Transport for London's decision to reject the company's application for a new license it is tempting to give the phrase new meaning. It could mean the moment when a business model which has shaken an industry is found wanting due to more traditional challenges.
So what is the catchphrase for when a company causing disruption gets to that moment when its business model is put to the test?
Despite Uber's trouble we can't repurpose the phrase. Although I doubt it will be over-used by IT analysts in a positive context anymore.
What about "Ryan Air moment?" That would work as a catchphrase when an industry disrupter hits rocks. It might not be a digital disrupter but it is certainly a disrupter.
And the company really is suffering as a result of how it contracts pilots. Until a disrupter with robotic pilots comes along, and manages to get regulatory approval, pilots will remain vital. Multiple pilots per flight in fact.
I met up with an old friend recently who is a pilot. I was discussing Ryan Air's troubles with him. He said it is common knowledge among pilots that the airline's pilot shortages are the result of its pilots moving to different airlines, mainly one recently, because they are being offered better packages. Ryan Air prides itself on being low cost, and it certainly is, but to offer the prices it does it has to save money in other areas. Pilots are simply being tempted by better offers and presumably Ryan Air's pilot contracts are done in a way that allows pilots to leave on short notice.
There are other airlines ready to fill the gap that Ryan Air is leaving with its flight cancellations and these airlines might be the customer's choice in the future. It is the same with Uber. If someone else steps in with a similar platform, perhaps even a London only version, it could be at risk of losing out
On the subject of robotic pilots my old friend also told me his young son wants to be a pilot, but he is not recommending it as he doesn't think pilots will be needed in the future. Scary thought. I am just coming to terms with autonomous cars.
---
October 5, 2017 11:45 AM
While Brexit will certainly result in a smaller labour force in the UK it might not mean a jobs splurge for Brits. In fact robots could take a chunk off white collar roles.
While the news constantly refers to how farmers in the UK will have nobody to pick their produce at certain times of the year, it might be the white collar that could see the biggest shortages following Brexit.
So businesses need to plan and robots are a real option today.
In this guest blog post Paul Taplin, managing director at Voyager Solutions provides five tips to reduce back office staffing risk.
Make a workforce plan for Brexit and don't forget the robots
By Paul Taplin
It is widely accepted that Brexit will have a major impact on our UK workforce – regardless of any labour agreements that are made. We are already seeing the effects – which range from corporate decisions about where to locate teams – through to individuals changing their life plans. In the back office, this poses the risk that individuals holding key roles will leave an organisation – and most have no clear strategies of how to replace them. The good news is that there are key steps that companies can take to protect against this risk – and also capitalise on the fast accelerating world of Robotic Process Automation (RPA).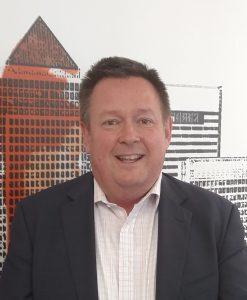 1. Kick off a programme to improve workforce planning governance
You should already have an effective workforce planning strategy in place – if you haven't, now is the time to establish the framework and governance required to create one that factors in Brexit implications. To achieve this, use existing HR channels and mechanisms, such as HR business partner business reviews, or set up a committee to focus on the actions required. Ultimately, you must ensure that a clear timetable exists for engaging with the business on workforce locations, planning and long term workforce planning.
2. Create a single picture of back office roles and location
Most consultants will tell you that you need complex methods and tools to do this, but a simple mapping of key roles against locations / businesses, will allow you to plot where your resources currently are. To create a sense of urgency around Brexit, you could set up a set of visual measurements to track the readiness, and even set up a dedicated conference room to display the progress on a visual flight deck – this would form a good logical meeting point and focus. I would recommend a series of events to define the full impacts to the various people and teams in the back office organisation.
3. Create a plan for the key expert roles within Finance, HR and IT
We all know them – the people who have all the knowledge in their heads, or the people who perform what are traditionally centre of excellence roles in the back office model. You may identify key job roles that would take a long time to replace / handover from, but in our experience, we would look for:
• In finance – customer facing finance roles where there may be pivotal collections relationships, key controller or group accounting roles with significant institutional knowledge; Tax & Treasury roles or roles that support complex financial arrangements
• In HR, reward specialists; employee relations experts with knowledge of EU law, trade unions and works councils; graduate and apprentice recruitment specialists
• Architects and anyone who support key systems that are difficult to support in IT
Create a talent retention plan for key individuals which may include additional reward for key skills , retention bonus and non financial reward such as a clear career strategy and plans for personal progression. A succession plan should also be created for key individuals identifying successors to their roles and supported by a development plan for those potential successor.
4. Accelerate plans to repatriate / outsource or use robots for transactional roles
For the shared service centre operations, now is the perfect opportunity to review your workforce from a number of perspectives. If you have off-shored / outsourced to an EU country, there may be a change in the economics, levies or exchange rates which impact the business case. If you have significant non UK EU nationals performing key roles in a UK shared service centre, now might be the best time to look at the economics of outsourcing.
In both scenarios, you should accelerate any plans to review the business case for robotic process automation (RPA) – it will be significantly cheaper than full time equivalent human workers, so could solve the problem of covering key shared services roles.
• Look at data entry, payroll / T&A, expenses administration, personnel administration and recruitment admin in HR
• Look at P2P, order to cash, record to report, procurement operations, collections and cash management in finance
• Look at routine maintenance, deployment, monitoring, batch processing, user admin, testing, data cleanse and backup / restoration in IT
5. Formalise and accelerate development and implementation plans
Based on all of the above, examine skills gaps, areas where it will take longer to develop and replace people, and areas where a people / human workforce can be supplemented (or replaced) by a robotic workforce. Create a single spreadsheet or chart which lists off every department in the organisation, and identifies where the key roles are that might have opportunities. Sometimes this can be shown in a "heat map" format with colours depicting where particular impacts are likely to be higher.
If your organisation has a wider framework for implementation planning for Brexit, make sure that the back office skills risk is firmly on the agenda. Remember that all your workforce planning efforts will not be wasted if Brexit doesn't have the expected impact – they should be done anyway – and will provide greater resource efficiencies across your operations.
---
October 3, 2017 10:50 AM
I have a confession to make. Before this fintech blog I wrote a regular blog for Computer Weekly focused on the IT outsourcing, because I didn't find the technology that interesting.
Well that is what I told people when in fact the reason was felt safer writing about the business of outsourcing than the actual technology.
But times have changed and technology has become consumerised to such an extend that the science doesn't confuse someone like me who enjoyed learning about things like the repeal of the Corn Laws at school more than physics and maths.
So like many business sectors these days, which are being forced to change their business models because their industries are being disrupted by digital technology, I feel I need to change the blog thread.
In the past I would write blog after blog about businesses outsourcing their IT with all the challenges associated with that. Whether this be integrating staff from suppliers, finding new positions for displaced in-house staff, or in fact making the tough decision to let staff go.  If you want to take a look back at this blog you can see it here. As you can see it has been a while.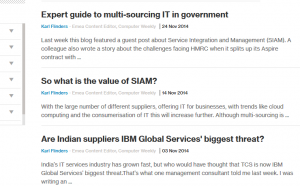 There was a lot to write about IT outsourcing because it was something that still created uncertainty, fears and controversy. But today it is hard to find companies that don't outsource IT and moving from in-house services is not the giant leap it once was. Even those that think they don't outsource probably do.
This is because technology has moved to the point that there is a digital service for almost anything, whether it be an HR system to manage staff or an ordering system for customers, and they are easy to access and use. Cloud computing, artificial intelligence, mobile are technologies driving business change and as a result changing outsourcing with automation and pay as you go models.
And fintech is core to much of the disruption going on. Every service seems to link to a bank account, with pay as you use models all the rage.
A bank which is based entirely on a mobile app, a car manufacturer that rents out cars rather than selling them, and somebody renting out their spare room all have something in common. They all rely on fintech to work.
You can click on a map today while planning a holiday and within minutes your bank account can be linked to a car hire company in downtown Nairobi or a resident of the Amalfi coast with a spare room.
Today businesses and consumers often even prefer to subscribe to an online service rather than buying a physical product as they would have in the past. Users don't see all the work being done in the background.
In fact the world does seem to stop spinning when a mobile banking app fails or you can't get a payment approved for an Uber in the early hours. Or if you can't pay for the film streaming you need to satisfy the kids.
If you have any doubt about how the fintech revolution is changing the world, Blockchain, once the domain of the super techie, now features in the morning conversations at the school gates as it certainly does in boardrooms around the world.
In this blog I hope to pass on some of the insights I get around fintech and the general disruption being caused by the latest digital technologies.
---